This article was produced in partnership with cbdMD.
One of our favorite CBD brands, cbdMD, has just launched a whole lineup of new CBD gummies. If you're a fan of CBD or natural wellness solutions in general, you'll definitely want to check out these new products tailored to help boost immunity, improve sleep, calm you down, and more.
But first, let's first answer a question you might be asking.
Why cbdMD?
cbdMD has been an integral part of the evolution of the CBD industry, and the company is considered a leader and innovator in the space. Its products were first embraced by MMA fighters and extreme sports stars, but more recently mainstream athletes like Bubba Watson and Jimmie Johnson have also joined Team cbdMD.
One of the keys to cbdMD's success with athletes is its Superior Broad Spectrum hemp extract, which is made from hemp-derived CBD supported by a suite of cannabinoids and terpenes—but without any detectable levels of THC. That means even athletes in fields that ban THC can still enjoy full-body hemp benefits without worrying about flunking a drug test. In fact, cbdMD is the first CBD company to earn the prestigious Certified for Sport® certification from NSF International.
Superior Broad Spectrum extract still forms the core of the brand's CBD gummies line, but as you'll see, some of the newer gummies include tweaks in the formula—including exclusive releases that offer the complementary benefits of CBD and THC. Ready to boost your wellness? Here's a deep dive into cbdMD's top gummies.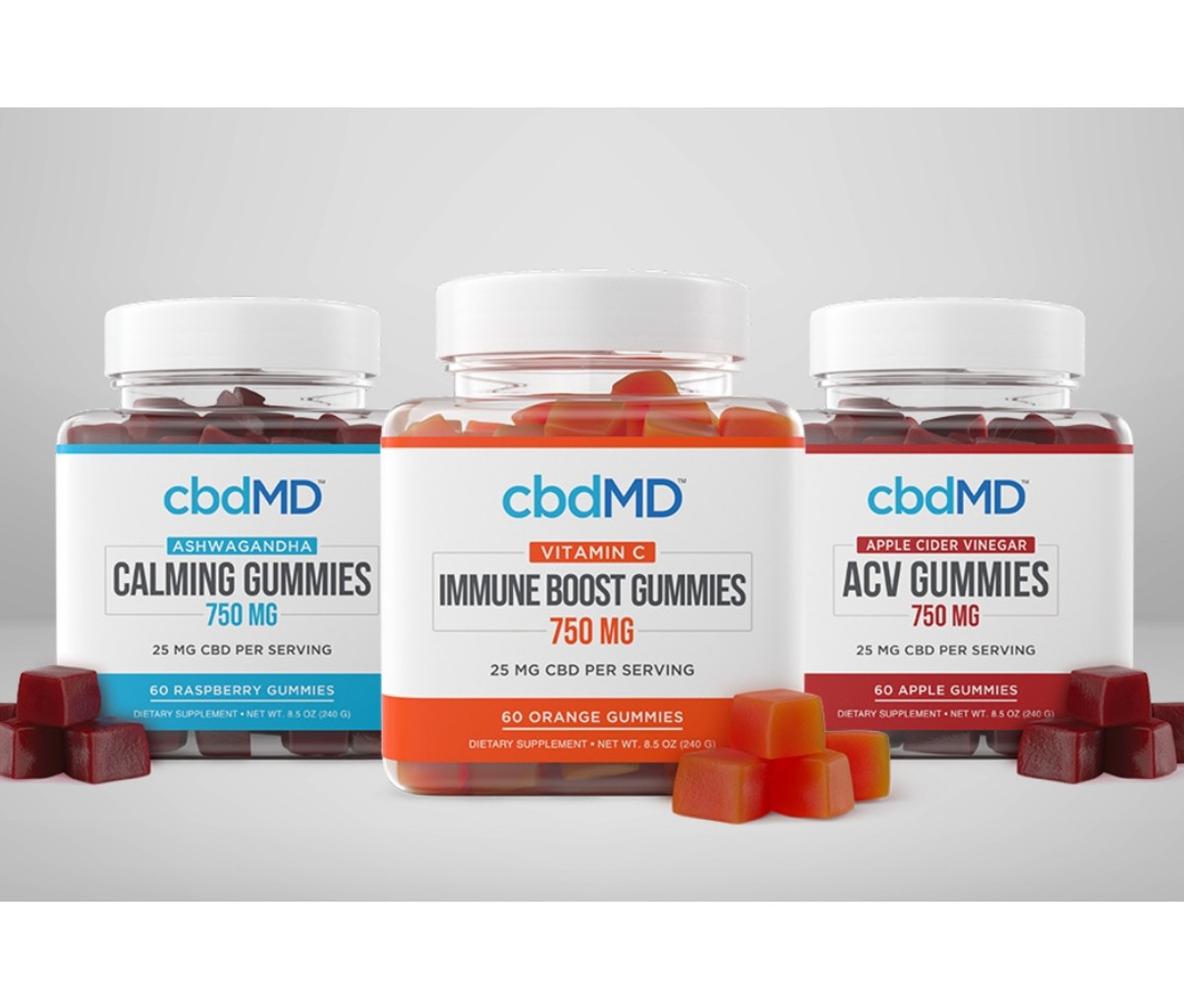 The Best CBD Gummies for Daily Wellness
If you're keeping it simple, cbdMD's original broad spectrum CBD gummies are good for daily support. These come in a mix of tasty fruit flavors (strawberry, raspberry, orange, and tropical) and are available in three CBD concentrations, so you can fine-tune your dosage to suit your needs.
Ingredient Highlights:
Natural flavors and colors
Organic sweeteners and juices
Vegan and gluten-free
THC-free
[Starting at $30; cbdmd.com]
Get it
The Best CBD Gummies for Sleep
Many people take CBD to help them get a better night's sleep, and it's a key reason why CBD supplements are so popular with athletes—sleep is essential for physical and mental recovery. cbdMD's Sleep-Aid Gummies combine broad spectrum CBD with a variety of other natural relaxation aids in a tasty raspberry-flavored gummy.
Ingredient Highlights:
Melatonin
Ashwagandha
Lemon balm
Chamomile
L-theanine
GABA
Valerian
[$70; cbdmd.com]
Get it
The Best CBD Gummies for Immune Support
We now know that the human immune system requires a whole complex of nutrients to stay healthy and function properly. That's exactly why cbdMD crafted Immune Boost Gummies, which contain a wide range of vitamins and minerals in addition to broad spectrum CBD in a natural orange flavor.
Ingredient Highlights:
Vitamin C
Vitamin D
Vitamin E
Zinc
Selenium
Beta glucan
[$70; cbdmd.com]
Get it
The Best CBD Gummies for Digestive Support
Apple cider vinegar is a popular supplement for digestive health, and apple cider vinegar gummies have become a mainstay in supplement shops. So why not combine them with CBD and reap even more health benefits? cbdMD's ACV Gummies give you the support your body and your gut need to stay healthy.
Ingredient Highlights:
Organic apple cider vinegar powder
Vitamin B12 (100 percent of recommended daily requirement)
Folic Acid (100 percent of recommended daily requirement)
Organic beetroot powder
Organic pomegranate juice powder
[$70; cbdmd.com]
Get it
The Best CBD Gummies for Calm
Most people find CBD relaxing, but sometimes you need a little extra TLC. That's why cbdMD created Calming Gummies. They're designed with unique ingredients that work together to create that relaxing, calm-before-the-storm feeling on even your busiest days.
Ingredient Highlights:
Ashwagandha
Lemon balm
Valerian
Chamomile
L-theanine
GABA
[$70; cbdmd.com]
Get it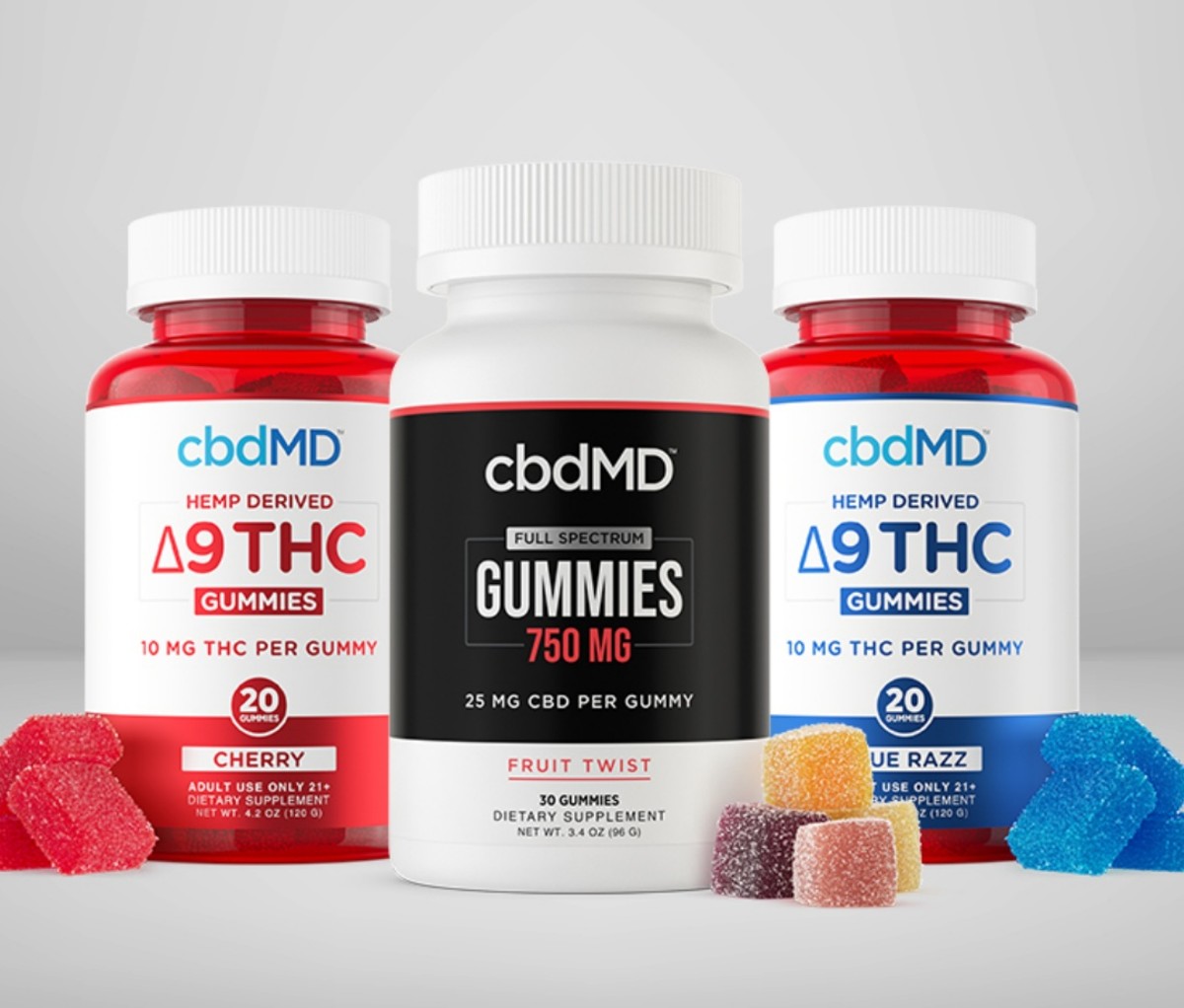 The Best Full Spectrum CBD Gummies
All of the products above are made with the Broad Spectrum formula, but sometimes you need an extra lift. That's when you should reach for cbdMD's low-potency full spectrum formula. It's similar to Superior Broad Spectrum, but it contains more cannabinoids and just a hint of THC (1mg per serving). These full spectrum CBD gummies aren't enough to give you a high, but they're plenty strong when it comes to providing the all-day support your body, and mind, deserve.
Ingredient Highlights:
27.5mg cannabinoids per gummy, including 25mg CBD and 1mg THC
Natural flavors of fruit punch, lemon, and passion fruit
Vegan and gluten-free
[$60; cbdmd.com]
Get it
The Best Mood-Boosting CBD Gummies
Want to really put your mind at ease? Opt for the mood-boosting benefits of THC. cbdMD's Delta 9 THC Gummies make it easier than ever to get you exactly where you want to be. Made with a high-potency full spectrum formula, these gummies have enough THC to give you the elevated experience you're looking for, but they're also federally compliant under the 2018 Farm Bill, so they're legal to purchase in most U.S. states.
Ingredient Highlights:
75mg cannabinoids per gummy, including 50mg CBD and 10mg THC
Natural cherry or blue raspberry flavors
Vegan and gluten-free
[Starting at $20; cbdmd.com]
Get it
Not sure which product is right for you? cbdMD has all the tools you need to find the formula that best suits your needs. When it comes to giving your body and mind a boost, only you can decide to make a change for the better. Put yourself first and make your wellness a high priority with cbdMD.
For access to exclusive gear videos, celebrity interviews, and more, subscribe on YouTube!