Seven years ago, Mick Cornett appeared to have lost his mind. Midway through his second term in office, the mayor of Oklahoma City called a New Year's Eve press conference at, of all places, the city zoo. Standing in front of the elephant enclosure to drive his point home, with TV cameras rolling and journalists looking on, he told the good citizens of his city that they were fat. Not only that, but they needed to fix it. "This city is going on a diet," he declared, "and we're going to lose a million pounds."
The mayor's audacious "pep talk" was a rare moment of political honesty, not to mention the kind of overreach that routinely kills political careers. But Cornett saw obesity as a health epidemic of crisis proportions and an image problem that was weighing his city down—and he knew it wasn't going away on its own. "Nobody wants to hear that they need to go on a diet," he says today, "but I felt that the conversation was important and we needed a program to address obesity." In 2007, 29.5% of the population engaged in zero physical activity, 25% smoked, and 25.4% were obese.
Of course, this problem isn't unique to Sooners. In fact, as we at Men's Fitness discovered when we fanned out and reported our exhaustive annual roundup of the fittest and the fattest cities across America (for which we employ a 15-point proprietary formula that includes air quality, pedestrian- and bike-friendliness, and general well-being), on the whole, Americans are overweight by an average of 23 pounds. Even in poster cities for good health—San Francisco, Denver, and Seattle— with their active citizens, outsize number of gyms, favorable climates, and overflowing abundance of socially conscious hipsters, more than half of all people are overweight.
America's Obesity Epidemic >>> 
Now this is all sobering news. And we don't mean to get all preachy about it, but it's not a good thing. So in this year's civic rundown, we decided to break form with the past. Rather than take this opportunity to extol the virtues of our fittest cities—say, touting No. 11 Miami for nurturing a CrossFit craze or lavishing praise on the incredibly clean air breathed in No. 21 Tucson—we decided to look for inspiration in the unlikeliest of places: Oklahoma City.
Today, one can look at Cornett's full-frontal assault on poor diet and a sedentary lifestyle as a ballsy move—but it's been nothing short of effective. Fifty-one thousand citizens collectively shed a million pounds, and Cornett's "OKC Million" campaign sparked a new public dialogue around health and fitness that led to the people of Oklahoma City taxing themselves to fund exciting projects—including a whitewater course, a new downtown park, and a modern streetcar system—that today are transforming downtown OKC into a vibrant, walkable, more fitness- oriented, and, ultimately, more livable city. It may not have cracked our top 25 fittest yet, but—make no mistake about it—Oklahoma City's unfolding success story can teach us all a thing or two about fitness.
So—how exactly did these brave Oklahomans turn their city around? I spent a full week scoping out the city's burgeoning fitness scene, and here's what I discovered.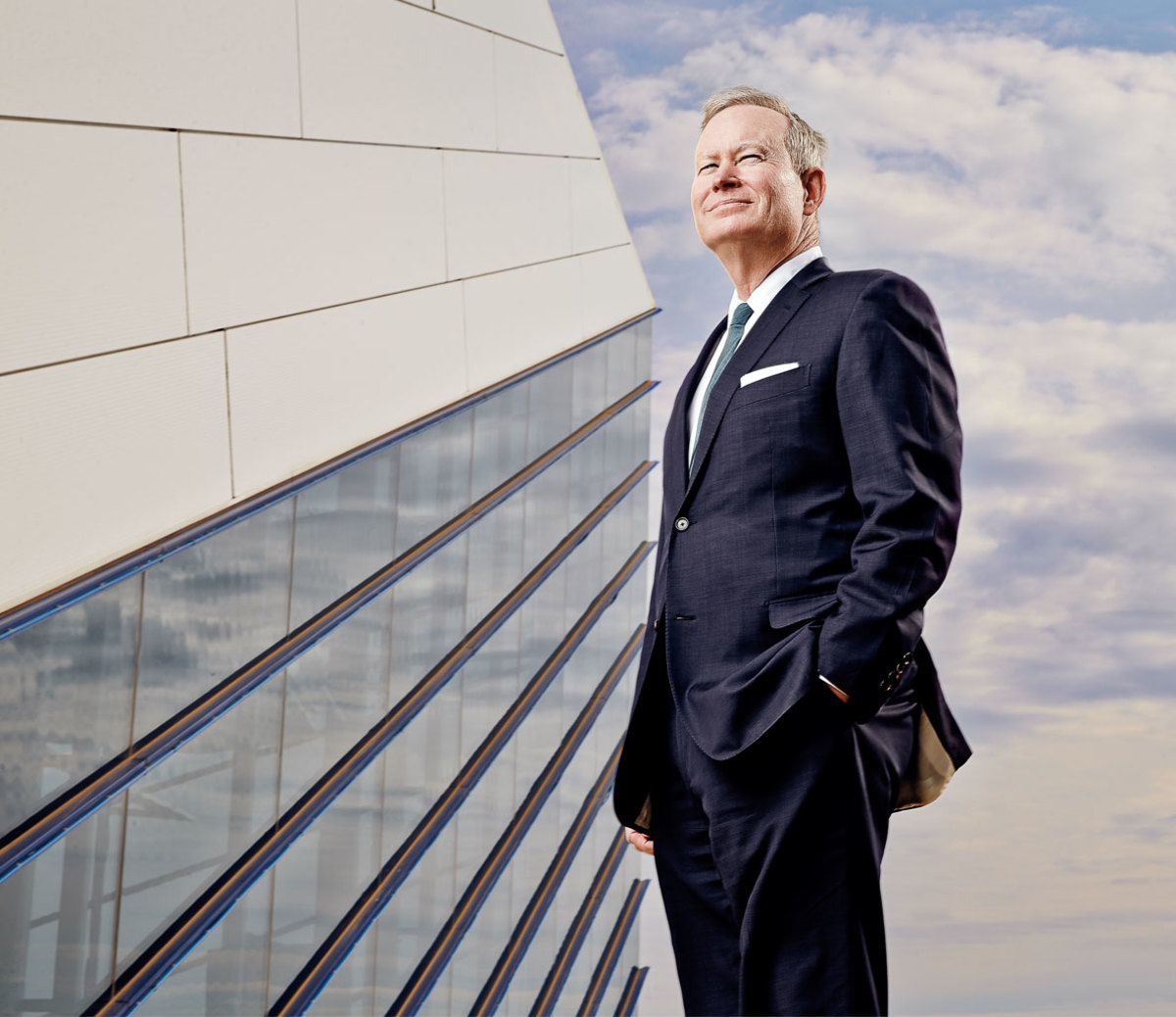 They turned a cesspool into a scenic river
There's a serene, park-lined ribbon of water that flows south of downtown Oklahoma City. Just over a decade ago, this was little more than a grass-choked drainage ditch, the victim of a 1920s-era Army Corps of Engineers flood-control project. But in the late 1990s, work began to restore a seven-mile stretch of river. Today, the former cesspool is called the Oklahoma River, and its waterfront is teeming with the sort of activity you'd expect to see on Boston's Charles River.
Joggers and cyclists train on recreational trails that hug either bank and, out on the water, more than a few rowers rhythmically pull at the oars of their racing shells while coxswains bawl them onward. There's a buzzing Boathouse District, where investments in state-of-the-art boathouses have given rise to—more than 1,000 miles from either coast— one of the nation's liveliest rowing scenes.
The Devon Boathouse, a striking glass-and-steel structure designed to resemble a boat skimming across water, is an ultramodern training center for elite rowers, kayakers, and canoeists. Inside, America's Olympic hopefuls have access to high-tech facilities that include an altitude chamber, an "endless pool" swimming tank, the world's first dynamic propulsion rowing tank, and, of course, all of the best weight- training gear. Outside, an arrow-straight, 2,000-meter stretch of the river is fast becoming the world's most advanced flat-water racecourse, complete with stadium-style lighting, broadcast-quality HD cameras, and a finish-line tower packed with the latest timing gear.
"I had stereotyped Oklahoma every possible way before I came here," says Joe Jacobi, a whitewater canoe gold medalist and the former head of USA Canoe/Kayak, as he surveys the river from a viewing deck within the Chesapeake Finish Line Tower. "But the people of Oklahoma voted to spend their own tax dollars to build all this." In OKC, elite athletes have access to flat-water racing courses, as well as top-notch equipment, coaching, scholarships, job programs, apartments, food, and sports medicine. And, last fall, ground was broken on Riversport Rapids, an 11-acre whitewater rafting and kayaking center that will generate up to Class IV rapids in two man-made channels alongside the river.
While Jacobi's been deeply involved with the training of top-level athletes, he's quick to point out there's more to the Boathouse District. "We're a U.S. Olympic training site here, but we deal with much more than elite athletes. Unlike the U.S. Training Center in Colorado Springs, there's no fence around our facility, no security gate. We're completely open to the public." And he means it. Dozens of local businesses field more than 70 corporate teams in which hard-bodied weekend warriors pull the oars with secretaries and soft-middled executives for three solid months of practice, then compete in an exciting nighttime regatta under the lights. Three area universities have begun varsity rowing programs in the Boathouse District, while several youth programs work to develop local talent. And, for just $50 a month—little more than a YMCA membership—everyday Oklahomans have access to all the elite training facilities and fitness classes, as well as kayaks, bikes, and standup paddleboards for outdoor fitness and adventure.
They turned a tragedy into a building boom
When you visit Oklahoma City today, it's hard to wrap your head around how far it's come. In the 1970s, a failed urban renewal program demolished hundreds of downtown historic buildings, and funding dried up before they could be replaced. An oil slump in the 1980s gutted Oklahoma's economy, causing more than 100 banks to fail across the state. There was mass out-migration as educated young people left town to find work. It was so far gone that, in 1988, City Councilman I.G. Purser famously declared, "Downtown is dead, and we helped kill it. There's no major retail, no major attraction, and no place to eat."
City leaders sought a "silver bullet" solution by offering United Airlines $100 million in tax incentives to locate a sprawling aircraft-maintenance plant there that would create 5,000-plus jobs. In the end, United chose Indianapolis because, its CEO said, he simply couldn't imagine his employees living in Oklahoma City. It was a hard truth, and it forced then-Mayor Ron Norick to rethink economic development—the city would have to pull itself up by its own bootstraps and make itself a better place to live. He pushed a series of nine major projects totaling $363 million—including a ballpark, a sports arena, a downtown canal district, and river restoration, collectively called the Metropolitan Area Projects (MAPS)—that would improve quality of life and be paid for by a five-year sales tax increase of one cent. At the end of 1993, voters narrowly approved the plan, and a cautious optimism swept the city. But MAPS was slow to develop—there would be no borrowing, so each project had to be fully funded before work could begin.
The Fit Five: Weight-Loss Secrets >>>
But before a single shovel had gone into the ground, disaster struck the hard-luck city. At 9:02 a.m. on April 19, 1995, Timothy McVeigh detonated a truckload of explosives in front of the Alfred P. Murrah Federal Building. The explosion ripped through the structure, killing 168 people in the nation's deadliest act of domestic terrorism.
But rather than weaken the city, in the following months it seemed to harden Oklahomans' resolve. "It was as if the citizens of this city reached out and grabbed hands," Cornett says, "and pulled each other up." From the wreckage, a new and lasting sense of hometown pride and unity emerged as people made a conscious decision to rebuild OKC. Political differences were set aside and the MAPS projects moved forward, beginning with the Bricktown Ballpark (1998) and Bricktown Canal (1999), and continuing through to the Ford Center (2002)— later Chesapeake Energy Arena, which would help lure the Seattle SuperSonics basketball team—and Oklahoma River restoration (2004).
Now on the last Sunday morning of every April, the city hosts the Oklahoma City Memorial Marathon, an event that raised $1 million in 2014, which went directly to the Oklahoma City National Memorial & Museum. "It's not even an act of health and wellness," says Jacobi of the race. "It almost feels like a civic obligation to get out and do this thing. It is so emotionally connected to who we are and what we do."
The marathon has also fueled something of a local running craze. The best place to see that is on a Saturday morning training run with the Oklahoma City Running Club's Landrunners. For 16 weeks leading up to the OKC (spring) and Tulsa (fall) races, the club hosts highly organized weekly marathon prep runs—complete with regular water stops and pace groups—that consistently attract a stampede of 400-plus runners. "I started training with the club in 2004," says the Landrunners' Chuck Mikkelson, "and we would have about 25 people on a big day; but each year it grew a little bigger."
They got all "fresco" with their fast food
Oklahoma City was dubbed the "Fast-Food Capital of America" when, in 2007, it was revealed that a full 55% of residents patronized fast-food joints at least a dozen times a month (and many went twice that often). It's a fact Cornett was keenly aware of when he launched his diet program. "You can't exercise your way out of obesity; it's almost certainly about what you eat and how much you eat," he says. "And we never backed down from that."
Are Fast Food Restaurants Getting Healthier? >>> 
Rather than taxing fast food and turning the private sector's vast marketing war chest against his cause, he worked with chains and local restaurants to promote healthier eating. Taco Bell's "Fresco" menu, featuring nine items with less than 9 grams of fat, became the "official menu" of Cornett's diet challenge. Local restaurants named salads and healthy sandwiches after him.
Today, Matthew Burch continues that work, providing the people of OKC with affordable fresh, local food options. Less than a mile southwest of downtown, in a small redbrick building behind the old Farmers Public Market, he runs Urban Agrarian, a local food retailer and distributor. Inside, shelves and coolers are stocked with a bounty of provisions—flours, honeys, jerkies, salsas, jams, meats, milks, cheeses, butters, baked goods, fruits, vegetables, eggs, yogurts, and breads—all sourced from within the state.
12 Healthy Fast Food Lunches >>> 
Growing up in Oklahoma City, Burch was as unsophisticated as most food consumers, even after years of working in food service. But reading Michael Pollan's The Omnivore's Dilemma changed the course of his life, inspiring him to find work at an organic grocery store, where he became produce manager. From there, he went to work on an organic farm in coastal Georgia. "I'd never seen blueberries growing or squash in the field," Burch says. "I was a city kid—I didn't know much about any of that. But I really enjoyed the work." And with his experience in food service, he felt comfortable drumming up business for the farm by bringing the food directly to restaurant chefs. "The chefs were really interested in getting good produce fresh from the farm," and the farm was finding important markets for its produce.
Today, Burch has relationships with growers all over the state and with dozens of restaurants in the city that want to serve local foods. Each week, his crew does at least a couple of 12-hour, 400-plus-mile runs in the van to load up on fresh food from farms and ranches surrounding OKC, which they distribute to restaurant clients and sell from the seven-day-a-week storefront. From April through October, the van also does two weekly pop-up farmers' markets.
All told, Burch is moving $700,000 annually in fresh, healthy, local foods from rural farms to the plates of Oklahoma City residents, and their appetite for the good stuff only seems to be growing.
They started spinning their wheels
Mountain biking with Tony Steward is a bit like playing a game of cat and mouse. "How's this pace?" he calls back, cruising along the Bluff Creek Trail—a tight, twisty four-mile loop of clay single-track north of Lake Hefner—at a gentlemanly 9 mph. But before you can even reply, he subtly, and seemingly without effort, accelerates sharply into a turn that dips into a dry creek bed before climbing a root-choked steep. When he finally realizes he's gapped you, Steward politely waits up—then does it all over again. The man is a beast on a bike, the result of putting in nearly 10,000 miles of cycling a year competing in both road and cyclocross races.
It wasn't always that way. Six years ago, Steward's 30th birthday forced him to confront his growing waistline. He'd gained more than 60 pounds since his heyday as a college football safety and was now tipping the scales at 250. "My neck looked like it was swallowing my head," he recalls.
Over the next year, Steward started lifting weights in his garage and dabbled with the Body for Life program. Then a friend lent him a mountain bike to cruise around Lake Hefner; it was there he noticed "fit 60-year-olds who could kick ass" on their bikes. "I realized I could do this for a long time," he says. "It's not just a short-term weight-loss thing but very easily an active lifestyle." A competitive person, he naturally gravitated toward bike racing and documented his gradual transformation into an elite amateur racer on a blog, tonysteward.me, that he still maintains.
9 Spring Cycling Essentials Every Guy Should Ride With >>> 
But racing wasn't enough. Steward loved bike culture so much that he eventually opened a bike shop, Charley's Bicycle Laboratory, along with two partners. From that vantage point, he's watched the local cycling community thrive till it's outgrowing the available infrastructure.
Since he started racing cyclocross in 2011, Steward estimates there are twice as many Oklahoma City races and 15–20% more riders involved. On the roadie scene, last year saw the launch of a weekly race in the heart of the city at the Downtown OKC Airpark. "The Wheeler Criterium is an official USA Cycling race, with great payouts and leaders' jerseys, and it's right in the middle of downtown," Steward says. "What they've done is find a way to highlight a fun cycling event that gets the attention of people who don't ride, and that's a huge deal."
Two Cycling Workouts to Rule the Road >>> 
There's also a lot of fresh excitement around dirt and gravel racing out on the hundreds of miles of rural, unpaved roads that fan out in every direction beyond city limits. "The community's growing like crazy around cycling," he says, "but inside the city, we're outgrowing what we have." What he means is that the few bike-friendly areas of the city are becoming overcrowded. By way of example, he cites a recent Saturday shop ride during which his group of 20-odd cyclists encountered both a 5K race and a walkathon on the public trails downtown.
"We were all commenting on how cool it was that there was so much activity happening, but we were all in each other's way," he says. "Now our Saturday rides stay off of the multipurpose trails because we've realized they're just too dangerous to be sharing with so many people." Today, the city is working on a fix, with 62 miles of new trails to be built over the next four years.
They put the whole city on a diet
Mayor Cornett's "diet" plan didn't come from nowhere. He struggled with obesity himself, his weight yo-yoing 25 to 30 pounds every decade or so as he went through cycles of gain and loss. It was an early 2007 article in this magazine, listing Oklahoma City as one of the nation's fattest cities, that pushed him to shed the weight once and for all. He played more tennis, started banging out 50 pushups each day, and, most important, cut down his calorie intake from roughly 3,000 each day to 2,000. And the pounds came off—about a pound each week for 42 weeks starting in April 2007.
When it came to implementing the citywide diet, Cornett's administration created a website—thiscityisgoingonadiet.com—loaded with fitness and nutrition information, where locals could track their exercise and weight loss. Over four years, 51,009 participants logged a staggering 1,000,000 pounds lost—about 19.6 pounds per person.
Back to Basics: Creating a Healthy Diet Plan >>> 
Along the way, Cornett started examining the city—its culture and its infrastructure—to figure out why its people struggled with obesity. The first thing he noticed was how the city, at 620 square miles, was twice the size of New York City—but with only 7% of its population. It's the least densely populated city in the nation.
"I came to the conclusion that we'd built an incredible quality of life if you happened to be a car," Cornett says. "But if you happened to be a person, you were combating the car seemingly at every turn. We weren't designing the streets for pedestrians; we were designing them to see how fast we could get cars through the area." More than 100,000 homes didn't have sidewalks in front of them. The result? Nobody walked anywhere. Or biked. And it was easier to hit up fast-food drive-throughs than seek out healthy local alternatives.
No Shock Here: Lose Weight by Eating Less Fat >>> 
But once Cornett had so abruptly "started the conversation" with his citizens about fitness and obesity, he realized they could change the city's infrastructure to make it easier to walk, be active, and stay healthy. "We never could've changed that built environment unless we'd had the conversation first," he says. He proposed the MAPS 3 sales tax to raise $777 million for the Boathouse District's whitewater center, a downtown streetcar system, a 70-acre public park, and four senior wellness centers, plus bike-trail and sidewalk construction. Voters passed it in December 2009, and they haven't looked back since.
They enrolled in the School of Hard Rocks
Despite all the sparkling high-profile architecture that's filling out the Oklahoma City skyline these days, the most inspiring building might just be a cavernous old grain elevator that stands in the shadow of downtown. The 155-foot-tall structure, which dates back to the 1940s, has been repurposed into Rocktown Climbing Gym, one of the most unique climbing gyms in the country.
Inside, a warren of passageways leads from room to room, each of which is housed inside its own grain silo. More than 65 climbing routes wind and traverse their way up the concrete walls as high as 90 feet. One even finishes on the ceiling, 100 vertigo-inducing feet off the deck. The massive building is unheated, save for a couple of heat lamps that serve to thaw out numbing fingers. "We embrace the elements," says operations manager Andrew Chasteen, an ambassador for legendary climbing and apparel brand Patagonia. "You come in here and train for real-life outdoor climbing."
Essential Gear for Rock Climbing and Bouldering >>> 
But there's another, perhaps more important, way that Rocktown is training people for real life. The gym supports, and is owned by, a nonprofit, Rocktown Youth Mentoring, whose mission is to cultivate character in disadvantaged kids every day after school through rock climbing and mentoring.
The program's executive director is Steven Charles, a former climbing guide who later worked with troubled kids as a school counselor in poverty-stricken Northeast Oklahoma City. Getting them to talk, he recalls, wasn't easy—until he got them moving. "I'd grab a basketball and we'd shoot hoops together, and it's amazing how much they'd start to open up when they were physically doing something," he says. "Getting their hands and feet involved certainly helped."
Climb Your Way to a Leaner, Healthier Body! >>>
Rocktown brings in roughly 90 youths from all variety of broken situations—homeless children, last-chance delinquents, straight-up poor kids—over the course of a week for one-on-one mentoring. The kids climb, talk about character education, and eat a healthy meal. "We also talk with them about what we're feeding them, how it was prepared, and why we're eating it," Charles says. The idea is to teach them that they can eat healthy on a budget and without too much work—an important message for kids who are at the highest risk for childhood obesity, which could dog them into adulthood.
Charles has a few theories about why rock climbing works. Everyone is drawn to adventure, but troubled kids, in particular, are attracted to risk; climbing offers them a safe, healthy place to experience that risk (or perceived risk, anyway). It's a physical workout, sure, but it's also mentally challenging as you put together moves to climb a wall. And, last, you fail—a lot.
"Experiencing failure, and learning how to work through it is, I think, one of the key components to being successful," Charles says. In other words, climbing does for the Rocktown kids what it does for everyone— makes them stronger, teaches them to learn from their mistakes, and shows what they can accomplish with hard work.
The Next-Generation Climbing Gym >>> 
For all Rocktown visitors, hard work can also earn them something else: the best full-spectrum view of downtown. Outside of the facility, 16 routes scale the silos' towering outer walls. One of them, "Serpentine," is a mild two-pitch route that takes you to the roof, where—with the wind in your face and blood surging through your veins—you can see just how far Oklahoma City has come since the mid-1990s.
"None of these buildings were here," Chasteen says, and starts pointing at the skyline. "Sonic wasn't there, Hilton wasn't there, Harkins [Theatres] wasn't there, the baseball park wasn't there. Bricktown was empty, save for U-Haul—it's where you went to get mugged. The Devon Tower wasn't there, Chesapeake Arena wasn't there."
But Rocktown is still here, and, thanks to a 12,800-square-foot Technicolor mural by local artist Rick Sinnett, it shines like a beacon from its gray industrial surroundings.
The truth is, Oklahoma City still has a ways to go. Only a third of its residents are at a healthy weight. Nearly that many don't get any regular exercise—none. And, according to our sources, it could still be more walkable and more bikeable. But it's making strides.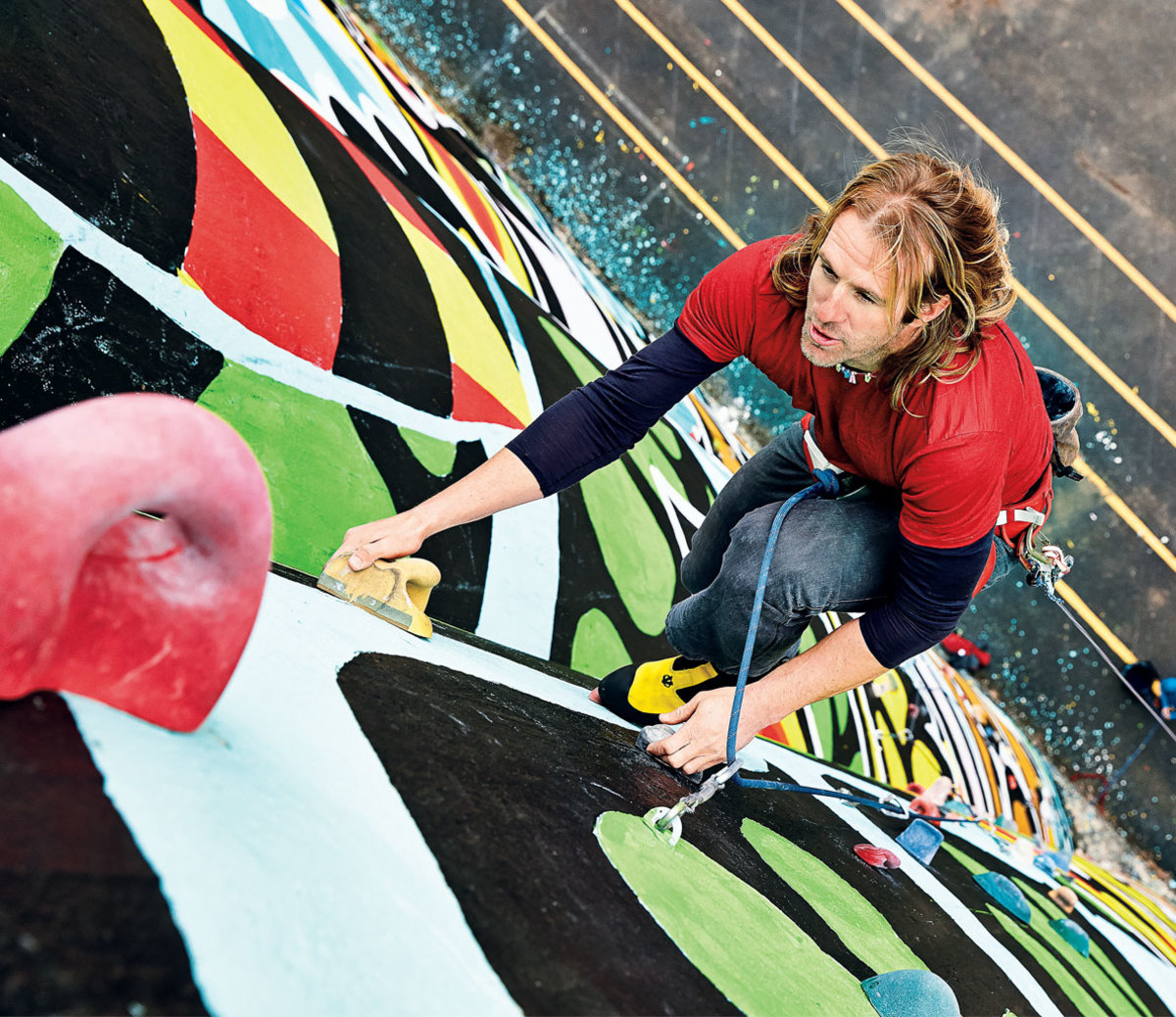 They brought Kevin Durant to town
What Oklahoma City does have going for it is incredible momentum, most of which can be traced back to the MAPS projects. The Oklahoma City Dodgers baseball team draws half a million fans to Bricktown, who then fan out into the neighborhood to dine alfresco at canalside restaurants. The Boathouse District ripples with activity and promises to grow with the whitewater park and additional university boathouses. The area is becoming something of a foodie hub, too, as restaurants sprout up offering locally sourced foods and higher-quality ingredients. The streets are being narrowed, the sidewalks are being widened, and landscaping is going in all over the place. The Civic Center Music Hall brings big-name acts every week. Overlooking it all is the gleaming new 850-foot-tall Devon Tower, and as many as five more high-rise towers are in the works.
How to Build the Body of an NBA Baller >>>
And, inside the Chesapeake Energy Arena, the Oklahoma City Thunder is one of the youngest, hottest teams in basketball. Since relocating from Seattle in 2008, the team has advanced to the conference finals three times and the NBA Finals once, led by the efforts of league MVP Kevin Durant. The fans absolutely love them, selling out every home game since February 2011. There's more to the love than just wins, too. The Thunder play like a team on the court and, more important, out in the city. They lead the league in community-service hours and donate their time and money to health and fitness initiatives around the state. Durant even gave $1 million to the Red Cross in 2013 to help with disaster relief after an EF5 tornado ripped through nearby Moore, OK. Then he roped the Thunder, the NBA, and Nike into doing the same.
Kevin Durant's Tips to Staying Focused and Healthy on the Road >>>
All together, the Chamber of Commerce traces more than $5.3 billion in private investment, including the Thunder, to the MAPS projects. They've changed the city's image, causing young people to stick around and, more important, attracting new people from progressive coastal cities (and their Texas rival, Austin) and, with them, big employers.
"What we discovered 20 years ago was that economic development was about quality of place," Cornett says. "People live where they want to live, and the jobs go there. We figured out that quality of life mattered more than incentives, and this city has been nonstop ever since." 
For access to exclusive gear videos, celebrity interviews, and more, subscribe on YouTube!