Renan Ozturk had been climbing for 18 straight hours — clawing up steep snow and ice on India's 21,000-foot Mount Meru — when he finally lost it. A near complete neurological collapse: His face was numb, his speech garbled, most of his motor coordination impaired. Ozturk's teammates — renowned alpinists Conrad Anker and Jimmy Chin — were terrified by his state.
It was only their first day climbing and already they faced likely defeat and the need to make a dangerous and immediate retreat. The Shark's Fin had been an object of intense craving among elite alpinists for decades, and more than two dozen expeditions — including one by this team — had ended in failure and grave injury. The Shark's Fin had yet to be climbed.
Ozturk was himself a world-class climber, a North Face team member, a fine artist, and mountain documentarian. At 31, he was the youngest and least experienced of the three. So he brought up the rear for Anker, 48, and Chin, 37, also salaried North Face climbers, who had 60 expeditions and four Everest summits between them.
"In some ways, Renan had the hardest job," Chin says, "because he had to carry a 65-pound pack on serious ice climbing." By the end of that first day, Ozturk had already started disintegrating — fingers bleeding in his gloves, calf muscles cramping, toes badly bruised from kicking crampons into the mountain. His shoulders burned from swinging his ice axes hour after hour. Scared and delirious, his self-doubt spiraling out of control, Ozturk buried his face in his arm to hide his tears.
Ozturk had been here before, in 2008, and it had been the most harrowing experience of his career. Anker, Chin, and Ozturk were stuck on Meru for nearly three weeks with only a week's worth of food, enduring multiple avalanches and a 100-year storm that killed five men on the ground below. They ended up retreating just hours from the summit.
But it was the calamities Ozturk and Chin had suffered since, on mountains far from this coveted Himalayan peak, that tortured Ozturk now. Chin had almost died in a massive Tetons avalanche, and Ozturk had skied off a cliff in Wyoming, breaking his neck, slashing a vertebral artery, and largely scalping himself. To fix the artery, surgeons had implanted a mechanical stent, blocking half the blood supply to Ozturk's brain, creating a potentially fatal handicap in high altitudes that Anker claims not to have been informed about.
But now, as Ozturk felt his mind faltering, he worried that he'd made a grave mistake. He had an agonizing tooth infection; every icy breath stabbed a dagger through his skull. "Your vision literally starts to get blurry," Ozturk says of climbing that hard and at that altitude. "You're so tired that it's hard to open your eyes, and when you do, it's almost like hallucinating. At the same time, you have all these things racing through your head: 'I need to drink, I need food, got to set up the ledge — oh, my God, we got to haul, I can't let them know how I feel, act normal, fuck, act normal, fuck, the rope's tangled, Conrad looks disappointed. I can't let them know.' I was falling apart inside."
Once they found somewhere to attach their portaledge, a tent that hangs free on a vertical wall, Ozturk succumbed: "I crumpled into the snow with my head in my arms and literally wept out of sheer pain and exhaustion like I'd never felt before," Ozturk recalls. "Just knowing that if I couldn't do it, I'd let those guys down."
Conrad Anker wasn't a man you let down lightly. While he could be easygoing on the ground, he became intensely focused on climbs, with no patience for weakness or bravado. Anker was among the most accomplished climbers in the world, captain of the North Face athlete team and the man who'd found George Mallory's body on Everest, in 1999. It was well-known that Shark's Fin was his greatest ambition. "Conrad's career was pretty much built on Everest," says Ozturk. "But Everest means nothing to him compared to that climb."
Chin was both a bridge and a buffer between his teammates. A surfer, photographer, and ski-town playboy, Chin ranks among the strongest climbers and ski-mountaineers alive, one of only four people ever to have skied off the summit of Everest. Once he managed to climb inside the portaledge with Anker and Ozturk, Chin rolled a cigarette ("You can't really eat," Chin says, "so you just smoke cigarettes") and offered it to Ozturk. But when Ozturk tried to speak, he uttered garbled nonsense.
"What's that, Renan?" Chin asked.
Ozturk's eyes met Chin's now, and he opened his mouth: mostly gibberish, with a vague message about how his fingers were tingling, going numb.
"Renan, man. What the fuck?" said Chin.
Now Anker noticed. The younger climber's symptoms reminded him of his father's stroke a few years earlier.
"I took it very seriously," Anker says. "Jimmy was kind of casual about it, but when Renan went to sleep, I sat up and watched him for another four hours, monitoring him. Nervous energy wouldn't let me sleep, and when there's a head injury you have to keep an eye on people." Anker was worried that his climber was suffering from high-altitude cerebral edema, a severe form of altitude sickness that can cause disorientation, hallucination, psychotic behavior, coma, and eventually, death. The only treatment is immediate, rapid descent. The very thought, after his previous attempts on the mountain, and after Ozturk's assurances that he would be strong enough, seems to have been more than Anker could bear: "That probably would've been it for the expedition, right there."

Conrad Anker's journey to the Shark's Fin began in Salt Lake City in the mid-1980s, when a climber named Mugs Stump let him in on a secret. At the time, Anker was a skinny blond country kid from the Sierra Nevada foothills who'd shown early promise on the "big walls" of Yosemite, the vast granite cliffs on which rock climbers toil for days and even weeks. Stump was one of the premiere American alpinists of the Eighties, among the first to apply Yosemite big-wall techniques to high mountains in Alaska and the Himalayas. The two got to know each other while they were living in Utah. In the soulful and free-living Mugs, Anker found a mentor and friend. Like all serious mountaineers, Stump kept a closely guarded list of unclimbed jewels he hoped to bag one day, and Shark's Fin was chief among them. He kept a picture of it in his van, hidden behind a prayer flag, his personal jewel number one.
Anker remembers when Stump returned from his first attempt on the Shark's Fin, in 1986. Stump had been climbing fast and light up those lower snow-and-ice slopes when a storm hit. Without a tent or a portaledge, Stump and his partners retreated, hearing an avalanche roaring down from above. Stump scrambled to one side, but he got clipped by the avalanche's edge. One of his ice axes held, saving Stump's life but yanking his shoulder out of the socket.
Down in base camp, Stump whiled away the next few days gazing up at the peak that had thwarted him. Back in Salt Lake City, Anker says Stump talked endlessly about the climb. "The beauty of it," Anker recalls, "the fact that it's this curving big wall. He talked about the spiritual connection, too, how it was one of these hidden places, and how the Hindus consider it the spiritual center of the universe."
"You want to do the ultimate fucking climb?" Stump told his friend. "That's it. The Shark's Fin."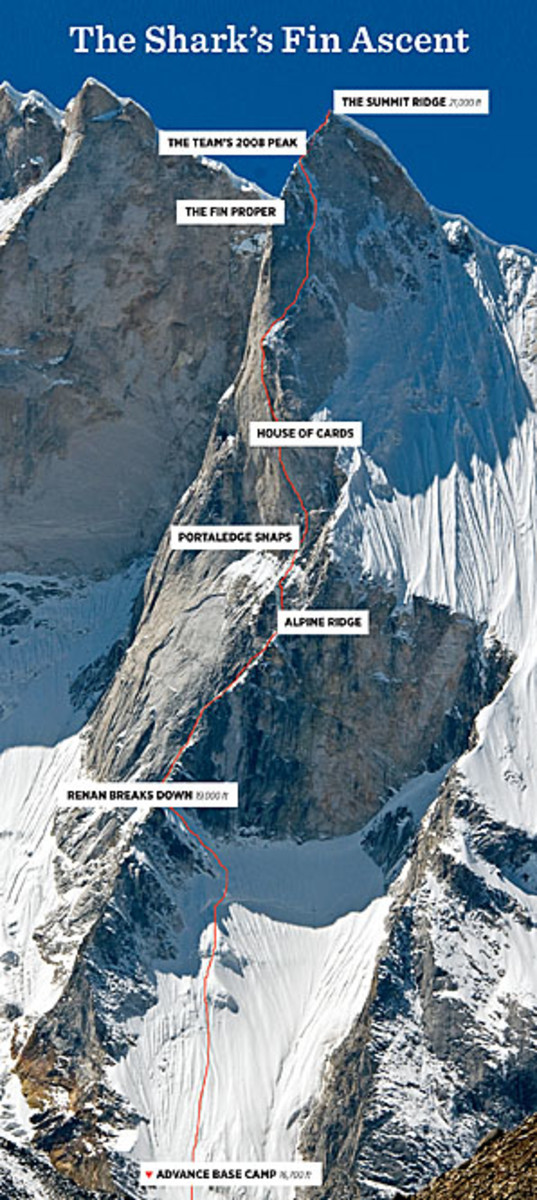 "The Shark's Fin became Mugs' life dream," Anker says. Stump tried again in 1988 and got snowed out in a massive storm. Four years later, while driving through Utah, Anker heard the news: Stump had died on Denali, in Alaska. "Every time I drive by that exact spot, I look over at these aspen trees and I remember hearing the news. Before Mugs died, I always thought we were better than that. Shit happened in the mountains, but it didn't happen to us. That changed it."
At 21,000 feet, Meru doesn't qualify as a particularly high-altitude peak, and the Shark's Fin (or central summit) isn't even its highest summit, but elite climbers care far more about pure technical difficulty and the sheer majesty of whatever it is they're climbing. The Shark's Fin rings both these bells, as well as another, more elusive one known as "complexity." Meru presents its many challenges in a difficult and baffling sequence.
Pete Takeda, a Colorado-based alpinist who has tried and failed three times on the Shark's Fin, compares it to a femme fatale: "She's complex, she's alluring, she throws up all these obstacles — it's a test of how badly you want her."
The climb itself has four parts: the 2,500-foot wall of steep snow and ice — a deadly serious climb in its own right — with constant exposure to rock fall and avalanche; the so-called Alpine Ridge, a 500-foot section of hard mixed climbing, with rock, ice, and snow; the 1,000-foot stone prow known as Shark's Fin proper; and finally, the summit ridge, still untouched by human hands.
"Everyone falls in love with the top half," says Takeda. The problem, he explains, is that climbing esthetics now favor what's called "alpine style" — or, more caustically, "disaster style" — which dictates carrying a bare minimum of gear and food, walking up to a mountain and climbing it, with little margin for error. Stump was the first to discover what many others have since confirmed: that this light-and-fast approach works fine on Meru's snow-and-ice slopes, but once you're on the Shark's Fin itself, you discover that without big-wall gear and a whole lot of time, you're grossly unprepared.
"What's diabolical," says Takeda, "is how technical the rock turns out to be." The wall is so steep and so sheer — so devoid of cracks and handholds — that it simply cannot be climbed without complex equipment (such as hooks and pitons) and a portaledge to sleep in between days of painstaking climbing.
A steady procession of elite-level climbers tried to climb Meru in the 1990s and 2000s, "but it kept shutting people down," Anker says. "Trip after trip got beat. Paul Pritchard, Johnny Dawes, Scott Backes."
Some of these expeditions tried siege tactics — stringing fixed ropes up and down a mountain — only to fail from the exhaustion of ascending and descending those ropes and getting battered by weather. Others, refusing to learn the lessons of their predecessors, made their own hopeless alpine-style bids. Still others detoured away from the prow of the Shark's Fin, like the great Valery Babanov, a Russian who won climbing's highest honor, the Piolet d'Or, for ascending an easier gully to the right of the Fin.
Anker spent years distracted by other challenges. He put up pioneering routes everywhere from Yosemite to Antarctica, and he suffered further losses, including the climbing death of old friend Seth Shaw. In May of 1999, Anker found the body of George Mallory high on Everest, cementing his name in mountaineering legend and triggering a decade's worth of books and film projects.
Five months after the Mallory discovery, Anker was climbing Mount Shishapangma with Alex Lowe, a fellow North Face team member and one of Anker's dearest friends. The two watched in awe as a massive slab avalanche broke free higher up on the mountain — until they realized they were directly in its path. Anker survived with a lacerated scalp and broken ribs, but Lowe's body was never found.
A year later, at age 38, Anker married Lowe's widow, Jenni, and adopted Lowe's sons. Just when he had reached the peak of his powers and resources as a climber, Anker married into a family that could not afford to lose another husband and father. He took on more administrative duties for the North Face, sought out expeditions that were more about exploration than risk. But he also began quietly plotting that one last great climb: the Shark's Fin. "By then, it had become my life goal, this way to honor Mugs. When I go to Everest, it's a gong show. It's commercial. It's just work. Meru is the climbing I live for."
Anker's first trip to Meru, in 2003 — self-funded, with a couple friends — failed like every other. In the years that followed: a 2004 Japanese expedition that retreated after one team member broke both legs; a 2006 attempt by the same team, reaching the summit but only by skirting away from the Fin; a 2006 Czech team that did the same thing.
Anker went back in 2008, bringing Ozturk and Chin, and trying a different approach: "capsule-style" climbing, using a portaledge as a mobile base camp. But even that wasn't enough: a 100-year storm trapped them inside the portaledge for 96 straight hours, and when they emerged onto the upper wall, they found the climbing vastly more technical than anyone had guessed. Chin led up an 80-foot section so blank and steep he had to set holes with a hand drill, climbing for six mentally crushing hours in constant fear of blowing one out.
On the 15th day, with all three men borderline hypothermic, Anker led a go-for-broke summit bid: up at midnight, one last energy bar for each man, and then 15 hours of extreme climbing on ice, rock, and snow to the summit ridge. When they finally got there, they faced a colossal disappointment: a setting sun, bitter cold, and terrain nearly as sheer and steep as those hooking sections.
"We would've summited in the dark," Anker says. "Someone, if not me, would've gotten frostbite. Those guys are artists. They use their fingers. My fingers are expendable, but you don't want that under your watch."
Sitting together in stunned exhaustion, cold to the bone and having already pushed way beyond their safety margin, they accepted defeat.
"SHE'S COMPLEX, SHE'S ALLURING, SHE THROWS UP ALL THESE OBSTACLES – IT'S A TEST OF HOW BADLY YOU WANT HER."
Anker claims that he felt content in that moment: "We'd given it our best shot and that's just the way it is," he says. But Anker also told the others — right there on the mountain — that he was not done with Meru. "You guys get right of first refusal," he said, referring to slots on his next team. "But I'm coming back."
"I'm never fucking coming back," Chin said. "I don't know, man. Maybe some things aren't meant to be climbed."
Chin's feet were so close to frostbite that he couldn't feel his toes for months. More crushing was what he noticed when he looked at his photo back home: They'd retreated a little more than 100 yards from the summit.
In the days and weeks that followed, the three men largely went their separate ways: Chin headed to his house in Sayulita, Mexico, to spend a few months surfing in warm water. Anker rededicated himself to family life in Montana and the less dangerous elements of his job, like grooming new North Face athletes. Ozturk made a film from the video he'd shot on Meru, called Samsara, which would go on to win multiple awards.
The following summer, in 2009, Anker got an email from Silvo Karo, a Slovenian climber deeply revered among extreme alpinists. "They're so badass," Anker says of Karo's Eastern European crew. "They eat cold gravel for breakfast." Karo had heard about Anker's retreat on Shark's Fin, but because Anker had gotten nearly to the summit, climbing etiquette dictated that Karo should ask Anker's permission before tackling the line himself. Anker and Chin were flattered: "Karo's tastes are very refined," Chin says. "It really reinforced that this is one of the last plum lines."
Anker even offered a little advice to Karo, telling him to bring a portaledge and big-wall hardware, like hooks. "He was like, 'No, we're going to go alpine style.' So they went up with the same gear I took back in 2003." They had the same result, too: failure.
In December 2010, the North Face gave Anker the green light for a third Shark's Fin expedition, and he set the date for September 2011. A few months later, Ozturk flew out to Jackson, Wyoming, to shoot an extreme-­skiing film. High in the Tetons, Ozturk followed Chin, backcountry snowboarder Jeremy Jones, and others down a steep gully. "Renan got thrown off balance going pretty fast, and he flipped around backward, went over a cliff band, and basically landed on his head," Chin recalls. "I skied down to him. He was totally unconscious face down in the snow."
Chin rolled his friend over. "I could see into what looked like his brain," he says, "exposed by this huge bloody flap that got ripped back." Chin put Ozturk's scalp back into place, took off his shirt and put it over the flap, and covered that with Ozturk's hat. A Life Flight helicopter sped them to a nearby trauma center, where they learned that Ozturk had fractured his skull and broken two vertebrae, slicing his vertebral artery, one of the two main suppliers of blood to the brain.
Five days later, with Ozturk still in the ICU, Chin was skiing in the same film project when the snow slab beneath him broke free. "The whole mountainside snapped," he says. "I watched this first section of trees bend and snap out in front of me, like 25 trees all at once." Chin got sucked deep inside the avalanche, rolling toward certain death. "I was like, 'Oh, I'm dead.' " Chin felt himself being crushed by the weight. "I kind of left my body, like I always wondered how I was going to die, and now I know. But then I was like, 'Fuck this, you got to fight.' But you're not really able to do anything. You can feel the velocity and hear the roar, and it's just black. It made me think about surfing. I was like, 'OK, there's no way you can fight. You have to relax and let it take you and maintain as much oxygen as you can.' "
Chin popped up to the surface and quickly rolled onto his back. "It was an ocean. You couldn't see either end of it and you're sitting on top of five 747s, and I could see the valley another couple thousand feet below. I was like, 'Oh, my god, I'm going to the bottom.' "
The avalanche poured off another cliff and plunged Chin under the moving debris again. "All of a sudden, a surge from underneath shoved me out the tongue of the debris pile, and I popped out feet first in snow up to my chest. I couldn't believe I was in one piece," he says. "There's no way I was supposed to live."
Chin managed to walk out on his own, but he woke up the next day convinced that he'd broken his back. "It really unscrewed my head. I definitely suffered some post-­traumatic shit," Chin says.
Not two weeks after that, Chin was up in Alaska, skiing down Denali and, for the very first time, questioning his métier. He wondered if his endless flirtations with death had gone far enough.
Ozturk spent much of the spring and summer of 2011 in a neck brace, working out on a recumbent stationary bike in a bedroom of his Boulder house. "I wasn't sure if I was going to be ready for Meru, but Conrad and Jimmy never even one time suggested anybody else going in my place." So Ozturk bought a round-trip ticket to Delhi and set about rebuilding himself, bagging 14,000-foot peaks in the Rockies, testing his newly impaired brain's reaction to altitude.
"It was stressing everybody out," he admits. "My girlfriend, my family, just worrying that I was going back to the hardest experience of my life."
Privately, Anker and Chin had their doubts — about Ozturk and even the climb itself. Anker asked Ozturk for a complete report from his trauma surgeons, just in case they found themselves in some Indian hospital, trying to explain what was wrong with their friend. (Ozturk delivered the report, omitting mention of the stent at the base of his skull.) Though Anker had climbed dozens of world-class peaks, the idea of a return to Meru still rattled him. He was 48 years old — and he'd long been cured of any delusions about his own invulnerability. He'd lost enough close friends to know better. While organizing equipment in the gear room of his basement, he found himself drenched in cold sweat.
But when they convened in the Indian village of Gangotri, where the last road runs out and it's time to start walking, they'd put all their doubts aside.
Every year, Nepali porters come to the Garhwal for seasonal work on climbing expeditions. Anker hired 15 of them to carry about 115 pounds of supplies each on a three-day trek through misty mountains to a place called Tapovan, at 14,435 feet, where Hindu hermits called sadhus pray year-round to Meru, Mount Shivling, and the Gangotri Glacier, the source of the sacred Ganges River. Anker paid the strongest to continue on with them, almost to their advanced base camp at 16,700 feet. When the porters could go no farther, Anker paid them off in big wads of cash, and the climbers roped up for the final stretch of travel across dangerous crevasses.
Once they'd established an advanced base camp, they reviewed their climbing strategy: They would sprint up those lower snow-and-ice slopes in a single, furious, nonstop push to avoid getting trapped by weather. Second, they would try to establish their final portaledge camp much higher on the fin than they had in 2008, setting them up for a shorter final summit bid.
Then they all pulled the trigger. They rose at midnight, zipped up their down-filled climbing suits and buckled on plastic double boots. At the very toe of that gargantuan wall, they shouldered their packs, stepped into crampons, and grabbed their ice axes.
Nineteen hours later, Ozturk was speaking in tongues inside the portaledge and the team was forced to confront the crushing likelihood that they would come up empty again.
"I knew we were probably going to have to go down and that it would be all my fault," Ozturk says. "But there was numbness in my face and in one of my arms, and out of sheer exhaustion, I couldn't get into my sleeping bag. I passed out cold in my clothes, like a blackout drunk."
When Ozturk woke the next morning, he found Chin watching over him as if seeking an answer: Do we go on or go down?
Ozturk started to speak and realized he still couldn't do it. But he could move his limbs and was feeling slightly stronger. He gave Chin a meaningful nod. Chin knew how much danger they'd all be in if Ozturk fell apart on the upper wall, but he also knew his teammate. "There are moments when your climbing partner looks at you and it's the full-on red alert, like, 'I'm totally fucked, dude. We've got to drop now.' " Chin felt Ozturk's look was saying the opposite.
The next few hundred feet were supposed to be Ozturk's lead — a section of rock and ice on which his superior gymnastic ability would shine. "I started to speak," Ozturk recalls, "but Jimmy said something like 'Don't talk. And don't say anything to Conrad.' "
Chin got Ozturk out of the tent and into his crampons. Then, as if he was dressing a child for school, he hung a huge rack of climbing hardware around Ozturk's neck, tied a rope to his harness, put ice axes in his hands, and gestured for him to lead the way.
"I led a couple pitches and didn't fall," says Ozturk. "And that ended up being another really long night — we climbed until 3 am and set up the ledge again in the middle of the night." The next morning, Ozturk felt better still, but just as he climbed out of the portaledge, it broke in half — "a big cluster fuck," as Ozturk puts it, with Anker and Chin still tangled inside.
Worse still, according to Anker, that bivouac site was exposed to snow and rock fall: "Snow chunks were coming down, and ice cubes," Anker says, "kind of disconcerting. If they're moving fast enough, they're going to hurt." So the team had to burn hours repairing the ledge and then moving it onto higher, safer ground.
They spent three full days there while they pushed their ropes higher and higher. Then Chin confronted one of the hardest sections on the mountain, which they dubbed the House of Cards — a bewildering expanse of bodysize blocks plastered to the face by little more than ice and accumulated snow. If Chin dislodged one, he'd die for sure, probably taking Anker and Ozturk with him. But the only way to make upward progress was by gingerly setting hooks onto the suspended blocks, clipping stirrups through the hooks, and then standing up in the stirrups and praying the blocks didn't break loose.
OZTURK STARTED TO SPEAK AND REALIZED HE STILL COULDN'T DO IT. CHIN KNEW THE DANGER THEY'D ALL BE IN IF OZTURK FELL APART, BUT HE ALSO KNEW HIS FRIEND. HE GESTURED FOR HIM TO LEAD THE WAY.
By their seventh day on the mountain, they had moved their portaledge, as planned, far higher than in 2008. It was now dangling completely free under overhanging rock, at over 20,000 feet. As they cooked dinner that night — bowls of couscous — snow began falling hard against the storm cover. Then the wind picked up, bouncing them around amid a deafening roar as they lay down in their sleeping bags, packed side-by-side like filthy, aching sardines. When the alarm sounded at 1 am and Anker zipped open the storm cover, he saw millions of stars. Within the hour they were climbing again.
Chris Figenshau, a friend they'd brought along to manage their advanced base camp and to call Anker's wife and kids on the satellite phone with updates, began tracking the team by listening in on their walkie-talkie radio frequency. The morning's first transmission, uttered in the predawn blackness, came from Anker screaming, "This wind is eating me alive!"
Figenshau knew that Anker was leading an extremely technical stretch of 80-degree ice. He also knew that a howling wind, in extreme cold, can suck energy right out of a climber's body. "Pretty dangerous stuff," as Anker later put it. He fretted over every swing of his ice axes, every kick of his crampons. If that ice cracked, he faced a death fall, and yet if he stopped moving for too long, he'd freeze. Given their desperately exposed position — the wind chill now well below zero — they faced the possibility that cold alone might shut down the climb.
Chin called up to Anker: "What do you want to do?"
Anker barked his answer into the radio, and his down jacket was sent up on a rope. Just then the sun hit, sweeping light across a bright blue sky and over a white-jeweled mountain range. Anker's climbing began to pick up speed. As he trenched his way through yet another cornice to reach that summit ridge, blocks of snow shot downward, rocketing past Ozturk and Chin at the belay.
Regrouping on the very spot where they'd pulled the plug on their previous expedition, they saw something hard to believe: "Right where the Shark's Fin goes from overhanging to a little less than vertical," says Chin, "there's this giant quartz crystal wedged into a slot in the wall and you end up sitting on it."
From that crystal, Chin led a final, steep rock section and then an easier triangular face on which he had to hook his heel around the wall's outer edge and haul himself up onto what turned out to be the summit.
Figenshau, back in base camp, heard with his naked ears a joyful, far-off scream. Then the radio woke up.
"Jimmy's on the summit," Anker said. Soon, Ozturk and Anker joined Chin, pulling themselves onto the narrow platform, an improbable perch among the glittering peaks of the Garhwal Himalaya. Time is of the essence on big mountains: Weather can pop up at any moment, and climbers typically sprint back down from the summit almost immediately to begin the difficult descent. But the view — and the moment — were too precious for Anker, Ozturk, and Chin. Four thousand feet below, they could see the vast white expanse of the Gangotri Glacier, source of the Ganges, and distant Tapovan meadow where the sadhus live and pray.
"The fatigue cancels out the joy," Chin says, "so you're kind of in this middle space."
Anker's thoughts were equally conflicted. Exhilaration is something the great climber rarely experiences on the summit. "I mean, sure, we were saying, 'Wow, we made it.' But I always get to the summit and somehow it doesn't mean anything. It's just another point. It's crazy. The summit is what drives us, but the climb itself is what matters. I'd been so, so happy to be back there, and climbing that mountain again, but only because I'd loved the climbing itself."
Anker's thoughts naturally drifted to Stump. He muttered something, as if speaking directly to his old friend. And then he opened his backpack and pulled out a small butane stove. He lit the blue flame and melted snow, brewing up instant coffee to energize them for the journey back down.
For access to exclusive gear videos, celebrity interviews, and more, subscribe on YouTube!