Screams ring out from inside a warehouse building in industrial Brooklyn. Nobody is actually getting their ass kicked inside, but it sure sounds like it. That is because inside is the makeshift dojo built by Marvel to create and rehearse the fight sequences for the upcoming sophomore season of superhero series Iron Fist.
But before stepping through these doors Finn Jones, who stars as Danny Rand aka Iron Fist, prepared for his return to the character by committing himself to a pious training regime five months earlier. "I was excited that we had this chance with stunt coordinator Clayton Barber to really dial in the fights," says Jones. The actor started working with personal trainer Bev Ratcliff who set him up with a gymnastic-based routine. "This role requires me to be long and lean so that I can move fluidly, rather than just putting on tons of muscle."
Ratcliff, who is a nutritionist as well, also created a strict diet plan for Jones to follow. "I dedicated myself to it," says Jones. "I cut out alcohol and was eating as clean as possible every meal."
Most importantly though, is the time that Jones spent with a Shi Yan Ming, a 34th generation Shaolin warrior monk and head of USA Shaolin Temple in New York. During their days at the temple Jones was put through a wide range of traditional kung fu movements while Ming gave strict instruction.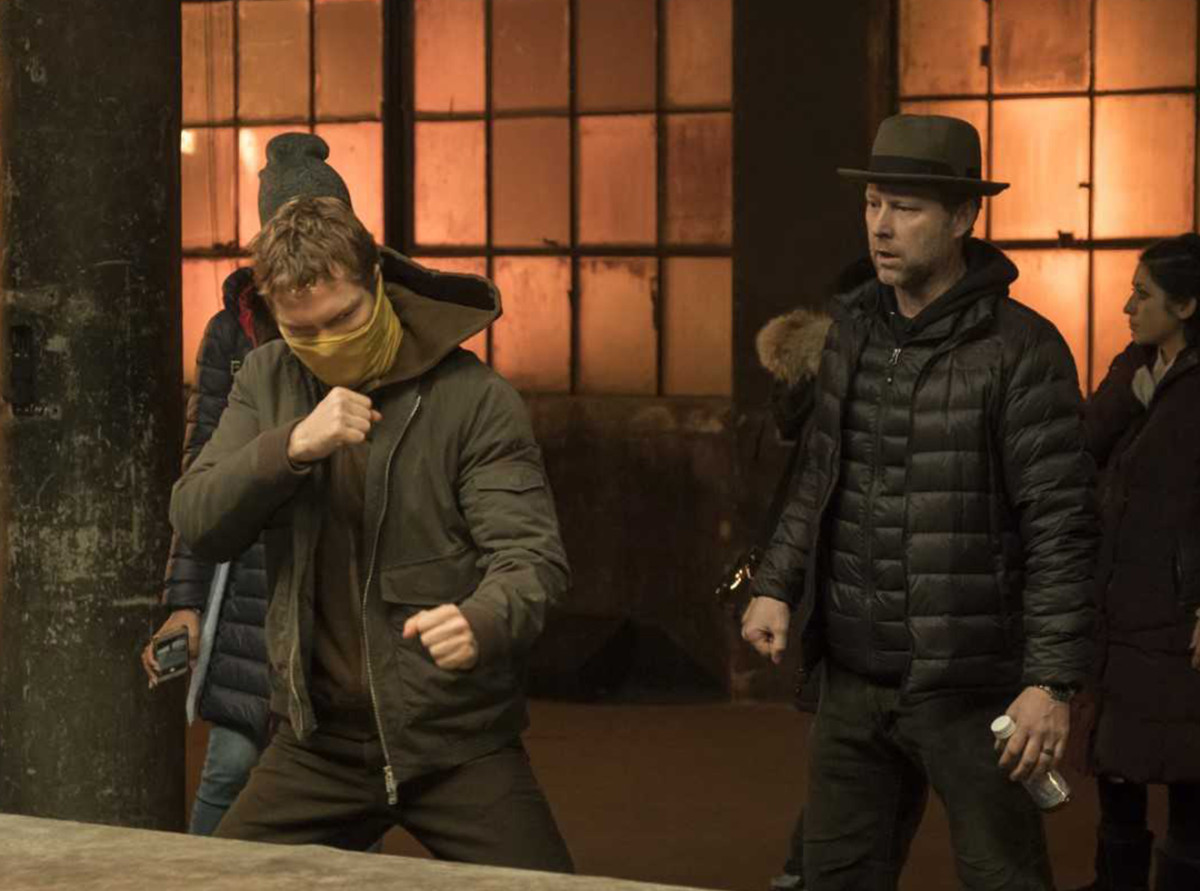 "He yelled at me for 'more chi' and for 'more power'," says Jones. "I was able to find a reserve of energy that I never knew I had through our work together. You never really know what you have until you truly test yourself."
Jones also incorporated study in tai chi, wishu, jeet kune do, as well more modern martial arts. "I see Danny as a brawler who has this foundation of traditional kung fu but also knows he has to get the job done quickly," he says. "I love throwing elbows. It is so vicious and effective."
The effort that Jones put in paid off when it came time to shoot the stunts. "I wanted to take what they did with the first season and crank it up a notch," says Barber, who the producers brought in to do just that. Not only was Barber coming off working as fight coordinator on Black Panther, but his career as a taekwondo competitor gave him the background needed for the martial arts-anchored show.
"The first thing that excited me about this project is that there aren't really any shows dedicated to Kung Fu like this has the chance to be," says Barber. He also set the goal to have the lead actors perform as many of the sequences as possible, which was made possible through those months of intense martial arts schooling.
The experience has been so beneficial for Jones that he is already looking towards what could be done with more episodes. "There is some weaponry combat towards the end of this season and I really enjoyed working with the swords," he says. "If we get a third season, I'll be bringing my swords with me."
For access to exclusive gear videos, celebrity interviews, and more, subscribe on YouTube!