I'm having an afternoon beer with Superman.
More specifically, I'm having a proper British pint, a golden, glistening glass whose shimmering depths promise all the glory of that most fleeting of moments: the English summertime. It's a rare sunny day in west London. We're sitting in the sweltering beer garden of a pub in leafy Twickenham—near where England's national team plays rugby union, the bone-crunching football-with-no-helmets battle royale often described as "a hooligan's game played by gentlemen"—and 32-year-old Henry Cavill is drinking his second pint of pilsner top (a pilsner with a dash of lemonade) and radiating contentment.
Cavill is wearing a shapeless dark green Royal Marines hoodie (his brother Nik is a lieutenant colonel who served three tours in Afghanistan and in the invasion of Iraq) and sporting a wildly tangled beard that would guarantee his anonymity had he not spent much of 2013's blockbuster Man of Steel sporting, well, a wildly tangled beard. But no one bothers him. We are far from Hollywood, in every sense. "If I suggested to an American journalist that we do an interview over a beer," says Cavill, "they'd find it very weird." (Full disclosure: I am also British.)
Henry Cavill's Superman Workout >>>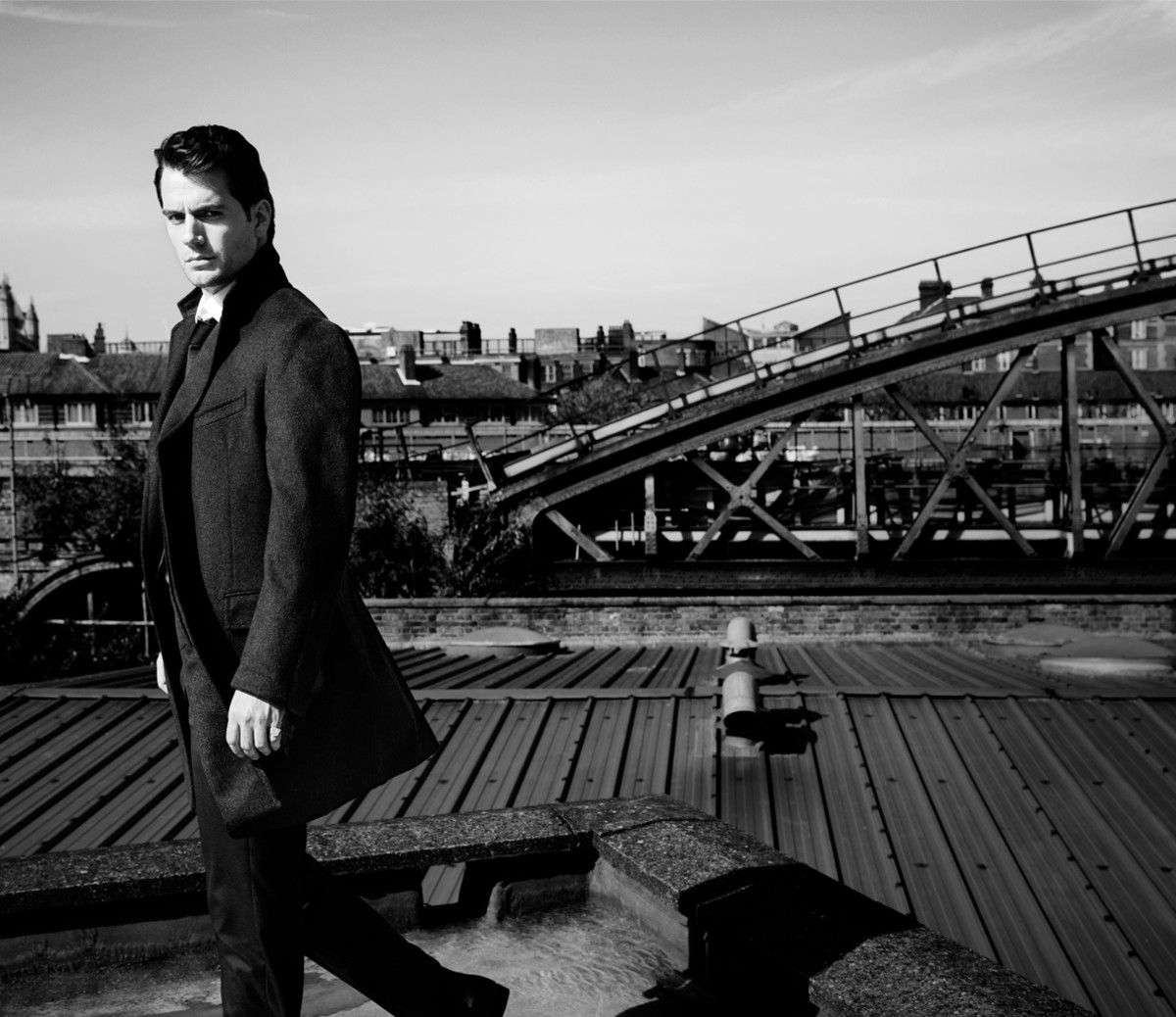 Beer, wooden tables, small dogs. The scene couldn't be more English if Her Majesty the Queen showed up with tea and crumpets. It's fitting, because Henry Cavill is a very English Englishman. Born in Jersey, the idyllic island in the English Channel (not the industrial zone adjacent to New York City) and educated at Stowe, the private boarding school, Cavill embodies what his fellow countrymen would identify as "officer class." Men with Cavill's privileged upbringing and schooling are often accused of being snobs. But they're also described as steadfast, honorable, and unfailingly polite. Cavill is the latter. He is a gentleman. He is old-school. 
So it came as something of a surprise, back in the U.K. in 2011, when Cavill was cast as the all-American Last Son of Krypton in Man of Steel, director Zack Snyder and producer Christopher Nolan's dark, controversial take on the Superman origin story, in which Cavill's carefully controlled moral turmoil suggests that Superman's true superpower is a stiff upper lip. His compelling performance established Cavill as an A-lister, cementing his spot in next year's sure-to-be-blockbuster Batman v Superman: Dawn of Justice, in which he squares off against Ben Affleck's Dark Knight, and two subsequent ensemble Justice League films, DC Comics' answer to archrival Marvel's The Avengers movies. 
Before all that, however, Cavill appears onscreen as a character who couldn't be more different from his clean-cut Kal-El. This month he plays the cynical, debonair thief-turned-super-spy Napoleon Solo in The Man from U.N.C.L.E., director Guy Ritchie's frenetic reboot of the Cold War TV series. Joyfully unpretentious, the movie is a fast-paced marvel of period production design, like Mad Men, but with fights and car chases instead of pitch meetings and cigarettes. Playing opposite Armie Hammer (the Winklevii in The Social Network and the masked star of The Lone Ranger) as ascetic Soviet hardman Illya Kuryakin, Cavill's Napoleon is a scoundrel with style. Forget truth, justice, and the American way—Solo is out for himself.
Behind the Scenes at Henry Cavill's September 2015 Cover Shoot >>>
Having claimed the mantle of cinema's ultimate good guy, is Cavill now also angling to take ownership of the most charismatic jerk in cinema? 
"I thought it was just a really good story, really good fun," he says. "It was exactly the kind of thing I wanted to do after Man of Steel. Napoleon's a lot of fun, and he's probably closer to my own character than Kal-El." He sips his beer. "Well, a little closer. The key is, Napoleon doesn't really want to be saving the world. He enjoys the finer things in life, like good suits, wine, fine food. Me, too.
"Life is for living," he says with a smile, "isn't it?"
When Henry Cavill was a boy, his father, Colin, a stockbroker, once returned from a trip to find that the family home in Jersey had been unexpectedly redecorated. Why was there a revolting new wallpaper on the walls? he asked his wife, Marianne. "Oh, that?" she said. "It's easier to clean the blood off."
Superhero VS. Villain Playlist >>>
With five boys at home—Henry William Dalgliesh Cavill being the fourth—Cavill describes the household as "boisterous. No face punches, we'd just bounce one another off whatever items of furniture we could and occasionally draw blood. But all in good humor."
As a stereotypical middle child, Cavill often found himself lost in the family crowd. "I wanted to do right by everyone and follow the rules. Pretty boring, actually!" he says, laughing. "This is probably why I was so unpopular at school, because I was clearly such a wanker." He corrects himself for American readers. "Sorry: such a douche bag."
Though Cavill loved growing up in the quiet outdoors of isolated, prosperous Jersey, as he approached his teens he began to feel trapped on this small island. He was desperate to leave for boarding school like his brothers, but when he arrived at Stowe, he found that all the groups and cliques had already formed. He was an outsider. Plus, the ripped action hero of the future had another problem: He was fat.
What Henry Cavill Is Drinking in The Man From U.N.C.L.E. >>>
"They used to call me Fat Cavill," he recalls. "I was a prime target for them. I actually had rolls of fat on me. One guy told me I had tits. I was a big eater, and I still love food. I'm still an indulger, in alcohol, in food, in all the things I enjoy in life. I've never been able to do things in half measures. That's probably why I was a fat kid. And yet as much as people made fun of me, there was no actual bullying. I was just miserable and homesick. Kids do love British boarding schools. You get to be your own person, and you grow by yourself. But I will admit I was quite bitter for a while. They also called me a 'lemon,' a guy who gets nowhere with the girls."
Acting gave Cavill an identity. He appeared in school productions of A Midsummer Night's Dream and Grease and discovered he had a talent for the stage. "I liked acting, and suddenly people liked me," he says. "Stowe could have smashed my confidence completely, I think, but actually it prepared me for the world. If I'd gone to Hollywood without having been hurt on a daily basis at school, perhaps I would have been a little less ready for it."
There was one moment at Stowe that changed everything for Cavill, and it's so unbelievable it would strain the credibility of even the sappiest of biopics. In 1999, Russell Crowe—who,  coincidentally, would play Cavill's Kryptonian father, Jor-El, in Man of Steel 12 years later—came to Stowe to shoot scenes for the thriller Proof of Life. The 16-year-old Cavill appeared as an extra, running round the rugby pitch in Combined Cadet Force gear. During a lull in shooting, he approached Crowe for advice. What was the business really like
WATCH: Henry Cavill Stars in The Man From UNCLE >>>
Well, said Crowe, sometimes they treat you really well. Sometimes it's shit. But the money's good and you'll enjoy it. Then shooting resumed. A few days later, Cavill received a care package containing Australian candy, an Aussie rugby jersey, and a CD by Crowe's band—plus a photo signed with a message: "Dear Henry, the journey of a thousand miles begins with a single step. Love, Russell." Cavill's still got it. When they met again a decade later on the set of Man of Steel, Crowe remembered the kid from the English boarding school. 
"It's incredible," says Cavill, apparently still a little dazed. "If you saw it in a film, you wouldn't believe it happened. But it did."
Cavill first shot to fame on Showtime's lurid historical drama The Tudors in the mid-2000s, when viewers got to know not just his face, but most of the rest of him, too. The show was heavy on the sex scenes, especially featuring Cavill's character, Charles Brandon, Henry VIII's trusty wingman. No longer fat—in fact, in remarkable shape—Cavill had his chain yanked mercilessly by his brothers over these scenes.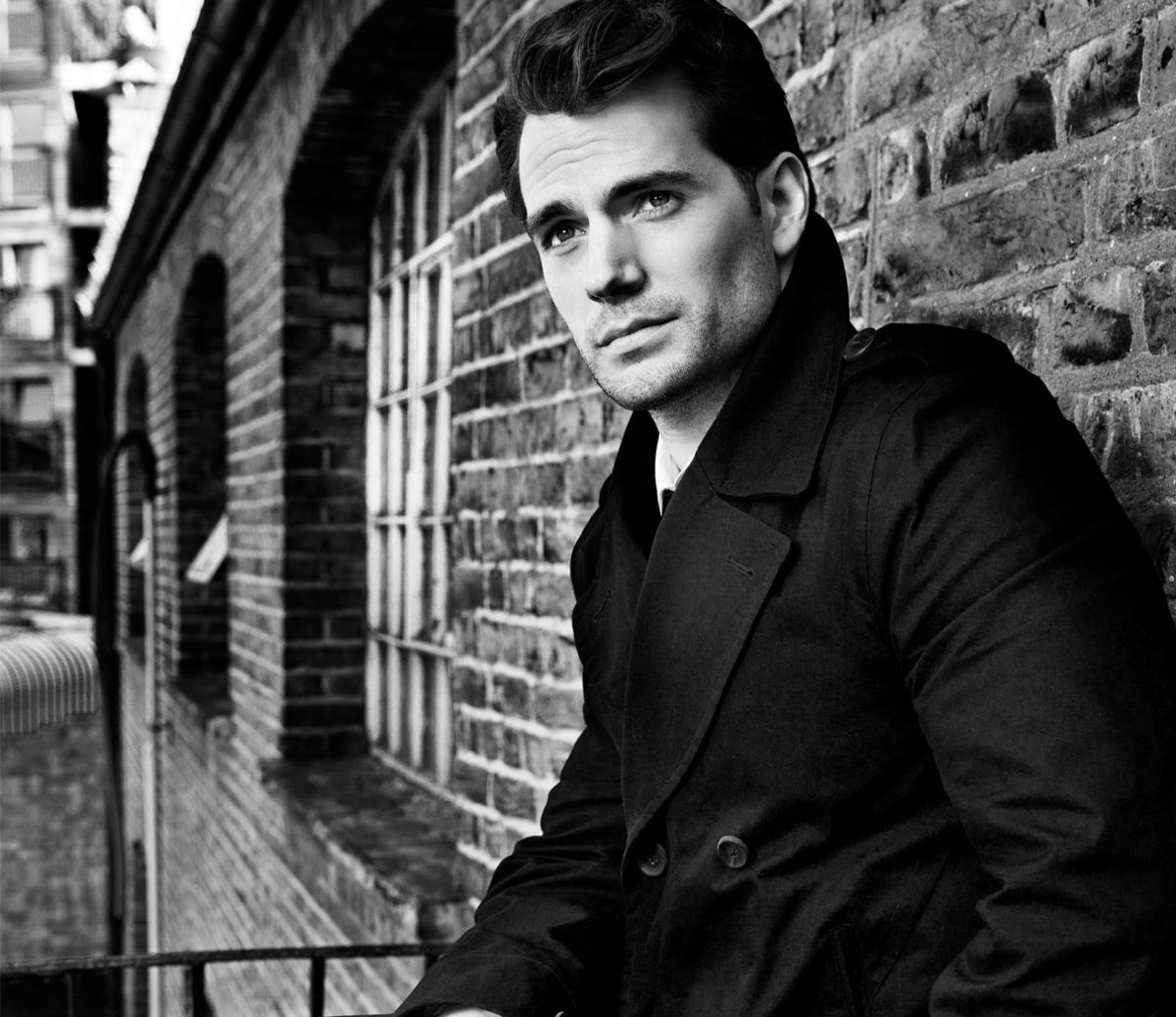 "You don't think of sex scenes as showing your bum to the nation," Cavill says. "It's actually acutely uncomfortable being naked in a roomful of people. The very last thing it is is sexy." He starts laughing. "The actual physicality is very uncomfortable. All you're doing is smacking your nuts against someone, and nothing is going in."
Get Jacked 'X-Men' Style Like Hugh Jackman >>>
I ask him what every guy who's ever watched a movie sex scene has wondered: Has he ever found himself, er, unintentionally aroused on set? 
"It's only happened to me once," he admits, "and it was very embarrassing. A girl had to be on top of me, she had spectacular breasts, and I hadn't rearranged my…stuff into a harmless position. She's basically rubbing herself all over me and, um, it got a bit hard. I had to apologize profusely afterward. It's not great when you're in a professional acting environment and somebody gets a boner, is it? No, not acceptable."
While his role as a 16th-century sex machine raised his visibility, Cavill narrowly missed becoming an even bigger sexual icon. He was one of the final two candidates up for playing James Bond in Casino Royale. It must have hurt to lose out on such a life-changing role, I say. 
25 Ways To Get Yourself Bigger >>>
"Of course I was disappointed," he replies. "But Daniel Craig did a fantastic job, and honestly, I was too young for it. I was about 21. I'd have been 'Teen Bond.' The right thing happened there." His own vision of Bond had been "slightly more Sean Connery," he says: an arrogant, cultured bastard with a talent for killing. "But it was more the right time for Daniel's version than mine. His was a real reinvention. I dunno, maybe one day I can take it off his hands."
If the role of 007 still requires a shredded physique by then, Cavill's a shoe-in. In The Tudors he'd been in fine shape. But by the time he appeared as Theseus in Tarsem Singh's action movie Immortals, in 2011, Cavill was so sculpted he looked as if he'd walked off the set of 300.
"I didn't go that way for the sake of becoming an action actor," Cavill explains. "I want to tell stories. That's what excites me. But there's a demand that you look a certain way in Hollywood. Man of Steel was the first time I had to bulk up in the full-on action-movie style, and I've got to say, I enjoyed it enormously. It's torture, but you enjoy it the way you enjoy hard work and the results that work brings. It's rewarding."
It's no secret that the physical demands on modern leading men in Hollywood go far beyond the experiences of actors from generations—or even eight or 10 years—ago. In fact, today's A-list nutrition and exercise regimens have more in common with endurance athletes and professional bodybuilders than with classic thespians. 
In terms of fitness, the process is simple: There's a period of gaining mass, when you consume vast amounts of fats, carbs, and proteins, combined with a heaving lifting regimen; that's followed by a "cut," when your caloric intake is drastically lowered and the fat essentially melts away to reveal chiseled muscle. For Man of Steel, Cavill worked with elite trainer Mark Twight to maintain his condition for a shoot of more than 120 days.
"The mass build is the fun part," says Cavill. "You get to eat a lot, and you're lifting heavy weights. You feel really good because you've got big numbers going on the plates. But you're always aware that you'll have to eat less and start breathing more in order to show the muscles and the striations. It creeps up on you. That's the less-fun part."
Get Big: Mass-Building Missteps >>>
A lower caloric intake can also affect your moods. Cavill has to be aware of his temper and tries not to snap at people on the set. It's only during the final "leaning down" for the day of a shirtless shoot that food cravings begin to kick in, he says. Visions of pints of beer and greasy food and candy bars begin to dance in his head. It's a physical ordeal and not without risk. 
While filming Man of Steel, Cavill had reached his optimum minimum of body fat, then had to spend day after day on a freezing Vancouver helipad for green-screen work.
"I don't mind hardship; I consider myself reasonably tough," he says. "But every day? It's hard." At one point Twight had to intervene, pulling the star off set and returning him to a heated trailer—he'd noticed that Cavill's lips were turning blue. The actor sat there and shivered for half an hour. Afterward, when he thanked Twight, the trainer pointed out that Cavill had been well on the way to pneumonia or hypothermia. He was on the edge. "And that," says Cavill, "was a mountain climber talking."
There's never any pure downtime from this physical regimen. Even during The Man from U.N.C.L.E.—where "you can get away with a lot under a nice suit"—Cavill was already prepping for Batman v Superman. But he thinks he's now mastered the pendulum of mass gain, fat burn, and recovery. Give him a target date and a reasonable amount of time and he'll get himself where he has to be. "When I need to do it, I'll do it," he says. "But otherwise I'm going to enjoy my life." 
Batman's Workout Routine Revealed! >>>
Whether he'll be allowed to is another matter. The two Justice League movies will extend his Superman commitment to six years—and if the franchise takes off as The Avengers did, maybe longer. His dedication to these characters would warm the heart of any comics geek. "They're the mythological heroes of our day," Cavill says, "and I want to help tell their stories for as long I can." He seems almost territorial over the Man of Steel and his story. "But I have no power over the script," he admits, "and Chris Terrio [scriptwriter for the series] is a very good writer. There's so much that can be done with Superman. The Batman story is easy. He's dark and brooding and dangerous. Superman, I believe, can be a better story, but it requires 10 times the effort to get it right. All I can do is keep my fingers crossed that the big cheeses at the top care as much about the character as I do."
In the meantime, Cavill has his freedom, including the ability to walk around in relative anonymity. "I can still go out and get shit-faced if I want to," he says, clearly enjoying the thought. "I'm not going to change my life because of the fame thing. It's supposed to be a good thing that's happened to me. I want it to enjoy it." And until the first Justice League project starts shooting in early January, he can do precisely what he wants: cook curries, play computer games in his underwear, spend time with his beloved dog—an Akita named (what else?) Kal, and maybe try to find a happy compromise between the American and British ways of dating. After all, Cavill—whose past girlfriends include British equestrian Ellen Whitaker, actress Kaley Cuoco, and former MMA star Gina Carano—is currently single.
"American dating is like carpet bombing," he says. "You date 16 women all at once and eventually one of them is supposed to pop out of the crowd? I can't do that. I'm 32 years old. I do want to find a wife and raise a family. I prefer the British way: get talking and see what happens, one at a time." 
Hero Food: Ingredients That Will Change Your Life >>>
Superman and super spy, man of steel and gentleman thief. Roles like these could push a guy's ego to bursting. But it seems life has given Henry Cavill the right education to deal with it all. It turns out that the English values of reserve and hard work are worth something in Hollywood, too.
"There are people who are better looking than I am," says Cavill, "and people who are better actors than I am. I just have to beat them to the chase." 
5 Exercises To Work Your Abs To Exhaustion >>>
For access to exclusive gear videos, celebrity interviews, and more, subscribe on YouTube!