"Retirement" has been a difficult concept for Dave Mirra since hanging up his BMX bike and scaling back his rally racing commitments. Even with 14 X Games gold medals among his laurels, he hasn't been content to rest on them. Mirra, now 41, started dabbling in triathlons a few years ago as a way to stay in shape, after being inspired by a friend. It quickly became more than a hobby, and he has now shifted nearly all of his competitive focus to the grueling events, starting with the 70.3-mile half-Ironman distance.
In 2014 Mirra competed in four events, including the Ironman 70.3 World Championship in September, and finished the year ranked 15th in his male 40- to 45-year-old age group; this year he'll race his first full-distance 140.6-mile triathlon at Lake Placid, New York, in June, and is already aiming to qualify for the Ironman 140.6 World Championship in Kona, Hawaii, in October.
"I'm not gonna lie: It's getting overwhelming," Mirra says, looking at a training schedule that now has him running as much as 19 miles on some training days, swimming laps at the pool and in the lake behind his house, and pounding the pavement on his bike. "It's not easy."
But it's not impossible, either, and that's why Mirra says he was first drawn to the sport. Ready to give the tri a try? We asked Mirra for some tips on how to get started.
"It can be an intimidating introduction, because these athletes are machines, but the cool thing is that each and every one of them have built their bodies to that level," Mirra explains. "It's not that your competitors are just naturally good at triathlons—nobody just happens to be naturally good at endurance swimming, running, and cycling equally—and there's no easy way. But that's a good thing. It means everybody out there is working for it, and that's your opening: If you put in the work consistently, you can start to become one of those machines pretty quickly. "A triathlon seems pretty straightforward: swim, bike, run… But it's the endurance aspect that will get you," Mirra warns. "I would say, first and foremost, don't try to wing it. Get a coach, get a plan, and stick to it. That's the one way to make this work, because you don't just want to try a triathlon. You want to finish a triathlon, and you want to do well. Trust me, once you do, you'll want to try another."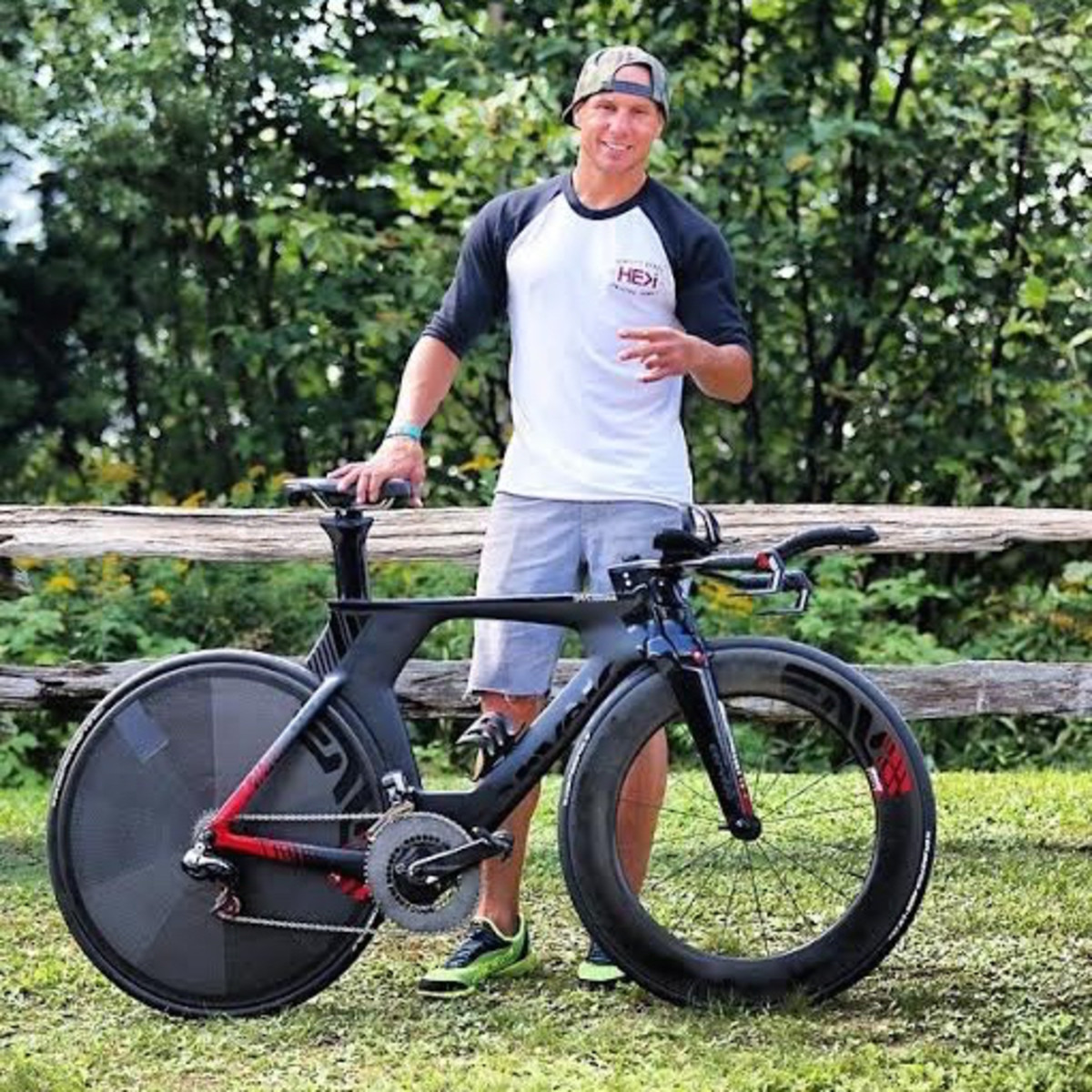 Mirra recommends visiting Slowtwitch.com, which features an active community forum, an indispensable database of coaches, and an equally useful database of triathlon clubs. "On that level, this sport is so easy to access because so many people are willing to help," he says. "Find a good coach that works for you. Talk to some people, get some advice. You'll be thankful for it." In preparation for his first full Ironman, Mirra chose former Elite USA National Team coach Cliff English. "I'm the kind of guy, if I'm going to do something, I'm going to do it all the way," he says. One of the biggest takeaways from his coach? "Technique is everything, because problems with your technique get magnified as you train and build up to greater and greater distance," Mirra says. "You learn how important your bike position is, and your running stride. For me, not being a strong swimmer has been the toughest part. If I could start it all over, I would have worked harder to get the technique down in the pool from the start, because I realize now how much flailing I did out there before getting it right. The swim is still my biggest challenge." Another lesson? Go hard on the hard days and easy on the easy days. Mirra calls it training by plan rather than by emotion, and it doesn't come naturally to him: "In the beginning, I wanted to just go, go, go, because that's where my head was at. But it's important to learn when less is more, and for that I'm really grateful to have a coach. Somebody sends me the workouts and I go bang them out. Winging it is where I get into trouble."
Gearing up properly is the next step, Mirra emphasizes. Start with getting a professionally fitted bike (Slowtwitch.com has a database of bike fitters, too). Mirra rides a P5 triathlon and time trials bike by Cervélo Cycles; it's the brand he chose when he picked out his first triathlon bike, and in March he signed a formal contract as a brand ambassador that includes incentives for qualifying for Kona.
Mirra now competes in the Male 40–44 age group and has earned Ironman's All World Athlete gold badge, meaning he's in the top one percent of competitors in his age group. He's come close enough to the podium for his age group to find it motivating. But ultimately he's out there for his own reasons.
"When I race, I race myself," Mirra says. "Yeah, I want to qualify for Kona, but I'm not going out to race against those other people. I'm racing to be better than I've ever been before. It's a great sport because you're always bettering yourself. It's not like BMX where it's such a skill-set sport that most people just can't do it. That's what separates this from a lot of other sports. My kids are racing triathlons. You can do this. I can do this. Let's go do this."
More from GrindTV
Learn how to wheelie in 30 days
Big Wave Awards 2015 Wipeout of the Year nominees announced
The quick and easy guide to standup paddling in the city
For access to exclusive gear videos, celebrity interviews, and more, subscribe on YouTube!