Being a Hollywood stunt double is a tough gig from the start. The job requirements often include being tossed around in wire rigs, taking kicks to the midsection, and getting thrown through windows. What if, on top of all of that, you had to look like Australian Adonis Chris Hemsworth?
That is exactly what Bobby Holland Hanton has to do, as double for Hemsworth whenever he puts on the Thor suit for Marvel's Avengers. Since the reveal of the Norse god in Thor: The Dark World, Hanton has had to spend months out of the year in the gym to not only bulk up in size, but to build the strength needed to be able to pull off those insane stunts the franchise has become known for.
"This is by far the most challenging role I have ever had," says Hanton on a break between movies. "Mostly because Chris is such a tremendous athlete himself, who I could easily see as a professional athlete with how massive he is." Hanton has been one of the most in-demand stuntmen in the business, doubling for Christian Bale's Batman, Daniel Craig's James Bond, and Chris Evan's Captain America.
Starting with Thor: Ragnarok the team shot three Marvel films back-to-back with the final being the conclusion of Avengers: Infinity War. That meant being on the Hemsworth training plan for around two years straight, six days a week, and two times a day. During production, Hanton would hit the gym with Hemsworth and his trainer Luke Zocchi, then they would also work on fight choreography when needed.
Followers of Hemsworth and Hanton on social media will know that both know how to poke a little fun at each other from time to time. "It is good to break up the sessions with a little humor to stay sane sometimes," says Hanton. "I guess Chris is just has to be good at everything, because the guy is also hilarious." But there was no joking when it came time to hit the weights.
"I come from a gymnast background, so I have always had a fondness for bodyweight workouts," Hanton says. "I have found that that kind of training works best for me, as well as keeps me super mobile. I treat them like a warm-up, but they are really full sessions. Then I will go and isolate certain muscle groups, whatever I have to work on. Since the arms are exposed in the Thor suit, they have to be dialed in. That means I pay special attention to the shoulders, triceps, and biceps."
The diet plan was kept in check as well, with only the occasional cheat day. "I usually set a day aside to crush about 6,000 calories of pizza and sandwiches," Hanton says. "It is just as important to give your system a break from the punishments and the restrictions and occasionally treat yourself."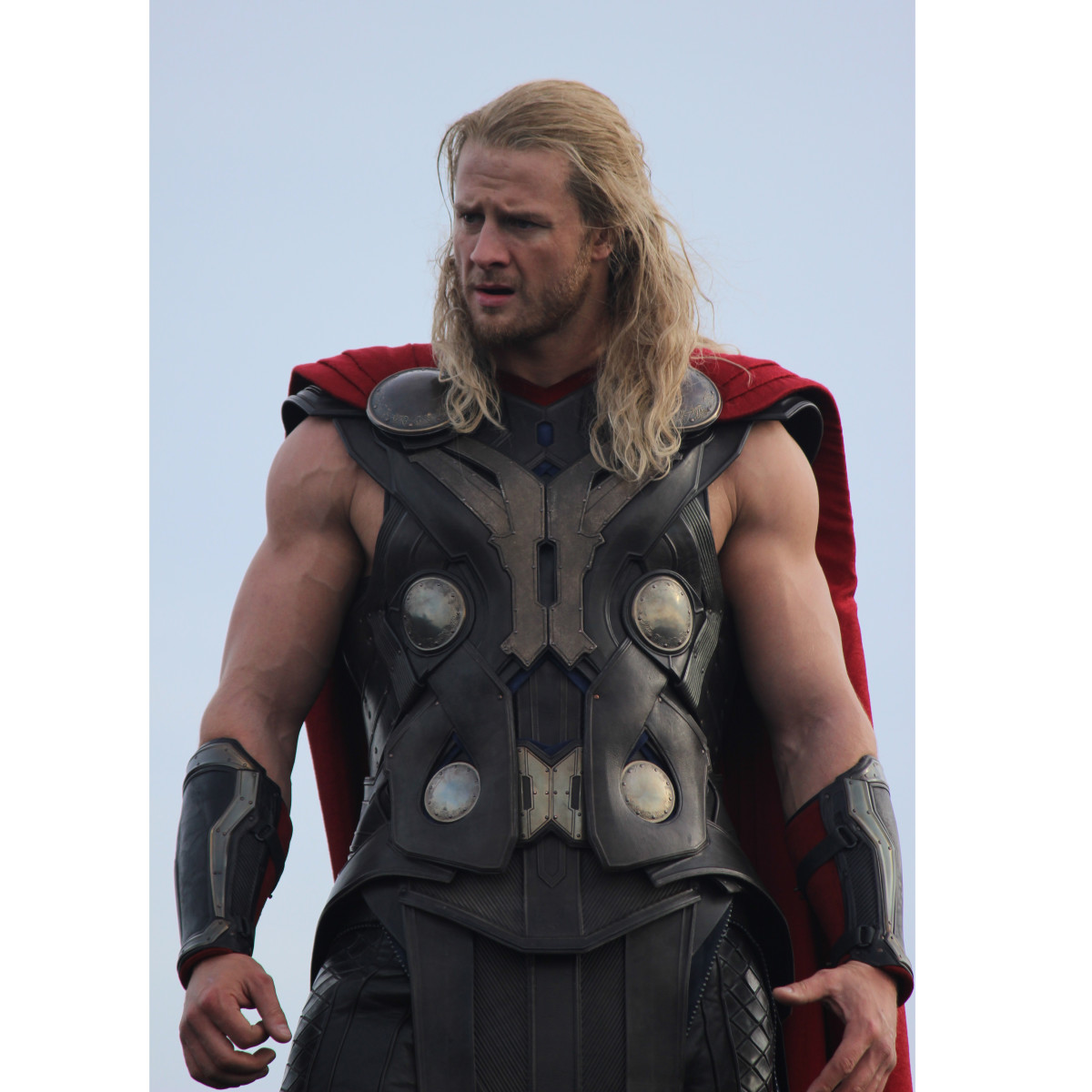 A Day in Bobby Holland Hanton's Thor Workout
Bodyweight Circuit
Perform this bodyweight circuit 6 times over 30 minutes.
Chip Ups: 15 reps
Dips: 15 reps
Push Ups: 15 reps
Air Squats: 15 reps
Calf Raises: 15 reps, each leg
Bicep Circuit Killer
Perform this block with a manageable but difficult weight. The weights given are the ones similar to what Hanton used during training.
Cable Machine Curls (set on 50 lbs): 3 sets, 20 reps
Bicep Curls (with 50-lb weights): 3 sets, 20 reps
Bicep Curls (with 30-lb weights): 3 sets, 20 reps
Thor: Ragnarok is now available on DVD and iTunes. Avengers: Infinity War hits theaters May 4.
For access to exclusive gear videos, celebrity interviews, and more, subscribe on YouTube!