Conquering Heartbreak Hill in the Boston Marathon. Covering 26.2 miles through New York City's five boroughs. Racing among runners from all 50 states and more than 60 countries in the Marine Corps Marathon.
These would be momentous feats for any runner. They're especially momentous for 47-year-old Thomas Panek. Panek is blind, so he ran these marathons (and plenty of other road races) tethered to another person who steered him through the courses.
But Panek's most emotional race finish was a casual five-miler through Central Park: the Poland Spring Marathon Kickoff. It was his first race without human assistance.
He still had a guide, of course: His yellow Labrador retriever, Gus.
"It was an incredibly freeing experience—like taking the training wheels off," Panek says. "When you're a kid and you're learning how to ride a bike, you've always got those two extra wheels there. That's what it's like running with a guide runner. You've got a person on your left and sometimes a person on your right during a marathon. You're pedaling, and you get it done.
"But when it comes to running with a guide dog, it's just you. You're telling the dog the direction to go and he's keeping you out of harm's way."
Running with Gus was made possible by Panek's passion project: Running Guides, the first program to train running guide dogs.
Barking up the right tree: How Panek launched Running Guides and what it takes for pups to graduate
Panek lost his vision in his early 20s, so guide dogs have effectively been an extension of his body for decades. Panek runs and exercises nearly every day, so leaving his sidekick behind was awkward at the very least and devastating at best. So in some way the idea of pounding the pavement with guide dogs was a natural (if not immediately obvious) progression for the canine's duties.
Plus, as CEO and president of Guiding Eyes for the Blind—a nonprofit school in Westchester, N.Y., that trains guide dogs to assist people with vision loss—Panek was in the perfect position to propose running guide dog training to the right people.
Even so, there were obvious concerns: Running is outside the conventional responsibilities of guide dog work. Panek also wondered if long-distance running would be healthy for the guide dog, and safe for both parties.
"There are certainly breeds of dogs—herding dogs, in particular—that are used to covering big distances," Panek says. "Shepherds can withstand longer mileage. Labradors love to run, but for shorter distances."
But a penchant for running comes down to personality above all else, Panek adds. "Not all of us run marathons, but many of us like the shorter distances, too. So it's really about pairing the right dog, and the pace of that dog, with the right person."
So as Panek started developing the program, he made a point to match fast, distance-ready dogs with long-distance runners (although for now the recommended mileage for guide dogs is capped at five miles). As for the training process, it's pretty much identical to Guiding Eyes' usual standards.
All of Guiding Eyes' puppies are born in their puppy center in Westchester. After eight or nine weeks, the pups are placed in volunteer homes where they begin to socialize and learn under their Volunteer Puppy Raiser. Once they're "young adults" (by dog standards), they return home to the Yorktown Heights campus, at which they're assessed to see what they like to do and whether their personalities coincide with the ideal characteristics of a guide dog.
"If they're confident and able to deal with distractions and noises, then they can go into the guide dog training program," Panek says.
Next, a training team member will take a few dogs out each day—there are currently 165 dogs on campus—to determine which like to run, and if they can safely navigate obstacles like benches, light posts, errant children, congested areas, and other animals. The guide dog would do that work anyway—now the dog's just doing it while running.
"The running guide dogs have that baseline ability plus some—it's almost like getting a sports car," Panek says. "It's capable of doing everything a car can do, but faster. Plus, we train our dogs in Manhattan, and you know what they say about New York City: If you can make it there, you can make it anywhere."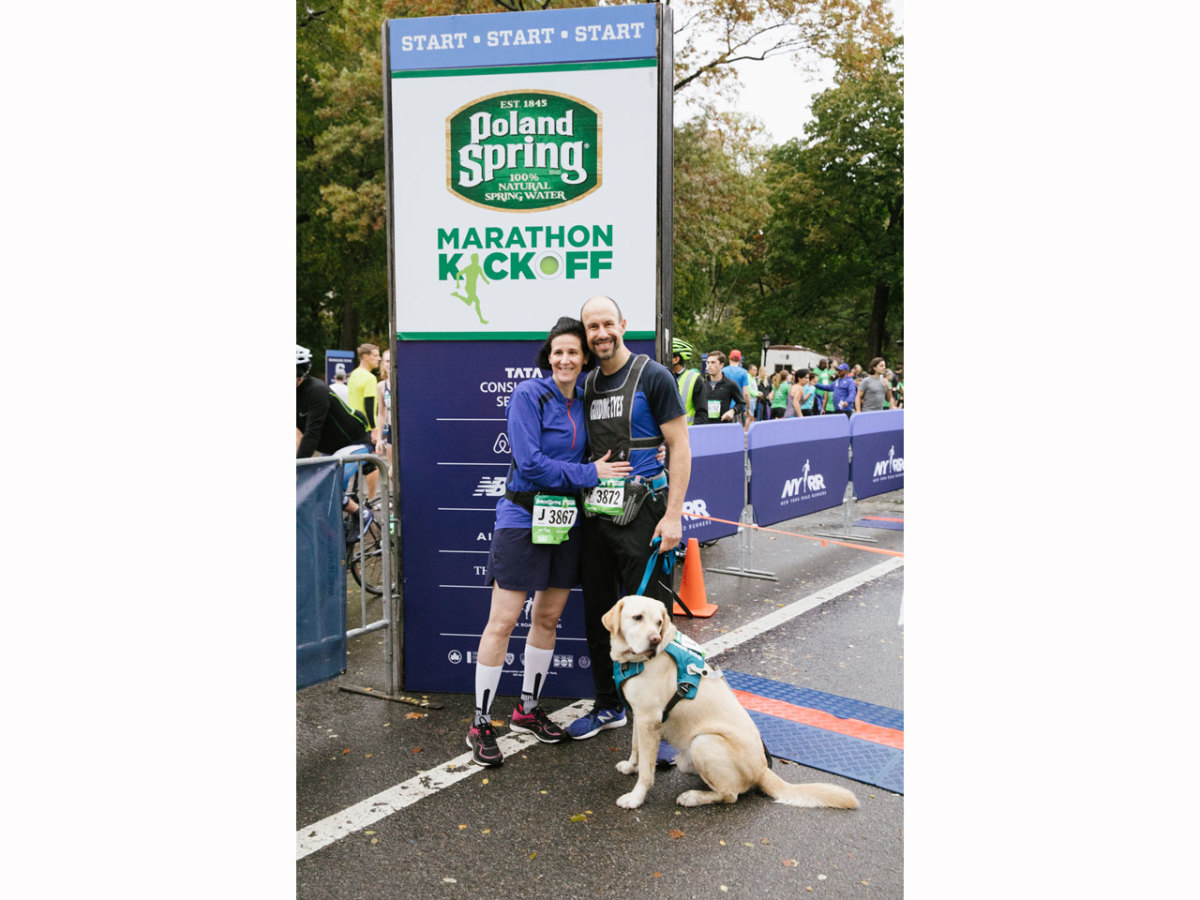 The last part is called a "final blindfold". If the dog can pass the obstacle test with the trainer blindfolded and unable to correct, then he or she is approved to help a blind person navigate the real world.
"It's a high bar, and it's never been done before, but we now have more than two dozen running guide dogs and a long waiting list of people from around the country who are going to be coming in," Panek says.
Klinger, a German shepherd, was the first dog to graduate as a specially trained running guide. Panek's Lab, Gus, was the first guide dog to be trained as a running guide. Inspired by Gus' example, Guiding Eyes added a protocol to determine if current guide dogs, who have already been paired with blind men and women, like to run—great news, because 975 dogs have graduated guide dogs training.
At its core, Running Guides is about offering blind and visually impaired runners a greater degree of freedom.
"I've had great [human] guide runners who have been attentive to making sure I didn't run into something, then I've had other [humans] run me straight into a pole," Panek says. "You become fearful because you're not 100% sure that the person is always thinking they have to navigate for you. But in the three years I've had Gus as a guide dog, he's never bumped me into anything. It's his job. It's what he knows. He's always focused on me and making sure I clear obstacles. He won't walk two feet without making sure there's enough distance between me and an object before we go. I'm absolutely confident in his abilities to guide me when running."
Plus, the pacing is consistent.
"In the New York City marathon, I had three guides and one needed to run slower, so we slowed down to help him through," Panek says. "I know Gus' pace, and I'm very independent."
How Running Guides can get blind people healthier
Obviously not everyone wants to run a marathon—and that's OK. Running Guides is about changing and challenging perceptions about vision loss and what blind people are able to do.
"The ability to exercise at any time, and being able to do it independently, encourages a person with vision loss to stay active," Panek says. "It really is an incredibly empowering experience for people. We graduate about a dozen people with their guide dogs each month. There was a boy in the audience, about 12 years old, whose parents came up to me and said, 'He never thought he could run, but after hearing about this program, once he turns 16, he's going to apply.'"
Panek sees the benefit of exercise on his health, as well as that impact on his wife and four kids. He's also seen how being inactive can be detrimental for those with vision loss. His own brother, Andrew, who was also blind, sadly passed away in the summer of 2017 from a heart attack. He wasn't very active, and he didn't have a guide dog.
Panek believes bringing guide dogs into blind people's lives can help mitigate the mental and physical side effects—depression, diabetes, and chronic illness—of being blind and sedentary.
"This gives blind people the ability to stay fit," Panek says. "No excuses, right?"
As for his goals for Running Guides' future? Pairing more dogs with humans is paramount.
"We give all these dogs at no cost to people who are blind, but it costs about $50,000 to breed, raise, train, and support the guide dog team throughout the lifetime of the partnership," Panek says. "I'd really like to get the word out that people can help others by donating to the program to help other people get a running guide dog."
Panek also hopes running guide dogs will be embraced by the running community.
"That was the main reason why we partnered with the New York Road Runners to have the kick-off race—the five-miler—with Gus: to show that these dogs are capable of running in a race environment safely," Panek says.
"We did that."
For access to exclusive gear videos, celebrity interviews, and more, subscribe on YouTube!