Having a few pals impromptu over to watch your favorite team face off is fine every once in awhile, but why not, ahem, up your game with a pre-planned gathering? It's actually a lot less work than you think, as long as you follow these tips and recipes from Troy Francis, owner and event producer at Troyal Events in Washington DC, and Dan Churchill, chef and author of Dude Food and The Health Cook.
Invite based on your space
More specifically, keep your numbers to however many you can comfortably seat in front of the TV(s). "You have to have adequate seating for everyone that you invite," Francis says. "No ifs, ands, or buts about it…it's a game-watching party!" He also recommends limiting the list to big fans only—"jerseys or team apparel are required for everyone to wear to create a true sports environment"—but if you know for certain that some of your guests prefer to be gabby than engrossed, you can over invite by a few, says Churchill, but perhaps suggest they chat out of earshot of the TV.
Simplify the booze
In terms of your bar, quality is more important than quantity. Francis recommends having two beers on-hand—one light beer and one heavier/seasonal offering. We also suggest two liquor offerings such as a quality vodka and a bourbon. If you want to drink to this year's theme without stocking a full bar, plan "signature cocktails" such as "The Brady Brunch" and "The Dirty Bird."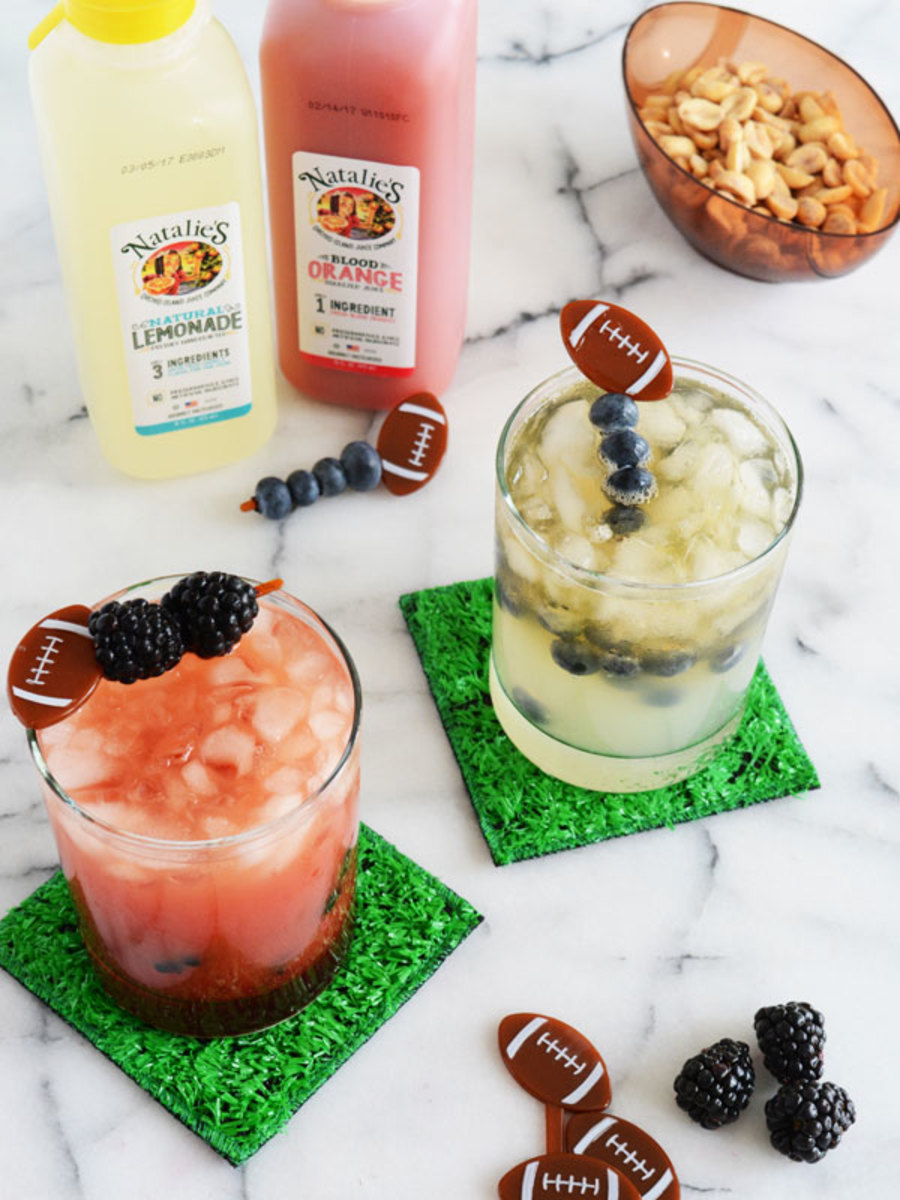 "The Brady Bunch"
Bourbon Vanilla Blueberry Lemonade
Bourbon
Fresh Blueberries
Vanilla Soda
Preparation: Place a handful of blueberries in the bottom of glasses. Add ice. Fill the glass half full with lemonade, add a shot of bourbon and top off the glass with vanilla soda. Stir and garnish with a pick of blueberries.
"The Dirty Bird"
Blood Orange Blackberry Bourbon Cooler
Fresh Blackberries
Bourbon
Grenadine Syrup
Club Soda
Preparation: In the bottom on a glass, muddle 4 or 5 blackberries. Add crushed ice. Fill the glass half full with blood orange juice. Add a shot of grenadine and a shot of bourbon. Top off the glass with club soda. Stir and garnish with a pick of blackberries.
*Recipe courtesy of Natalie's Orchid Island Juice Company
Plan the menu smartly
Serve appetizers at the start of the game and entree at halftime. "Two to three appetizers and two main dishes is a good number to create options without overdoing it," says Francis. "The goal is to have the appetizers last through the first half, and the main dishes to last through the second half." You also want to be sure you have more than enough food, which Churchill says means aiming for a plate and a half per person. "It's a win-win if you overcommit, because if not enough people eat, you have leftovers—and you want to enjoy the food as much as you can if you put the effort in," he says. He also recommends a buffet-style build-your-own main course, like his Burger Board (pictured above) so guests have more choice and you have less prep.
Make game food healthier
Smart swaps can improve nutrition without sacrificing flavor. Make dips with yogurt rather than sour cream or opt for ready-made hummus or eggplant-based baba ganoush, and sub veggies for chips. (Try Churchill's great recipe for spiced carrot chips and roasted beet puree below.) Bake wings rather than frying them, and use leaner meat (such as ground turkey) in tacos or burgers.
Spiced Carrot Chips and Beet Puree 
Ingredients:
3 beetroots, peeled, and cut into 2 cm cubes
2 tbsp olive oil
8 carrots, cut into uneven chips
1 tbsp cumin, ground
1 tbsp coriander, ground
1/2 cup plain yogurt
1/3 cup hazelnuts
2 tbsp maple syrup
Fresh mint leaves
Instructions:
1. Preheat oven to 375 degrees F. In a bowl, combine 1 Tbsp of olive oil, beetroot, salt and pepper, and spread out onto a lined baking tray. Roast for 20-25 minutes or until slightly browned and easily pierced with a knife. Set aside to cool, then put in a blender or food processor and blitz until pureed.
2. In a second bowl, toss remaining 1 Tbsp oil, carrots, spices, and a pinch of salt and pepper. Spread evenly onto a lined baking tray and cook for 25-30 minutes or until carrots are soft and have dark golden edges. Rotate them once or twice throughout their cooking time. (You can cook the carrots and beetroot at the same time in the oven; just allow an extra 5 minutes and to rotate trays between shelves.)
3. In a small frying pan, toast hazelnuts on medium heat and add in maple syrup allowing it to slightly thicken and coat the nuts (3-5 minutes). Add in a pinch of salt and take off the heat allowing syrup and nuts to cool before crushing.
4. Scoop cooled carrots into a serving bowl. Serve beetroot puree in a bowl, topped with a dollop with yoghurt and sprinkle over with the crushed hazelnuts and fresh mint.
Cook in advance
Unless you have a kitchen setup that lets you watch while you prep, Churchill suggests getting the bulk of the food ready before guests arrive. That means doing things like chopping and storing burger or taco toppings and pre-forming burgers into patties (quick tip: one pound of meat makes five burgers). Turkey burgers don't take long to cook—just about two minutes per side—though Churchill recommends taking the burgers from the fridge about 15 minute before you'll cook them to bring them up to room temperature so they'll cook more quickly. Skip the time-consuming grill in favor of a cast-iron griddle on a medium-high stovetop.
Make-your-own entertainment
Sometimes, games get boring or—not everyone is as into it as you are. A football squares grid (with monetary or gift prizes) can keep your crew engaged in the score. During game play, place friendly wagers on completions or points scored and get creative with the stakes by betting with physical challenges, such as seven penalty burpees if your team misses the TD. At halftime, break out Cards Against Humanity or Jenga or a stack of Trivial Pursuit cards or any other quick-play game. And try Churchill's mad ad game: During commercial breaks, have guests guess what the ad is hawking. (Even on the obvious ones, there's a speed element to guessing right first.) Keep score on who gets it right—whomever has the most points by the end of the game wins bragging rights and maybe an actual prize, such as a team T-shirt or a bottle of booze, if you're so inclined to provide one.
For access to exclusive gear videos, celebrity interviews, and more, subscribe on YouTube!