Jon Bernthal is the type of actor who transforms for a part, going to great lengths to build his backstory and, of course, his body for the role. This is a man who not only shows up to set on time, but also shapes his life around being in the right place for the role both physically and mentally.
Since his most recognizable role as Shane on The Walking Dead ended (as they do on the hit AMC show), he's worked on The Wolf of Wall Street with Leo DiCaprio, Fury with Brad Pitt, Sicario with Benicio del Toro, The Accountant with Ben Affleck, and many more coming down the pipeline. He'll be seen next in The Escape, a BMW Films short directed by Neill Blomkamp where Bernthal goes head-to-head with Clive Owen. "There was no question that I was going to find time for it, because I'm such a fan of the series," Bernthal says.
Now Bernthal has another project in the hopper: a standalone series for the Punisher, the tactically inclined Marvel character who shows up in Netflix's Daredevil on a quest for vengeance. "I'm super grateful that I get to play this role," Bernthal says. "Getting to work with people like Charlie Cox and Vincent D'Onofrio is an absolute dream."
But despite his incredible workload and family man obligations, Bernthal never skips his routine training sessions, commonly done with his Punisher stunt double Eric Linden. Bernthal spoke with Men's Journal ahead of Season 1, and now Season 2 of The Punisher is coming. Netflix announced that The Punisher will start streaming Season 2 on January 18.
Here's the official, action-packed trailer for Season 2:
No standing on the sidelines. 💀 Season 2 of The Punisher hits Netflix January 18. pic.twitter.com/mrU9qE63Uk

— The Punisher (@ThePunisher) January 10, 2019
Here's a look at Punisher Season 2 from Netflix:
Back to work. pic.twitter.com/egCCC2qX3y

— The Punisher (@ThePunisher) January 1, 2019
Between takes for Season 1 of the new Netflix series in Brooklyn, Bernthal found a moment for Men's Journal to talk about discipline, his impressive training regime, and getting inside the mind of The Punisher's Frank Castle.
How are you feeling now that the show is finally shooting?
You know how it is. I care about it and the character with all my heart. I know how much it means to so many people. I just absolutely want to get this right. It is tough for me to really talk about it right now because we're just doing it. But I can tell you that we're giving it our all. I just want to get it right. I hate barking about stuff before there is any bite to it. We're just going to do the absolute best that we can and every day is a fight for that. I really hope that we do the fans justice.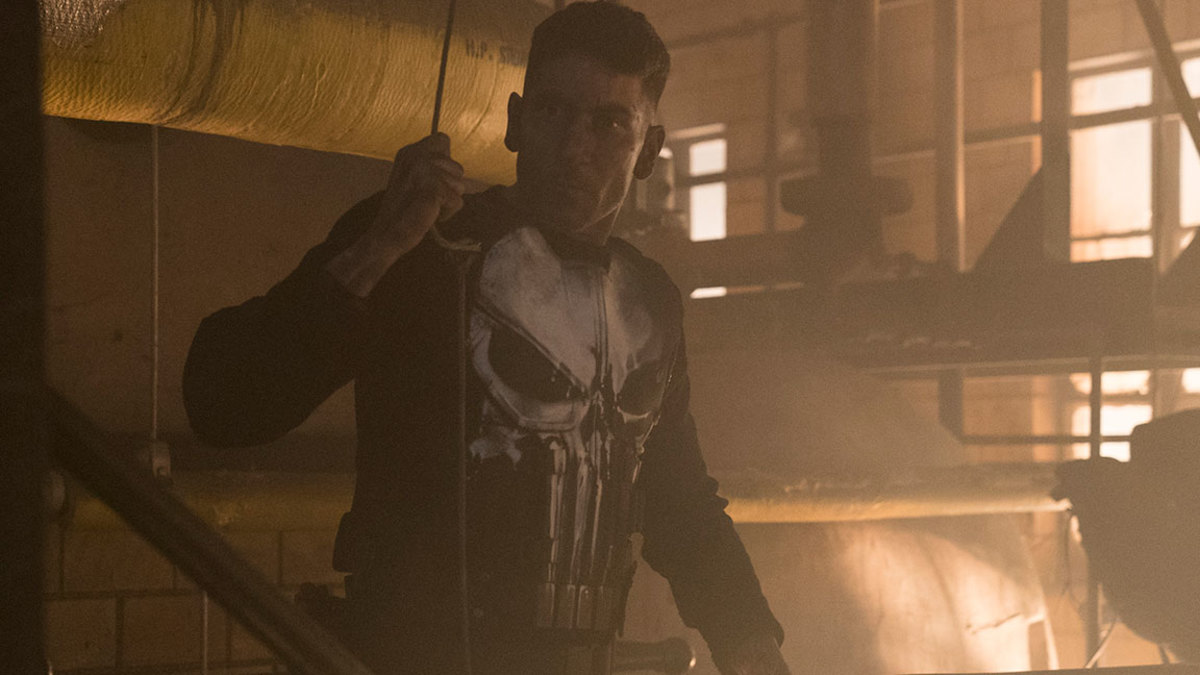 How has it been to work with the people from the Marvel world?
You know, the first scene I ever did on television was actually with Vincent D'Onofrio on Law & Order. Getting to work with him again and get to know him has been an absolute honor. He is the reason that I did this and wanted to get on these shows. I think what he did with Daredevil's first season was the best character on television that year.
Your character in The Escape has almost as much firepower as Frank Castle. How have you enjoyed the chance to fire off quite a few rounds on set recently?
Got to learn some new weapons systems. But it was a little different because we were shooting in Canada, and you can't have automatic weapons firing over there. It was a completely different experience taking a weapon up into a helicopter.
How have you enjoyed getting to learn the weapons?
You know … The Escape was a lot of the same team that worked on Suicide Squad and were a lot of the same guys who worked on Fury. This guy Kevin [Vance] was the [military consultant] on Fury. Ex-Navy SEAL … a national hero. He's been a team leader for years. For him not only to teach me what he taught me, but to share some feelings that are really secret about what it is like to go into combat was incredible. Our relationship is one that I'm perhaps most proud of.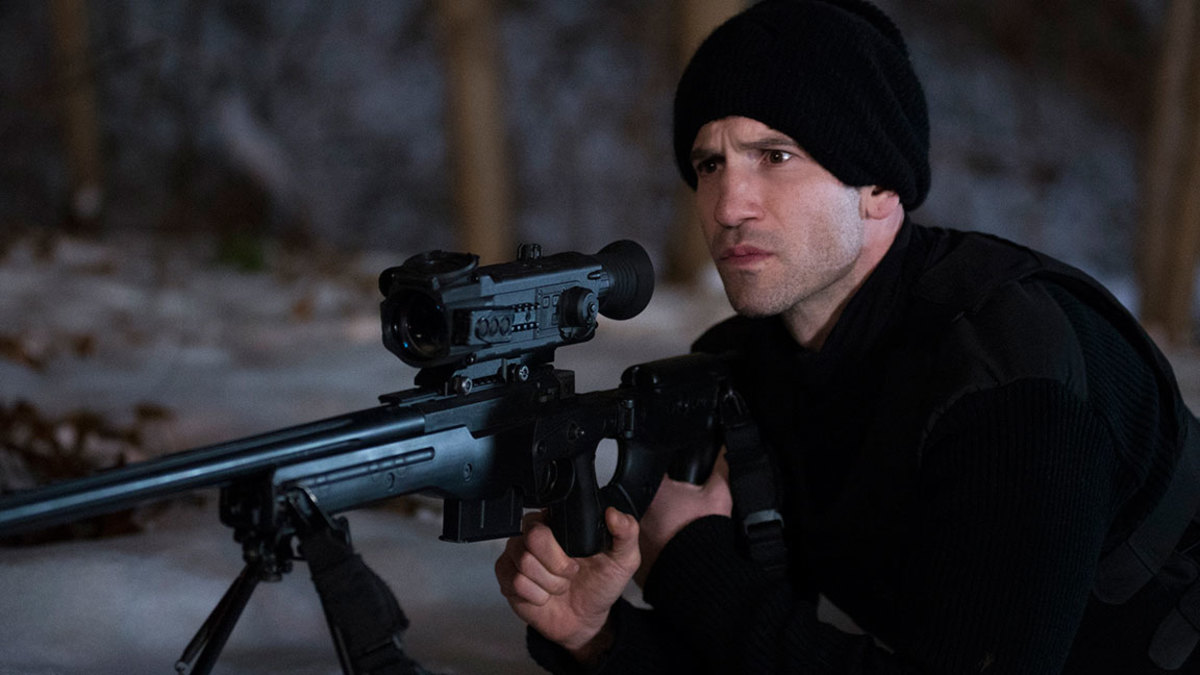 Through the role of Frank Castle and as Grady Travis in Fury, you've played a couple of military guys. How has it been to work with our veterans and learn about their experiences?
The biggest honor about this role is playing someone that fought for this country. The greatest thing that I've gotten to do from this job has been hanging with guys from all the branches of the military, who work with me as technical advisors. It started off as work, but now we're friends. If you know a vet you have to open your heart up to them. When they give you the honor of opening up to you, that is something to cherish. If I have had any success in portraying it accurately, it is only through those guys. I feel really privileged to have been in those conversations.
Do you think you'd want to do a Punisher movie as well?
That is a bit above my pay grade right now. I'm focused on where I am now. I've got three young kids, and my old lady is with them back in Cali. I'm out here doing the show and I have a movie to do after this. So my docket is completely full with what I am doing right in this moment. The best thing and the worst thing about this job is you never know what is going to come next.
How is your training regime for Frank Castle now? I know you've always been pretty disciplined about it.
It's pretty all-encompassing, man. I'm on it pretty hard. If you're playing a character like Frank Castle, it may not necessarily be all about aesthetics, but he needs to look a certain way. For me the training is more about being able to hang when it comes to doing the fight or combat scenes. I think it is important to be able to keep up with the character in a lot of ways. I wanted to learn as much as I can. My stunt double Eric is just awesome. He doesn't want to just come in there and do it for me. He wants for us to work as a team. Whether it is doing a ridiculously crazy training regime, he wants to make sure that I can do it.
How do you keep it interesting for yourself?
It's important to mix it up. We're constantly bringing new people in, whether it is martial artists or military guys. We want to be able to do a number of different techniques. There is always something to be learning.
Run me through what a day's training might look like for you.
Oh man, it's a beast. Today we got up at 4 in the morning. Usually we'll start with a little strength work, whether it is taking on squats or the bench press, doing five sets of three at the maximum weight. There's a lot of supersetting, and bodybuilding weight practices. Then we work on a lot of MetCon [metabolic conditioning], doing as many rounds as we can, trying to get each movement just right. It will usually be about five or six full-body moves, like pull-ups or cleans. We'll do that for somewhere around 20 minutes or so. Then in the afternoon we'll do boxing or jiu jitsu workouts between scenes. I always want to box, but they really try to keep me working my whole body as much as possible. On top of that, learning the fights for the show or weapons training is almost a whole other workout on top of that. So it probably works out to three separate big, different workouts a day. It's pretty gnarly.
Does that make you just as regimented about what you're eating?
I'm on the job now. I'm pretty strict about what is going in the body. It's also a bit of a mindset thing for the character of Frank. I don't want to be feeling a big cushy meal. I don't want to be escaping him through food. It's not good for the character or my body. It's about fuel that will get me through the day. Just lean meats and vegetables. I keep it really simple. I'm on the "no anything" diet plan. I would do anything for some pizza right now.
For access to exclusive gear videos, celebrity interviews, and more, subscribe on YouTube!