The subtitle of the third John Wick movie is Parabellum, which translates to "prepare for war" from Latin. That translation is appropriate for what the excommunicated assassin will likely be going through given where the last movie left off, but it could also apply to how the franchise's star Keanu Reeves trains for the role. Beginning with the first John Wick movie Reeves has taken his physical and tactical preparation deathly serious.
Before each installment Reeves, 54, spends days on the gun range being put through drills by Navy SEALs and rehearsing stunts with the legendary crew from 87eleven Action Design. Then during the shoots he will be thrown through windows, taking falls, and riding horseback through city streets, for example.
This level of physical intensity would be difficult for a man half Reeves' age, which where Patrick Murphy comes in. The Los Angeles native not only a physical trainer, but also a movement specialist able to think about these projects holistically, making sure that the actor is still able to walk when director Chad Stahelski calls wrap.
"Keanu is an animal," says Murphy. "I never have to convince him to do another rep. But or workouts are designed to make him feel good and strong, not destroy him. Because he is getting so beat up during the shoot as it is."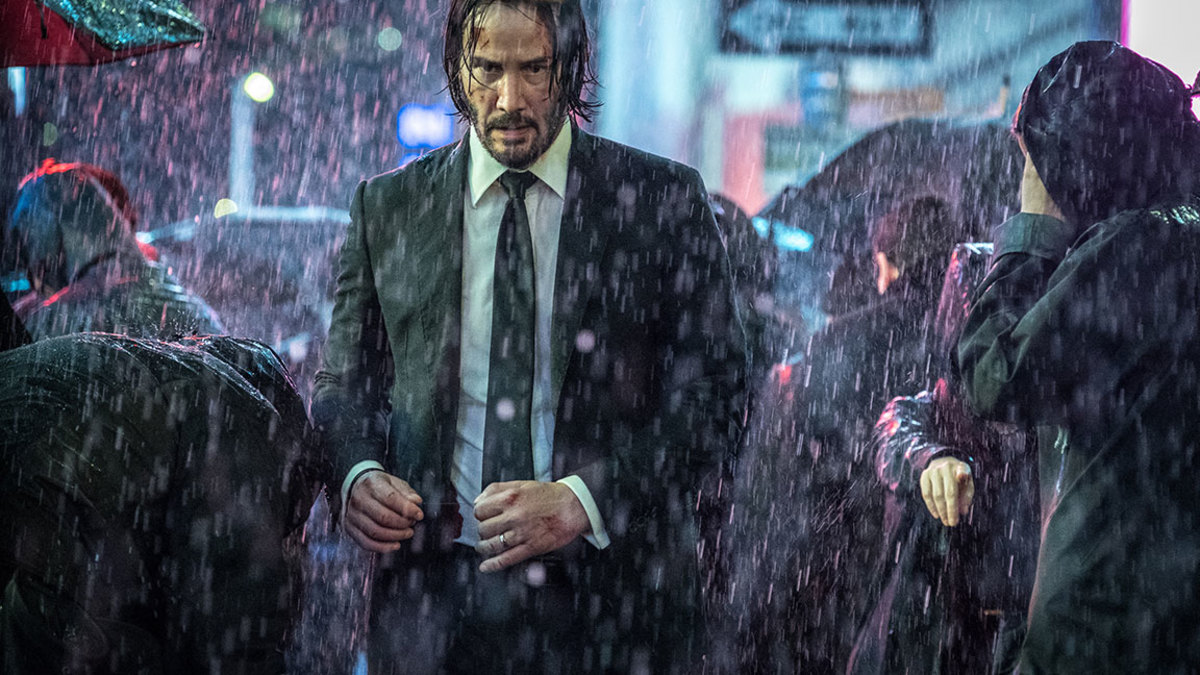 In order to get Keanu's body where it needed to be Murphy programmed huge circuits with a large volume of reps and minimal rest. There was also a wide range in the variety of exercises to match how dynamic the character of John Wick is as a physical force, being about to get as hard as he gives.
"John Wick needs crazy endurance, a powerful core, and grip strength," says Murphy. "I spent a lot of time dreaming up different combinations and pairings of exercises." There was also special attention paid to the shoulders, which got a lot of use during the jiu jitsu, gun-fu, Judo, wrestling, and other stunts.
"I pay a lot of attention to the lines that the body naturally wants to make," says Murphy. "That is what I am doing with Keanu, working to encourage proper posture and alignment, which in the end gives him better leverage and strength." These adjustments, along with recovery methods like massage and acupuncture, allowed Reeves to survive the shoots, while Murphy admits just barely.
"I am always blown away by his level of commitment," Murphy says. "There are no quick edits to save him, he is stunt fighting with dozens of guys at a time, and really selling it. By the end of filming he is almost as battered and bruised as the character he is playing. There is the heart of a warrior in there."
Here is a shoulder workout from Murphy that will get you strong enough to Judo throw bad guys over your back.
A Look Inside Keanu Reeves' Training For John Wick 3
By Patrick Murphy
Some Rules of Engagement:
Keep the back of your head aligned with your spine, avoid forward head or head down.
Keep shoulders down; avoid elevation and shrugging
Keep core tight.
Shoulder Circuit
Perform 3 rounds of this circuit with perfect form and no rest periods.
Band External Rotations: 20 reps (each arm)
Band Reverse Fly With Scapular Retraction: 20 reps
Band Lateral Raises: 20 reps
Brand Front Raises: 20 reps
Band Presses: 20 reps
Push-Up Bridge Alternating Hand Taps: 20 reps
Floor Prone Handcuff Drill: 20 reps
John Wick 3 hits theaters May 17th, 2019. 
Check out training programs from Patrick Murphy here [link: http://Baywatchbodyworkout.com].
For access to exclusive gear videos, celebrity interviews, and more, subscribe on YouTube!