Playing a police officer has become second nature for actor Kevin Alejandro.
During his 15-year career, the Texas-born actor has appeared as some type of law enforcement official on the medical-drama Grey's Anatomy, the sci-fi series Heroes, the romantic-comedy Wake, the cop-drama series Golden Boy, the FBI procedural Eleventh Hour, the mystery series The Returned, and in a fan-favorite role as Detective Nate Moretta on the gritty cop-drama Southland. As far as casting directors are concerned, the guy just looks like a cop.
And throughout that run of projects, Alejandro has kept himself in what he called "pretty good" shape. But for his most recent role as as Detective Daniel Espinoza on the FOX series Lucifer—a fantasy police procedural centered around the comic book character created by Neil Gaiman—he took it to the next level.
Putting in the work
During his break from the show following the first season, Alejandro teamed up with his personal trainer Paolo Mascitti, adding pounds of muscle to his frame with an intense summer workout program. The producers of the show, which is in its third season and likely set for a fourth-season renewal, were so impressed that they incorporated his fitness transformation into the series.
"It was during the hiatus before the second season, I was going like six days a week with high-intensity training, and then mixing it up with heavy weightlifting," Alejandro tells Men's Fitness. "When I came back to the table read, the producers and showrunners saw me, saw the physical change, and were like, 'Wow, dude. You're not the same—we're going to write that into the show and the character.'"
His inspiration to hit the gym so hard? "I wanted to see if I could possibly become the best physical version of myself," Alejandro says. Bringing a new layer to his character, who Lucifer (Tom Ellis) lovingly calls "Detective Douche," has been an added bonus.
"I wanted to represent a police officer in almost a superhero sort of way," Alejandro says. "I have such respect, because of the amount of experience I've had playing detectives and police officers, and I wanted to show a complex version of a cop. Now, the show's making his fitness part of the character. It's just one aspect, but it adds something to who the character is and his personality, because being a cop is a physical job."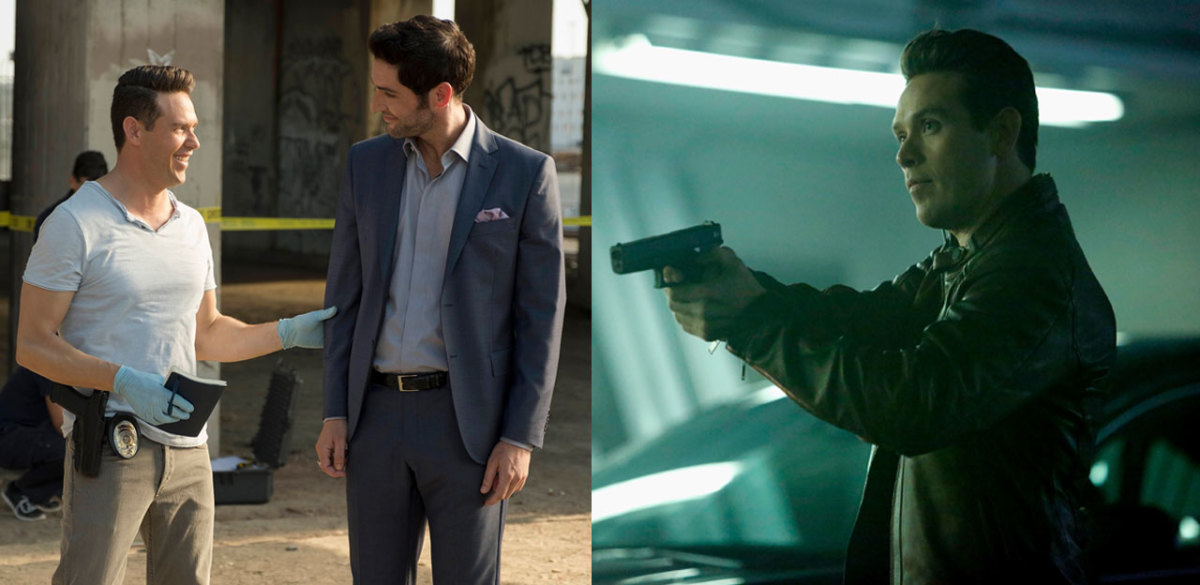 FOX via Getty Images / Lucifer
'It's 80% diet and 20% hitting the gym'
Mascitti designed Alejandro's summer workout programs to keep him moving constantly, whether through high-intensity interval workouts or superset-dominated lifting days with limited rest periods. Sometimes Alejandro would start with a high-rep, medium-weight movement (like a biceps curl), jump directly into 15 burpees, and then immediately start another lift—then jump onto the treadmill for a two-minute sprint. "I hated it at first," Alejandro says. "But I never saw such fast and quick results until I started doing those. Those routines are probably my love-to-hate exercise kind of thing—but they really worked."
To maintain all the progress he made over that first summer, Alejandro still heads to the gym five days per week for 60–90 minutes depending upon his schedule. Alejandro says he's trying to bulk up a bit more than usual, so he's been doing less high-intensity cardio work and more powerlifting—using high weight and low reps to build his frame.
For as much as hitting the gym helped his transformation, the actor said nutrition played a crucial role, too. Apart from the few times he'd sneak in a cheat meal—pizza, pasta, or Chinese food are his favorites—Alejandro ate as healthy as possible while downing five to six meals per day to maintain his energy and fuel his body.
"To me the real key to all of it is clean eating; in my opinion, it's 80% diet and 20% hitting the gym," Alejandro says. "I just got to the point where I made almost all of my meals at home, because you never really know what's in [restaurant food], and I wanted to really be in control with the quality of food that I was eating. You want to cheat, but it's relatively easy once you put yourself in the mindframe to avoid those late-night temptations. One thing I did was cook everything and put some of the meals in little plastic containers, so the moment I was hungry, I would throw it in the microwave; so avoiding those temptations became a lot easier for me."
Transforming his body—and his career
Being on a television set for long days of shooting can make it easy for actors to slip up on their diets, especially when catered food spreads lurk around every corner. Alejandro counters the temptation by bringing some of his own healthy stuff to work. And when he does slip up, he has the perfect solution.
"I bought this thing called 'The Rack,' and I basically set up a little gym in my trailer," Alejandro says. "It's an all-in-one thing, so I use it as a dip bar, for pushups, curls—everything. I have dumbbells in there and a stability ball, so I can do any type of workout when I have time. I usually will do a full-body workout of some kind, a solid 30 minutes with no rest, that really gets things going. I'll do it during lunch, and that will satisfy my mind and my body for that day—knowing I was able to get something in."
Alejandro's fitness transformation changed his character on Lucifer, and it's also starting to make an impact on his overall career.
"I used to be insecure about staying in shape," Alejandro says. "But it's no longer an issue—it's part of the way I live now. My managers now get calls from different casting people saying, 'Wow, what the heck is Kevin doing to his body? He looks great. He's a different dude.' That helps give me confidence, and when you look at yourself in the way that you want to, it helps other people notice it, too, and, in some sense, confirm the hard work that you're doing."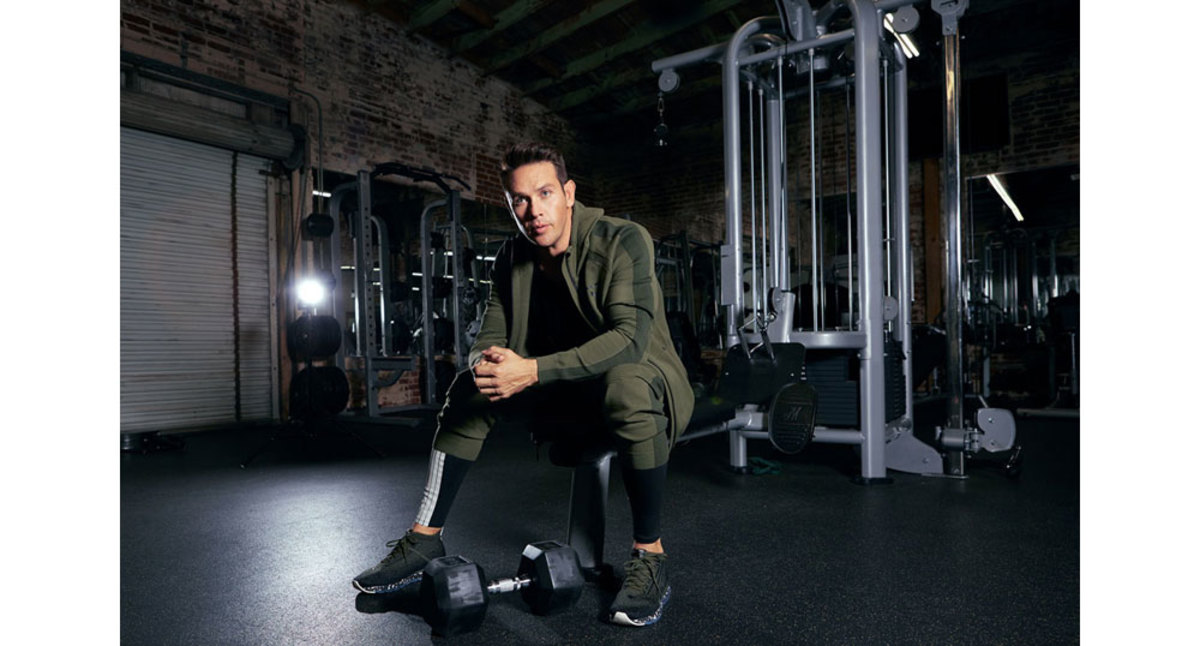 Getting behind the camera
What else does the future hold for Alejandro? He's excited about doing more work on Lucifer, but he's also interested in getting behind the camera more. Alejandro will direct an upcoming episode of Lucifer, and his short film, Bedtime Story, starring Patrick Fischler (Lost, Twin Peaks) and Tricia Helfer (Battlestar Galactica, Lucifer), recently won the "Best in Festival" award and the "Best Director" award at the Hollywood Short Film Festival earlier in January.
"I hadn't always wanted to do it, but it just sort of creeped up on me in the last few years," Alejandro says. "I've always wanted to tell stories, and it started with me doing some little, fun, short film challenges, then it just started to sort of take control of me. I shadowed a couple directors on Lucifer, and then eventually I got accepted into the Warner Bros. Directors Program. I put up a little YouTube channel called Alejandro Films, and worked on some low-budget stuff. It's been like another dream come true."
During his lengthy career, Alejandro's been able to work on shows with strong fanbases: Sons of Anarchy, True Blood, and Arrow. Alejandro sees the same passion from Lucifer fans.
"I have been fortunate enough to be part of what I think are really great shows with really good people, and the fans have all been fantastic on this," Alejandro says. "It's always great to be able to do what you love, and be around other professionals who love it just as much as you. You become sort of a family in that sense. I love, love being on that set, it brings a smile to my face every day I get to go."
Lucifer airs on FOX on Mondays at 8 p.m. ET.
Photo Team Credits:
Photographer LESLIE ALEJANDRO @lesliealejandro
Stylist WARREN ALFIE BAKER @alfiebakerstyle
Groomer LEIBI CARIAS @ CELESTINE using ORIBE @leibi_carias
Photo assistant ARSEN VASQUEZ @arsen_ist
Location RETROFIT @retrofitweho
Wardrobe provided by:
HERO SPORT @herosportofficial
ADIDAS @adidas
PUMA @puma
For access to exclusive gear videos, celebrity interviews, and more, subscribe on YouTube!