BEFORE WE LINK UP in New York City, Sam Heughan has already had a full day. He'd gone early to a movie special effects studio in Brooklyn, where he'd been stripped down to his briefs and had sensors placed over his body, face, and hands, which recorded his topography for hours. It's preproduction for a just-announced movie, Bloodshot, based on the Valiant comic book. He had also squeezed in a six-mile run along the East River and planned to hit the gym before dinner.
For most actors, an exact rendering of an action hero would necessitate weeks of preparation—an austere diet, a slavish gym regimen—but Heughan is nearly as much athlete as actor. His physicality is central to the role of Jamie Fraser, the broad-chested, rakish Scottish soldier he plays on the time-travel drama Outlander on Starz. "My character is always in some scrape: fighting, horse riding, saving his wife from some sort of villain," Heughan says. "And he takes his clothes off quite a lot, as well."
Let's pause for a moment. If perhaps you've not been introduced to Heughan, ask your wife, your mom, or your grandma's canasta group about him, and listen to them kvell. He's an international phenomenon. Some of his devoted fans call themselves Heughan's Heughligans. And the romance between Fraser and the time-traveling nurse Claire, played by Golden Globe–nominated Caitriona Balfe, is so hot that their steamiest encounters show up on NSFW websites. (Don't ask how we know this.) They shoot on location in the Scottish Highlands, which has caused a four-year bump in tourism to the country. Now Heughan is on the brink of expanding his audience from ladies of a certain age to one much, much larger.
The Spy Who Dumped Me, out August 3, is a comedy-action movie filled with explosions, car chases, and gunfights, as well as solid one-liners and plenty of improvised laughs. Heughan plays Sebastian, a high-level, covert-ops MI6 agent who gets entangled with Audrey (Mila Kunis) and Morgan (Kate McKinnon), two ordinary best friends who get caught up in an international espionage ring.
It's far from Outlander and pure popcorn shenanigans.
THERE WAS A TIME when Heughan wasn't so darn buff. He ran races and triathlons, trained martial arts and Muay Thai in Thailand, and did mostly body-weight workouts. It's only been in the past few years that he started lifting seriously. "Jamie Fraser doesn't have access to a gym," Heughan says. "It's his lifestyle that gives him his body. He's an outdoorsman, a fighter, and I wanted to build that sort of body."
That meant adding in Olympic lifts in a CrossFit-like program, designed by his trainer, John Valbonesi, with the goal of adding muscle and definition while avoiding injury. The Muay Thai training helps with the authenticity of the fight scenes.
His regimen is also a survival mechanism. Outlander, which shoots in 14- to 16-hour days, generally outdoors, is dialogue heavy. He has to remember today's lines and memorize tomorrow's all while mastering Scotland's cold, rocky north. "It's a bit of a runaway train—it never stops," Heughan says.
Today he's traded in the tartan-clad warrior physique for a cut that's slightly trimmer (as well as Fraser's signature mop of curly red hair for a slicker 'do), which helps explain why we can sit on a park bench, sipping hibiscus iced tea, largely unnoticed. Heughan's downsizing is the result of marathon training and in the service of his latest role. A week before The Spy Who Dumped Me started shooting, director Susanna Fogel asked Heughan to lose some of the bulk. "Sebastian is a spy, and the function of a spy is to fit in, not stand out," Heughan says. "We wanted him to look more everyday, more like the people around him. There was also a great deal of fight training and stunt work, which is a lot about flexibility."
So Heughan walked and jogged for 30 to 45 minutes every morning and evening, listening to podcasts (he's a fan of The Tim Ferriss Show), throwing in sprints or mobility work to keep the body guessing, in whatever cities they were filming—Vienna, Amsterdam, Berlin. Kunis and McKinnon have joked that whenever they drove across a certain bridge in Budapest, where the majority of production took place, they'd inevitably see a bare-chested Heughan sprinting across it.
"It was an interesting part of training," Heughan recalls. "It's not always about smashing your body, but it is about consistency and getting your heart rate up."
The movie is his first crack at comedy, and he did it alongside two veterans, as well as Gillian Anderson­­—who plays Sebastian's boss—an actor with "gravitas." How was he able to hold his own so well? "It's easier being the straight man," he replies.
For all you Heughligans out there who believe the actor is nice to a fault and a man of fine character, you're right. He's truly humble; you can't pay the guy a compliment without him demurring and crediting others. And he throws himself headlong into new challenges. "Sam's eager to learn and grow, to try new things and also to poke fun at himself, which is a rarity," Kunis says. "He's a really good guy who's smart, kind, and thoughtful—who just happens to be good-looking."
His next challenge will be getting ready for Bloodshot. "They've asked me to put on as much muscle as possible," he says. In Outlander, he focused on being big and strong, but not overly chiseled—that's all about to change. "I want the character to be very different from Jamie," Heughan says. "I'm thinking Dolph Lundgren."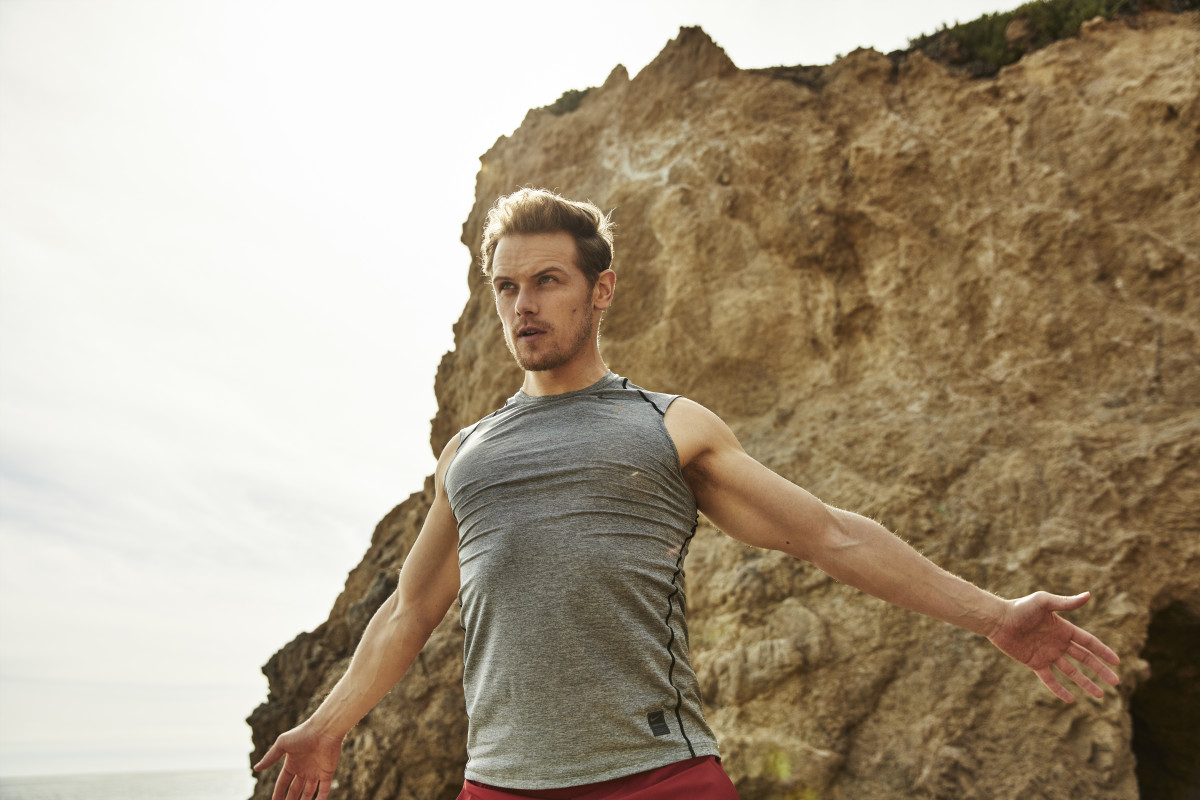 RATHER THAN CHAT about his career, Heughan wants to talk about his nonprofit. My Peak Challenge (MPC), which he founded in 2015, is a mix of fitness and philanthropy. It asks participants to commit to a goal—usually physical, like running a race or climbing a mountain—that they work toward for a year. Half the signup fees go to nonprofits; for 2018, they're supporting the blood-cancer charity Bloodwise, the Marie Curie foundation for people living with terminal illness, and Cahonas Scotland for testicular-cancer awareness.
Currently some 10,000 people participate. They get daily workout videos and meal plans, participate in meet ups (sometimes with Heughan himself), and post endlessly on social media. This year the organization expects to donate more than a half-million dollars.
Heughan's own challenge was to complete two marathons in a month. The first, a day before his 38th birthday, netted a personal record of just under 3 hours, 15 minutes, which he bested weeks later at the Edinburgh Marathon, crossing the line in 3 hours, 12 minutes.
Part of Heughan's two-month hiatus from filming Outlander will be spent shooting new footage for MPC in Los Angeles. There's also a return trip to New York in late summer for more press and to attend the premiere of The Spy Who Dumped Me. Oh, and he's got his own signature collection for the upscale Scottish outdoor clothing brand Barbour. And principal filming for Bloodshot starts soon. Despite—or because—of this explosion of activity, Heughan is still finding his sea legs. He admits, somewhat sheepishly, that for the first time in his career, he has a personal assistant. "I'm beginning to think I need to take more time for myself," Heughan says.
But you get the sense that an army of personal assistants wouldn't slow him down. The pace is ingrained, at least since Heughan was in his early 20s, living that hardscrabble existence of a wannabe actor in London, pinging between auditions and the kinds of crappy jobs that keep your head above water, which for him included bartending, working in an accounts firm, and delivering sandwiches via bicycle.
In 2011 he landed the lead role in a live-action show called Batman Live, a highly physical production with cables and pyrotechnics. After that, he secured Outlander. And although fans can count on seasons 5 and 6, the show won't be his Law & Order. At some point, Heughan will move on. "I want to be a movie star—I think that'd be great fun," Heughan says. It's the idea of diving into one meaty role for a few months that entices him.
Heughan also wants to return to the stage. He'd like to play Romeo at Shakespeare in the Park, here in New York, or in London, before he ages out of the role. (Since he's just south of 40, it's only thanks to his boyish face and chiseled chin that it hasn't happened yet.) After that, he'd like the part of Macbeth. "He is a star, an unrivaled warrior, and married to a gorgeous queen," Heughan says. "But under the surface is a cracked mind and a broken relationship. I'd like to see it set in Hollywood or a modern dystopia."
If such a dark and twisted role comes as a shock to the Heughligans, they should get used to the idea. "I feel like, if I put my mind to something, it happens," Heughan says.
For access to exclusive gear videos, celebrity interviews, and more, subscribe on YouTube!