It's not easy to make prehab sexy, but Crossover Symmetry has managed to convince us to be just as concerned with shoulder health as we are with strength and definition. Developed by a physical therapist and a baseball player over a decade ago, the system is used by professional and collegiate athletes to train injury-prone rotator cuffs and scapular stabilizers. And, maybe because a keyboard-induced hunchback is unattractive, or we're all sick of hammering our "bad" shoulders with lacrosse balls, the product is gaining popularity among everyman gym regulars.
If you're new to Crossover Symmetry, don't expect to hit the ground running. Whether you choose the Novice, Athletic, Elite, or Deluxe kit, each one comes with a 43-page instruction manual and an access code to the company's online training portal, where you'll spend at least 20 to 30 (absolutely necessary) minutes. It's tempting to skip this and go right to the exercise chart, but each movement has nuances, and the exercises are purposefully sequenced to yield maximal results. Plus, in practice, each program requires no more than six minutes, so it's a worthy investment of your time.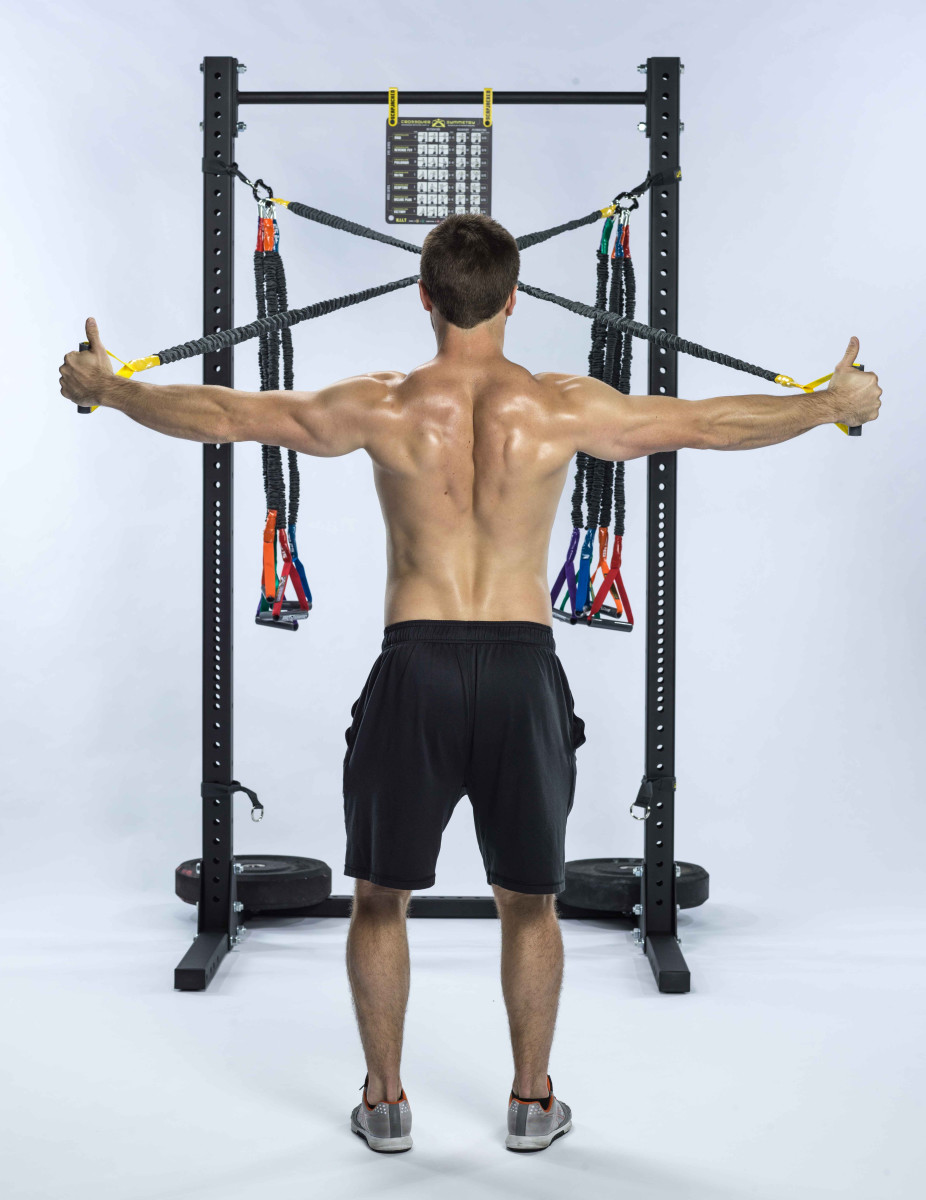 I've been focused on the "Activation" program, which is intended to be used 30 minutes before any physical activity (CrossFit, in my case). The movements—a mix of rows, pull-downs, scaptions, and flys—are challenging enough to bring my body up to temp, but not fatigue it. This program, which takes about four minutes once you're familiar with the movements and their order, is a good bridge between eight hours at the computer and, say, an overhead squat one-rep max.
Now, in the past, I've been played by "home" fitness equipment that probably does work in most homes—just not pre-war, one-bedroom Brooklyn apartments with bizarre layouts and antique moldings. Unlike the pull-up bar collecting dust in my communal basement, Crossover Symmetry's belt-style mounting system easily fastened onto one of my apartment's non-pocket doors on hinges. I needed to clear some space—about six square feet—to get the right tension on the bands. But once I was done, the door belts slipped right off. The whole system, including the six sets of nylon-covered cords, two door belts, and exercise chart, fits in a small backpack, so it's definitely travel-friendly.
We don't always appreciate shoulder mobility until we lose it, which can make it tough to invest even five minutes a day. But I can say that, after using it for a couple weeks, my overhead movements feel less strained, and I'm more cognizant of my tendency to round my shoulders when I'm sitting at the computer. If you're gonna go for the system, you can skip the six-cord Deluxe package. The Athletic set, which is just the 7-pound and 15-pound cords, is just fine for guys who want to prevent injury and increase their mobility.
For access to exclusive gear videos, celebrity interviews, and more, subscribe on YouTube!