For the first time ever, trail runners can race The Hahnenkamm, an extreme Austrian ski slope considered to be the planet's most insane downhill off-road descent.
"If you're someone who loves any hair-raising, adrenaline-pumping activity involving pushing yourself outside your comfort zone then this is right up your street (or down your ski-slope!)," British World Mountain Running team member Heidi Davies, 20, told ASN.
The inov-8 Descent Race, Oct. 6, 2018, will span just 350 meters but at an 80-percent gradient. Runners will blast out of a start house in 30-second intervals, weaving around gates, and sprinting downhill for the chance to qualify for the final run, where competitors will start in reverse order — just like skiing. The fastest male and female will take home top prizes.
"Flinging your limbs as fast as humanely possible down the world's most notorious ski slope isn't something you get to experience every day. It's a once-in-a-lifetime opportunity, sure to be the most terrifying but exhilarating 350 meters you will ever run in your life," says Davies. "I think you'd probably be inhuman if you didn't feel even a small amount of fear doing this race. But this is what makes it so unique – how scary and insanely epic it will be."
And she suggests starting by enjoying the playfulness of it all.
"Running downhill always has the ability to make me feel like a kid again – truly alive and on top of the world with a huge smile on my face, quite often whooping and screaming at the top of my lungs as I hurl my body downwards," she says.
But how the heck do you prepare for such a quick and hairy descent? Davies advises starting to build core and leg strength now so your muscles can better absorb the impact of increased forces associated with running quickly downhill. Be sure your training includes some core and leg strength exercises, and practice picking smart lines on technical downhill terrain.
An intense descent like The Hahnenkamm will also demand mental strength.
"Concentration will be crucial to avoid finding yourself face down on the slope. The race is only 350 meters long so you won't need to be focused for long, but make sure you're in the zone and ready to go," Davies explains. "Before you start, it may be useful to visualize your path down the slope and where you're going to place your feet so when you come to the steep drops you will be less likely to panic and it will be less of a shock because your brain has already been through the movement patterns."
Ambassadors from inov-8 share some more helpful tips for tackling The Hahnenkamm – or any downhill-heavy trail race.
Protect Your Knees
Knee injuries are common because downhill running exaggerates stress on the joint when the quadriceps go through numerous eccentric (lengthening) muscular contractions.
If you have weakness or imbalance in the muscles around your knee joint, work on single and double leg squats to prepare. Also practice launching from – and landing on – your weaker leg.
Get a Shoe You Trust
Invest in a pair of lightweight running shoes with an aggressive rubber stud pattern on the outsole, which will pierce the top layer of the terrain and grip firm underneath.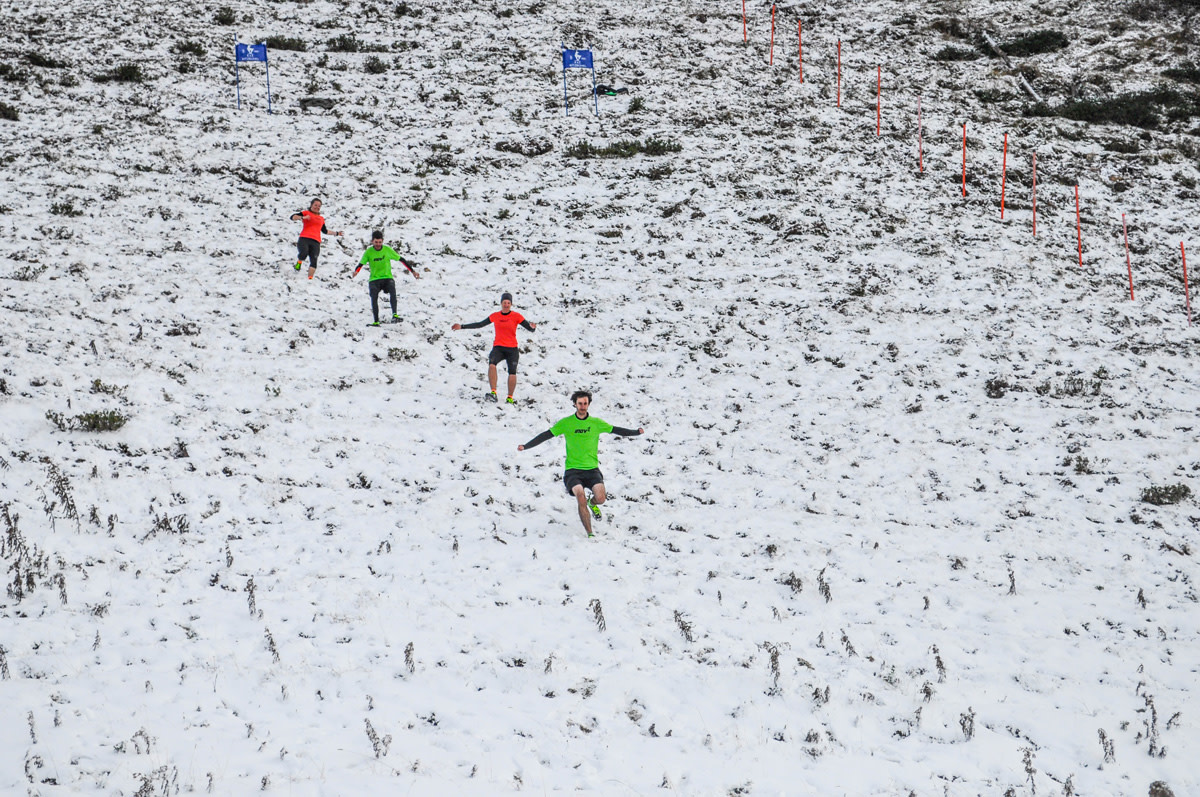 Windmill Your Arms
It looks a little weird, but by keeping your arms higher and wider than normal, and letting gravity do what it will, your arms will naturally spin alternately, balancing you on the downhill (much like they would walking a tightrope).
Choose Your Route
Always look for the fastest lines, which are not always the most direct. At the same time, try to avoid potentially race-ending wet rocks by sticking to grassier areas whenever possible.
Chase the Carrot
If you can catch the person ahead of you, drop in behind that leader, even briefly, to boost your confidence before you pass.
Chasing the carrot may give you just enough extra mental energy to sweep the downhill to the finish.
For access to exclusive gear videos, celebrity interviews, and more, subscribe on YouTube!