Three years ago, Justin Bull was goofing around with friends, swinging on a tree rope, when he lost his grip. The 29-year-old multi-sport athlete and dirt biker plunged 35 feet, landing on his right shoulder and snapping a tendon. Worse yet, he was uninsured, which meant getting surgery in his hometown of Fort Worth, Texas, would cost $40,000, all out-of-pocket.
"I was looking at going into serious debt," he says.
Then Bull's mother made a surprising suggestion: Go abroad to get it done. A few years before, she'd traveled to the Czech Republic for surgery on her ankle. The procedure had been top-notch, complication-free, and a huge cost-saver. Bull did some research and opted for the Hospitales Amerimed in Cancún, Mexico—an orthopedic-surgery destination for professional athletes worldwide. Bull was hesitant at first, but says ultimately it couldn't have gone better.
"The surgeon was great at communicating," he says. "We spoke twice before [I went] to Mexico."
When he and a buddy arrived, they were picked up and taken to the hospital for Bull's blood work and transported to a resort for a four-day, pre-op vacation. Total cost of airfare, a week in a resort for two, and all medical costs: $7,400. He checked with two U.S. surgeons afterward who said the work on his shoulder passed muster.
Bull's experience is hardly unusual. So-called medical tourism—traveling outside the country for care—has become a substantial global industry. Many of these patients live in countries with subpar medical systems, and their destination is the U.S. But since American health care is more expensive than any other nation's, more U.S. citizens—even those who have insurance—are going abroad for surgery, advanced treatments, and other types of health care.
The typical medical traveler is looking for a relatively minor, elective procedure that may not be fully covered by insurance. Data is spotty on how many Americans travel for care, but experts estimate it's at least a few hundred thousand a year. And as the cost of domestic health care rises—and insurance excludes many types of treatments altogether—that number is likely to grow.
By all accounts, the quality and safety of overseas care can be excellent. Many foreign physicians were trained in the U.S. or Western Europe, reducing the language barrier. And they tend to specialize in one or two procedures, helping to ensure better outcomes. Outside of the operating room, meanwhile, the patient experience can be well above typical U.S. standards, with shorter waiting room times, longer pre- and post-op physician visits, and greater attention from the nursing staff. There's also concierge-level assistance with travel arrangements and booking recuperative care at nearby hotels that cater to their recovering clientele. Once you get home, your foreign doctor will have sent medical records to a hometown physician for follow-ups.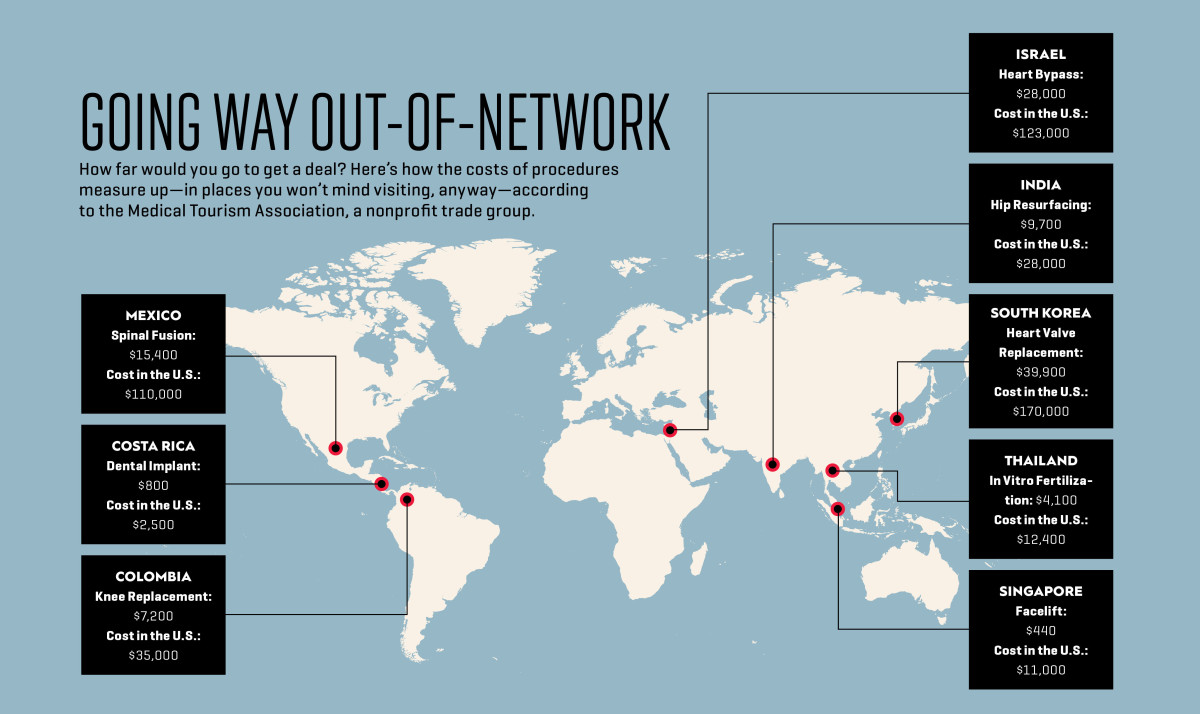 This industry didn't arise accidentally. Over the past decade, private hospitals have come to view medical tourists as a major profit center, treating them as valued customers who can boost their business with good word of mouth. Some national airlines have even discounted or subsidized fares for medical tourists. In Thailand and Malaysia, patients are greeted at airport-based hospital service centers and may start their treatment there. Some of the medical centers are advertised like resorts, boasting suites with bucolic views, concierge services, indoor pools, and fine dining.
Nonetheless, it takes a special kind of person to grab his passport and get surgery in a place he's visiting for the first time. Josef Woodman, CEO of Patients Beyond Borders, a medical-travel advocacy group, says the prime new market is millennials, like Bull.
"A lot of them have sports injuries, which aren't always covered by insurance," Woodman says. "They like to travel, they don't trust U.S. health care, and they love beating the system."
This helps explain why one of the most common types of significant surgery sought by U.S. medical travelers is orthopedic, especially for knees and hips. Typically, these procedures are nonemergencies, require short hospital stays, and have low complication rates, making them well-suited for travelers. Main destinations for procedures like joint repairs and replacements include Mexico, Thailand, and India.
Dentistry is the other big draw, accounting for about half of U.S. medical travel. Many patients head to Mexican border towns like Los Algodones, a 22-minute drive from Yuma, Arizona. The city has become devoted to the industry. Staffers in the dental clinics speak English, and local restaurants offer soft-food menus. That's where Vincent Humphrey, a 32-year-old lawyer from Seattle, went to get $14,000 worth of long overdue dental work. He spent one heavily medicated week in Los Algodones and returned to Washington just $3,500 lighter. Two dentists back home who reviewed the work were impressed, Humphrey says. Going to Mexico for a root canal may not yet be front-of-mind. And medical tourism has had to shed its bad rap, primarily its association with botched plastic surgery. But quality and accountability have improved in that specialty, too. These days, countries including Costa Rica and Brazil are a draw for Americans seeking an aesthetic upgrade, and a growing number of them are middle-aged men.
"In Silicon Valley, if a 40-year-old guy shows up at a meeting, people ask who brought their grandfather," Woodman says. "More men are getting work done, and are looking to travel to do it." And being out of town is often a plus for cosmetic surgery patients, who'd just as soon hide out at a resort for a week or two until the telltale swelling and bruising goes away.
Travel for in vitro fertilization is also popular, with Greece a frequent destination.
"People travel as a couple, have the procedure, and then go sightseeing," says Maria Kniazeva, a professor at the University of San Diego School of Business who studies medical tourism marketing. The cost savings for in vitro fertilization are substantial—about $3,500 in Greece compared with $15,000 to $18,000 at home.
Some medical travelers have such positive experiences that they become total converts. Take Kenneth Cunningham, a 58-year-old clinical social worker in Toledo, Ohio. When his physician reviewed Cunningham's family history, which is rife with cancer, he called the situation "alarming" and ordered a colonoscopy and other tests. Cunningham had let his insurance lapse in the face of increasing premiums and learned the bill for a diagnostic workup would come to $10,000.
"People travel as a couple, have the procedure, and then go sightseeing"
That's when his son, who lives in Budapest, suggested his father get the tests done there. Cunningham's doctor in Hungary did her residency at Tulane Medical Center in New Orleans and was highly familiar with all of the cancers in his family.
"I wasn't worried one stitch," he says.
Cunningham says he was ferried to and from the "exquisite" hospital, given a thorough preoperative exam and battery of lab tests, and attended to by empathetic nurses.
"It was a much better patient experience in every way than I've ever had here," he adds.
His total medical bill: $616.
Cunningham now plans to forgo U.S. insurance altogether and have all his medical needs taken care of overseas, from routine dental work all the way to significant procedures and treatment should the need arise.
While most medical travel is for non-urgent procedures, it sometimes makes sense for patients facing massive bills for more serious care, including heart surgery and cancer treatment. Both draw patients to India, where major surgery can be a fifth of the U.S. cost, and chemotherapy drugs a twentieth. Some of the most advanced radiation treatments for prostate cancer, such as proton-beam therapy, can run to $120,000 in the U.S. but average just $35,000 in South Korea. Major surgery may require a stay of several weeks, but some cancer treatments can be done over the course of a few days, with a return visit months later.
Certain types of promising and sophisticated new treatments can only be had overseas. Lutetium-177-PSMA therapy, a highly targeted prostate radiation procedure for late-stage cancer, is still in clinical trials in the U.S. but is routine at the Docrates Cancer Center in Helsinki. Given how many Americans now receive care abroad, insurance companies have started to respond. Travelers generally pay everything out of pocket, but it's worth checking with your employer or insurance carrier to see if they will offer an incentive to get care abroad. In some cases, you could be saving the insurer thousands, and some companies are now willing to chip in—or even pay you to do it. BlueCross BlueShield of South Carolina and UnitedHealth Group already have insurance plans with medical travel options, and other carriers may follow suit.
As with any medical intervention, there are risks. Complications, such as infections, can arise no matter where a procedure gets done. But logistics get tricky if you're in, say, Southeast Asia. Plus, surgery can go awry. That's why experts recommend medical travel insurance, which pays for follow-up procedures to fix bad work, either in the country where it was originally done, or back in the U.S. Most patients opt for this coverage, which is why there are few stories of uninsured people who get strapped with a big bill to remedy a bungled surgery.
That extra layer of planning is one of the aspects that can be a turnoff. Plus, consider that international travel is stressful, as is having surgery. So imagine going to the Middle East for a major operation. Even if the logic behind the effort is unimpeachable (the quality is the same; the cost savings are significant), emotionally it may not be worth it. But for seasoned travelers, the trip could net a vacation financed entirely by the savings on astronomical health care costs in the U.S.
For access to exclusive gear videos, celebrity interviews, and more, subscribe on YouTube!