Scott Eastwood is ready to take center stage.
After appearing in action films like The Fate of the Furious, Suicide Squad, and the upcoming Pacific Rim: Uprising, the 31-year-old is getting behind the wheel of his own (potential) franchise in Overdrive. It's a welcome opportunity for the burgeoning star, especially because the new action-thriller gave Eastwood a chance to combine two of his biggest passions: acting and classic cars.
"I think I may have said yes to the role right when they pitched me," Eastwood told Men's Fitness. "They said, 'Classic car thief in the South of France,' and honestly, before I even read the script, I said, 'Yeah, I'm in.' It was almost a selfish thing, because I love classic cars. Classics are like my wet dream."
In the film, Eastwood plays Andrew Foster, a thief who travels around the world with his half-brother Garrett (Freddie Thorp), looking for the most expensive classic cars they can find—and then steal. But after crossing notorious crime boss Jacomo Morier (Simon Abkarian) by stealing his prized 1937 Bugatti, the duo must put together a team (played by Ana de Armas and Gaia Weiss) to steal a rare Ferrari from Morier's rival, or suffer the consequence. Which, of course—this being an action movie and all—is death.
The "let's get a team together" vibe and the car-centric story may open Overdrive up to comparisons to the Fast & Furious franchise, but Eastwood sees it as its own thing.
"Fast and the Furious is such a big animal," Eastwood said. "This one was a much smaller movie, so it's a little different. Everyone sort of knows their role and place in Fast and the Furious. On this one, we were just trying to go, 'OK, what are we going to do? Does this move make sense? The cars are beautiful. Let's just go.' It was cool and a really fun experience."
Eastwood is a self-professed "car nerd," so he didn't need too much preparation when it came to getting behind the wheel for stunts, many of which he did on his own.
"I felt like I knew everything about these classic cars," Eastwood said. "What's interesting is a lot of these classic cars that are worth so much money now, they're pretty much works of art. Along with that comes stories, like why certain cars are worth so much, because this car won at Le Mans in '62 against Ford or this famous racer died in this car in this race. There's certain nostalgia that comes along with it, and I was sort of already in touch with that world. So there's not a lot I had to train for car-wise."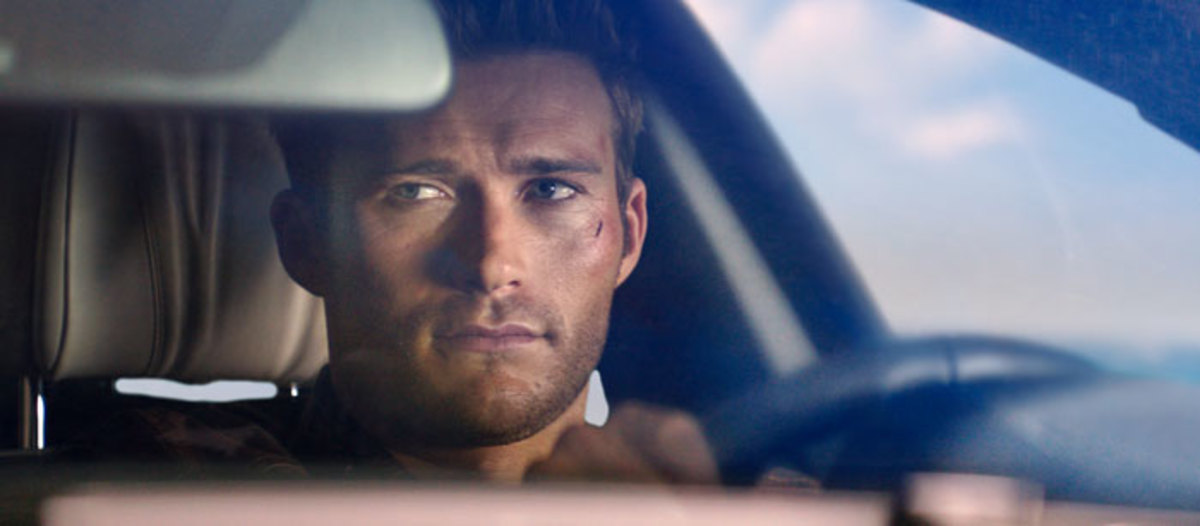 Courtesy of Paramount Pictures / Overdrive
With Overdrive now under his belt, would Eastwood ever follow the footsteps of his legendary father, Clint, and get behind the camera to direct? It's a major possibility.
"Yeah definitely, just for a little bit more down the road," Eastwood said. "I'm only 31, so I'm still young in this game. But I want to do it down the road. I've got to find the right material first."
Overdrive is now in theaters and available on Digital HD. The DVD and Blu-ray release will be available on November 7.
Eastwood spoke with Men's Fitness about his favorite classic cars, doing his own stunts, and why Overdrive is the perfect "straight-up popcorn" movie.
MEN'S FITNESS: What drew you to the role in Overdrive and what made you excited about being a part of this movie?
Scott Eastwood: It was a car thing. I have to be really honest: It was the car thing. I love classic cars, and we shot in some of the most beautiful locations. I really loved Antibes in the South of France. It's very close to Cannes and it's gorgeous—definitely one of my favorite places. It was almost like fairytale. It was an amazing experience.
What are some of your favorite classic cars? What were the cars you enjoyed working with the most on the film?
I would have to lean toward the Ferrari and probably the 250 GTO, just because I guess I'm a little bit in love with that time era, with the Le Mans and the Ferrari and the Ford rivalry. I think that's just such a cool, innovative era, through the '60s. You have the birth of the Cobra because of that. You have so many innovative things that happened for race cars in the '60s. They sort of transcend that decade. So I'd probably lean toward that. Second place would probably be the Bugatti, the '39 Bugatti Alicante.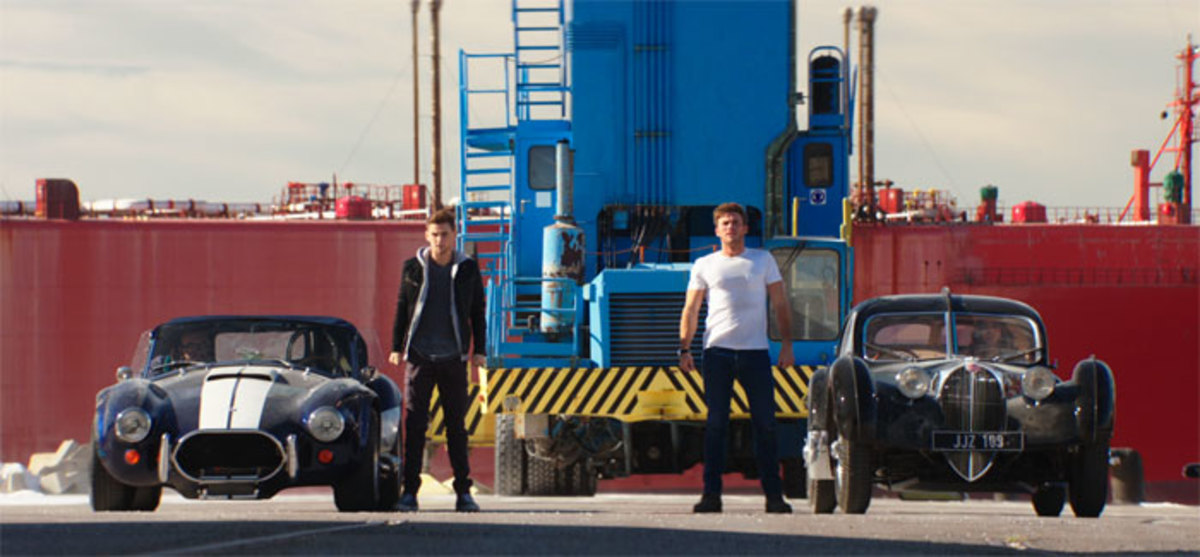 Courtesy of Paramount Pictures / Overdrive
What was your workout routine like as you trained for the movie?
I'd wake up and get some yoga in, maybe a sauna, at like 5:00 in the morning. Then go get ready for work. Instead of having lunch sometimes and just getting lethargic, I would hit a secondary gym. I'd hit a first gym session maybe in the morning, knock some stuff out, but then I'd hit a gym session at lunch or I would use some free weights we had around. We'd do everything from squats, to pushups, to lunges with free weights. You just can knock out the odds and ends during lunch for even 30 minutes. Then you get that endorphin kick, and so you're not lethargic after lunch, but you don't sit and just kind of veg out. You actually are burning the calories, and then you can just pack some good protein and veggies right afterwards.
You did a lot of your own stunts for the film. What was it like preparing for those, and why do you enjoy getting behind the wheel and doing most of the stunts yourself?
I really enjoyed the stunt work a lot. That's the stuff that keeps me going in this business for sure. It's great when you get to raise the adrenaline a little bit, because if not, I get kind of bored sometimes. Once in a while I need to say, 'Let's fucking crank this bitch up.' But I think that that was probably the most fun, and I really enjoyed just being in the cars.
Did you deal with any injuries while making the film and doing those stunts?
I think as an athlete or actor, you're always playing hurt. You've always got something. You're always dealing with this, that, and the other. But you know, just gonna deal with it, grind through and keep on hammering.
What are you hoping people enjoy about the movie and get out of the experience?
I hope they just go to have fun. No expectations. Go eat some popcorn, watch some fast cars, and just have a big smile on your face and have fun. Not everything's got to be super-serious. I want to do some more dramatic movies in the future, too. I love serious movies. But yeah, this is just a straight-up popcorn flick and it's fun.
What was your nutrition plan while training for the film? What are some of your favorite healthy foods to help you stay in shape?
My favorite meal, it's pretty standard. I try and have every meal as clean and pure as I can. I'd go with wild-caught salmon, with either brown rice or sweet potato, and broccoli. But I'd switch broccoli for kale sometimes. I'd substitute, shake it up a little bit. But that is pretty much my epic meal. That and maybe some artichoke on the side because I love artichokes. That is pretty much what my dad [legendary director Clint Eastwood] eats every day for breakfast, lunch, and dinner. So you're getting those omega fatty oils, you're getting incredibly great lean protein. You're getting a good natural carb, and you're getting what I call your colon scrub with all your broccoli and your veggies to move everything through.
What was it like working with the producers behind action films like Taken, Wanted, 3:10 to Yuma, and 2 Fast 2 Furious? What was it like to be part of that group now?
It was really cool. You have guys like producer Pierre Morel, who directed Taken. You've got this young guy, director Antonio Negret, who has done a couple Latin films, so he brought some interesting flavor to it. It's like a classic action movie, but with cars. So that was my expectation, and it was great.
While you can't get into spoiler territory too much, what was it like working on Pacific Rim: Uprising?
I'm super-excited about that one. Me and John Boyega teaming up—I really liked the dynamic he and I had together. In the film we have some issues we have to resolve, and I think it's cool the way it goes down. Not to give anything away, but there's some cool new shit. It's going to be really awesome.
Overdrive is now in theaters and available on Digital HD. The DVD and Blu-ray release will be available on November 7.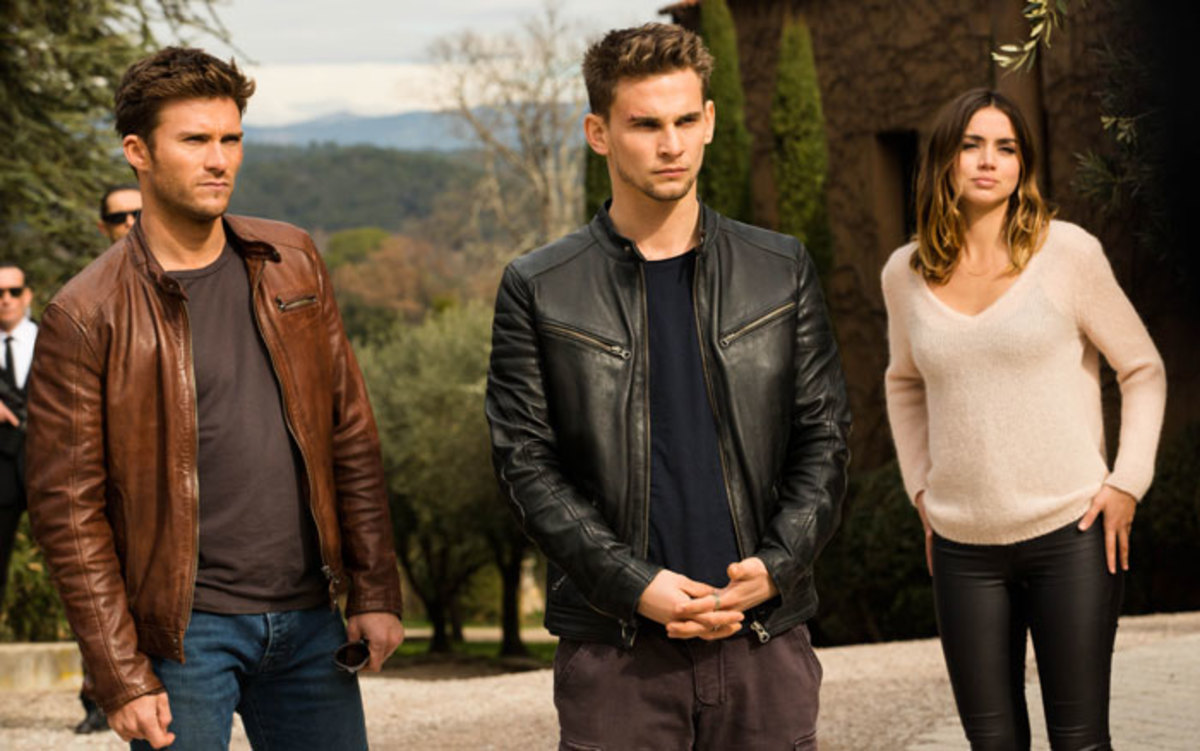 Courtesy of Paramount Pictures / Overdrive
For access to exclusive gear videos, celebrity interviews, and more, subscribe on YouTube!