This feature was originally featured in the May 2015 issue of Men's Fitness.
On a breezy late-February morning, Scott Eastwood takes me on a tour of his bachelor pad outside San Diego. There's no other way to describe it, really: There's a Ford F-150 parked in the driveway, a surfboard and kayak flung haphazardly across the lawn, and a fridge full of Sierra Nevada inside.
"Want a beer?" he asks. Why not? It's 11 a.m.
The house, a 1978 bungalow, is a work in progress. Eastwood shows me where he and some buddies removed a wall from the living room to open the space, installing two crossbeams for support. There's now a full-size pool table where most people would put a couch. "I was looking for a beater to fix," he says. "A little beach house, you know. It was pretty compartmentalized." As we head upstairs to check out the ocean view from his bedroom, we pass a desk littered with scripts ("I get so many fucking scripts") and a hall closet open to reveal a hulking steel safe. "That's my gun safe," he says. How many guns does he own? "Ten? I don't know. A bunch of rifles and shotguns."
An expensive-looking long-sleeve T-shirt clings to Eastwood's well-built chest—the result of good genes and a four-day-a-week gym habit. He's 29 but looks older, slightly weathered, with crow's-feet already appearing around his eyes. When he smiles, he looks like a movie star. Or rather, one specific movie star: his father, Clint Eastwood. The smirk is vintage Dirty Harry. I glance at a dozen fishing rods resting against the wall, and he laughs. "I've got enough guy shit here to last a lifetime," he says.
"Guy shit" is Scott Eastwood's calling card. During two hours together, our conversation ricochets from topics like his personal helicopter flying lessons to harpoon fishing to what it's like to surf in Bali. It sometimes feels as if I'm talking to an endangered species: the last real man in Hollywood.
And let's face it: Eastwood, like his father before him, is perhaps the closest thing in Hollywood to a red-blooded, all-American dude. So it's no surprise he's grabbing life by the horns. In last year's World War II epic Fury, he played an American sergeant opposite Brad Pitt. In Eastwood's first scene, the two walk side by side surveying the field for what feels like an eternity, neither man saying a word. And the kid holds the screen just fine. In fact, you can practically see Pitt handing him the baton just out of frame. Predictably, Eastwood was approached for the lead in this year's hit film Fifty Shades of Grey. (He declined. More on that later.) Instead, he's going through the same rite of passage A-listers Ryan Gosling and Channing Tatum have endured: starring in a Nicholas Sparks adaptation. In the new film The Longest Ride, he plays a cowboy bedding an uptight co-ed. Howdy, Hollywood.
Speaking of girls, as he and I settle into his backyard Adirondack chairs and crack two Sierra Nevadas, the conversation veers toward that subject. Eastwood tells me about how he recently took a lady friend up in a helicopter—he's an amateur aviator in training—and flew her to a winery for lunch to impress her. "That's a good move," he acknowledges with an Eastwoodian squint.
Today, in fact, I'm also supposed to accompany him on a helicopter ride, but his body isn't in a condition to be jostled around violently for 90 minutes. How come? "I bucked a bull yesterday," he says, straight-faced, referring to the act of trying to stay on a raging bull's back for eight seconds during a rodeo.
I assume Eastwood's hurt himself doing last-minute reshoots for The Longest Ride, in which he plays a bull rider. Well, turns out I'm wrong. He was actually forbidden in the ring during filming—so while that's him kissing the girl, it's a stunt double underneath the cowboy hat, launching out of the chute and into the arena. Eastwood understands why: No studio in town would risk its lead actor by letting him try to ride a bull for eight seconds. Still, he couldn't help himself.
"I can't go promote a film and say, 'Hey, I think I know what it's like to be a bull rider' when I've never actually bucked one," he says. "I was so pissed off that Fox never let me do it, I called my buddies and said, 'Come down, I'm gonna buck a bull today.'" I ask if the professionals gave him any advice first.
He smiles: "Man the fuck up and get on the bull."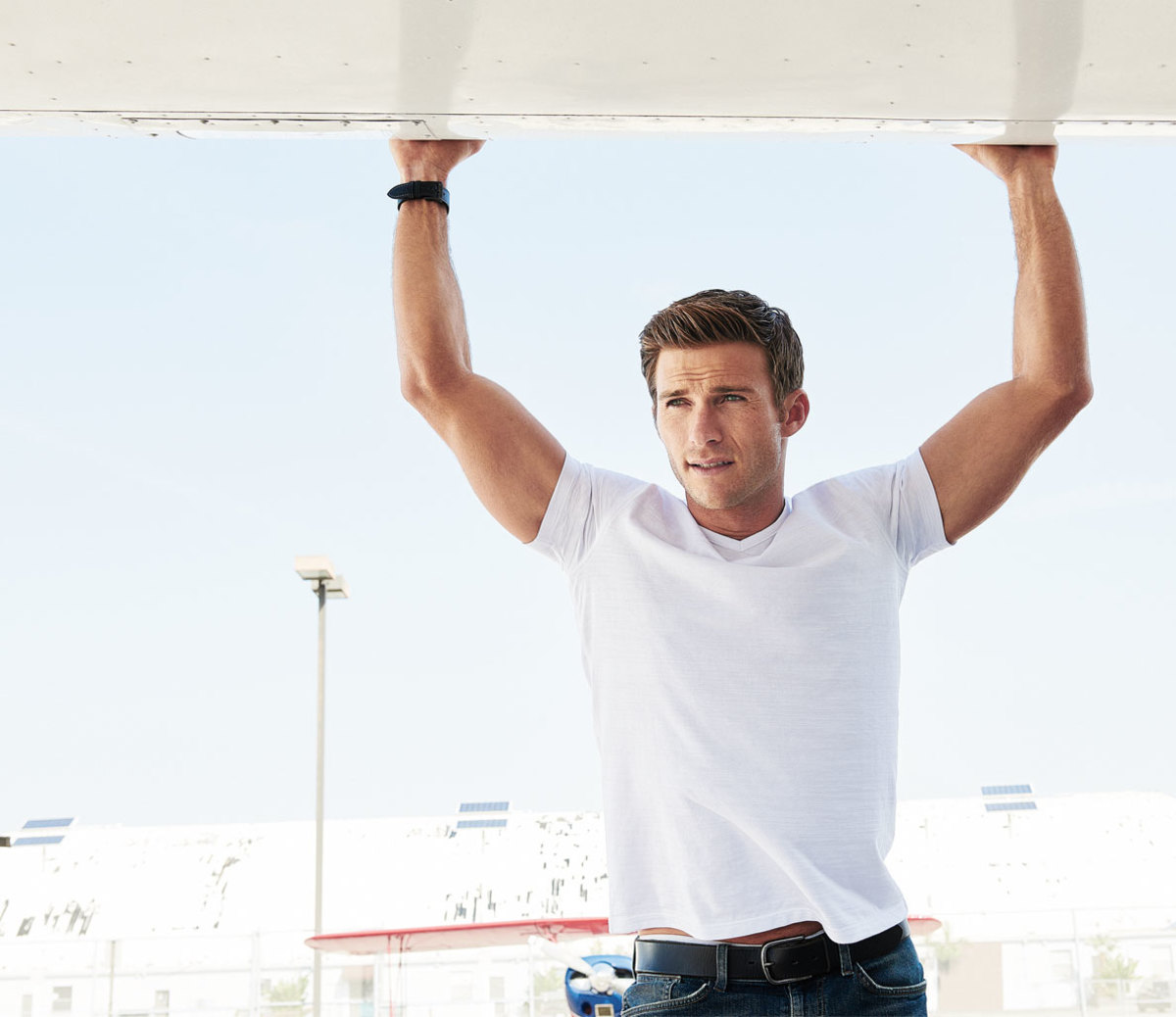 If you're one of the 170,000 people who follow Scott Eastwood on Instagram, you're familiar with the hashtag #Eastwoodlivin. That's his motto, and his birthright. But for a while it could very well have been #Reeveslivin.
Scott was born to Jacelyn Reeves, a flight attendant Clint met in the 1980s. A little sister followed. Scott was given his mother's name but was raised in both his mom's eventual home in Hawaii and Carmel, CA, where Clint did a turn as mayor. He says he was close with his dad growing up—still is. Only recently, they were out celebrating the $90 million opening of American Sniper over sashimi, just Clint and a mess of his grown children trading childhood stories about ski trips to Sun Valley. "If you forgot your gloves or something on the way to the mountain, it was the scariest thing," Scott says. "He'd grumble loudly. He's a dad.
Though Scott would eventually go into the family business, he was intent on making his own way at every step. He first acted professionally under the name Scott Reeves but then went to college at his parents' urging, graduating from Loyola Marymount in 2008 with a degree in communications. After school he rented a house near San Diego with some buddies and made his rent by parking cars and bartending between acting gigs. "A lot of times stupid girls would say, 'Why are you tending bar? What are you doing, your dad's Clint Eastwood!' Just because my dad is Clint Eastwood doesn't mean I don't have to work for a living."
I tell him these sound like his hard-partying years. He doesn't disagree.
"It was crazy, man," he says of nights spent behind the bar at the Firehouse in San Diego. "Picking up girls was fun, working at a restaurant. The owner was a really cool guy. I'd line a couple of girls up on the bar and do some body shots. That's the tip of the iceberg. There were times where rules didn't really exist. I can't tell all the stories. I'd get in trouble."
He took the Eastwood surname, he says, not to cash in on Clint's fame but because it had become important to his dad. "I've been telling that story for 10 years," he says, declining to elaborate. (In 2009, he told Interview, "I think my dad always wanted me to. I just wanted to prove to myself that I could carry on his name.") But at the beginning, when Scott worked mostly in independent  lms and TV, Clint threw a few jobs his way, albeit after an audition. If you want to see what an Eastwood-on-Eastwood scene is like, rent Gran Torino. "Nice job, old man," Scott's character says at one point.Clint's answer: "Shut up, pussy."
But, wisely, the younger Eastwood took time to hone his craft. And it makes sense that he wouldn't rush it. After all, Clint didn't play Dirty Harry, his career-defining role, until he was 41, and he didn't win his first Oscar for directing until Unforgiven in 1993—at the age of 62. "Longevity," Scott says, anticipating the question. "Yeah, I used to tell my agency that.
They'd tell me to go for these movies I wasn't interested in. Movies that would maybe give you a pop or make you famous—I don't know what that word means anymore."He declined to meet on a Miley Cyrus project, because it didn't feel "organic." He also turned down the lead role in NBC's Chicago P.D., hitting the brakes over the 6 1⁄2 -year commitment. "My agents, my managers—everyone was freaking out. They were pressuring me. 'You'll never have to work again!' It's so much money for them. But I don't know what I'm gonna want to be doing two years from now. How the fuck would I want to sign up for something 10 months out of the year and have to live in Chicago and do the same thing over and over again?"
This cautious approach is becoming a pattern. He turned down the chance "to test" on Fifty Shades of Grey (industry speak for a "camera test," the final casting hurdle). He doesn't tiptoe around the issue.
"My agents were like, 'You gotta go in,'" he says. But there was no script, and the studio "wanted full nudity. I don't know if they ended up using it, but full nudity was part of the deal. I'm not gonna say yes to something there's no script on. They were expecting actors to just say yes because of how successful the book was. That's not the game I'm in."
What he does want is fairly simple: "I want to be in great movies," he says. "I try and go out for movies I can't get." Even when it's against the advice of his team, and even when he's been told, "They don't want to see you." He put himself on tape for Django Unchained against his team's wishes. "A lot of times they don't want me to do what I do. But I'm like, 'Fuck you, give me the e-mail.' I'm sure I've pissed casting directors off. But they were cock-blocking me. So fuck it. I'm gonna fight for the good stuff." He didn't score a role in Django, but his pickiness has still paid off: He has several projects in the works in and out of the business, including starring in the Western Diablo; the new Oliver Stone–directed Edward Snowden biopic; and Suicide Squad, the comic- book-supervillain ensemble flick starring Will Smith and Jared Leto. (For his role, Eastwood is already undergoing intense physical training.) He's also replacing the late Paul Walker as the new face of Cool Water fragrance.'
Eastwood's bravura may anger his personal handlers, but it's also what makes him such an appealing presence, onscreen and off. When he got the call to meet director David Ayer for a possible role in Fury, Eastwood was shooting nights on another movie, playing a surfer- turned-marine. At 7 a.m., he drove to the casting director's office, still dressed in his fatigues, and fell asleep on the waiting room couch until someone's assistant shook him awake. "I'm in the clothes from the night before," he says, recalling the meeting. "I walk in, the first thing out of David's mouth is, 'Why the fuck are you wearing that?' I said, 'Hi, how are you? I've been up all fucking night, that's why I'm wearing this. Are you ready to do this or what?'"
He got the part. #Eastwoodlivin.
When asked what he learned from his Fury co-star Brad Pitt, he mentions Pitt's career choices. "He went anti-pretty boy, which is what I'm trying to do."
"You hungry?" Eastwood asks, itching to get out of his house. Seconds later we're in his truck heading for a taco shack on the beach. This begs the question: When you're a rising star, why would you live two hours from Hollywood? It's all by design. Of the tabloids, he says: "I don't play that bullshit." Most of his pals aren't in the business. "My friends don't give a fuck if I'm in a movie or not or if I have five bucks in my pocket." He stares out at the ocean and says: "I'm trying to keep my life in peace."
As we're sipping beers and tucking into shrimp tacos, it's clear that sitting still amounts to hard work for him. He's already thinking about going to a jiu-jitsu class later that night. (He's a blue belt.) Or going fishing. "I'll take a kayak out, anchor it in the kelp beds, then free dive for sea bass or yellowtail," he says. "I always eat what I kill." Then he sums up his fitness philosophy. "Healthy body, healthy mind."
As I watch him stare out at the water, I realize he's the embodiment of the American dream, writ large—and I'd argue he's figured out something pretty important. At one point, he runs to his car to change his shirt while I use the bathroom, and when I come back I see he's left his wallet out on the table for anyone to steal. When I mention it, he just laughs. "What's life if you can't trust people?" Sometimes he appears to have the earnestness of a golden retriever. He recently Instagrammed a photo from the gym: "Monday morning people!!! If you're not at the gym by now. You're not working hard enough!!" You get the point: Eastwood's life has no shortage of exclamation points.
Or business ventures. He's part owner in a local dive bar, Saddle Bar in Solana Beach, and is in the process of launching his own brand of whiskey called, naturally, Eastwood Whiskey. The business is 31⁄2 years in the making, but he and his partners are hoping to finally get into production within the year. When I ask what distinguishes Eastwood Whiskey from what's already on the market, he says: "It's made here in California. The raw product we use is beer. I don't want to give too much away. It's made in America by Americans. I'm very patriotic. I love this country. Let's make an American product. Let's create jobs."
He sounds like his famously outspoken father, but Scott declines to discuss politics. So we shift the conversation back to women. I mention that his father has had seven children with five different women; in February, he brought his much younger girlfriend—the hostess from a restaurant he owns—to the Oscars. Scott, meanwhile, watched the ceremony at an InStyle viewing party with his agent and went to bed when American Sniper lost. I ask him if his dad offered him any advice on marriage.
"He just got divorced," Scott says, referring to Clint's split from Dina Eastwood in 2013. Dad's advice, he tells me with a laugh: "Think long and hard."
In the past, the younger Eastwood has been linked with country singer Jana Kramer and model Brittany Brousseau but is single at the moment. He doesn't want to rush marriage, he says, citing his mom's path: "She's still single—that played a huge role. She's really comfortable with herself." He also cites his travel schedule as a major hurdle to settling down. He's o  to Germany shortly to  lm one of those roles no one thought he could get but did, playing an NSA agent opposite Joseph Gordon-Levitt in the yet-to-be-named Snowden biopic. Then he'll shoot an as-yet—unannounced film in Vancouver "with a great director," he says cryptically.
And though he's keeping things peaceful, he's also a thrill-seeker who gets o  on being scared. He tells me what it feels like to surf a 20- foot wave. "Sometimes you think you're gonna die. The important thing is to remain calm. And breathe. Conquering fear is important for a man. I think it calms you down." When I ask what scares him most, he says, "Having kids." But his eyes grow wide as he says it, and he leans in. "I'm scared, but I kind of want to! Not today—but you start to think, I'd like to be a father someday. It's scarier to me than death."
Our stomachs full of tacos, we drive past his bar (where the bartender jokes that moms are always coming in asking, "Is Scott working today?") before heading back to his house. When we pull into the driveway, I notice he's left his front door wide open. Not just unlocked, but I-just-got-robbed open. "Just don't publish my address," he says, and laughs.
I realize he never finished his bull-riding story. What happened? How long did he last?
"Two and a half seconds," he says. "I saw my moment to get out of there alive. The bull I rode weighed 1,800 pounds. If it stomps on your face, you're fucked." He fell eight feet right on his ass and has the bruises to prove it, and pulls out his iPhone to show me a photo. He looks like an all-American dude, grinning ear to ear.
"As a man," he says, "anytime you conquer fear, you grow."
For access to exclusive gear videos, celebrity interviews, and more, subscribe on YouTube!