If not for a debilitating twist of fate, we could've been calling Janis Ostojic the next Ronaldo.
Instead, Ostojic is breaking through the world of modeling. (Though if you check out the buff Belgian's washboard abs, you could argue he's still on the same level as Ronaldo.)
The fresh-faced 21-year-old has been featured in ads for Versace, Guess, and Bacardi's European campaign. But it's his role on Lifetime's new reality series Growing Up Supermodel that's garnering attention for Ostojic. "Modeling is what I want to be doing right now," says Ostojic. "I'm sure that something else might pop up in the future—I don't know what. But two years ago I would've said soccer."
Ostojic was born with natural athletic skills, which saw him quickly rise through the ranks. At 19, he made it to his nation's highest level, playing in Belgium's first division.
During one match, though, Ostojic suffered what he thought was a typical calf injury. However, doctors discovered he had compartment syndrome—a condition in which increased pressure affects muscle and nerve function. Any long, continuous running—as you do in soccer—would always cause tremendous pain and discomfort.
"It felt like my nerves were dying and my feet were falling asleep," Ostojic says. "I could have been a pro soccer player, but because of the injury I had to quit. It definitely put me in a depression."
Without soccer on his radar, Ostojic started to pursue other interests.
His modeling career took off when his mother entered him in a competition in Europe.
Though he's got quite a bit more to juggle since moving to the States. Ostojic and his father—model JD Ostojic—are one of the six famous families on Growing Up Supermodel (which airs on Wednesdays at 10/9c on Lifetime).
The show follows a group of young models trying to live up to the legacies of their famous parents. Translation: lots of theatrics.
"I'm not really good at drama," he admits. "I came from Belgium, a small country nobody really knows about. I'm just a normal person, and when I came to Hollywood I got thrown into this."
To stay level-headed and, of course, in model shape, Ostojic hits the gym.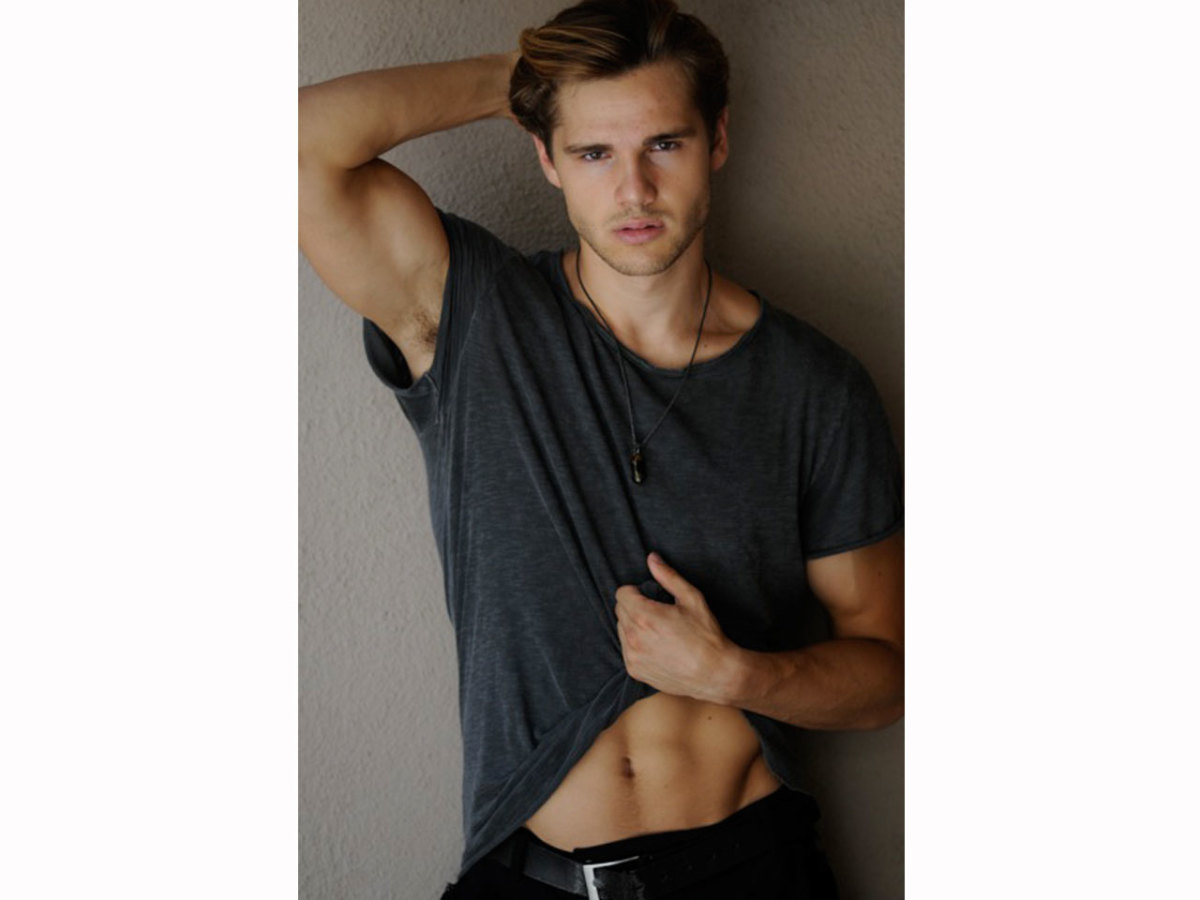 Courtesy of Perla Maarlek
How Janis Ostojic stays in model shape
When he was 16, Ostojic's father got him into training to add some size to his lanky frame.
"I really got interested because after a few weeks I saw progress, and that's when you kind of get addicted to it," he said. Today, regardless of his hectic schedule, Ostojic pushes for a five-day-a-week routine, splitting each day by body part. "No matter what happens, I always do chest on Monday," he says.
He throws in sled intervals to get some cardio into his workouts. But since his six-pack is his money-maker, abs are never neglected.
His training, though, is not as complex as you'd expect.
"It's short, quick, but effective for me," he says.
But every now and then he'll throw in the ultimate abs crusher—the vaunted dragon flag, an exercise made famous by Bruce Lee in which you lie on a decline bench, create tension through your whole body, then drive your legs until you're almost vertical. It took Ostojic nearly three months to master. "You need some technique and the right breathing," he says. "If you hold your breath for too long, you'll pass out or you won't make it to the ground and back."
Janis Ostojic's abs workout
Ostojic's abs workout is short (15 minutes max, he says) but effective. Perform each exercise one after the other for four rounds. Rest one to two minutes between rounds.
Leg raise x15
Mountain climber x 30 sec.
Side-plank x 30 sec. (each side)
For access to exclusive gear videos, celebrity interviews, and more, subscribe on YouTube!