"You ready for this?" asks New Orleans Saints tight end Jimmy Graham, his 6-foot-7, 270-pound frame crammed into the cockpit of his Beechcraft Bonanza G36. It's June, and while the rest of the sports world is speculating on the precedent-setting contract negotiations that will ultimately make Graham, 27, the highest-paid tight end in NFL history, the man himself is doing aerial stunts 1,100 feet over Miami Beach. Rage Against the Machine screams in our headsets as Graham turns the wheel hard to the right, bringing the plane perpendicular to the ground for a few stomach-tossing seconds. "You should see my other plane," he says, leveling off again. "We'd be upside down right now." Graham is ready to swoop 500 feet over downtown Miami – "I usually buzz my house" – when a static-tinged voice from the airport tower warns of a thunderstorm approaching. "Time to head back," he says, as rain begins to spatter the window. "Landing is going to be a little … " He glances at his nervous passenger, then grins and turns up the music. "Landing is going to be fun – my plane needed a wash anyway."
Yes, the NFL's top tight end has a taste for adrenaline. But spend some time soaring 160 miles per hour with Graham and you'll realize he also loves flying and football for a loftier reason. "They're both about the ultimate trust," Graham tells me. "Every time I fly someone, they're trusting in me. With football, if I don't block for Darren Sproles, he's going to get decapitated. In my life, there have been a lot of people who weren't there for me, so to now have people counting on me is awesome."
Over the past decade, Graham has pulled himself from an abusive orphanage in North Carolina to a starting position as power forward for the University of Miami Hurricanes to an All-Pro turn for the Saints – becoming one of the league's breakout stars in the process. Last season he led New Orleans in receiving, with 86 catches for 1,215 yards, ending the year with a team-record 16 touchdowns, the second-highest number for a tight end in NFL history and three times more than any of the Saints' wide receivers. "Jimmy Graham is so good at what he does that he should be paid what both positions make combined," says CBS NFL analyst Boomer Esiason. "He is one of the top five offensive threats in football."
RELATED: Why Andrew Luck Is the Future of Football
Off the field, Graham flies to blow off steam and sharpen his mind. "A friend of mine has a stunt plane and took me up during my sophomore year of college," he says, touching down on the slick runway and steering toward his hangar. "He turned it upside down, and I've been obsessed with it ever since." During the season, Graham flies his plane 800 miles from Miami to New Orleans for games. During the off-season – in addition to working out daily – he wakes up at 5:30 am to take pilot lessons. Having attained a single-engine license, Graham is now working on his multiengine and commercial licenses. "You never know how long you'll last in the NFL," he says, "but I can fly for the rest of my life."
Of course, Graham has a man cave – and it is epic. At Kendall-Tamiami airport, a private hangar with 20-foot-tall white concrete walls holds the following items: his $760,000 plane, a parachute monogrammed with his jersey number, 80, two Harley-Davidson tooled-leather saddlebags, a bamboo-faced Bluetooth speaker playing Nirvana, a giant plastic jug of protein-shake powder, a stack of Flying magazines, a sleek 1970s Herman Miller airport bench he bought on eBay, and a giant American flag. On the floor, Graham's black-and-gray Louis Vuitton travel bag is adorned with neon wristbands accumulated from every football stadium he has played in the past few years. A famous person who happens to be a serious flier, Graham commands respect within the insular world of pilots. "A lot of celebrities claim to fly," a pilot at the airport tells me. " 'Brad Pitt's a pilot,' you know? But to fly a plane like this, you've got to really know what you're doing."
Not that you'll find Graham in stuffy epaulets. Wearing wraparound shades, gym shorts, sandals, and a black T-shirt stating FLY IT LIKE YOU STOLE IT, Graham is locking up his plane when an airport security guard pulls up in a 4×4 golf cart. "That looks like my man," the guard says, walking into the hangar and giving Graham a bro hug. "Been keeping track of you on your website. What's up, brother?" Graham smiles: "Been busy."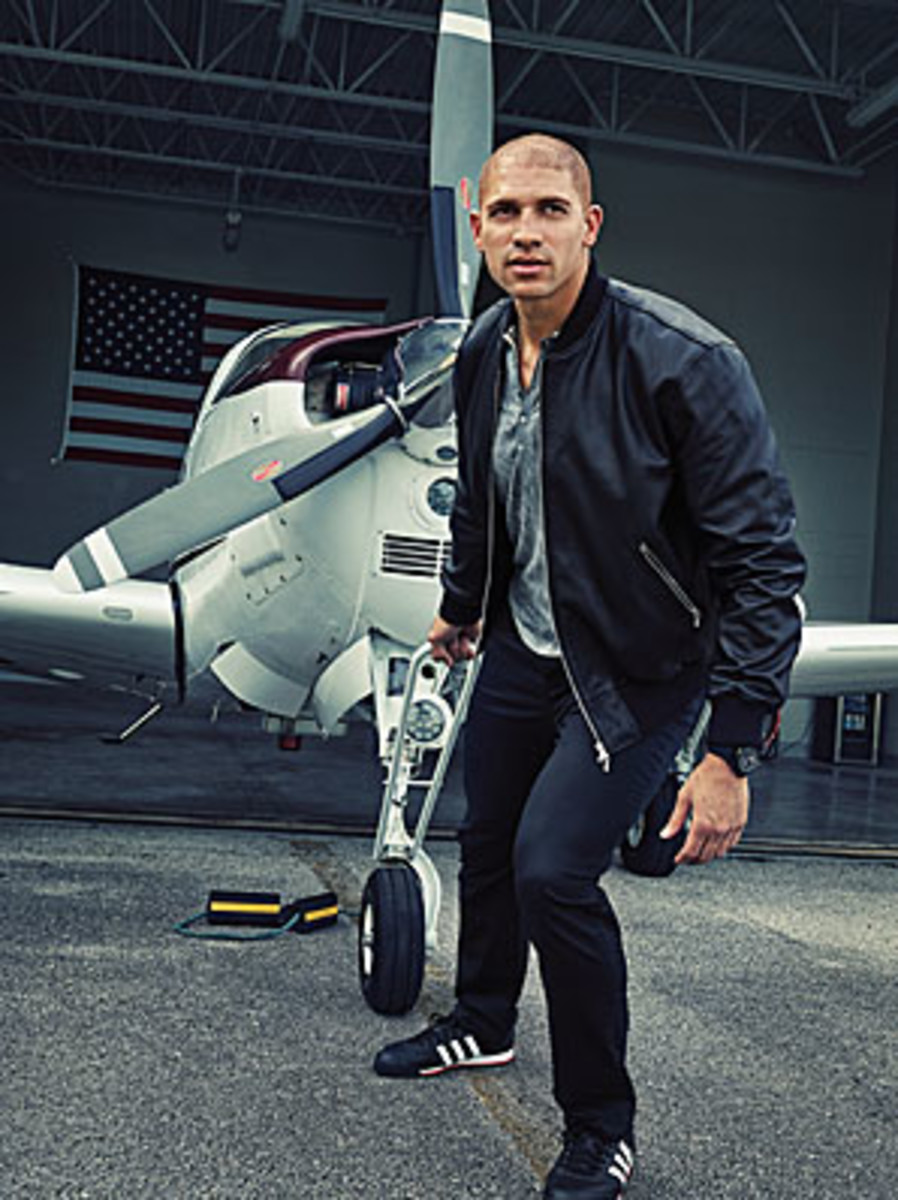 Graham with his Beechcraft Bonanza G36.
In person, Graham is quiet and careful in his choice of words — but he has a helmet-pounding inner beast he can unleash when necessary. Last January, prior to kickoff against the Seattle Seahawks in the NFC Divisional Playoff, he fought with two linebackers and cornerback Richard Sherman before officials broke it up – and then continued jawing with them throughout the game. "Richard Sherman has got a mouth on him," Graham says, sprawled out on a pleather La-Z-Boy in the airport's pilot lounge. When asked what he and Sherman say to each other, Graham shakes his head. "Who knows, man – I black out. Once I get out there, I'm a different person. I guess it's the little kid inside me who had to fight for everything he's got. And so every Sunday, I fight – it's hard to describe just how much emotion I play with on game day."
Abandoned by his single mother at an orphanage at the age of 11, Graham was beaten on a regular basis by the older kids, most of whom were juvenile drug felons. "Every day, I got beat up," he says. "Every night, I cried myself to sleep." After about a year, his mother returned and took him home again to Goldsboro, North Carolina, where Graham promptly began sneaking out to avoid her abusive boyfriend. At 14, he was getting food at an after-school church youth program when he met Becky Vinson, a single mother struggling with nursing school and a young daughter who nonetheless adopted him. "People looked at Jimmy as a problem kid," Vinson says, "but I knew there was something more to him."
Graham shone on the high school basketball team, eventually becoming the state's top power forward and accepting a scholarship to the University of Miami. After four years of being the team's enforcer – "I was either going to throw you or the ball out of bounds" – Graham was offered a six-figure contract to play pro basketball in Europe. He was considering the move when university president and former U.S. secretary of Health & Human Services Donna Shalala stepped in. "I'd helped recruit Jimmy and always thought he looked physical enough to be a tight end," Shalala says. "I talked to the football coach, and he said, 'You know, you're right.' " Graham played one season as tight end for the football team, did well enough to earn an invite to the NFL draft combine, and was selected by New Orleans in the third round. "When I started playing, everyone kind of laughed at me, like basketball players are too soft for the NFL," Graham says. "So I'm always working to prove them completely wrong."
Abandoned once, Graham now keeps his own counsel – and a tight, trustworthy inner circle. A successful Miami businesswoman whose son he coached in basketball manages his career. He has forgiven his mother but doesn't allow contact from family members he hasn't seen in the past 10 years (from roughly the time he was adopted by Vinson). "Just because somebody is blood-related doesn't make them family," Graham says. "I have so many people who have helped me get to this point – I consider those people family." He travels the country with Ginger, a five-month-old vizsla puppy the size of a rolling pin. "In fourth grade, I had a dog like this that got killed by a car," he says, petting the puppy. "It was red like me. Now she flies with me everywhere."
Graham remains equally guarded with his personal life. He has a girlfriend but won't go into details. He rents a place in New Orleans' bohemian Warehouse District and an apartment in downtown Miami Beach but avoids the crowds. "It can get pretty hectic in New Orleans whenever I go shopping," he says. "So I'll fly to Houston, buy my groceries, and then come back – nobody cares there because I'm not J.J. Watt." Graham uses flying to avoid temptation. "There is no drinking and flying," he says. "There's not many groupies at the airport."
Graham's other mode of transportation is slightly more subtle – a black extended-cab hardtop Jeep with 35-inch tires and a red Spartan helmet painted on the hood flanked by the word savage. The Jeep is coated in indestructible Kevlar, giving the vehicle's exterior a pebbly texture akin to full-grain leather. Graham defies most expectations save for this tank – it looks exactly like the kind of superhero-vehicle signing bonus delivered to a newly minted gridiron celebrity. As gnats swarm the late afternoon air, he ties Ginger to the front-bumper winch, sets out a bowl of water, and smiles. "Custom spray job I ordered down in Texas," he says. "Never have to wash it. I love-tapped someone the other day and destroyed their back window – not a scratch on mine." He pauses. "Of course, I stopped to give them my information."
Collision damage is never far from Graham's mind – his two passions, football and flying, are constantly at odds. Every year, pilots are required to undergo strict physical evaluations to ensure they have a low risk of blacking out while in the cockpit – an unmanned plane essentially becomes a missile. While Graham has so far managed to elude a concussion, he thinks about head injury. He flies for Angel Flight, a nonprofit that arranges for pilots to transport patients to hospitals, and is starting his own flight-related charity for inner-city children. A concussion could cause him to fail the FAA evaluation – and end his days in the cockpit. "It's very serious because if anything happens, then I can never fly again," he says. "In football, you have to look out for yourself and know when that ride is over. That extra inch after you've already got the first down – what's that going to get you? Not much."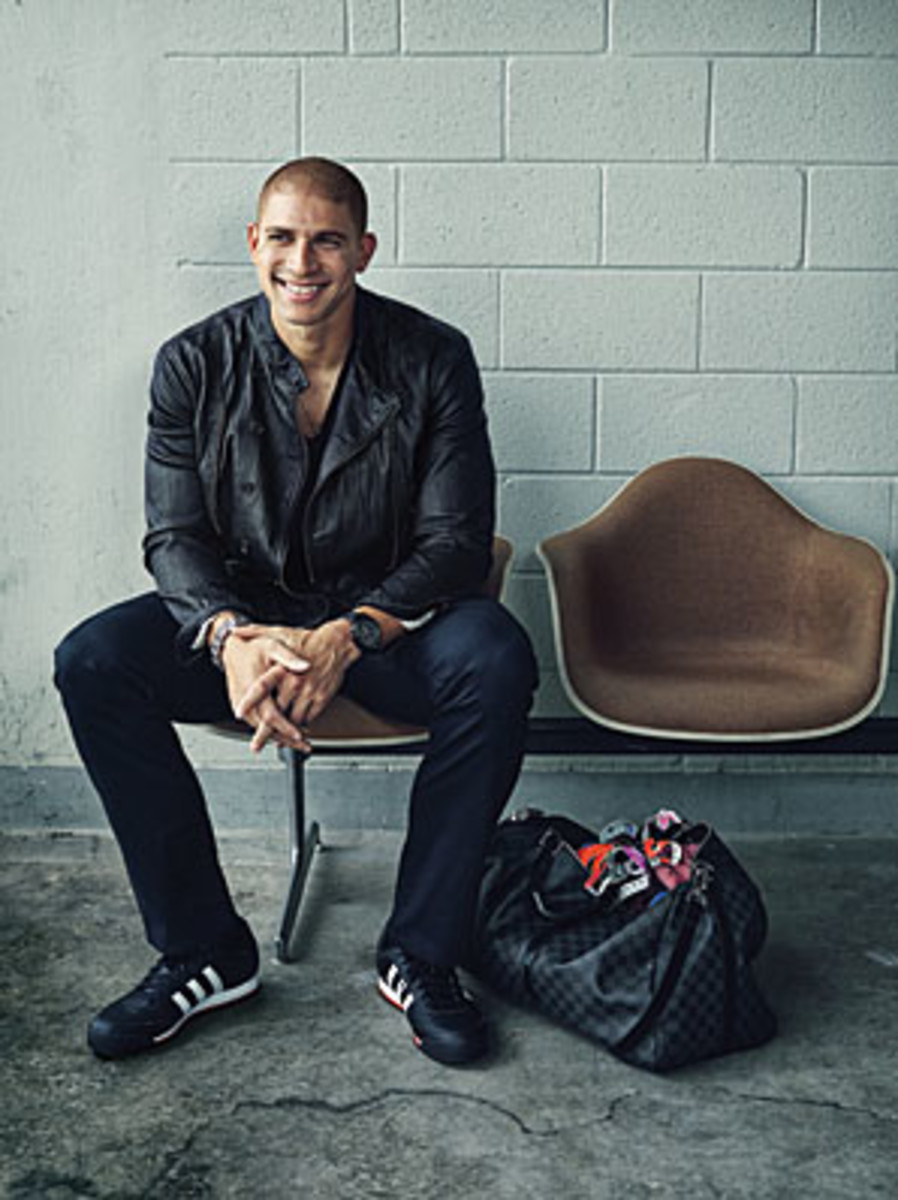 But despite the risks, Graham plays in the NFL the only way he knows how – with full abandon. "If the ball's in the air, I'm going to go get it," he says. "It's my job." Similarly, Graham continues pushing his limits as a pilot. He has begun flying an aerobatic plane built for high-altitude stunts like flips and spins. The plane is so dangerous, it comes with an ejector seat – the flying equivalent of BASE jumping. "One day," he says, "I'll compete in the Red Bull air races."
A nearby jet engine roars. Graham picks up Ginger, sets her in the Jeep, and turns the ignition. "People ask why I fly," he says. "You know, in New Orleans, I take off right over Lake Pontchartrain, the most peaceful thing in the world. Cruising at 12,000 feet, there's no cell phone signal. There's no email. There's no analyst. It's just me and my iTunes. Manipulating that machine with my hands feels like freedom."
For access to exclusive gear videos, celebrity interviews, and more, subscribe on YouTube!