If you're the type that thinks, "Hey, maybe I ought to put my kid in a canoe and drag that canoe up the snow-covered side of a snow-covered mountain for no reason other than to do it," then your name could be Joe De Sena. Except there's already one Joe De Sena in the world, and not enough room for two. Besides, he's already done that. Just like he's already been in a horrific car accident, had doctors tell him his running days were over, and within a year completed 14 Ironman triathlons, leading his childhood friend Cliff Gash to ask, "You know what that's like? What human could do that?"
These days, De Sena spends much of his time in the kitchen of the Pittsfield, Vermont, farmhouse where he maintains the part-time world headquarters of Spartan Race, the country's foremost obstacle-course racing operation, which he founded in 2004. Forget Tough Mudder, Warrior Dash, and all the punky rest, Spartan is the hoo-rah most grueling, and De Sena won't let you forget it. He's 45, wears his hair cut above the ears, is old-school handsome like a young Charlton Heston, gives off a brisk attitude of no small talk, can drop and knock out 300 burpees, takes no vitamins, drinks no alcohol, has never touched a cigarette, et cetera. Also, he grew up in Howard Beach, in Queens, New York. And without Howard Beach, onetime home to Mafia bosses like John Gotti, there is no Joe De Sena.
He holds up a glass with something funky in it that looks as though it came from the bottom of a drainage ditch. "Hey, you want some green juice?" he says. "This green juice is great for you!"
His phone rings. He mashes it to his ear, talking Spartan sponsorship deals, then he's hunched over a laptop — more Spartan business — and after that, he's seeing to it that his wife, Courtney, 37, and their kids remove their shoes before entering the house. Here they come now, spilling in: Courtney quite slender, fit, and pretty; the kids all younger than nine, two boys and two girls, their names a jumble.
"LOOK, SOME PEOPLE SAY I'M CRAZY, BUT WE'RE HERE ON THIS PLANET FOR A SHORT TIME. I WANT TO GET SHIT DONE."
"Hey, no shoes!" De Sena pipes up. "It takes two-and-a-half seconds to take off your shoes. It takes 10 minutes to clean up and sweep. Hey, I'm just saying."
De Sena is big on time management and chop-chop efficiency. He was this way even before he started his predawn-until-well-after-dark pool-cleaning outfit at the age of 13, which he later sold for half a million back in Howard Beach, where he had 750 clients, most of them wiseguys. In a nutshell, he's always been superlative like that.
A guy named Mark walks into the kitchen and leans against a counter. Mark is a former Marine who looks like one and lives down the street in an unheated, no-running-water barn, sleeps with two sleeping bags shoved one inside the other. The barn is located next to the Amee Lodge, a bed-and-breakfast, where Mark is the handyman. De Sena, who came here to Pittsfield 12 years ago from a career on Wall Street, owns both places. He also owns two local farms, 700 acres total, one of which has 11 pregnant dairy goats on it; a mountain (the one he canoed up); a Pilates and Bikram yoga studio; a wedding-retreat business; and the Original General Store, a Pittsfield institution he took over shortly after arriving and remodeled, much to the consternation of the town, pop. 546, most of whom are regular old Vermonters, who took to calling De Sena "Joe Millionaire," and evidently hoped he would soon go away.
"It was like, 'Who is this guy?' " recalls Courtney. " 'Is a Hooters next?' "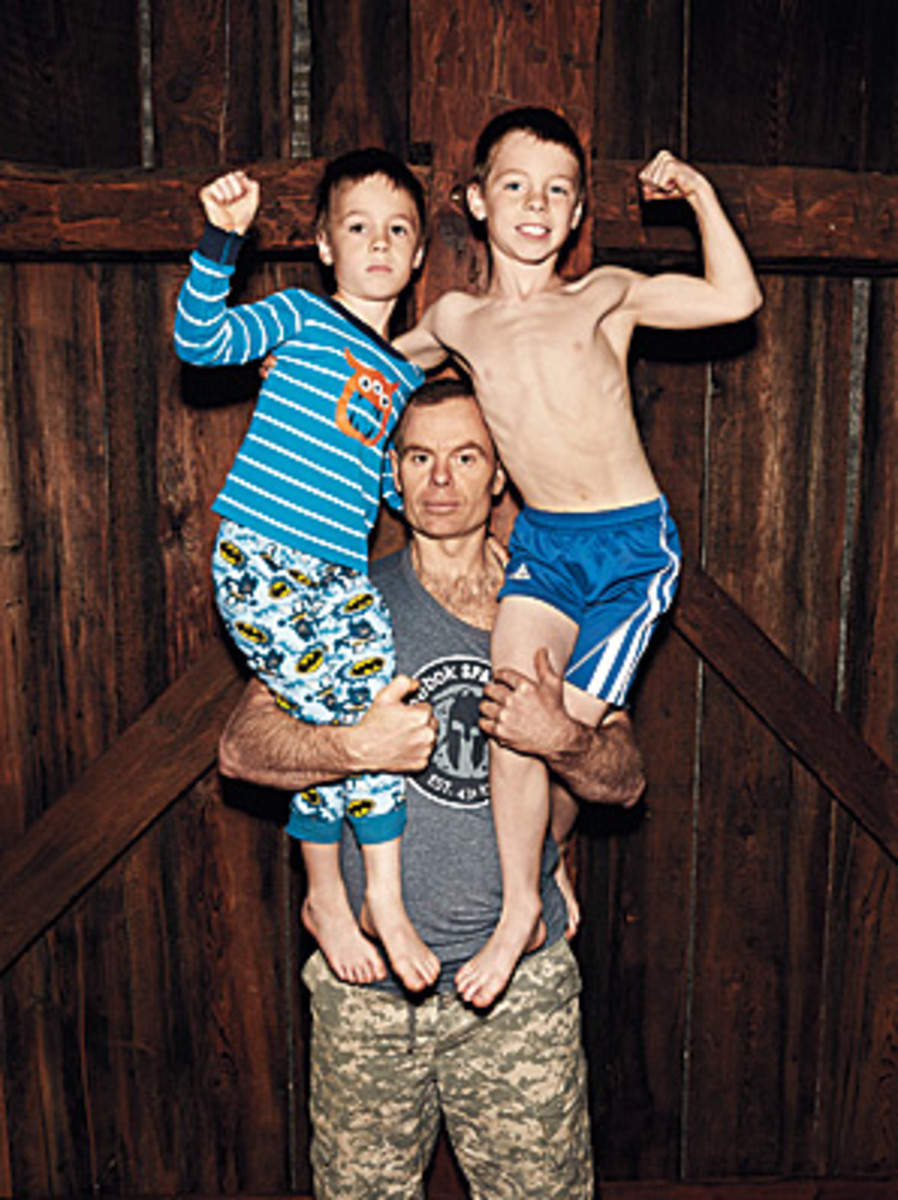 De Sena with two of his four children, Charlie, 6, and Jack, 8, in Pittsfield.
"They didn't accept us at first, and I wasn't used to that," says De Sena. "As a kid, I could walk into any mobster's house, sit down, and eat dinner, right? I was liked. I was friendly. Then I'm in this town, and, yeah, I was not ready for that. Now I'll never leave, motherfuckers."
More to the point, he not only stayed, he also multiplied, because where De Sena goes, lots of other people go, too. That's the magnetic effect he has, mostly on those who have raced in his events — crawled under barbed wire, leaped over fire pits, chucked spears into the vast beyond, and slogged for countless miles carrying 30-pound buckets filled with rocks. The races change them. Afterward, they say stuff like, "You come out of it, and you weren't supposed to be able to do it, but you do it." They want more of how that makes them feel. So they show up on his doorstep, he opens the door, and in they come — guys like Mark, who's still leaning against the counter, arms at his side, looking relaxed but alert, maybe a little coiled.
Once here, no one is turned away. "It's a lot of chaos," says Courtney. "At any time, I could go into the kitchen and learn, 'Hey, this person is going to sleep on the couch tonight.' "
"It's like a vortex," says De Sena.
"You have to be able to tolerate that," says Courtney.
So far, about 100 guys and gals have found themselves sucked in like this, after which De Sena puts them to work at one of his operations, piling it on, job after job, task after task: Fill this truck with slabs of stone — OK, now fill this other truck — until most of them eventually give up and hobble off. "Those are the fireflies," says De Sena. "They flame out pretty quickly. See, I'll help anybody. But then you've got to at least show some spark." De Sena nods at Mark. "Like Mark here. He doesn't talk very much. He just wants to know what the mission is. Gets it done." At the moment, the core group consists of 10 men and four women, the lengths of their stays ranging up to four years, each of whom has successfully latched on to one of De Sena's favorite dictums: "If you bite off more than you can chew, keep chewing." So that's what you see when you come to visit Pittsfield these days, a lot of people chewing. But no matter what, of course, nobody chews more than the Spartan leader himself.
On any given morning, De Sena wakes up around 4:45 am, throws his legs off the bed and into his workout gear, heads to the bathroom, takes a leak, brushes his teeth, doesn't really care if he makes noise that'll disturb Courtney ("I'm a big wake-up snob; everybody should be up early"), marches into the kitchen by 5 am, squeezes lemon juice into a cup of warm water, slurps that, hastily fires off a dozen emails, enters the mudroom, ties on his Reeboks ("No shoes inside!"), and opens the door on the outside world. It's 5:05-ish. He starts running through the brambles behind the house.
Ten 100-yard dashes later and hardly winded, he's on the second floor of a massive barn that's been converted into the most Spartan-like gym you can imagine. It basically consists of a rope dangling from the rafters and two chin-up bars attached to a crossbeam, which also anchors some TRX straps. That's about it. He's not an iron guy, he's a body-weight guy: 75 burpees, 30 pistol squats, 30 revolutions of the jump rope, five times up the climbing rope, and 30 pull-ups. Then he does them all again, four times. He's been awake for 90 minutes. An Asian man enters the room. He's a Sifu-level kung fu master and teacher. De Sena disappears for 10 minutes, returns with his two boys, who are still in their jammies and rubbing sleepy-winkers from their eyes. Thirty seconds later, the boys are running from one end of the barn to the other, warming up for their kung fu lesson.
De Sena keeps an eye on them, to make sure they tag the walls before turning around. "With kids, it's all about discipline," he says. "Extreme discipline." He pauses for a moment, then adds, "And allowing them to be creative."
After this, he may or may not take a shower. Today, he doesn't. He walks into the kitchen, opens his laptop, grabs the already-ringing phone, and gets right to work. Last year, an estimated 3.5 million people participated in obstacle-course races, up from around 50,000 in 2010, making them one of the fastest-growing athletic pursuits in history. Spartan and Tough Mudder are the two biggest names in the field, with Mudder having much better name recognition at present, which really frosts De Sena's kernels."You go to a cocktail party and bring up Spartan," he says. "Seven out of 10 times, somebody's going to go, 'Oh, is that like Tough Mudder?' And it's like, 'Are you fucking kidding me? Like, who the fuck is Tough Mudder?' " What De Sena means by this is mainly that the crap you see at a Mudder event — barbers offering Mohawks and mullets, Test Your Strength machines, and bulky guys wearing goofy costumes, even sparkly tutus — you'd never see at his. In his opinion, Mudder is a joke, with the race itself designed to appeal only to pasty-white, couch-loving suburbanites in dire need of bragworthy Twitter fodder and not much else.
DE SENA RETURNS WITH HIS TWO BOYS, STILL IN THEIR JAMMIES, RUBBING SLEEP FROM THEIR EYES. THIRTY SECONDS LATER, THEY'RE RUNNING THE LENGHT OF THE BARN, WARMING UP FOR THEIR KUNG FU LESSONS. 
"Our obstacles require athletic ability," he says, "while theirs are about branding, so they're going to electrocute you so that everybody talks about it, and it goes viral. That's not our MO." Anyway, Mudder events aren't timed, so you couldn't even really consider them competitions, the company's opinion apparently being that if you make it over the finish line, hey, you're already a winner. As Mudder's co-founder, a Harvard-educated Brit named Will Dean, recently said, "It's not a race, it's a challenge!" And how can he be proud of that? De Sena hasn't a clue.
To him, Mudder's events are yet another example of "the softening of America." He wants nothing to do with that kind of namby-pamby nonsense. As he often points out, go to any of his events­­ — the infamous Death Race is also one of his — and "you are ranked, judged, and timed." And, if he feels like it, you will be subject to his whims. If De Sena decides that a race should be extended once competitors get close to the finish line, then so be it. His guiding principle is that, "We all need adversity to grow," which at a 2008 Death Race near the summit of a nearby Vermont mountain almost cost him his life, with a bunch of mutinying, wooden-cross-wielding, disgruntled Death racers threatening to bludgeon him to death."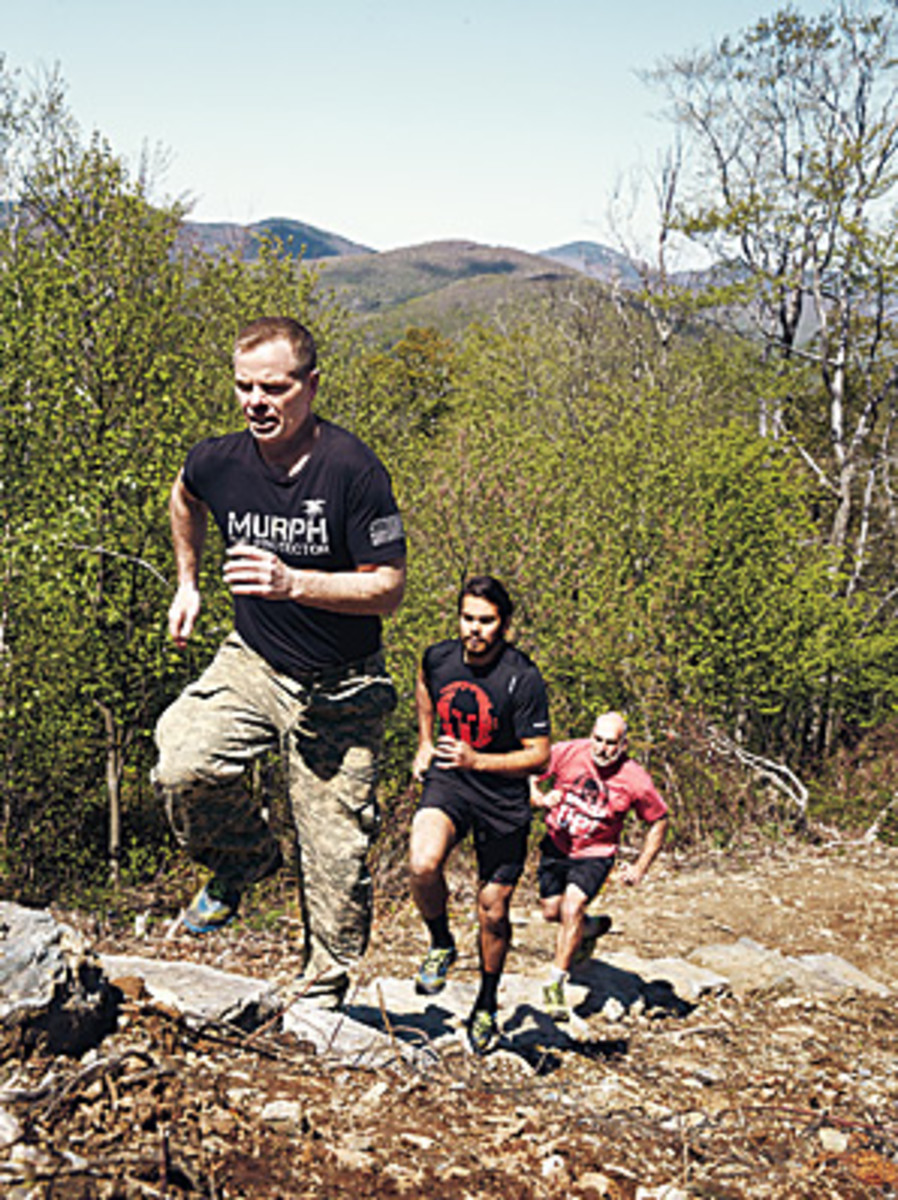 De Sena assaults the mountain behind his Vermont home, disciples in pursuit. 
They thought the race should have been over and they should have gotten their medals. They surrounded me and were closing in." He shakes his head, takes a sip of that green concoction, and says, "I was alone up there. They were furious. It was bullshit." He takes another swig and rounds in on the point, sort of. "Look, some people would say I'm crazy, but no," he says. "I'm on this planet. We're here for a short time. I want to get shit done. You don't have to get shit done. I want to get shit done. We have a guy comes to Spartan, missing two legs, an arm — an IED blew him up. He's high-functioning. It doesn't matter what you look like, physically. You're either getting shit done, or you're not."
Which is basically how he plans to take on Tough Mudder and eventually prevail in the war for worldwide obstacle-course domination. He's going to get shit done. He's working on a reality show with NBC. He's written a bestselling book called Spartan Up!, featuring his thoughts on business. He's trying to get obstacle-course racing into the Olympics — "specifically, Spartan obstacle-course racing," he says.
Now Courtney is back, shooing some of her shoeless kids around. She met De Sena 10 years ago at a relay-race endurance event, where she saw him finish his sandbag-carrying leg and then, apparently just for the heck of it, tag along with his teammate for the ocean-swim leg. She thought that was pretty unusual (and didn't learn until later that he'd waded into the water mainly to conquer his fear of sharks). For their first date, he took her on an unplanned eight-hour kayak trip on Long Island Sound, one PowerBar to share between them, with hardcore portaging involved. "And I didn't even know what portaging was. I mean, it was us mixing 20 dates into one." They got engaged four months later. She's had to put up with lot, but she says it's been worth it.
"Look, if the house burned down or a tornado came, you'd want him in your foxhole, and the next day, he'd be the first guy out with a shovel," she says.
But what if you want to sit down and talk about your relationship?
Quick as can be, De Sena says, "I'm not the guy."
Courtney says, "He's not the guy."
De Sena says, "If it's in a convertible in a rainstorm, maybe. Otherwise, you got the wrong guy. It's go, go!"
Courtney says, "Go, go. I like everything else about him — he's one of the only people I know, his actions line up to his values — so I accept him the way he is. I mean, who's better than him?"
In the course of a lifetime, it's pretty obvious you're going to encounter someone like De Sena just about never. So when you do, it's only natural to wonder, How did this happen? What were the circumstances? Why aren't I like this? What can I do to be more like this? Actually, this is something De Sena himself has thought a lot about. "I'm digging deep to find out what happened," he says, "because I want to redo that for my kids." He's almost feverish about wanting his kids to be as big-league, crackerjack, top-notch as he is. The three older ones all play instruments. The boys are wrestlers (and statewide contenders). His older daughter is well on her way to multiple pull-ups. They have a full-time Chinese housekeeper who is teaching them Mandarin, and are allowed to watch only Chinese-language television. And yet De Sena is aware that the things that shaped him most essentially will never have a hand in shaping them.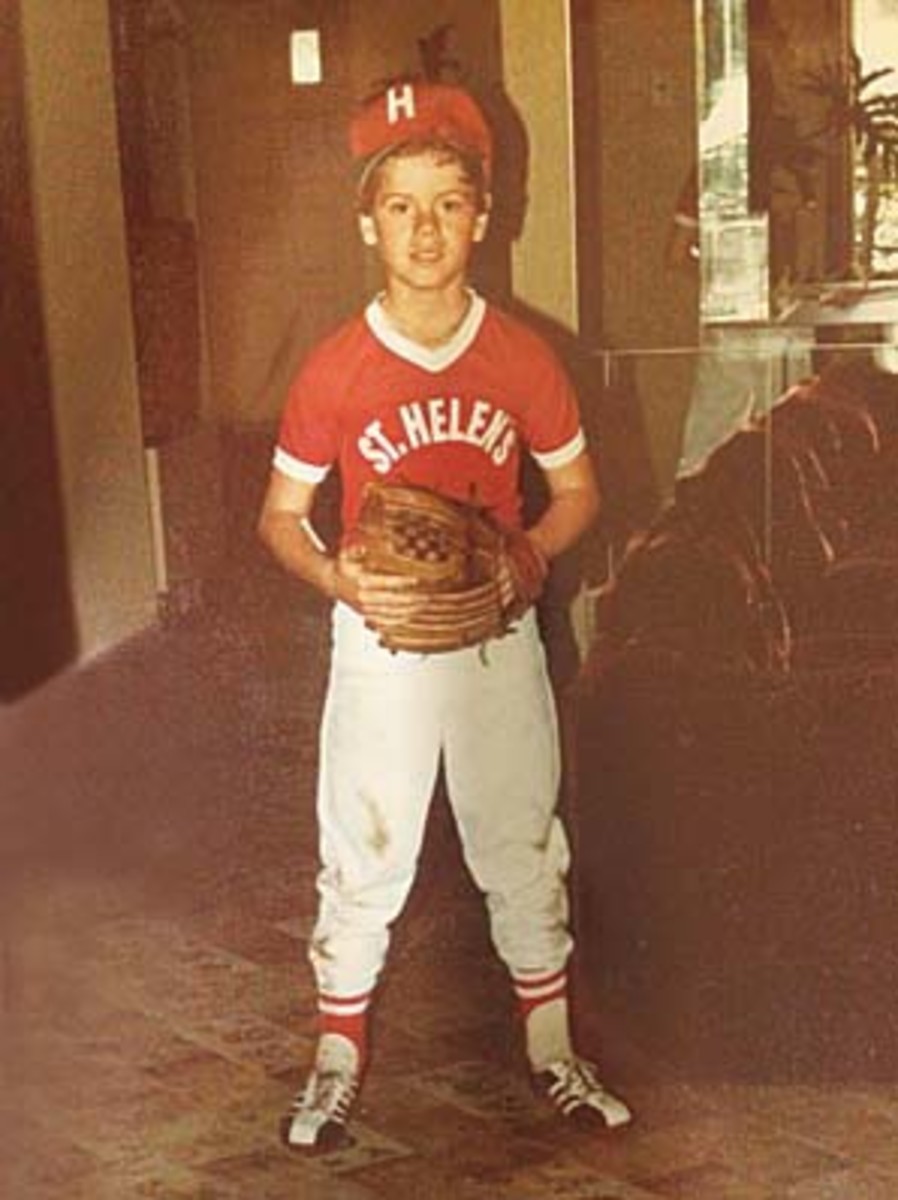 A 9-year-old De Sena in Howard Beach, Queens.
Back then, in the 1980s and early 1990s, everybody who was anybody in Howard Beach was a mobster. The guy Robert De Niro played in Martin Scorsese's GoodFellas lived there, as did John Gotti and any number of bosses, underbosses, captains, and capos. The soldier who gunned down Gambino don Paul Castellano outside Sparks Steak House in Manhattan — "That was my neighbor," says De Sena. "I mean, it was the organized-crime capital of the world. Every frigging house was organized crime." His mom, Jean, wanted no part of it. She was a meditating, yoga-practicing, health-food-eating, deodorant-despising half-hippie girl who never really fit in. His dad, Ralph, didn't want to get involved, either, but what could you do? "Let me put it this way," De Sena goes on, somewhat uncomfortably. "It was very hard to be in Queens and Brooklyn and be a legitimate business person, which he was, and run the kind of businesses he did — trucking, a warehouse, air freight — without having lots of friends."
Often, the dinner-table conversation revolved around who was going to jail and for how long. This worried De Sena. "I kept thinking, 'Could I do 20 years?' " he says. "Could I do the time and do whatever needs to be done to get through?" He decided he needed to get tougher, so he took cold showers, walked the streets carrying duffel bags full of rocks, two hours at a clip, and swam 30 laps after cleaning pools for 10 hours straight. He started doing this when he was 13. "I was a nutcase," he says. "All the neighbors were like, 'What the fuck is this kid doing?' But those things definitely made some DNA adjustments, and definitely had some influence on the races later on."
In the early 1980s, all his dad's businesses went bust: They were overextended, says De Sena, and "funding in our neighborhood came at a serious price, with serious consequences." Shortly thereafter, his parents divorced, he and his mom moved to Ithaca, New York, the alimony checks stopped coming, and the heat in their house was cut off in the middle of winter, leaving him to stew in a deep crucible of uncertainty, doubt, and fear. Not that he ever experienced it as such, because he was spending his summers back at his father's in Howard Beach, where he was already getting shit done with his pool-cleaning business.
"What happened was, my other neighbor was a big organized-crime figure in the Bonanno family," he says. "My dad lost everything. This guy was just being nice. He said, 'Hey, come clean my pool.' I cleaned his pool, so then he gave me the head of another organized-crime family's pool to clean, and then it was John Gotti's pool. I had 750 customers, most of whom were connected in one way or another. I cleaned pools for 80 percent of the organized-crime people you read about in newspapers. I come into the house, I have coffee or whatever, I got to know everybody that close. I did this for 11, 12 years. I watched how they ran their families. It was crazy. They'd lose their wife, their house, their car. I made a mental note not to run my house that way. What did they see in me? I was a very hard worker. If you're in the business that they are in, I'm the exact guy you would want to attach yourself to, because I'm an earner."
Meanwhile, back in Ithaca, he'd started an illegal fireworks business, selling Black Cats and bottle rockets to other junior high kids for their lunch money, which ended after he got nabbed in an administration-led sting operation ("They set me up!") and was suspended for two weeks. He then went into the T-shirt business. He was nothing if not entrepreneurial. After high school, he decided to go to Cornell, was rejected three times, did not take no for an answer, and got in on the fourth try. He returned to his Howard Beach pool business after graduation, made $200,000 a year, scored $100,000 overnight on a hot stock tip, and at the age of 24, sold his pool business for $500,000. Then he went to Wall Street, started a new job as a $30,000-a-year trainee at a brokerage house, worked his way up, saw a guy running in the stairwells, started running in the stairwells himself ("I used to live in stairwells. I mean, that's what I did"), ran marathons, flew places for triathlons, survived that car accident, entered more triathlons, and one day decided to start his own Wall Street trading firm. All he hears is, "You were a pool and construction guy. Nobody's gonna do business with you." They were right, until the day De Sena realized he had the wherewithal to get himself and his would-be clients a table at Rao's, an Italian restaurant in East Harlem, reservations impossible to come by, the hottest joint in town. "Fourteen tables," he says. "Very difficult to get into. Denzel Washington might be there, Billy Crystal, the mayor, wiseguys. Somebody once got shot there. Everybody wants to go to Rao's. Clients loved it. So how did I get in? It was handy having friends from Howard Beach." He kind of shifts sideways. "Man, in those early years, that table did a lot."
Early one afternoon, a bull-chested Spartan employee named Don picks De Sena up at his Pittsfield home and drives him into Boston, where Spartan has a real office, with real workers. Along the way, De Sena flops sideways in the back seat and attempts to nap. He covers his eyes, tosses and turns, takes a call, ends a call, tries again, gives up. It's not in his nature to nap. His father once called him a "triple A personality." His brain can't help but always be working on some new angle or other. When he got tired of taking potential clients to Rao's, for example, he decided to make a name for himself by taking them to gyms and marathons instead. "I just redefined myself. This one guy who had never run 10 miles before ran 50. What do you call those experiences when you have mushrooms? You know what I'm talking about. When he was at the point when he was seeing things, we bonded in a way nobody could break."
When De Sena tired of Wall Street, he moved to Vermont, where he continued to run his trading business. When ultra-marathons and Ironman triathlons began to feel too easy and he couldn't find anything left to challenge him, he took it upon himself to cobble together his first obstacle-course race, called the Death Race, which really was like death. "It's for the fringe extreme people," he says. This was in 2005, with only eight racers entering and three finishing, and they're still being put on today. The event waiver consists of three words: "I may die" — ready, set, go.
The races involve such things as cutting tree stumps out of the ground and slogging with them through muddy trenches, eating countless pounds of raw onions, hauling a bicycle to a pond, where a race official chucks the bike chain into the water for the racer to retrieve, running up a mountain, finding an egg tucked away in the brush, chopping firewood, whatever, as long as it is unexpected. In a Death Race, there are no ground rules. It might be scheduled to last for 24 hours, but at the last minute, De Sena might change it to 48 hours. Or 72. And, finally, the finish line might be in sight, and you're just about to cross it, when suddenly you'll be told to do 100 push-ups. "Everything that can go wrong will go wrong," he once said. "There's no light at the end of the tunnel. We're basically holding your hand to help you quit. The same way life does, right?"
"OUR WHOLE PHILOSOPHY IS, WE DON'T BELIEVE IN INSTANT GRATIFICATION. IF WE TAKE THIS KIND OF COOKIE NOW AND SELL OUT, WE DON'T GET ANY COOKIES LATER, MAYBE."
Not everyone goes in for this kind of thing, of course, so in 2010 De Sena set about broadening the appeal of the Death Race with a slightly more accessible event, the Spartan Race, which is more structured, has more rules, and features a set duration, but is still hugely difficult. This year, in Spartan's fourth year of operation, 750,000 racers have signed up to compete in 120 events in 17 countries. And that's not all De Sena is up to. He's got other races to put on, including the Peak Race, a truly ghastly 500-mile event ("Spartan's a baptism. Peak is an exorcism"); plus, he's developing a bunch of Spartan offshoots — a Spartan event for kids, a Spartan event for elite athletes. He just can't help himself.
"Listen," he says. "I'm either not doing this or I'm doing it big. If I'm going to be sitting at a computer and not be outside exercising, we better change a lot of lives, otherwise, what am I doing, right?" He goes on, "Here's the thing. When I was cleaning pools, if I have five minutes where I could just sit there, fuck it, I'm gonna go clean the guy's shed, straighten it all up, the lawn furniture, too. He's not paying me for that. I'm not asking him to. But when he comes home, he sees this, he can't live without me. Nobody else is gonna do what I do, right?"
Absolutely not. But it's not as if there aren't consequences. For one, he seems to lack a certain kind of sensitivity.
"A long time ago, we had a falling out, and I stopped talking to him for six months," says Cliff Gash, his childhood pal, who also got out of Howard Beach while he still could. "He just said, 'To know me is to love me, but if you're expecting a pat on the back or a hug, you're gonna wait. It ain't coming.' And when we were kids, he set up a fight between me, who was just a skinny kid minding his own business, and the toughest kid in the neighborhood. I had 50 kids walking down the block looking for me. He thought it was funny. You understand? Everything isn't rosy when you are intimate with his type of energy. There's a flip side to it. A lot will suffer."
De Sena with his wife, Courtney, before a 2003 Ironman.
De Sena's walking through Boston's streets now — he pauses only to say, "Very unhealthy, ladies," to a couple of caramel-macchiato-slurping plumpies — and into a building. His office is on the fifth floor. He takes the steps. Inside, a bunch of young people look up when he enters, then go back to their computers, while one guy over at a corner pull-up bar continues to knock out reps. De Sena strolls around, stops briefly to chat with a marketing person named Angeline, a Cornell grad like him. A while later, Angeline says she once tried to do 300 burpees, which is the Spartan gold standard rep count, only to have her muscle fibers break down and her kidneys fail, and to find herself porcupined by IV needles in a hospital, where she was diagnosed with a condition called rhabdomyolysis. When she told De Sena, he said, "Is your house burning down? Is your family OK? Did those bad things happen to you?" She said no. He said, "Then Spartan up!"
"And then the second time it happened," she says, "I call him and he's like, 'You're soft.' So now I have this condition. But every time I want to complain, I'm just like, Grrr. Hold it in. Suck it up. " Which is what De Sena and everyone surrounding De Sena would say and do, too. But maybe that's not as it should be. Maybe Angeline shouldn't have done all those burpees in the first place. Not everyone can do what De Sena does. "The bottom line is, Joe, this guy, he's unstoppable, he's superhuman. He's always been superhuman," says Gash. Then again, of course, when you're around a superhuman, it's only human to want to be super, too.
An hour later, De Sena is in a meeting with two of his top guys, to talk about sponsorship deals for Spartan, specifically about possibly getting onboard with Speed Stick deodorant, a Colgate-Palmolive product. On the upside, Colgate's a giant company with lots of money, and in the battle against Tough Mudder, more money is crucial. On the downside, Speed Stick is a mass-market product containing aluminum compounds (which some believe are noxious, though the claims are unproven), and perhaps that would send the wrong message to Spartan's core audience. De Sena listens to the pros and cons, then leans back and says, "Doesn't Colgate have any good brands, like healthy underarm deodorant? If we're giving a million people a Speed Stick, I would feel terrible. I can't — you know what I mean?" And so the matter is settled. "Our whole philosophy is, we don't believe in instant gratification," he goes on. "If we take this kind of cookie now and sell out, we don't get any cookies later, maybe. Why not get on Tom's of Maine, forgo the money, and find really cool, healthy, and emerging brands that believe in what we do and kind of shut everybody else out? I mean, I'm not going to do Speed Stick. I'm not going to. I don't care what they fucking throw at me."So this is who this guy is, and why he is where he is; and it's why all those people show up on his Pittsfield doorstep, ready to work for basically nothing, or continue to hang in his orbit in Boston, rhabdomyolysis be damned. It's an experience like no other. It can change their lives. And if it can do that, then De Sena certainly has nothing to worry about with his four kids, no matter that they will never experience anything like Howard Beach themselves.
The next morning, he's at the InterContinental Hotel, inside stairwell number four, which is so distant and obscure the front desk has no idea where it is. The time is 5:25 am. "I'm amazed, just amazed that I'm staying at this hotel, didn't go to jail, didn't get in trouble," he says at one point. "It could have gone a lot of different ways. I'm just amazed." Then he starts running the steps. There are 504 of them, spanning 21 flights, from ground floor to penthouse. He doesn't count them. He just pounds along, his shoes striking up a constant, obliterating racket of thunder and raindrops. Four times he does this. But it seems like he could go on forever.
For access to exclusive gear videos, celebrity interviews, and more, subscribe on YouTube!