"Thank you for your service" has become a common statement of gratitude from Americans to those who serve in the U.S. Armed Forces. This devotion to American military personnel took on a new urgency after the events of 9/11 and the subsequent conflicts in Afghanistan and the Middle East.
These wars also increased the number of veterans who returned from these overseas conflicts, some of which have yet to end. According to government Census data, there are currently 18.8 million veterans living in the U.S.—that's 7.6% of the population. While most veterans skew older in age, that's beginning to change with the new wave of troops returning from Afghanistan, Iraq, and surrounding regions.
While fellow citizens are quick to honor those in uniform, "support the troops" sentiments, as sincere as they are, only go so far. Settling into civilian life after serving is a struggle for many veterans, whether or not they've seen combat. Many veterans don't get the support they need.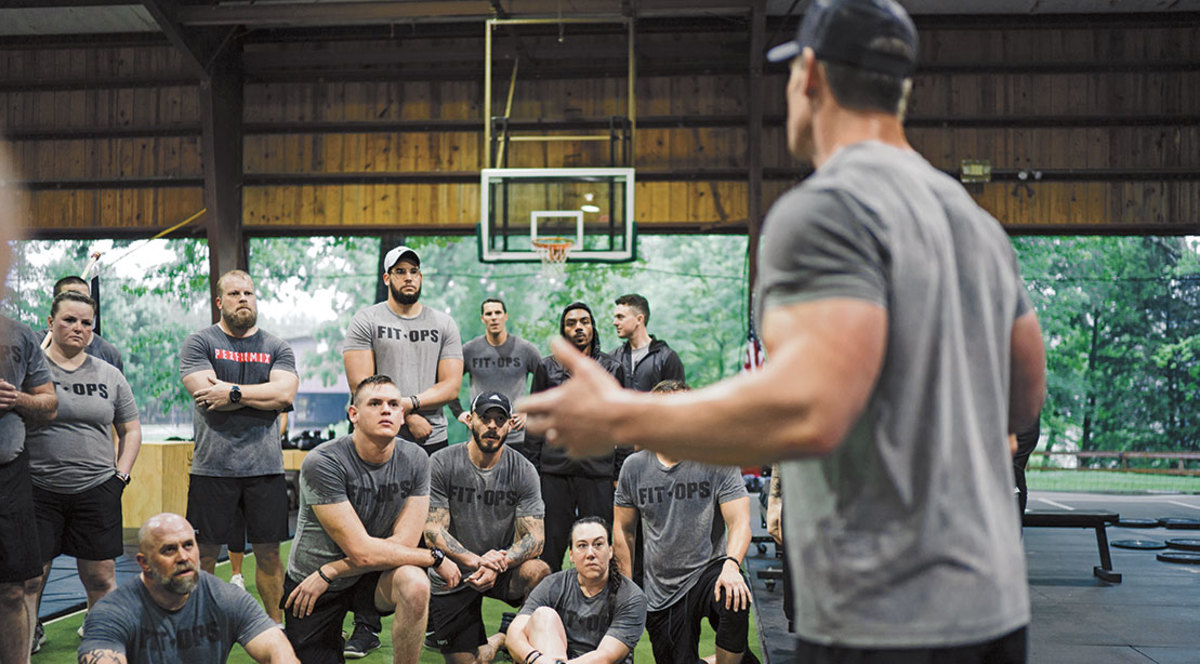 Helping veterans transition to civilian life is an issue that's personal for Matt Hesse. The founder and CEO of Performix, Hesse himself is an Army veteran who understands the difficulties of leaving the uniform behind. In his opinion, the hardest adjustment is dealing with a "loss of purpose."
"You spend years serving your country. You come home. And suddenly, you no longer have a job, or maybe you have a job that's not fulfilling," he says.
Losing that sense of purpose can lead to emotional turmoil. Others are haunted by the effects of overseas combat. The U.S. Department of Veterans Affairs reports that up to 20 out of every 100 veterans who served in operations Iraqi Freedom and Enduring Freedom have suffered some form of post-traumatic stress disorder (PTSD).
To Hesse, these statistics aren't just numbers— they represent real human beings.
"Some vets have a trauma inside that they don't understand, and those traumas can often lead to hopelessness," he explains. "So they think, 'I don't know who I am in the world anymore. I'm going to supplement with drugs or alcohol.' They stop taking care of themselves. They stop working out. It's a recipe for disaster."
Hesse understands the culture of being in the military and how much it means to connect with fellow vets after leaving the service. Despite all the organizations dedicated to helping veterans, he felt a key component was missing: structure.
"For a lot of kids who don't have structure in their life, the military becomes the first place where they really get structure," says Hesse. "Then suddenly it's gone."
Another quality military personnel have in common is fitness. Every branch of the service is dedicated to strict standards of physical ability. Hesse wondered if he could fill a void in the lives of veterans by combining these core elements of military culture: structure and fitness.
Sure enough, it proved to be a natural fit.
"The same thing that makes a great personal trainer is what helps to makes a great soldier," contends Hesse. "We take the skill set that they learned in the military, replicate it in civilian life, and then give them the tools they need to be successful."
 A Life Camp for Returning Veterans
The camp itself is two and a half weeks long, and completion of the program results in the participants earning a Certified Veteran Fitness Operative (CVFO) designation.
"CVFO is a certification that you get when you graduate from our program. It means that you're a certified personal trainer," says Hesse, who then put the accreditation into military jargon. "You're trained as a sort of human weapon in personal training and nutrition."
But the FitOps program doesn't end with a certificate. Veterans are assisted in finding employment as a personal trainer in the region where they live.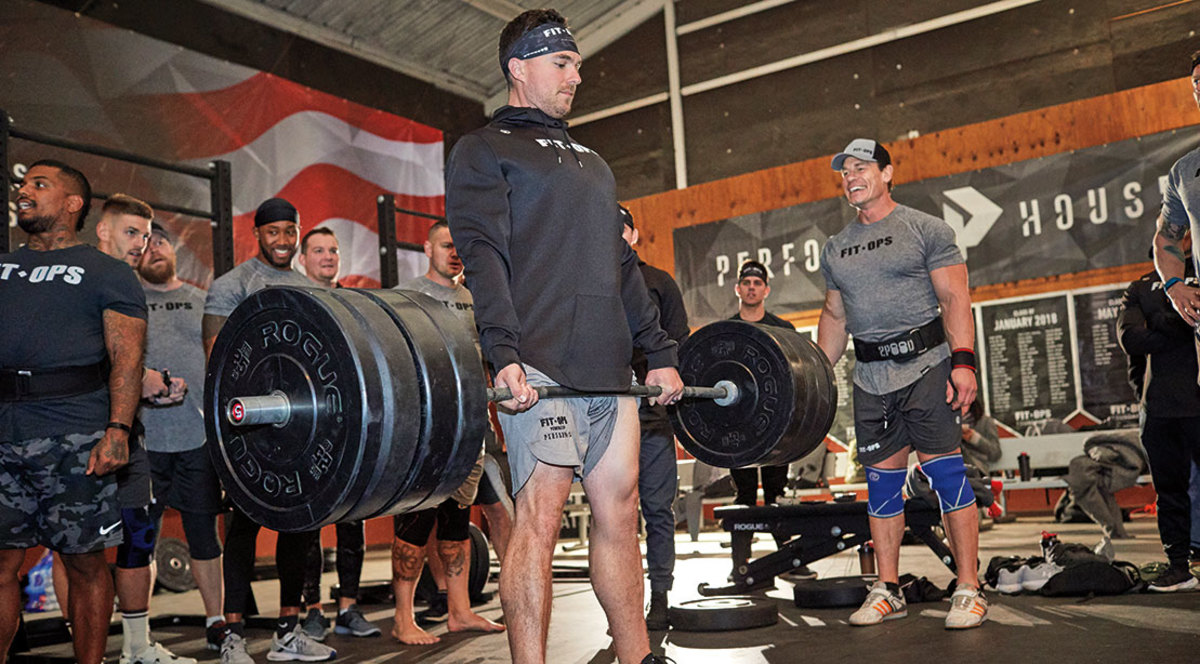 Harrison Johnson, Director of Operations and Development for FitOps, says the organization is currently developing a permanent base of operations in Arkansas.
"The first camp was held in late 2016, and we recently had our ninth camp outside of Atlanta, but it's been a very nomadic structure," says Johnson. "We've had different locations, but I've been tasked with getting our permanent facilities built in northwest Arkansas."
Johnson is a 10-year Army veteran who recently left the service and understands the struggle of leaving active-duty status. He believes the FitOps camp is an ideal place for vets to find their footing as civilians.
"Our camps are structured as a familiar common ground for all veterans to learn something that they are passionate about. They're surrounded by like-minded veterans who speak the same language and have endured the same struggles. FitOps has done an amazing thing by linking us all together."
Johnson stresses that the camps are inclusive and welcome men and women from every branch of the military.
"The only requirement for joining FitOps is that you can prove that you've served," he says.
And it doesn't matter if you already have a certification from a different organization, either.
"We have some participants who have successfully graduated from other programs, whether it's nutrition or CrossFit or even yoga," he says.
But what those programs don't have is the fellowship of FitOps.
"It's hard to explain to non-veterans what you lose when you leave. There's a family and a camaraderie that's gone after you've taken off the uniform," Johnson adds.
In a sense, he says, FitOps has two goals.
"Our stated mission is to get veterans certified as personal trainers and help get them jobs. But there's another underlying mission: to build a network where veterans who are struggling can find other veterans whom they can look to for help and guidance," says Johnson. "It's a beautiful thing to see veterans come together and share a bond after years of being out of uniform."
FitOps Goes to the Next Level, Thanks to the Help of John Cena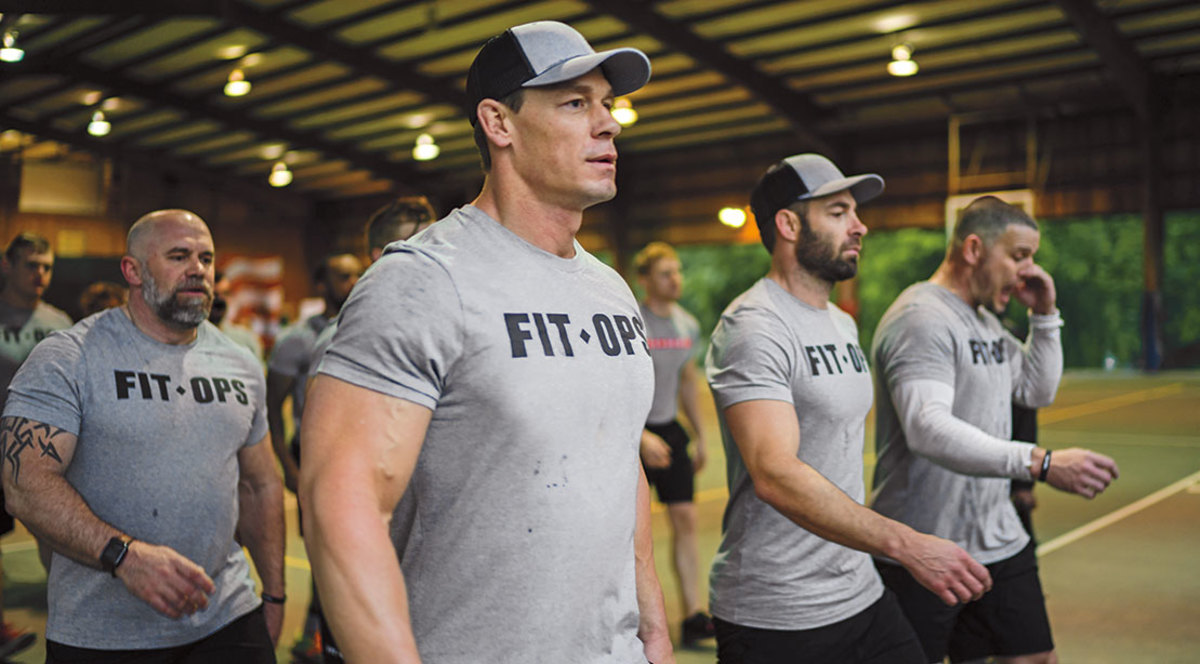 One of the camp's highlights has been the presence of actor and WWE Superstar John Cena. Cena was so taken with the FitOps program that he donated $1 million to the group. A lifelong supporter of the U.S. military, Cena took to the project enthusiastically, taking the time to work out with the veterans. He likes that they treat him like just another participant.
"It didn't matter who I was," says Cena. "I'm just the new guy working out."
Hesse says that Cena didn't need a hard sell or any sell at all, even though the actor is careful about his endorsements.
"John saw the mission, he saw the brand, and he got to know me as a person," says Hesse. "John Cena doesn't go into anything lightly. He wants to work with people who share his morals, ethics, and values. We both agreed that we would put a lot of our effort into FitOps and help as many vets as we could."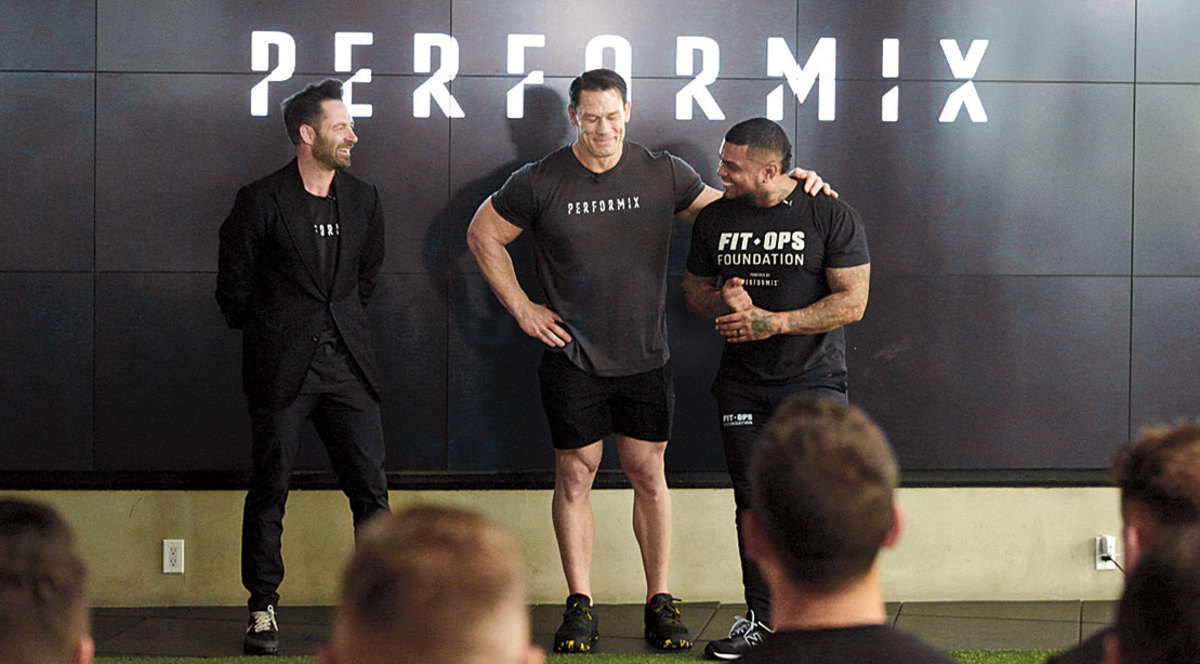 Hesse says it's important to have somebody with Cena's visibility and integrity on board. FitOps received much-needed publicity when Cena went on The Ellen DeGeneres Show and spoke about the foundation. Not only did donations soar, but Hesse has been hearing from parents who lost sons and daughters to suicide.
"We've gotten emails from parents who have given money in the name of their kids. We've had celebrities just call up and donate massive amounts of money. Since John came along, everybody wants to get involved."
The enormous positive response has convinced Hesse to expand the FitOps mission.
"We've got a lot of plans beyond just certifying vets. We want to be able to go into different communities and work with vets who can't get to the training camps."
Johnson sees the impact Cena has when he arrives at a FitOps camp.
"He's a humble guy, a genuine person," says Johnson. "When a guy like that shows up to a camp that caters to giving purpose to veterans, it really holds a lot of weight."
As much as the veterans like having Cena train with them, they're not about to let him off easy. One day they invited Cena to tackle a CrossFit workout called "The Murph," named after Navy Lieutenant Michael Murphy, who was killed in Afghanistan on June 28, 2005, at the age of 28. "The Murph" consists of: a 1-mile run 100 pullups 200 pushups 300 squats another 1-mile run
IMAGE 5
Needless to say, it's not a typical John Cena workout. Still, he wasn't about to run and hide.
"I've never done [The Murph] in my life. I don't train like that," says Cena. "But I said to myself, 'I can't come here and ask these people to be vulnerable and embrace the uncomfortable and do only the things that I'm good at.' So they saw me at my weakest."
Then Cena felt the camaraderie and spirit of the veterans.
"They said, 'This is our chance to be enthusiastic for you.' They were able to create an environment where it didn't matter where you came from. We could just share moments."
To learn more about FitOps, sign up for the program, or to donate to the organization, visit fitops.org.
For access to exclusive gear videos, celebrity interviews, and more, subscribe on YouTube!