Jon Hamm recognizes me before I recognize him. I don't know how that's even possible, considering he's an internationally famous actor and I'm a guy he's never seen or spoken with, but when I look up from the newspaper I've been reading while waiting for him, there he is, waving across the room from the door of the Polo Lounge at the Beverly Hills Hotel as if we're old college roommates. He's carrying his own coffee and sets it down, along with a plaid newsboy cap, and then plops down into the banquette.
He's up early for a rare off day from shooting Mad Men and apologizes for being late, which makes sense when he removes his sunglasses to reveal a set of bloodshot eyes that would probably much prefer to have remained closed for a few more hours. In person, Hamm bears none of the arrogance and boorishness of Don Draper, the silver-tongued, womanizing advertising executive he's portrayed on AMC's Mad Men since 2007, and he quit smoking years ago, but he occasionally enjoys an evening out like the character who made him famous. And like Don Draper, he shakes it off and wakes up for work. It's nothing a little coffee can't remedy, after all, so when the waiter comes by to ask if he'd like anything, he orders a cup to go along with the one he brought himself.
At age 43, Hamm is at the tail end of a crazy seven-year streak, during which he went from handsome-but-unknown actor to dashing Hollywood superstar over the course of a single TV series. In the process, Hamm did something very special, by forging a stardom that's actually enviable and not at all annoying, joining the likes of George Clooney and Harrison Ford in the tiny club of A-list actors who achieved their recognition not as teen heartthrobs or promising youngsters, but as early-middle-aged men. With classic leading-man looks and an easy, approachable charm, they're as admired by men as they are desired by women. It's a good place to be.
It's early February, and Hamm is in the middle of shooting the last episode of the first half of Mad Men's final "season." As is the case with every other valuable but expiring product in Hollywood these days, those episodes will be parceled out over two years (instead of one) to maximize fan interest and, especially, profits. Though Hamm would prefer that AMC air all the remaining episodes in succession—that's what, "as a fan," he'd want—he admits that his opinion on the matter is meaningless. "It's not up to me," he says, polishing off a glass of water. "I don't care. But it's funny that that's become the de rigueur way to do a last anything, whether it's Twilight or Hunger Games or Breaking Bad or whatever. You realize it has nothing to do with artistic merit. It's because of money." He shrugs.
Hamm thinks that the strategy of capitalizing on pent-up anticipation was an asset for Breaking Bad—while it frustrated him to have to wait, the extended pause built tension—but that Mad Men is a very different animal. "Breaking Bad was on such a breakneck hurtling train ride to the end," he says. "You're like, 'What is this guy going to do?' That's never been our show. No one could describe it as breakneck or hurtling. Which is great, because that's another way to tell a story. We don't have to be like, 'Who shot J.R.?!'"
As a dark, edgy drama, Breaking Bad originally followed a path blazed by Mad Men, premiering on the same network a year later. And the two shows—both featuring loathsome but somehow still likable protagonists—will always be associated with this golden era of dramatic television. I suggest to Hamm that without the success of Don Draper, we wouldn't have had Walter White.
"Did you know that Breaking Bad was originally supposed to be on FX?" Hamm replies. "It was too edgy. Fucking FX—which now has Sons of Anarchy and trannies and cutting off dicks! And Louie! But, for whatever reason, they wouldn't do it. And AMC was like, 'Thank you. We'll take this.' "
Hamm sinks back into his seat. He's a personable guy who's immediately easy to talk to, and he seems relaxed, comfortable with his place in the weird world he inhabits. For the first time in his recent professional life, he's in the position of having time to consider his uncertain future, and I'm wondering the same thing everyone else is: Once Don Draper crushes out his last Lucky Strike, what's Jon Hamm going to do? "I think that's the question we're all asking ourselves," Hamm says, with a laugh. "What's next? I honestly have no idea."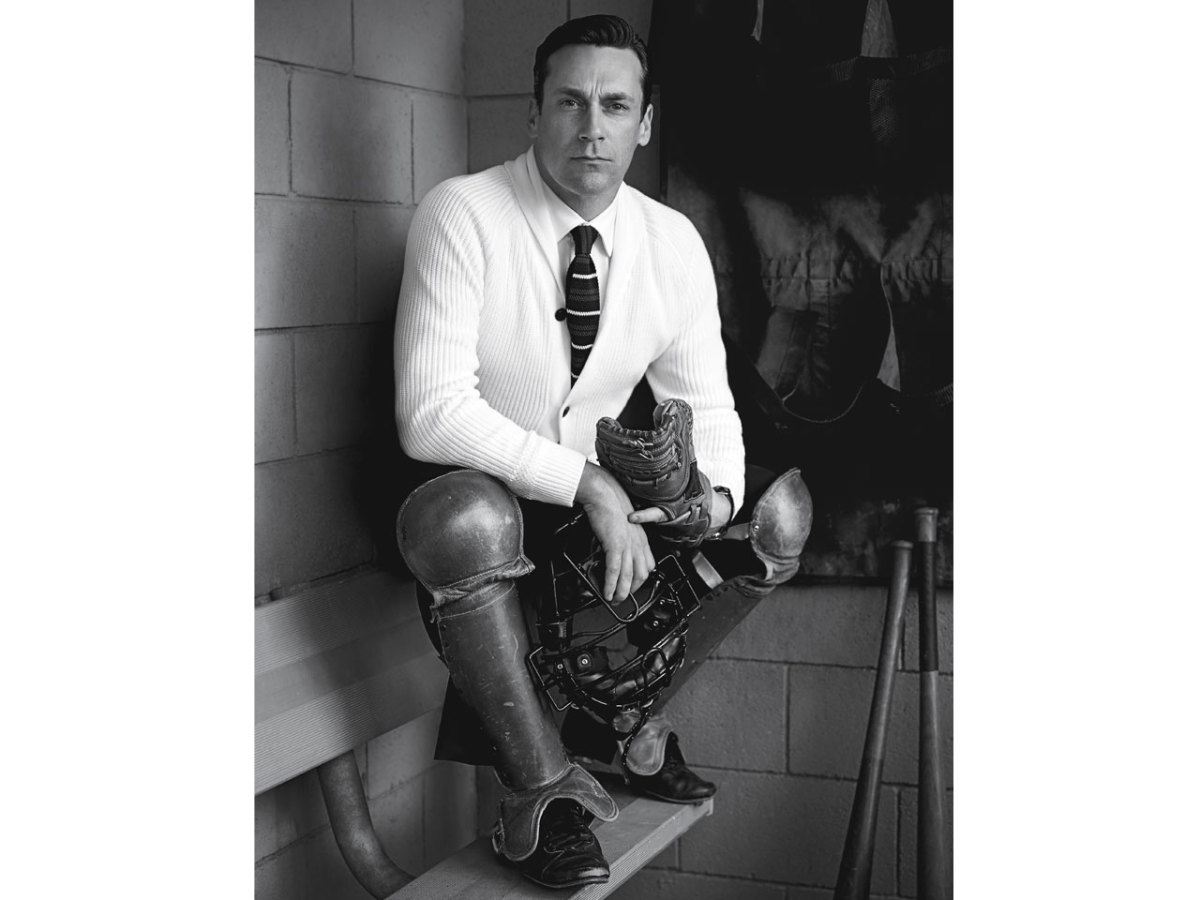 That's not entirely true. Hamm has long since begun the what's next. During breaks from Mad Men, he's been shooting movies and appearing on sitcoms, with notable appearances in Ben Affleck's film The Town, the raunchy comedy Bridesmaids, and the beloved NBC institutions 30 Rock and Saturday Night Live, which he's capably hosted three times. (He's also appeared in small roles in films like Howl, Friends with Kids, and The Day the Earth Stood Still.) But those were all supporting jobs, wedged into schedule holes; this month Hamm will attempt to carry his first big movie, Million Dollar Arm, which happens to be about one of his favorite things in the world: baseball.
Million Dollar Arm is the true story of one sports agent's quest to find new talent in India, a massive country with a rich history of cricket—the stick-and-ball ancestor to baseball. In 2007, agent J.B. Bernstein went out in search of these prospects on behalf of Pittsburgh Pirates, eventually signing two pitchers.
Hamm didn't know the story, but when his own agent sent the script over, he loved it. "I was really blown away by it, and the fact that it was true was icing on the cake," he says. "And it was by the guys who made Miracle and The Rookie and Invincible, these awesome sports movies that I really liked."
The role of Bernstein also offered a welcome change of pace. "In my regular life [as Don Draper] I play this shitty, horrible guy. So the opportunity to play somebody who's trying to do good with his life and trying to do something nice…" Hamm catches himself, and pauses. The character isn't a saint; he's a dealmaker. "He wants to make money," he clarifies. "That's his motivation. But he's also a thinker. It's  a nice chance to be able to play somebody who not  only wants to make money and succeed but also wants to elevate the conversation in some way and open up this sport that he cares about to a whole new world, basically."
Rinku Singh, one of the two Indian pitchers— played in the film by Suraj Sharma from Life of Pi—is still out there, vying for a shot at the Show. Hamm befriended Singh while filming and is still rooting for him. "He's a lefty who can throw in the 90s," he says with a touch of pride. The other player, Dinesh Patel portrayed by Madhur Mittal of Slumdog Millionaire—hung up his spikes and is back in India, working for Major League Baseball in the search for the next round of prospects.
Hamm doesn't just hope that effort will work out long term; he's certain of it. Look at Venezuela, he says, or the Dominican Republic — two relatively small countries that have produced an outsize number of top pros. The reason the Dominican Republic pumps out players is that there's a Major League Baseball training academy in the Dominican Republic. These little boys—all they do is eat, sleep, and dream baseball."
For that to happen again, in India, it will take only one success story. "That's the whole point," Hamm says. "And the movie ends on this lovely moment of this little kid wearing a jersey with 'Singh' on the back. You watch your heroes and then you want to be them. It's that simple."
Talking about baseball clearly excites him. Hamm is a die-hard fan of the St. Louis Cardinals—St. Louis being his hometown—and a regular on the jumbotron at Busch Stadium. He also still plays the game, on a team with Casey Affleck in a slow old-guys league that's competitive enough to feature pitchers who throw breaking balls and catchers who wear full gear. Hamm is one of those catchers and jokes that he was originally picked because he's the rare amateur who actually owns his own catcher's equipment. "And I'm good," he says. He realizes how that sounds.
"Look, I'm not Yadier Molina behind the plate, but I can throw a ball to second on a rope."  The team plays once a week, on Sunday mornings, at different locations throughout the greater Los Angeles area. "They're always somewhere way the fuck out in the Valley, and you look around and it's like, all 11 of us decided to show up here in the morning, hungover, still drunk, missing kids, prechurch, whatever," he says. "But we're all here,  and it's pretty cool that we are."
Playing catcher is notoriously hard on the body and the knees, even without the home-plate collisions, which raises the question: Does his Mad Men contract limit what Hamm can or can't do on his own time? "I don't think so," he says. "I snowboard and ski and do all kinds of stupid shit. But I also don't go crazy. When I ski, I'll go into the moguls and immediately think, 'Oh, yeah, there's a reason I don't do this. I'm bad at it.'"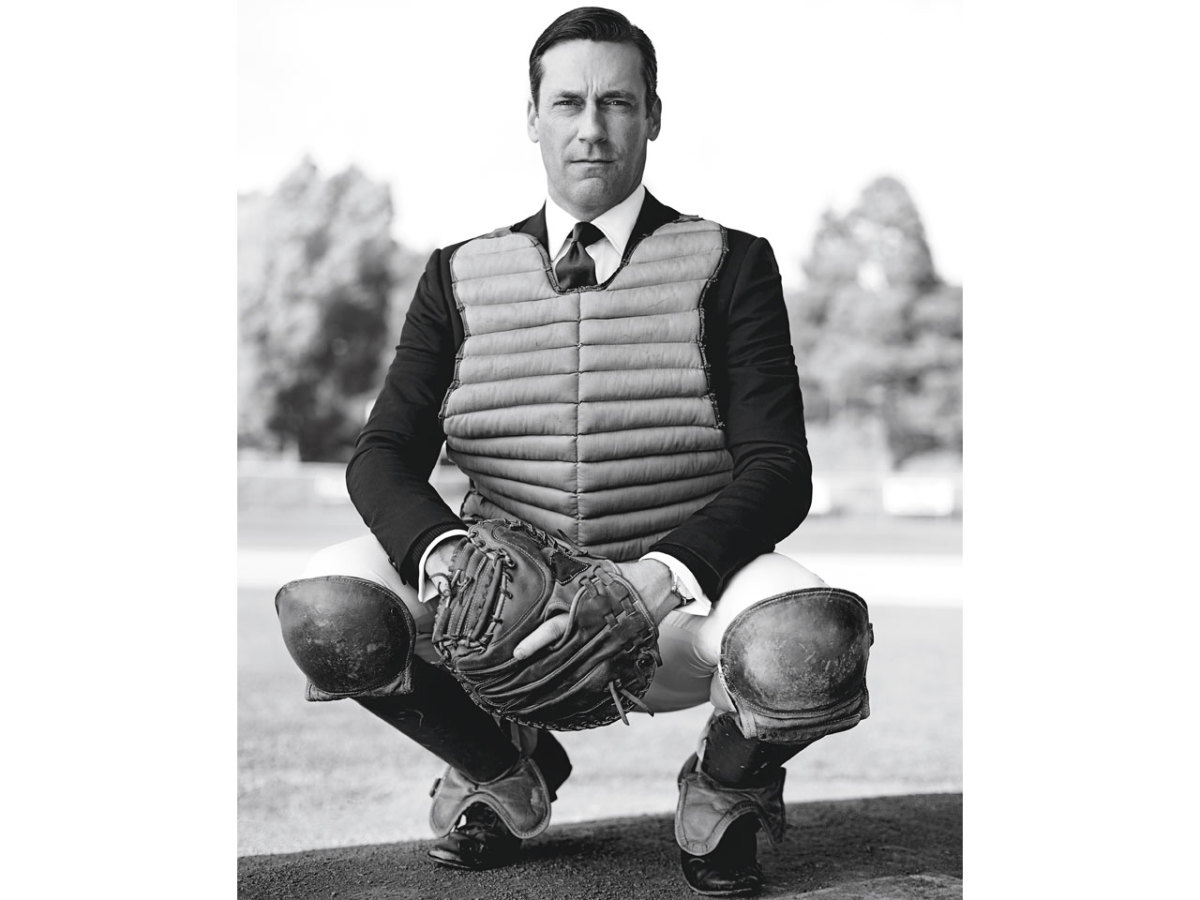 Surprisingly, the only place he's actually injured himself is on Mad Men's set. "I've separated my shoulder. I've had stitches in my head. I've broken my hand," he says. During a stunt for a flashback Korean War scene in the show's first season, Hamm missed the cushion he was supposed to land on and heard his hand pop. "Oh, that's what a bone sounds like breaking," he immediately thought. The doctors put him in a removable cast the next morning, and he went back to work.
In a later episode, Draper promotes Peggy (Elisabeth Moss) from secretary to copywriter, and the script calls for her to shake his hand. Before the shot, he took Moss aside. "Don't squeeze it," he said, requesting a limp shake instead. "We'll sell it." Then the cameras rolled and Moss ignored his request. "I hit my knees," he says. "She was like, 'Oh, my god. I thought you were kidding!'" And I'm like, 'Why would I be kidding about that?'
Literally, like this little girl brought me to my knees! It hurt that bad." The Korean War proved to be a trying experience for Hamm. When Matthew Weiner, the creator and executive producer of Mad Men, made him reshoot the explosion scene, Hamm managed to hit the pillow—but he landed so hard he separated his shoulder. "This healed," he says, holding out his hand. "This," he says, shrugging a shoulder, "has been an issue since then."
Jon Hamm is very proud of his alma mater. the John Burroughs School, a progressive private school outside St. Louis, was such a seminal part of his upbringing that he returned there after graduating from the University of Missouri to teach drama. Among the things that Burroughs taught him, he says, was that success should be encouraged.
He's not sure where or why it happened, but he's observed "this weird backlash" against being ambitious and upwardly mobile in America, and the notion irritates him. "It's this Sarah Palin kind of conversation where they're like, 'Oh, the elites.' It's become a thing to just aspire to be a regular person. No, Republic—two relatively small countries that have actually, you should desire to be better."
Hamm lost his mother at age 10 and then moved in with his grandmother and father, a smart, genial man who wasn't the most involved parent. He's said in the past that his portrayal of the morally flexible Don Draper is, in some part, inspired by his dad, so it makes sense that he looked to the Burroughs School as a steadying influence.
"My greatest takeaway from my school was that 'as good as you could be' wasn't good enough. Be better. Do sports and science and arts, all of it. Do all of it."
And Hamm did. He starred in stage productions and also on the football, baseball, and swim teams. His favorite teacher, Wayne Salomon, cast Hamm in plays as part of his larger plan to "get the jocks involved in theater because then everybody will want to do it," he says. The idea that acting is somehow unmanly, Hamm thinks, is absurd. On the contrary, it's that simple." incredibly fun, he says. "Get onstage and sing and dance and make an ass out of yourself!"
Hamm's best sport was football. He played linebacker, and though he was "very good,"  his commitment went only so far. "I could've been a Division I football player, but I would have had to completely change my body type"—as in, put on 50 pounds of muscle. Part of him was tempted to try it. The other part, his more sensible side, knew too well the inherent dangers of playing the game. "I knew how much it hurt, and I didn't want that life," he says. "I didn't want to be drooling in a cup in my 40s."
After a year of teaching drama, in 1995 Hamm himself felt the pull of acting and headed west in a beat-up Toyota Corolla, beginning a peripatetic decade of odd jobs and crappy apartments during which success proved elusive. He got parts but also waited tables. He was signed by William Morris only to be dropped. Hamm made a deal with himself that he wouldn't pursue the dream forever: If he wasn't employed as an actor by the time he turned 30, he'd pack up and leave. He didn't want to become a sad, struggling, 40-year-old actor. "I would've gone back to Missouri, where it's way cheaper to live."
Hamm was 28 when he landed a small role as a hunky firefighter on the NBC show Providence, and he turned 30 on the set of Mel Gibson's Vietnam War drama We Were Soldiers.
Another six years would pass before Mad Men hit the airwaves, and one by-product of a late-blooming career was that Hamm had the chance to develop a relatively normal, anonymous adult life. As a result, he's had to adjust to life as a target of the paparazzi, which hasn't always been easy for him.
In one of the stranger celebrity gossip subplots of the last few years, Hamm found himself momentarily upstaged by his anatomy—at least among certain celebrity weeklies, gossip bloggers, and women's websites. (If you don't read Cosmo or Gawker or follow the Tumblr account "Jon Hamm's Wang," it's basically this: In certain paparazzi photos where he's wearing snug trousers, he's got a substantial bulge.) And he is, not surprisingly, immediately uncomfortable when I bring it up.
"That's the dark side of all this, I guess," he says. I can't help but suggest that, as a nonfamous person, it would be kind of flattering to have women on the Internet talking about my large package. "As a nonfamous person, would you want people walking up to you and pointing to your dick?" he asks. There's an uncomfortably long silence. "I can't believe I'm talking about this," he says, reluctantly. "But I've worn underwear every day of my life, and the fact that I'm painted as this exhibitionist is a little annoying." He sighs. "It's become a meme, I guess. Being someone who people want to photograph, you have to open yourself up to the positive and negative. It is what it is. If I get mad at it I'll look like a douche bag. But it's silly." He also knows it could be worse. "If I were Brad Pitt," he says, "we wouldn't be able to sit here in this restaurant."
All things considered, I would argue that Jon Hamm has it pretty good, and he'd surely agree. He's been with the same woman, actor and writer Jennifer Westfeldt, for 17 years and is never rumored to be cheating or out all night in strip clubs. To some degree, he says, he benefits from the struggle it took to get where he is. "I'm mystified that kids can handle the crazy train of success and money and everything that comes with it and not turn into a cautionary tale," he says. "It's hard to do when you're 35, much less 25."
To be a good person, he thinks, requires only the right perspective. "Maybe it's because I've lost people at a very young age"—following the loss of his mother, his father died during Hamm's sophomore year of college—"but I've never had a problem understanding life. It's short.
What I do is not curing cancer or rocket science or lead mining—anything tremendously difficult or world changing. I understand where I am in the cosmic order of things, and I'm OK with it. I also don't need it to be anything else. I like playing baseball. I like going to baseball games. I like going to the opera. I like living my life. I want to be the guy contributing to the beneficial part of the process, life, universe, whatever it is. And I'm a good leader. I'm a good team captain." It's what attracted him to teaching in the first place. "I want to be a good example. I was just like, 'I know how to do this. I'd like to tell other people how to do this.'"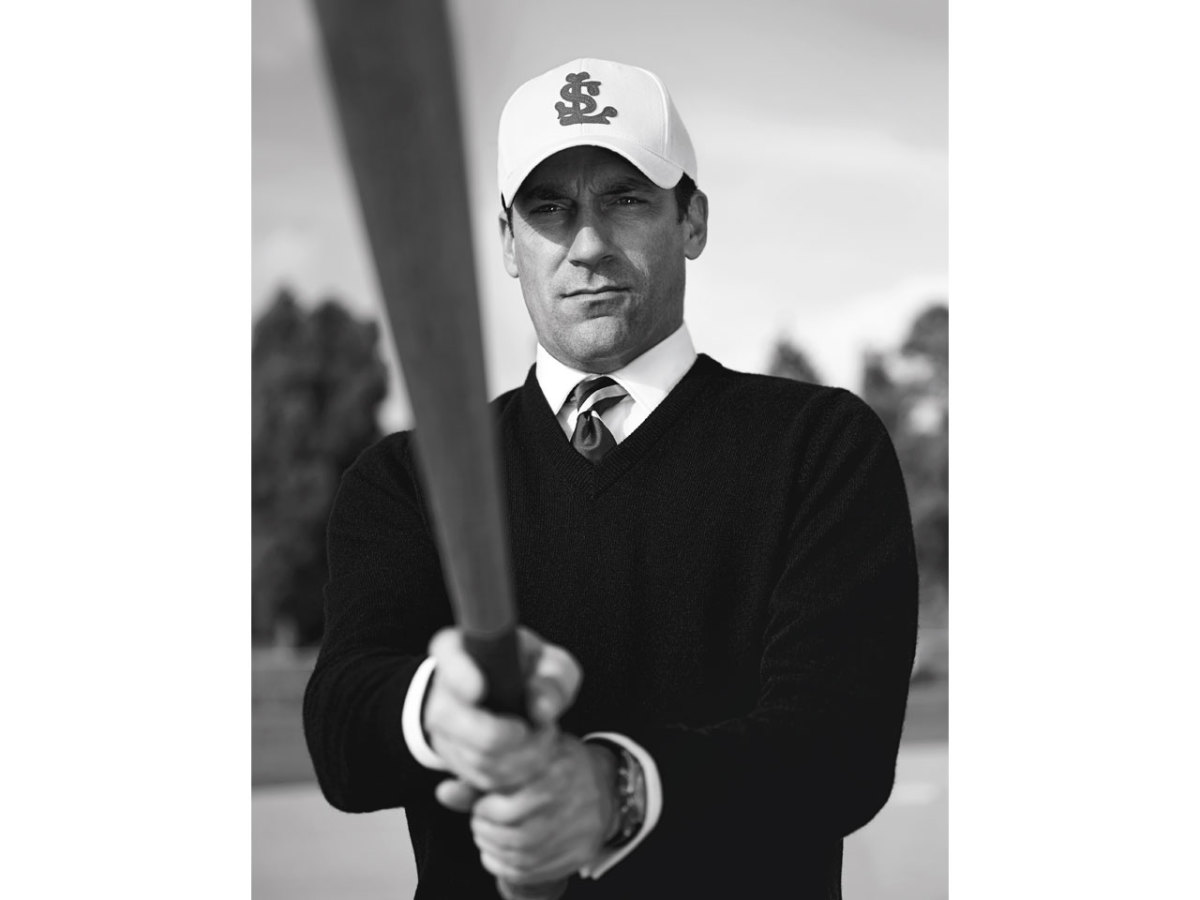 There really aren't any young people on the set of Mad Men who need mentoring, or Hamm might've taken on that role, too. "We don't have anybody who misbehaves on our set," he says. "But, I mean, look at [ Justin] Bieber or whoever. You're like, 'What the fuck, man? What are you doing? Why?' There's no one telling those people no, and it's a shame." What these people need, he says, "is a mom or a dad or a really good friend who can say, 'Hey, shithead!' You see people in the world and you're like, 'Do you know how a washing machine works? Do you know how to wash a dish? Life skills are something we're missing. There used to be a class that kids had to take in high school called home economics, which was cooking and sewing and just shit you needed to learn in life."
The plates, by this point, have been cleared. Our coffee cups, filled at least seven times during two hours, are empty. Hamm puts his cap and sunglasses on, and we step back out into the bright sun of a typical L.A. day. The valet fetches the actor's matte gray Mercedes-Benz SL63 AMG. One benefit of his work as the voice of Mercedes in the company's commercials is that he gets to sample whichever model he wants and can switch as often as he likes. "It's a very nice perk," he says. "And I approach it the way I approach everything else I do —with a sense of awe and wonderment and gratitude." The car's 550-horsepower engine growls, even at idle. "Boy, it's been fun driving them," he says. Then he's gone.
When I reach Hamm by phone two weeks later, he's on his porch in Echo Park and sounds especially relaxed. "I'm officially on hiatus," he says. Westfeldt was already in New York rehearsing for a play, so he was preparing to head east to join her. "The doggie will come, too, and we'll all decamp to the East Coast and freeze our collective nuts off." That was the extent of his plan for the break. "I'm actively choosing not to do anything but chill, as they say. I'm old and need to recharge my batteries." In a month, Hamm will return to the set of Mad Men for the last time. "We'll do seven more episodes, and that will be the end of the story," he says. "It's very real, the feeling of its being over."
He still doesn't know the story's ending. Weiner has only given him "a version" of the show's resolution. "We all still have to be very nice to Matt," he says, "or something terrible could happen to our characters." I ask him what it feels like to be staring at the end of the job that turned his life upside down, that elevated him from obscurity to the covers of magazines.
"It defines such a significant part of my life," he says. "I'll miss it. It will be a loss. Hopefully, I'll have something else to do." One thing is certain: The next gigs won't involve cartons of herbal cigarettes, tie clips, and fedoras. He hopes to tackle some lighter roles, like the over- the-top jerk he played in Bridesmaids or the versatile comic player he became on 30 Rock and still is on Saturday Night Live. "That stuff is honestly far more who I am as a person," he says. "I like to laugh and have a good time, rather than brood and be sullen."
I ask him if he really meant it when he set the deal with himself to leave if he hadn't found any solid work by 30. "Yeah," he replies. In fact, he still feels like he could walk away right now, if necessary, and be happy. I press further. Could he really give up acting now, feeling like he'd done enough?
"I'd probably feel fine for about a week," he says, after a long pause. In the background, his dog barks. "Then I'd start to get itchy."
For access to exclusive gear videos, celebrity interviews, and more, subscribe on YouTube!