After sitting out of the eighth Fast and Furious film, Jordana Brewster is ready to rev things up again.
The actress, who portrayed Mia Toretto in all but three of the Furious films, is coming back for the ninth and 10th installments of the franchise.
It made sense plot-wise that Brewster was absent from the Fate of the Furious. That film followed Furious 7, which marked the final appearance of actor Paul Walker, following his tragic death. The film took Mia and Walker's character, Brian O'Conner, out of the Furious life to raise their newborn child. But now Brewster is pumped to rejoin her movie "family".
"It makes me really happy to come back," Brewster tells Men's Fitness. "I was kind of bummed out not to have been a part of the last one. I felt like I was missing out because they're family. I adore Vin [Diesel] and Michelle [Rodriguez]. We've been a part of each other's lives for so long, so I'm so happy to be back in fold."
Now that she's back in the franchise, Brewster says she would love to have some fun with a Fast and Furious spinoff with Michelle Rodriguez. "Absolutely," the actress says. "It would be awesome."
Brewster also is a spokesperson for Autotrader.com, the online car-shopping destination that has the largest selection of vehicles to search from. Their tools allow you to shop for all types cars and find the right car for you. That's exactly what Brewster did when she was looking for a new ride.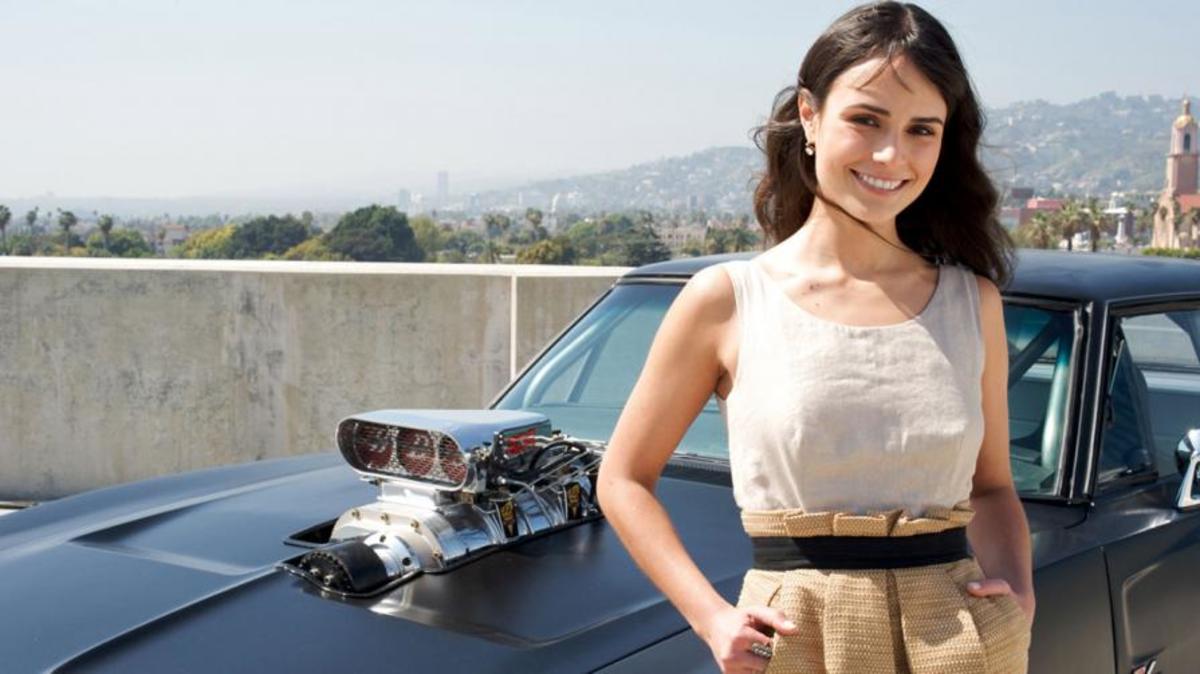 Want to know more about Brewster? She spoke with Men's Fitness about how she stays fit, her favorite Fast & Furious moments, how Autotrader helped her find a new car, and what she misses most about working with Walker.
Men's Fitness: What's your training regimen like?
Jordana Brewster: I'm very old-school when it comes to the gym. I have a treadmill and a little gym at home, so I like to get up early and work out. I'll do cardio six days a week, and I really like weight training and boxing…it's a great way to get all your stress out. I actually like it when my muscles ache and when I'm sore.
I've also been working with trainer Harley Pasternak for more than a decade, and he's given me a great program. I work two different muscle groups per day, even if it's 15 minutes. I love doing deadlifts and squats. I'll use a TRX for pullups and hamstring curls, and medicine balls for abs work. I like mixing it up.
I also like to do meditation and get myself outside for a workout—like hikes or going to the Santa Monica stairs. I think these days everyone's so glued to their phone, and it's so hard to be present and focused. Twice a day I practice vedic meditation [a type of meditation during which you take 20 minutes to focus on a specific mantra or sound—perfect for busy people], and it really helps me stay calm, have more patience with my kids, and be more present at work. It just gives me bandwidth. It allows me to recharge. It's a necessity.
What's the best part about your role on Lethal Weapon?
I really love the mix of comedy and drama on Lethal Weapon. I think it's got a lot of heart. I also love the fact I'm playing this really strong female character. I think of her as Lorraine Bracco's role on The Sopranos. She doesn't take any crap from any of the boys. And I'm the doctor, so I get to do that.
What's your favorite of the Fast and Furious films? What excites you most about coming back to the franchise?
Fast Five—it's always Five—that's my favorite. It's set in Brazil, where I grew up. It's amazing to be back, and I think people forget what Justin Lin [director of Furious installments 3-6, returning for 9 and 10] did after the third movie. With the fourth Fast & Furious, it was his idea to bring back all the originals. It's been very cool to be a part of something that continues to grow. Something like this comes once in a lifetime.
I really can't wait for the next chapter. We have the best fans in the world and it's very cool that the series has been introduced to new generations—and we have die-hard fans that have been with us since the beginning.
What are some of your favorite memories of Paul Walker?
I remember this stunt scene with Paul in Fast Five. I didn't even know we were going to shoot it, then all of a sudden there was a harness in my trailer. I said to [director] Justin Lin, 'What's this about?' And he was like, 'Oh, yeah. You're jumping off a roof.' Paul just kept cheering me on that day. He was so patient.
Paul was a guy who loved and relished every minute of what he was doing. He loved traveling and surfing—he had so much more going on than just the movies, and he was so generous with his time. He was one of the best parts of this franchise, and I hope they'll continue to honor him, remind people of him, and be a part of his legacy, which is a beautiful thing. I miss him every day. He was such a good friend—a good soul. That's hard to come by.
L: Fotonoticias/WireImage, R: Universal/Getty Images
You know a thing or two about cars. How did your partnership with Autotrader come about?
It actually came about in a very natural way. Late last year I decided to switch cars, because I recently became a board member of the Environmental Media Association. So I was like, you know what, it doesn't make sense for me to drive a Range Rover. It's a beautiful SUV, but a massive gas-guzzler. I wanted to be more environmentally conscious, but I still wanted something that would fit my kids.
I had this list of stuff I wanted, and I wanted one place where I could fact-check it all. Autotrader provided me with all that. I compared all the different hybrid SUVs out there, got different rates, saw different colors, and it just made it really, really easy. It made sense to collaborate with them now, because it's something I actually use; it's a useful tool for me.
What was it like working on The People v. O. J. Simpson: American Crime Story?
[Director] Ryan Murphy is amazing. Usually someone's an expert on horror, serial killers, or true stories—not all three. But Ryan did Glee, he did Popular, and he has American Crime Story and American Horror Story. He's a genius. I was so excited to get that job, then there was this responsibility that came with it because I was playing a real person: Denise Simpson. I wanted to honor Nicole Simpson and Denise, and the work she's done fighting for victims of domestic violence. I also love doing research and a period piece. I would do anything to work with him again. He's amazing.
For access to exclusive gear videos, celebrity interviews, and more, subscribe on YouTube!