Do you like action movies?" asks Keanu Reeves, unable to contain his excitement, as he leads me on a tour of 87Eleven Action Design, a cavernous gym, production company, and choreography studio located in an industrial park near LAX that is arguably the white-hot center of modern movie fighting. "It's like a training school, a dojo for stunts," he says, clearly pumped to be back at what was his "second home" while he prepped for the cult action movie John Wick (2014) and the next installment, John Wick: Chapter 2, in theaters now. 
Reeves' youthful enthusiasm is a little surprising, and not because the guy is officially 52 years old. (In his mod black jacket emblazoned with "Arch"—the motorcycle company he co-founded—he doesn't look anywhere near that age.) And it isn't because I expected Reeves to be a jerk, either. The truth is, I had no idea what to expect, because Keanu Reeves—a star for more than a quarter century, a guy whose films have amassed nearly $2 billion at the box office—has achieved something miraculous in today's celebrity-obsessed world: He's preserved some mystery about himself.
"I'm not looking for a red carpet to walk, and I'm not trying to have a celebrity footprint," he says when I mention that it's rare to see his name  flashing across TMZ, and it's even rarer for him to sit for an extended interview like this one. And while so many actors in Hollywood are focused on building their online "brands," Reeves seems totally fine with letting the world of social media entirely pass him by. "I can see the appeal—it's just not to my taste," he says.
Before I meet him, I know a few basic facts: He's unmarried, with no kids. ("I'm an unsuccessful representation of the species," he jokes.) Also, I know that much of my impression of Reeves is formed by his work, notably his tendency to play stoic heroes—like the Zen-like savior, Neo, in the record-shattering The Matrix trilogy—so I half expect to encounter a quiet, impenetrable monk.
Instead, Reeves is more like a high-energy action-movie fanboy, rattling off some of the films that 87Eleven co-founders—veteran stuntmen David Leitch and Chad Staheleski—have choreographed: The Bourne Legacy, Fight Club, and, of course, The Matrix, on which Staheleski served as Reeves' stunt double. Fifteen years after that movie's smash success, he knew those guys aspired to direct, and Reeves brought them a project he was developing about a retired assassin who goes on a bloody revenge spree after a group of thugs off his dog.
Reeves would star, and they would direct.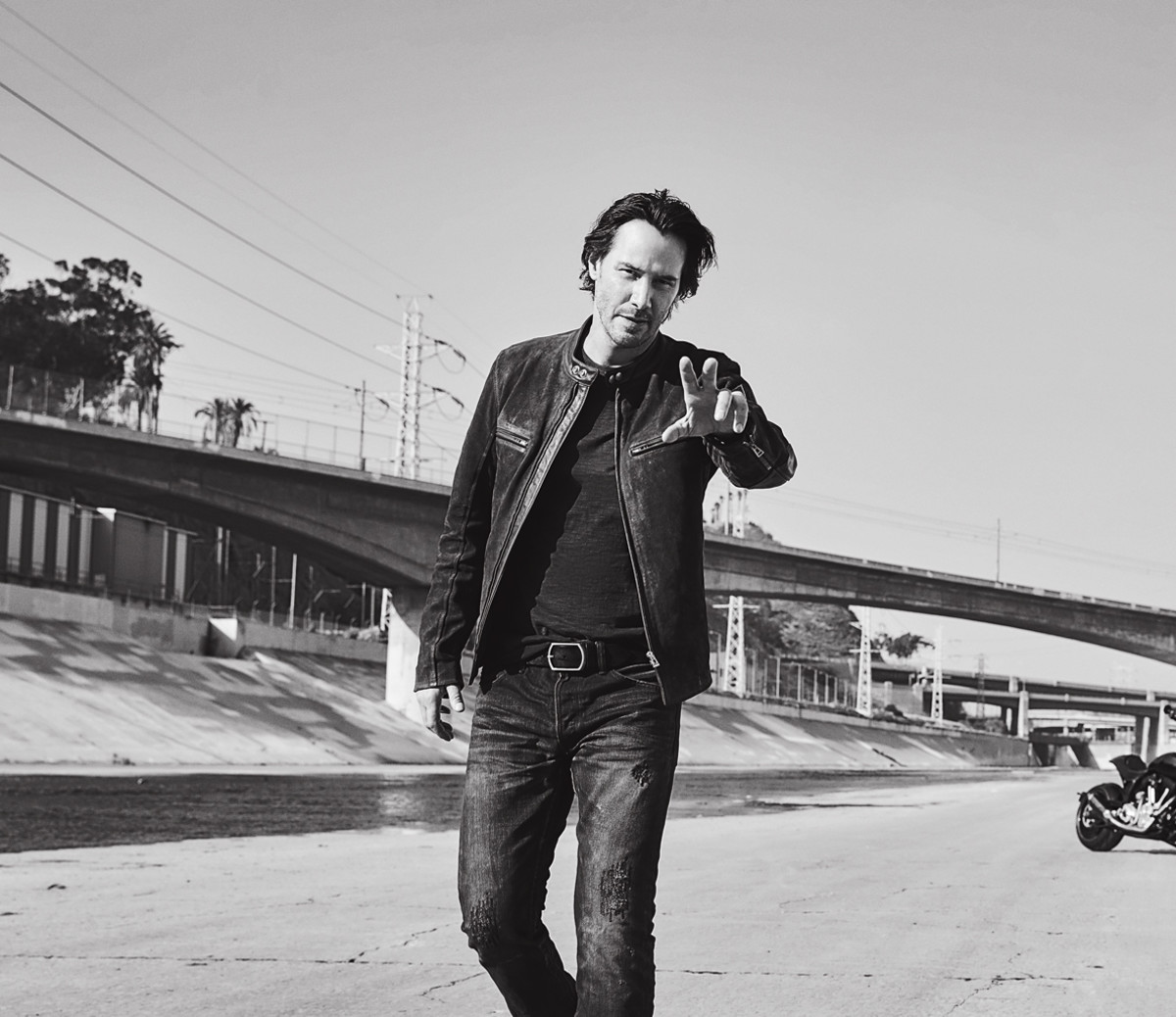 "Just good clean fun," he says of the movie, with its super-stylized violence, insane body count, and wry tone. ("It is funny," Reeves admits. "But not ha-ha funny.") It was an odds-defying hit: Made on a small, $20 million budget, it grossed $86 million worldwide, cementing Reeves' status, once again, as one of Hollywood's most appealing and bankable action heroes.
In 2017, it's easy to forget that Reeves is anunlikely badass.
He first hit it big in comedy, in 1989, with the ridiculous Bill & Ted's Excellent Adventure, about two bodacious, underachieving California teenagers traveling through time in a phone booth. Not only was Bill & Ted Reeves' first (but hardly last) surprise hit, earning a sequel, but nearly 30 years later people still talk about a reunion—an effort Reeves supports. "It would be absolutely fantastic and ridiculous to play those roles again," he says. "Bill and Ted in their 50s?! Excellent. Bodacious!" (Yes, a writer is currently working on a script.)
For his sudden transformation into ass-kicking leading man, however, Reeves credits director Kathryn Bigelow, now known for war movies The Hurt Locker (2008) and Zero Dark Thirty (2013), but then starting out with Point Break, in 1991. Bigelow cast a 26-year-old Reeves as an FBI agent embedded with a band of bank-robbing surfers led by Patrick Swayze. It was another ridiculous premise, another huge hit for Reeves. "It was pulpy, it had a real energy," says Reeves (who hasn't seen 2015's failed remake). "I've met people over the years who said, 'I started skydiving because of that movie,' or 'I started surfing because of that movie.'"
Reeves jumped from a plane once during production to get a taste of what it's like, but he says that his co-star, Swayze, really caught the bug. "I think he had 30 jumps while we were filming," he says. "The insurance company was, like, no. Eventually, he got a cease-and-desist from the production company."
Whether it was because of the surfing, the long hair, or the laid-back delivery, Point Break stereotyped Reeves as the ultimate SoCal underdog—an image only bolstered by the blockbuster Los Angeles freeway thriller, Speed (1994)—which still persists today.
The irony is that Reeves isn't a native Californian, or even an American. He was born in Beirut, Lebanon, to a British mother and Chinese-Hawaiian father (his name means "cool breeze" in Hawaiian) and spent his formative years in Toronto with his costume designer mom and her eclectic group of friends, including singer Alice Cooper. Reeves still identifies as Canadian, even if he's lived in L.A. since he was 20 years old. 
"Those were my formative years, from like, 7 years old on," he says. He explains his attachment to his home country as "like the imprimatur of youth, that early sapling that grows into a tree." 
As he leads me up the stairs to 87Eleven's annex, we get a bird's-eye view of the place.
Most of the floor space is taken up by a huge blue mat overhung by cables used for "wire work," the suspended choreography that allows actors to dodge bullets midair and pull off impossibly high roundhouses. Today it's being used by a stunt team from Logan, Hugh Jackman's final Wolverine film, and Reeves looks on with jealousy. "I always want to work out here," he says, "just come in and get some more training."
For Wick, that meant he had to learn an entirely new discipline: judo. "I had a little experience in movie fighting," he says, with typical (and sincere) modesty. "But I'd never done judo."
He says the form is tricky to fake onscreen because, unlike throwing punches, "you really gotta throw someone."
Reeves adopted a former MMA fighter named Eric Brown as his sensei. "At the beginning, I didn't even know where to put my feet," he says. "So it was a lot of me learning the basics."
By the time he flew to New York and Rome to shoot John Wick: Chapter 2, which expands the mythology behind Wick's order of assassins and reunites Reeves with The Matrix co-star Laurence Fishburne, he was a bona fide judo expert. "Keanu is the most persistent, non-giving-up guy you'll ever meet," says Stahelski. "He doesn't want to act out the part. He wants to be the part."
Reeves loves pushing himself during his action sequences, though he rejects the word "stunt" for anything he does himself. "There's an incredible stuntman who doubles John Wick," he says. "They hit him with a car. He's standing there, and they hit him—that's a stunt. Me? I'll shoot some guns, flip some people—and that's action. So, yeah, I do as much action as I possibly can, because I love it—and I love the opportunity to bring the audience along.
Which is one of the reasons why Reeves never enjoys stepping aside for the sake of his safety. "I hate that, it's always a drag," he says. "I want to be able to do everything. Since The Matrix, I've used this term, 'superperfect.' As in, 'Can we get it superperfect?'" On a huge-budget studio movie that can afford infinite takes, that means doing it until it's right. On a leaner film like Wick, where fights that could have been allotted five days might get two, it means no room for error. "But that's part of what makes [a great action film] a pressure cooker," he says. "It's the intensity of just trying to do the best you can in the circumstances that you have."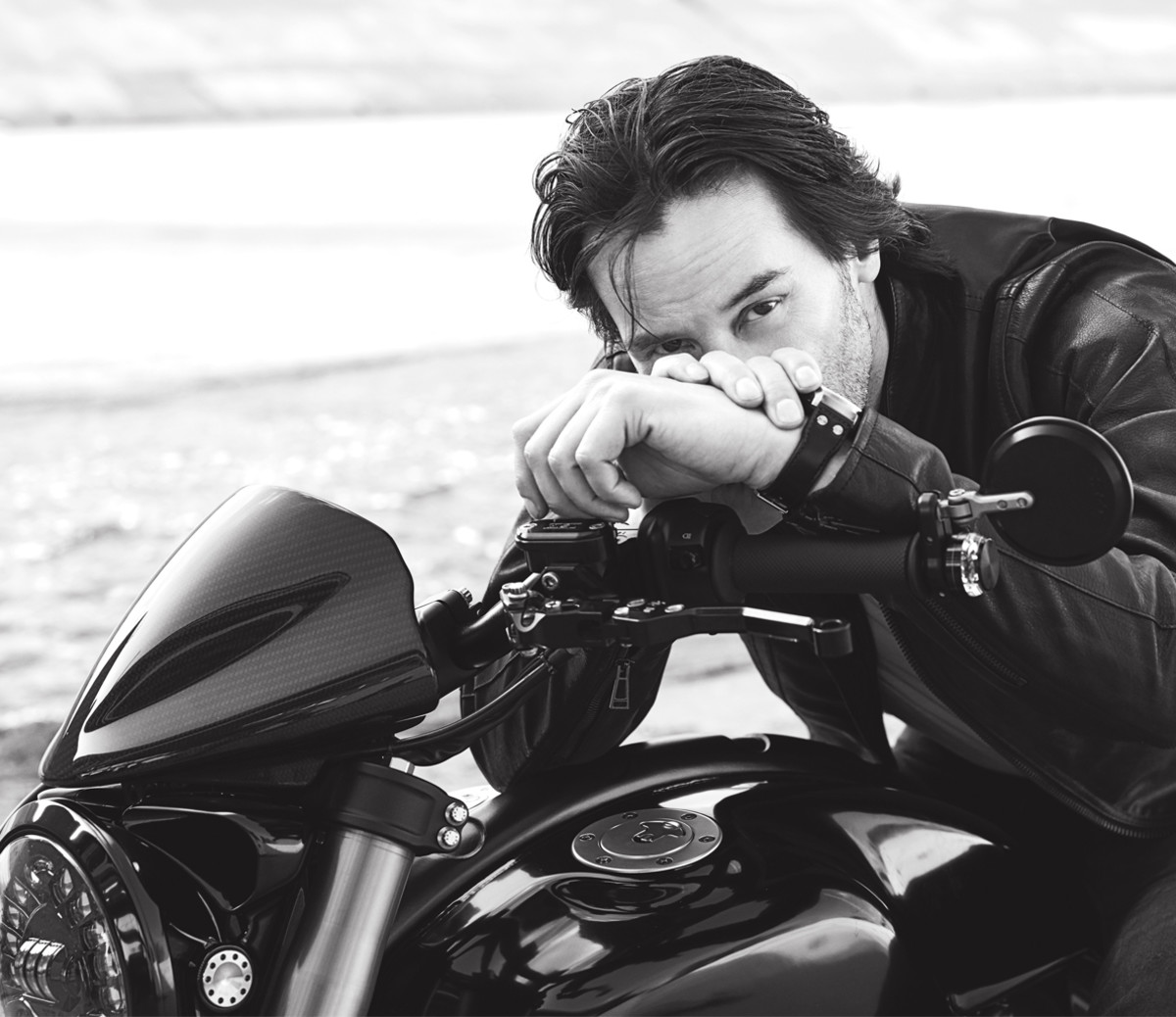 Looking back, he credits Point Break for making him think about his body more.
"It was life-changing for me," he says. "It introduced me to fitness and training." He began working with Denise Snyder, who has remained his main fitness guru for more than 25 years, and has overseen his body throughout his career.
"He can get huge," says Snyder. "That worked for Speed. But usually I don't think for him massiveness works. On John Wick, it's about his presence, and it can't come from size. It's got to come from structure. It's really about pulling his shoulders back."
Reeves says that meant not having "huge traps." "I wanted to have that back," he says, "to look like if I grabbed you, you were in my world now."
Reeves isn't slowing down his exercise regimen these days, though he admits that the biggest difference between playing an action hero at 52 versus 25 is the wear and tear on the knees. "I can't do stairs as fast," he says. "But if you say 'action,' I'll go." His recovery is a little slower, but his endurance is solid. His training diet is still simple. "Low sodium, low fat, and the night before a big fight sequence, I still eat a steak. It started on The Matrix. I was like, 'Gotta go eat a steak, Carrie-Anne [Moss, his co-star].' It's totally psychological." He prefers a nice New York cut, with a little fat on it.
With Wick behind him, Reeves says he has some "civilian living" ahead of him before he chooses his next project. During these periods, he takes it easy. "Steak. Red wine. A nice single malt with a big ice cube. Ride a motorcycle."
Reeves plans to keep the great action movies coming. "You just gotta find the right one," he says. "You can't just do it to do it. Unless you need the dough, which is a good enough reason."
Of course, Reeves, who allegedly took in millions for his work on The Matrix movies alone, doesn't need the dough. "Well, I do," he insists, declining to elaborate too much. "It's a long story that I don't want to share with you." Though later he offers a clue: "When you're friends with someone, you want to help them, you sign something that turns into something else, and that comes back to haunt you." Still, he says, money is a bad way to make career choices, and his résumé bears that out. (See: 1991's My Own Private Idaho, 1993's Little Buddha, and 2012's Side by Side, a documentary he produced about Hollywood's conversion from traditional film to digital.) He's also the guy who started a motorcycle company five years ago.
In fact, Reeves actually showed up today on one of his bikes, a gorgeous Arch KRGT-1, what he calls a "performance cruiser."
Arch is more than a vanity project, he says. He's involved in every facet of the company, from design and testing to administration. The project fits perfectly into what Reeves sees as the guiding philosophy of his life: "You're gonna die—make stuff." 
For access to exclusive gear videos, celebrity interviews, and more, subscribe on YouTube!