There's a new power couple in the fitness sphere. The dynamic duo, while unexpected, has come together to get you motivated and moving in a partner routine that's just been added to Nike's Nike+ Training Club app. The workout is called "The Hart Serena."
Yes. You've got it right. Hart, as in—actor, comedian extraordinaire—Kevin Hart; and Serena as in—just-won-her-22nd-Grand-Slam-title—Serena Williams.
The workout is live on the app now. Created by Ben Monk, an athletic performance coach at Nike, this workout is all about using your bodyweight to grow stronger, hone athleticism, tone your back and arms, give you a quick total-body burn, and add strength and power to your upper body. Grab a buddy; keep your form solid; and get after it. It might not be as entertaining as Hart and Williams' sweat session, but it'll still give you one helluva workout.
The new NTC App is available for download for iOS and Android devices. For more information about Nike+ Training Club, to download the app, and do the Hart Serena will follow-along instructions, click here.
You can also go to the next page for the 15-minute workout.
The Plyometric Workout to Jump-Start Fat Loss >>>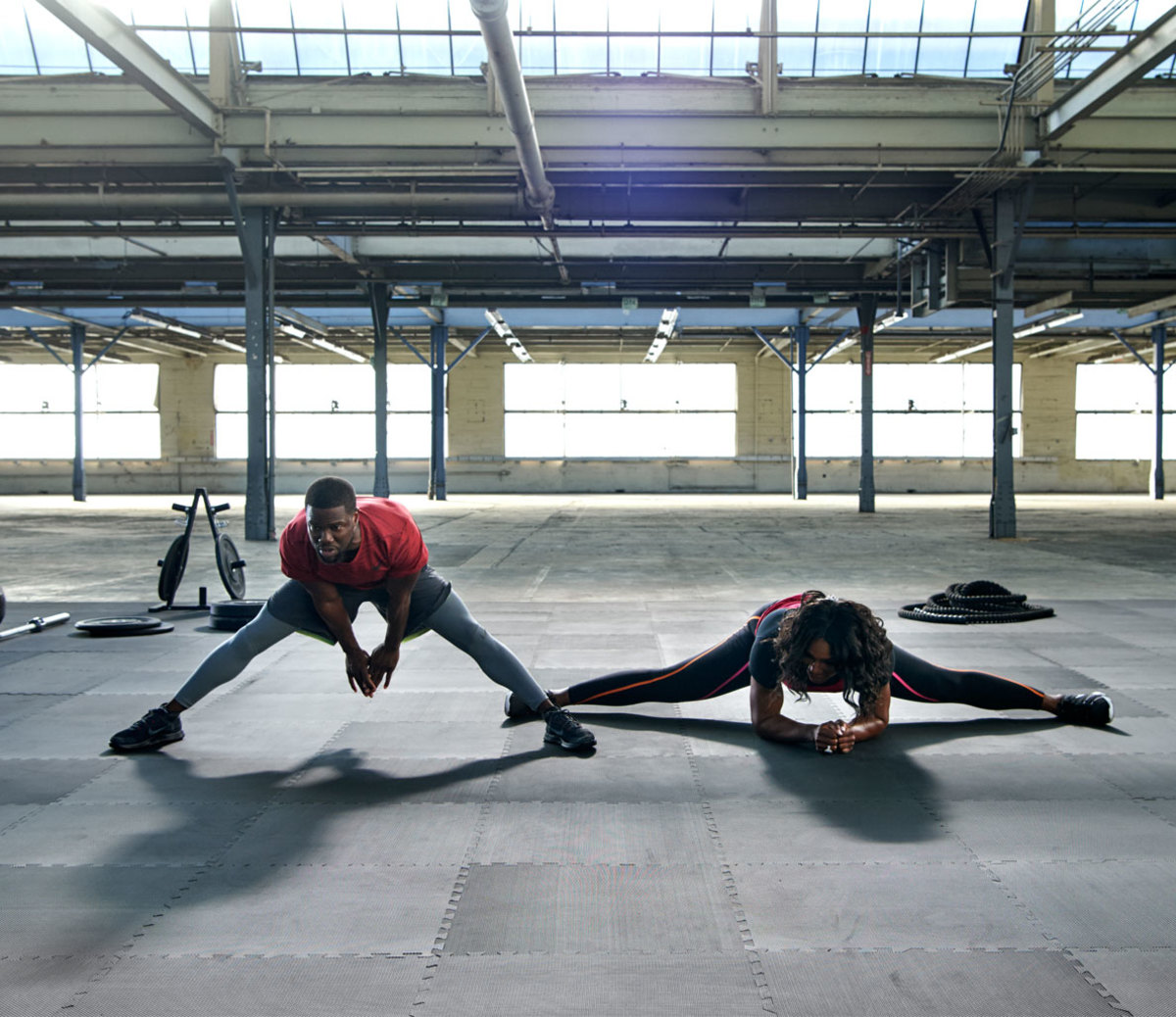 The Hart Serena Workout
Skill level: Intermediate
Intensity: High
Focus: Strength
Duration: 15 min
Equipment: None
WARMUP:
Bodyweight squats – 20 sec
Heel/Butt Kicks – 20 sec
A-Skips – 20 sec
Lateral Hip Openers – 20 sec
Sprint to Backpedal – 20 sec
Part I: TOTAL BODY STRENGTH
1A. Partner Hand Rows – Left Arm – 30 sec
1B. Partner Hand Rows – Right Arm – 30 sec
2. Partner Push-Up High Fives – 20 sec
*Recover* – 10 sec
1. Alternating Lateral Lunges – 30 sec
2A. Side Plank Knee Drives – Left Side – 30 sec
2B. Side Plank Knee Drives – Right Side – 30 sec
3. Alternating Forward Lunges – 40 sec
4. Lateral Shuffle (Fast Pace) – 30 sec
5A. Partner Hand Rows – Left Arm – 40 sec
5B. Partner Hand Rows – Right Arm – 40 sec
6. Partner Pushup High Fives – 30 sec
*Recover* – 10 sec
1. Lateral Bounds (Max Intensity) – 30 sec
2A. Side Plank Knee Drives – Left Side – 20 sec
2B. Side Plank Knee Drives – Right Side – 20 sec
*Move directly into Part II*
Part II: METABOLIC MOVES
1. Alternating Split Jumps – 20 sec
2. Quick Feet Forward and Back (Max Intensity) – 20 sec
3. Burpees (Max Intensity) – 20 sec
4. Quick Feet In and Outs (Max Intensity) – 20 sec
5. Burpees (Max Intensity) – 30 sec