Click here to download the October 2016 issue of Men's Fitness starring Kevin Hart or pick up a copy on newsstands now.
No way Seinfeld could do this. Or Aziz. And definitely not Louis C.K.
When you hear "a stand-up finishing his set," the last thing you think of is a ripped guy hanging from a pullup bar and busting through a set of brutal elevated crunches. But that's exactly what Kevin Hart is doing at a gym near his house in Los Angeles—at 6:30 a.m. on a Saturday. When I ask him if any other comedian he knows would even consider getting up this early on a weekend to train, he laughs. "No way," he says, but adds that, for him, "this is late." And this isn't a bit; he's not putting me on. When it comes to fitness, Kevin Hart doesn't play around.
Hart's joined by his trainer, "Boss," a former college football player who started working with the comedian three years ago, when Hart first got serious about fitness.
"Before that I was in fake shape," he says. "I looked like I was in shape, but then you'd take off my shirt and it was like, 'No, no, no.' " Hart and Boss wear nearly identical monochromatic outfits— wicking shirts, shorts over leggings—in different colors: Hart in red, Boss in blue. They didn't plan this, but Hart gets a huge kick out of it, posting a twinsies pic to his nearly 40 million Instagram followers. The only thing that seems to delight him more is the fact that Boss has a tiny tear in his leggings.
"Cover that shit up," yells Hart, straight-faced. "I can't stand to look at it; you're killing me. Put some tape on it." Boss' comeback is pretty straightforward: "Shut up and lift."
Kevin Hart's Serious Workout Routine >>>
But first Hart wants to grab one more pic for his followers, a close-up of his shoes. And by "his shoes" we don't mean just the shoes on his feet, we mean his shoes, as in, the shoes with his name on the side—the Nike "Hustle Harts."
Because this comedian has a shoe deal.
It makes a compelling case for never again viewing Hart as simply a comedian. That may seem strange given his current domination of the comedic landscape. Kevin Hart: What Now?, his 2015 stand-up tour, is projected to be the highest grossing of all time; it also spawned this month's film release of the same name, shot at a sold-out show at Philadelphia's Lincoln Financial Field—a football stadium. Then there's Hart's box office ubiquity, starring mostly in buddy comedies: Ride Along and its sequel, both with Ice Cube; Get Hard, with Will Ferrell; and this year's Central Intelligence, with Dwayne "the Rock" Johnson, which raked in nearly $125 million domestically.
Kevin Hart Gears Up for the Comedy Event of the Year in 'Kevin Hart: What Now?' >>>
But he's not just a sidekick. Without question, these are Kevin Hart movies that wouldn't work without him. His massive appeal as the nonstop yapping underdog who thinks he's the swaggering overdog—the Chihuahua that barks like a pit bull—has made him one of the most successful comedic stars in Hollywood. So big, in fact, that Lionsgate recently partnered with him to launch his own digital comedy network (à la Will Ferrell's Funny or Die) called Laugh Out Loud.
So yeah, Kevin Hart's day job is still making us laugh, and he's in no danger of losing it. And yet…the training, the shoes, the shredded physique. These are all part of a strategy—a pivot. If Hart has his way, 2016 will be the year we stop thinking of him as a guy who can spend 90 minutes getting verbally bitch-slapped by Ice Cube and start thinking of him as a guy who can do the slapping.
That's not saying he wants to morph into a muscled monster. "I don't want to be the guy with the neck," he says so Boss can hear him. "I told him that the day I get a neck is the day he's fired." But he absolutely wants to do action movies—as the starring hero, not just the comic foil.
"What's my franchise?" he asks. "What's the Kevin Hart version of Mission Impossible? What's my Bond?"
Kevin Hart Just Released a New Kevmoji App, and It's as Hilarious as He Is >>>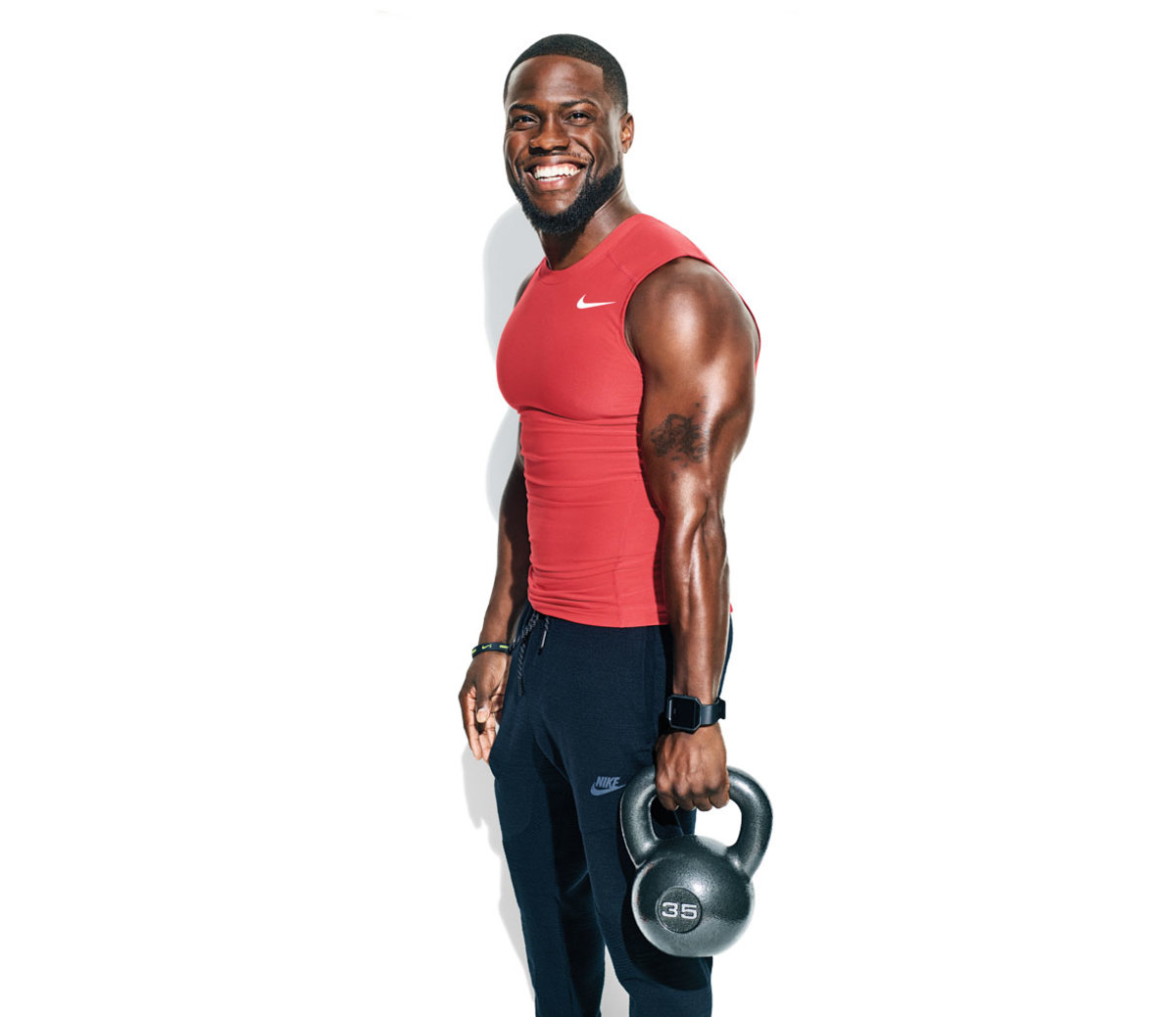 An origin story perfect for a Hollywood film,
the journey of "the comedian with his own sneaker deal" starts with Hart, now 37, selling shoes when he was 19, working at City Sports in his hometown of Philadelphia. He was, no surprise, the funny guy on the sales floor, so a couple of co-workers told him about an open mic at a local comedy club. "If they hadn't," he says, "I would've just been the funniest guy at work, the funniest guy in my family, the funniest guy on the bus."
He took the mic and killed. Five weeks in a row he won, each time bringing home the $75 prize. "People were loving my style of comedy," Hart says. "Granted, I was awful, but it's amateur night, so it's like, 'What level of awful are you?' " The streak gave him the cojones to quit his sales job. Problem is, he was too good. The club, tired of paying him, stopped amateur night the next week. "All my eggs were in this one basket. I was like, 'Shit! I can't go back to the job. I love this.' So it was about me latching on to the other comedians I'd met and just saying, 'Take me with you.'"
VIDEO: Behind the Scenes at Kevin Hart's October 2016 Cover Photoshoot >>>
They did—to New York City. Hart sometimes commuted from Philly seven days a week, just to give NYC club owners the impression he lived there, that he was in it for real. And he found he had to make a choice: "The clubs were divided. You had the urban rooms, where you could go and make money, and the more mainstream rooms, where they wouldn't pay you unless you were showcase level."
Still, he saw the level of comics coming out of those mainstream rooms. Legends like Jerry Seinfeld, Chris Rock, Colin Quinn, Patrice O'Neal. "I wanted to be a comedian," Hart says. "Not a black comedian. A comedian. Granted, there was nothing wrong with being a black comedian. I embrace my race and ethnicity. But there was a different goal—to make the world laugh." He points to one of his biggest idols and inspirations, Eddie Murphy. "Even if some people looked at him as a black comedian, his crossover was huge," Hart says. "I felt I shouldn't have to be stereotyped or pigeon-holed." So he made his choice: He'd play both types of rooms.
How to Use Free Weights to Get Ripped Six-Pack Abs >>>
Spending time with "comics' comics" had another advantage: They tore his act apart. "It was hacky—midget jokes, shit jokes, black versus white jokes," he recalls. They pushed him toward the more confessional-style comedy that still dominates his act. In fact, if you want to trace the ups and downs of Hart's life, just watch his comedy specials. He mines his childhood growing up with a drug-user father, his first marriage and the cheating that ended it, and even his well-reported DUI.
But unlike many of his peers, Hart doesn't just dwell on the lows, downplaying his success or glossing over what's awesome in his life for fear of alienating his fans. "I think when you're fake, being one person onstage, then coming over here and being who you really are, people go, 'Wait a minute.'" So some of the funniest moments in Kevin Hart: What Now?, a film shot at that stadium-filling stand-up gig in Philly, which opens in theaters this month, are about privilege, too—jokes about the downside of living in hills surrounded by wild animals, his long rich-person's driveway, his worry that his son is growing up like a white, hair-flipping preppy. And you can bet future specials will touch on recent high points like his second marriage, to Eniko Parrish, in a lavish ceremony that turned him into a groomzilla, and his Vegas bachelor party, where friends who promised to "go huge" fell asleep in the club instead.
And of course, he says, there will be material about what a fitness nut he's become.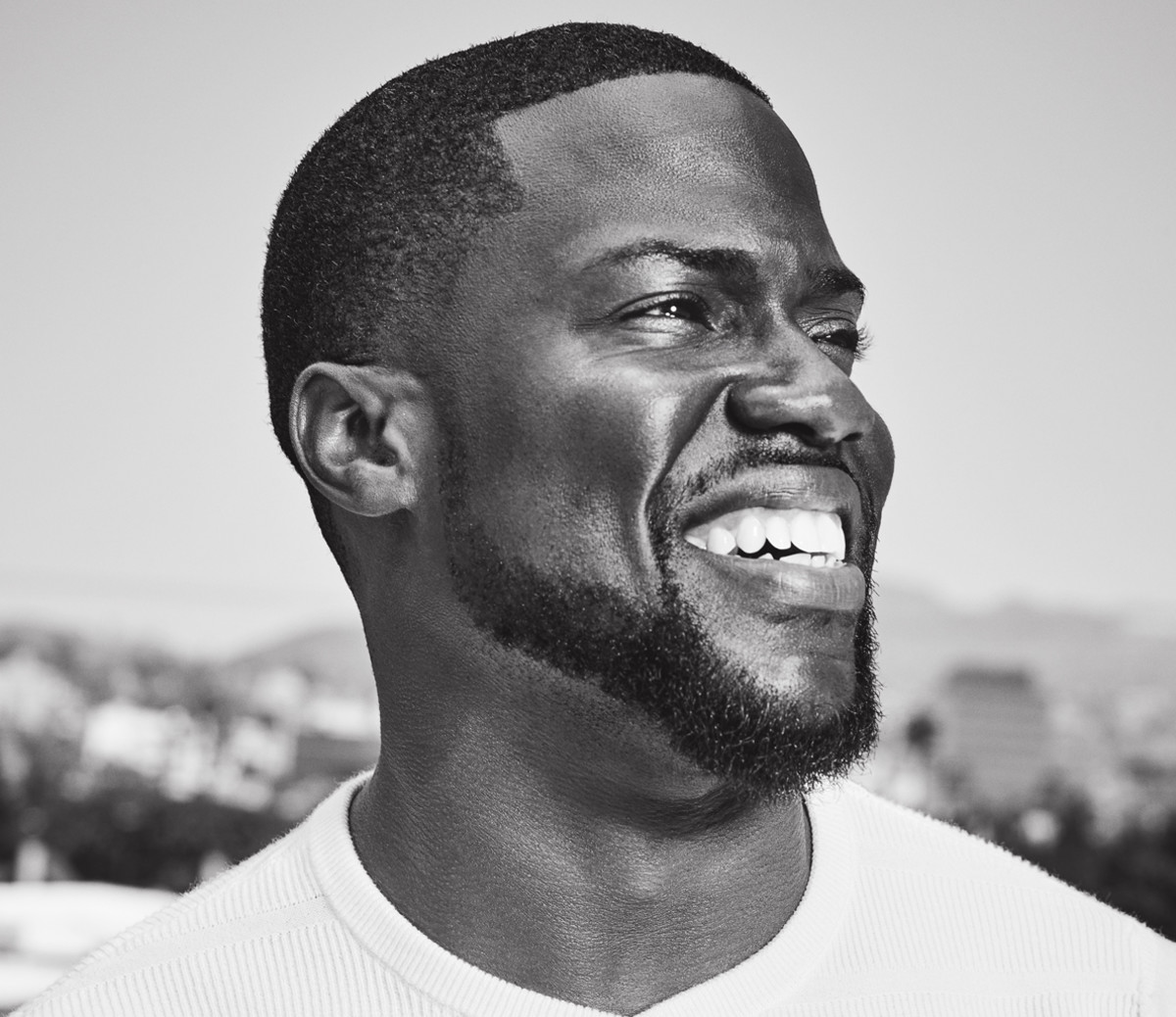 As the morning progresses, more people file into the gym.
Instead of absconding to an out-of-view corner, Hart stays front and center, greeting them, joking around, pushing them to do more reps. He feeds off their energy. And even though he's considering putting a private gym in the new house he's building, he says he'll probably still work out at a public spot like this. "I love to see people go after it—all ages, all shapes and sizes. These are my people."
If he hadn't become a stand-up, Hart might have made it as motivational speaker. Even in casual conversation he's prone to dropping lines like "You get one life—respect it" and "No short cuts!" He also loves pushing people— including his kids, who run with him, "sometimes eating my dust," he says. "I don't baby them." On social media he regularly implores fans to join him on impromptu 5Ks.
Hart says one reason he lives so much of his life on social media is so he can inspire and motivate. "I do let people see behind that curtain. I let you see me with my kids, with my wife. I want you to see the importance of family, of spending that quality time. When a guy who's not the best dad sees it at my level—sees my [family's] Game Night or my Taco Tuesdays—it may make him want to be a better dad."
Sure, it's easy to roll your eyes at what could seem like self-promotion peddled as inspiration. But there's something about Hart—a benevolence that makes you give him the benefit of the doubt, a likability that lets him get away with the high-flying selfies, the bling, the naked ambition that in other comedians would seem douchey, self-obsessed, or worst of all, unfunny. His openness doesn't feel braggy or spiteful. It's like he's having a blast, feeling proud of where he is but also a little amazed by it and just taking fans along for the ride.
It feels a little ridiculous to say this about such a hard-working, high-energy guy, but Kevin Hart is remarkably Zen. Case in point: Asked about hosting the Oscars, a gig his name has come up for but that hasn't been offered to him, he simply says: "They're in my sights, you know? Is it going to happen tomorrow? No. Is it going to happen? Yes." He's not worried. And he won't get bogged down in speculation over who might get it instead—not because he's scared about pissing anyone off, but because he truly doesn't see the point. Hart doesn't waste time on bitterness, even when he has every right. "I don't hold grudges," he says. He has even reconciled with his father. "The most important thing my mother, rest in peace, taught me was, 'Look, life goes on with or without you. Being angry does nothing.' " It's like he lacks the one thing that unites almost all comics—demons.
It's a fact that hasn't escaped him. "I know some dark dudes," he says. "And I love them all." As for himself, he says, he's "100%" the most positive comic he knows. "To some of these guys, it's a dog-eat-dog world, and I don't understand that. I feel like if there's a world where we could create another Harlem Nights, oh my God, it would be epic. If there's a world where we could do another Coming to America, with this generation of comics, oh my God, it would be epic. We should be a fraternity of brothers who want to pull each other up, not push each other down. I want everybody to win."
That right there is why it's so hard to root against Kevin Hart. You want him to win. And isn't that the most important quality in a modern action star? That, and a serious six-pack. And he's got that covered, too.
Click here to download the October 2016 issue of Men's Fitness starring Kevin Hart or pick up a copy on newsstands now.
For access to exclusive gear videos, celebrity interviews, and more, subscribe on YouTube!