Rewind about 13 years and you'd find Tom Cullen at a complicated stage in his young acting career.
"When I was 19, I ended up getting kicked out of drama school," he says.
A self-described rebel during his formative years, Cullen's stint at the Central School of Speech and Drama wasn't for nothing. In fact, it was where he met and became "really good friends" with Kit Harington (Game of Thrones' Jon Snow) and Daniel West (South Riding and Morning After). Harington and West happened to create the upcoming BBC mini-series Gunpowder, in which—surprise—Cullen will star.
"I can't describe to you how amazing it was to work with them again on Gunpowder," he says. He also admitted to having a few embarassing stories up his sleeve about the Game of Thrones actor, but said Harington's got plenty of dirt on him too—so for now he's keeping quiet.
He eventually found his groove at the Royal Welsh College of Music and Drama, and graduated with a degree in acting (with "first-class honors," no less). Fast-forward to 2017, and Cullen's work—which includes roles in Downton Abbey, Black Mirror, and Weekend—speaks for itself.
Now at the center of History's new historical drama, Knightfall, Cullen is hitting a peak moment in his career—and you won't catch him taking it for granted.
'This is our show'
Despite Cullen's impressive list of credits, Knightfall stands out as a highlight. "This is basically the best thing that we'll be involved in, maybe for our entire careers, if not for a very long time," he says emphatically. He credits this, in part, to contributing to the show's creative process—the first time in his career he's had a chance to do so. 
Building the world of Knightfall from scratch was an entirely different experience from jumping into an already-successful television series, like Downton Abbey. "It becomes this really organic thing that grows by itself, because you're all feeding off each other," he explains. "It becomes this conversation…in which you create the show together."
And by the series finale—a colossal battle and "the coolest thing" Cullen's ever shot—one thing is clear: "This is our show."
Forging a brotherhood
Even so, the concept posed unique challenges. The historical Knights of the Templar were a tight brotherhood, and conjuring those lifelong bonds on-screen was no easy task.
Their solution? Shared suffering.
The entire cast went through a two-week boot camp that quickly banded the team together. Grueling days of back-to-back circuit training, swordfighting, and horseback riding sessions "really brought us together, because they put us through a lot of pain." And that, Cullen says, "creates a very unique bond between a cast." It's also one that lends itself well to the screen.
Those fraternal ties became essential in the lead-up to shooting the major battle scenes, which were choreographed by Knightfall stunt coordinator Cédric Proust. "There's a lot of screaming, lots of press ups, lots of jumping around" to get the squad hyped up for a scene, Cullen says. "And the first time we lined up in a battle, where it was our army vs. their army, and you have to charge toward them…[we] certainly realized what these men went through, and the bravery that they had."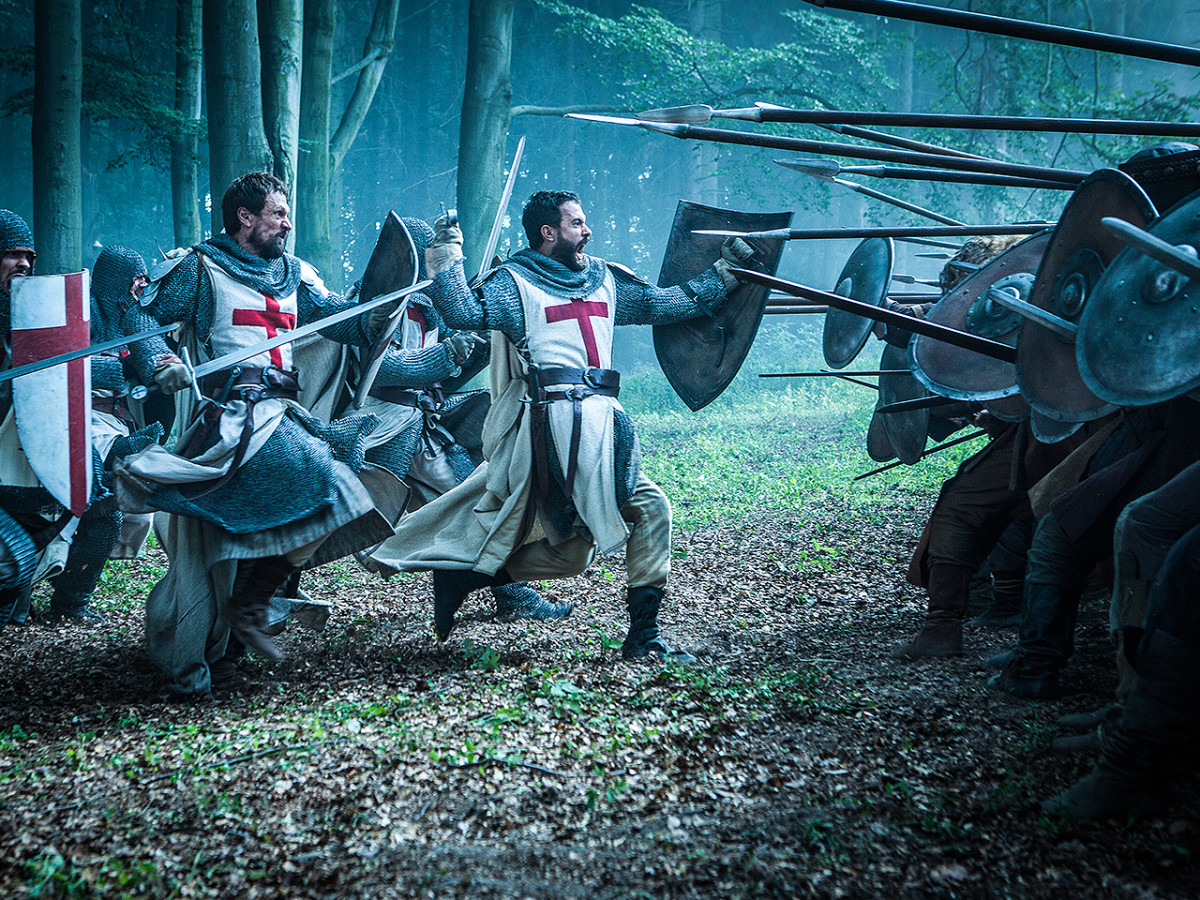 The swolest knight in town
Cullen's audition was strictly a test of acting prowess—but swinging a sword, in 50lbs of armor, for 14 hours a day, was also part of the role. So once Cullen landed the gig, he got as big and strong as possible. To achieve the bulked-up build of a medieval warrior, he endured an insane three-month training program, which involved 90 minutes of lifting four days a week.
But Cullen knew that muscles were a given, not a cure-all—and between supersets he focused on making Landry a complex, three-dimensional character. "If I didn't do that," he says, "I'd just feel unsafe, and not know what the hell is going on." He got started by hitting the books, burying himself in as much medieval scholarship as possible to better understand the world.
Then came the process of creating Landry, who Cullen describes as a "classic hero". When the show first introduces Landry at the beginning of episode one, "He's a cocky, brash, maverick, young knight who…feels safe because he believes he has God on his side," Cullen notes. But Landry loses everything in the battlefield defeat—the Holy Grail, and his sense of invulnerability. And when the show's storyline picks up 15 years later, we find Landry a changed man—one far removed from his reckless self.
Beard oil: A cautionary tale
More epic than any of Knightfall's thrilling battle scenes or Cullen's legendary physical transformation, though, is his beard.
Requisite for a knight of Landry's caliber, Cullen's lustrous beard is as enviable as they come. Yes, ladies, it's 100% natural—and he plans on keeping it that way. About a year ago, just before Cullen headed into a studio for a live TV interview, the on-set makeup artist doused his facial hair in beard oil.
"The [host] kept staring at my beard, and I had no idea why," he explains. "I'm like, 'What the hell is going on?'"
Cullen went back and watched the tape. It all made sense: "The oil just made my beard so shiny, and I looked like a glitter ball."
To avoid a similar disaster in the future he doesn't wear any product, but will occasionally condition it when conditioning his hair "and that's about it".
Knightfall premieres December 6 on History.
For access to exclusive gear videos, celebrity interviews, and more, subscribe on YouTube!