Men's Journal aims to feature only the best products and services. We update when possible, but deals expire and prices can change. If you buy something via one of our links, we may earn a commission. Questions? Reach us at shop@mensjournal.com.Sponsored content
Have you tried intermittent fasting yet? Plenty of evidence says it's one of the most effective ways to lose weight. But if course, going 12 hours or more without eating isn't easy. And even light snacking blows the whole diet. What if there was an all-natural, healthy supplement that could curb cravings and help you feel full?
Now there is. Lovidia XR is a natural hunger control supplement designed to reduce hunger all day due to its extended ingredient-release profile. It's non-stimulant, with no caffeine, so you won't get jittery or hangry. And it's vegan, gluten-free, and dairy-free, relying on natural ingredients to help curb cravings.
How Does It Work?
An all-natural blend of stevia, berberine, amino acids, and pomegranate, Lovidia has been clinically proven to reduce hunger. How? It stimulates taste receptors in the lower gut to naturally release more of the satiety hormones GLP-1, and PYY. These are the hormones that tell your brain when your stomach is full. And when you can cut calories without feeling hungry, it's easier to lose weight.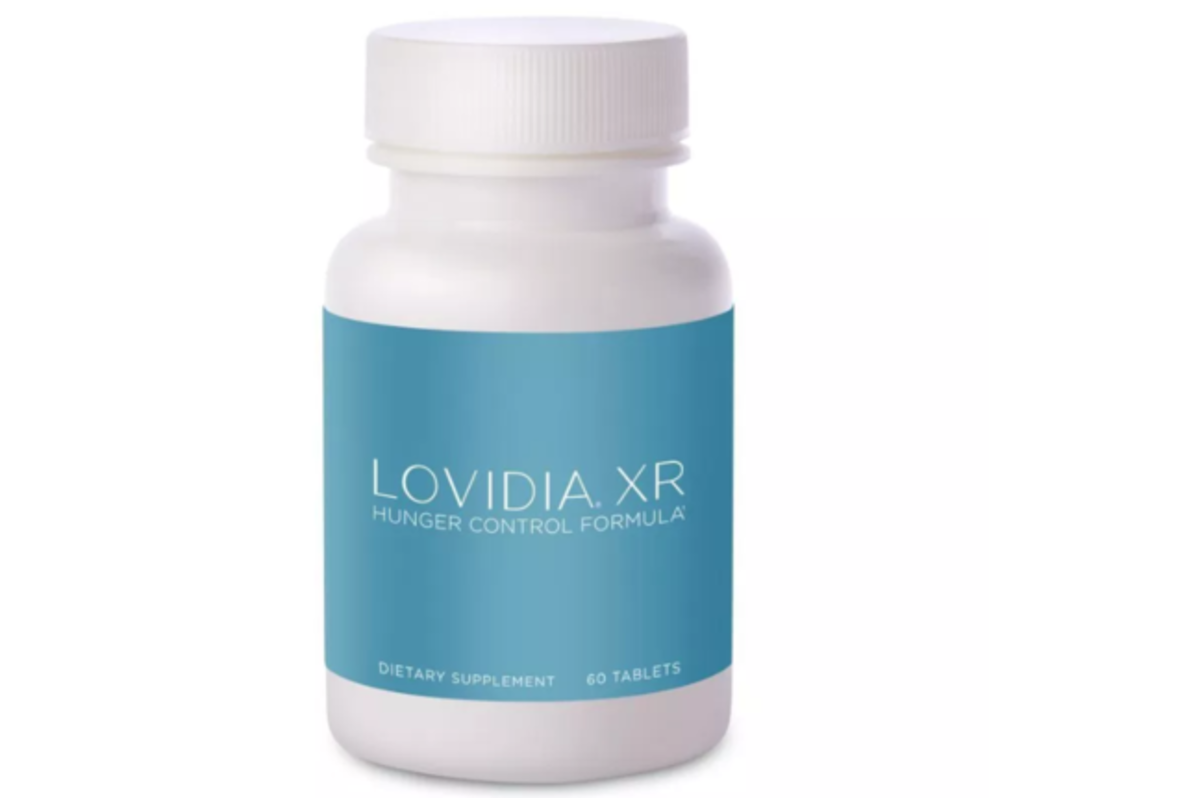 By convincing your belly it's full, Lovidia can help you be more successful on your intermittent fasting diet. But even if you're not fasting, Lovidia XR can reduce the amount of food you need to eat without feeling hungry. This is very effective on any diet, including popular low-carb, keto, Mediterranean, South Beach, and paleo diets. 
Need proof? A recent double blind, placebo-controlled clinical study showed Lovidia significantly reduced hunger in subjects who were intermittently fasting. Volunteers took Lovidia daily and were instructed to restrict daily caloric intake to 500 calories for three non-consecutive days, each week for 13 weeks. The results? After six weeks, their weight dropped an average of 3.9 percent! Moreover, their waist circumference was 4.2 percent less than at the start of the study. After 13 weeks, the subjects' body weight was down 6.3 percent and their waist size dropped 6.5 percent. That's remarkable.
It Gets Even Better
Subjects with hypertension showed measurably lower blood pressure, cholesterol, and glucose levels. The study claims this proves Lovidia XR is an effective method to lose weight, reduce blood pressure, improve glucose control, and improve blood lipids.
So if you're trying to lose weight—and who isn't these days?—give Lovidia XR a shot. It will help you control your hunger and curb your cravings, so you don't get hangry. Because that's the worst.
Get It: Pick up at 30-day supply of Lovidia XR for $50 (only $40 if you subscribe)
Get It!
Check out all the products and gear we've selected for Men's Journal readers here
SEE ALSO:
For access to exclusive gear videos, celebrity interviews, and more, subscribe on YouTube!