Health & Fitness
At 46 Years Old, Magda Boulet Is One of the Best Ultra Runners on the Planet
There's an oft-quoted saying in professional sports: "Father Time is Undefeated." It suggests that as athletes get older, they inevitably see a decline in strength, agility, and (ultimately) performance, and aren't able to keep up with younger players. It's become so popular with sportscasters and pundits, it's rare to watch a game or race without hearing it at least once. And for the most part, it's true.
While better nutrition, recovery, and strength training have extended careers further into athletes' 30's and occasionally into their 40's, elder statesmen eventually struggle to keep up with the young guns. That is, until you meet Magda Boulet. At 46 years old she's only improving at distance running with age. Despite working full-time as the VP of Innovation at GU Energy Labs and being a mom to a teenage son, she's one of the best ultra runners in the world, and currently sponsored by HOKA One One, among others. That's why I call her "Mother Time."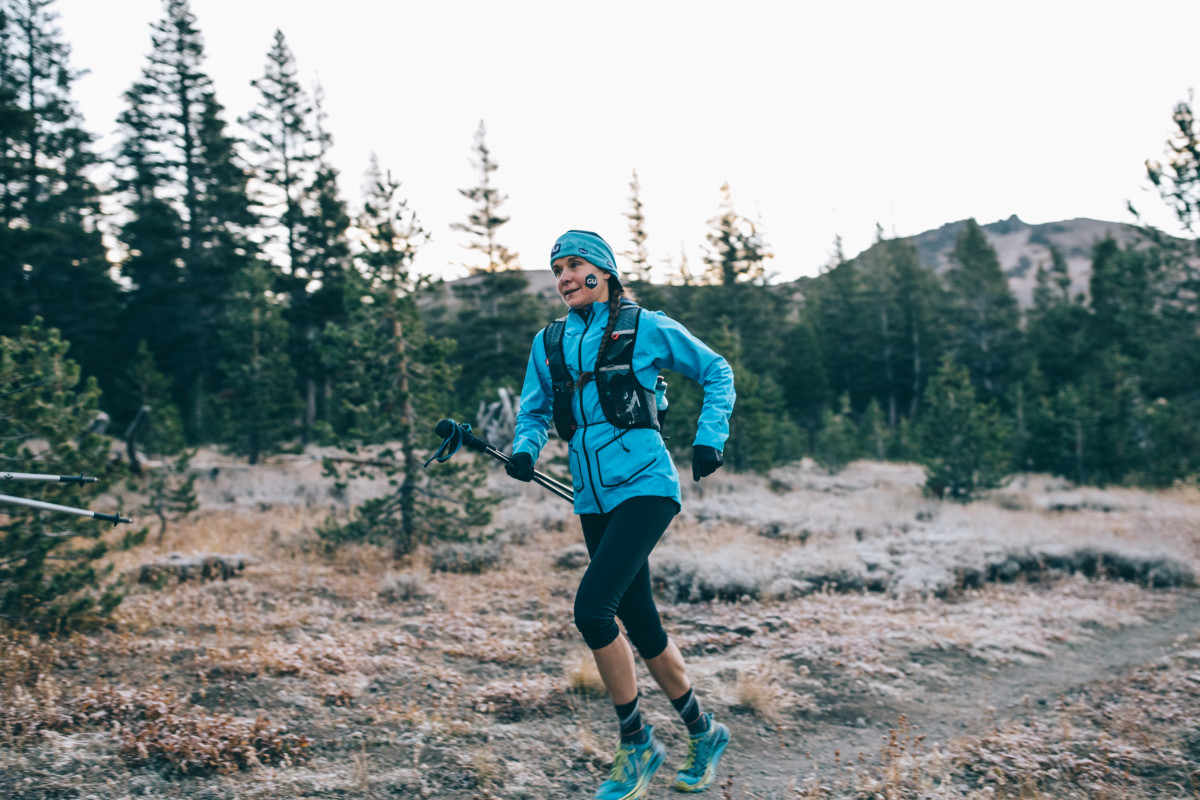 Earlier this year she won the 9 Dragons Ultra in China and more recently, as well as the iconic Leadville 100 in Colorado. For almost any elite runner, two notable wins would make for an incredible racing season. But Magda wanted to push herself even further. She came up with an idea to challenge herself in a new way, in a place she loves dearly and trains regularly – the trails around Lake Tahoe.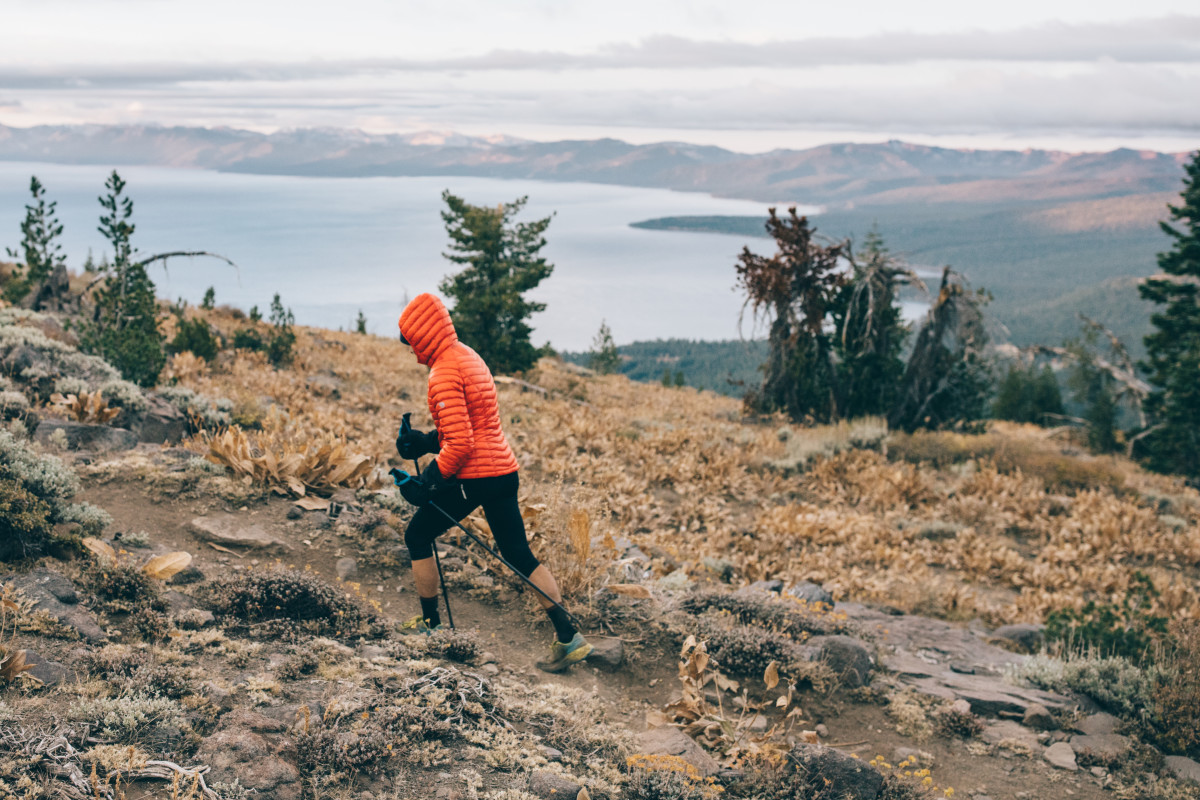 Last Friday, Oct. 18, at 6 a.m. sharp, Magda departed from Big Meadow Trailhead at the southern end of the lake, with her subtle yet signature grin. Her plan for the next two days was simple and absolutely heinous. She would run a full loop of the Tahoe Rim Trail – 172 miles and 25,000 feet of elevation gain – and attempt to set the Fastest Known Time (FKT). Along with anything this rigorous, Magda knew that she would learn a bit about herself along the way, fighting soreness, sleep deprivation, and brutal cold.
What's unique about the sport of ultra running is the community and support the competitors lend to each other. Despite competing for the same sponsors and podiums, elite runners are often willing to lend a hand to help others achieve their goals. For example, four other professional runners came to Tahoe to help pace Magda, and even the current record holder, Krissy Moehl, warmly chatted with Magda the day before her attempt, offering advice to take on the challenge. There are very few other sports that have a similar semblance of community and camaraderie.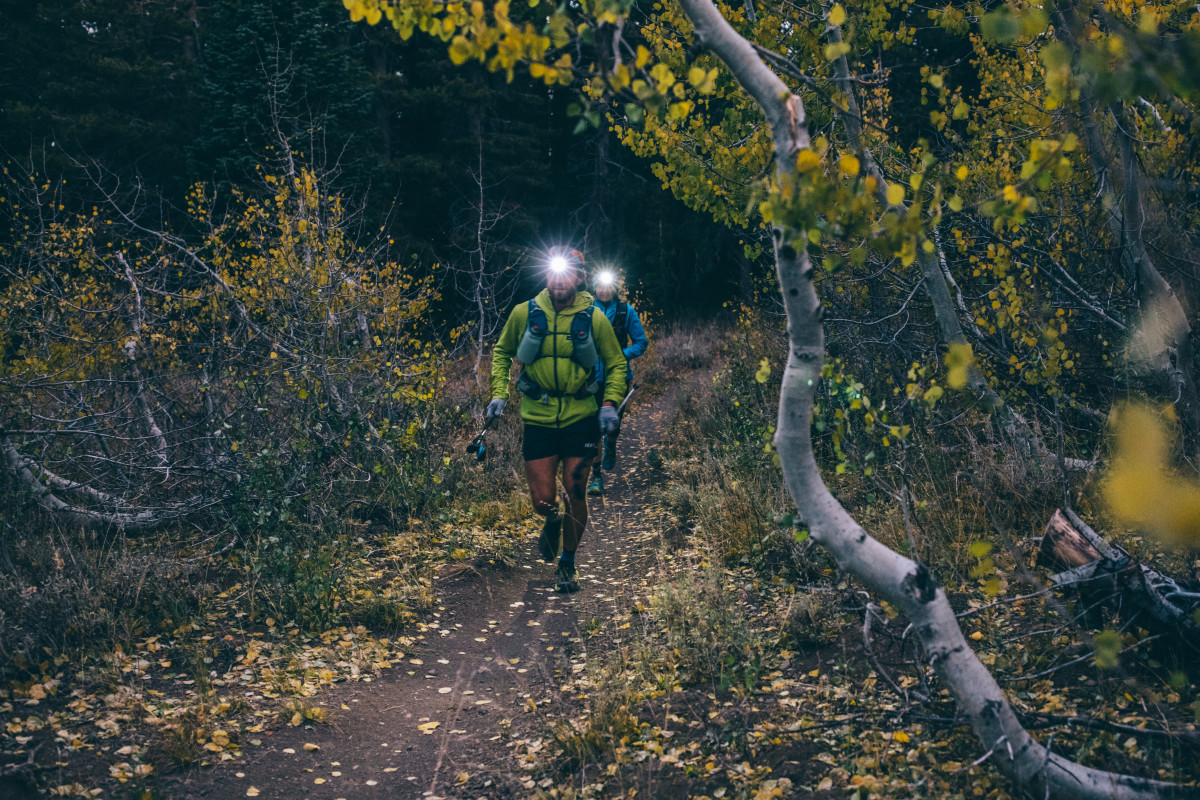 The next morning, Magda took her first few strides on the Tahoe Rim Trail, as the thermometer read 23 degrees Fahrenheit. The ground was still frozen and many leaves had already fallen to the ground. It was quiet and dark – the sun wouldn't rise for another hour. Along with her pacer, Brian Gillis, she moved steadily up the first climb, wearing a light puffy jacket, a beanie, and winter gloves. Early nerves soon faded away into the flow of the trail and six miles later, sunrise would hit them in a high alpine meadow.
Just after 10 a.m. Magda reached Echo Lakes Trailhead, a bit ahead of schedule. The air was still cold – only 35 degrees – but the sun was rising and the group energy was high. At this quick stop she exchanged water bottles, replenished her nutrition and snacks, and picked up a new pacer – Yiou Wang, another elite runner from the Bay Area. This was a carefully planned dance, trying to not waste any time. The team knew that extra minutes would add up quickly, and found creative ways to make these stops as efficient as possible.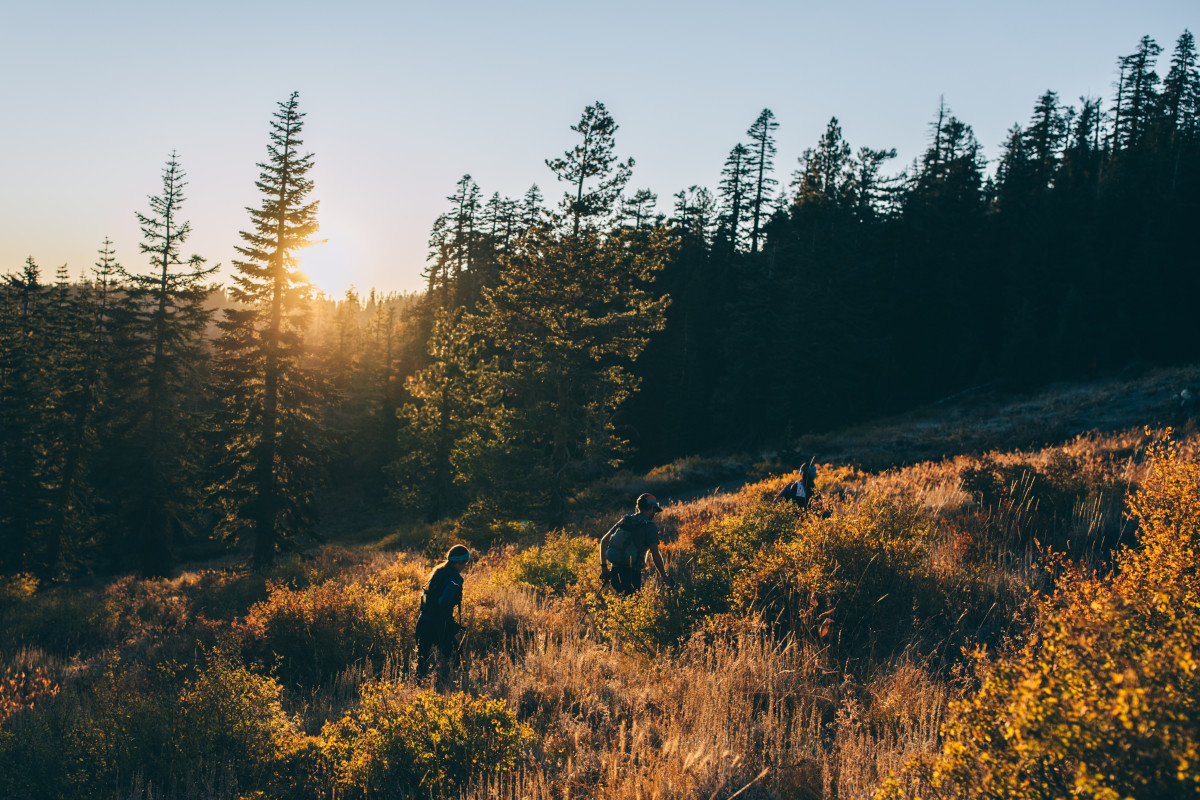 The next stretch of trail runs 33 miles through Desolation Wilderness and is both beautiful and rugged, with technical rock trails for much of the length. Magda managed to keep a steady pace throughout, climbing Dick's Pass and running past a collection of alpine lakes on her way to the next checkpoint, Barker Pass. Still energized and laughing, she met her crew just before sunset and swapped out pacers for Tim Tollefson and Corrine Malcolm, both exceptional runners in their own right. Heading into her first night, moral was high – even though there was more than one hundred miles to go.
The night would challenge her in a new way, bringing cold and more challenging route finding. Using her pacers to help navigate through a maze of forest roads, Magda knew that she needed to focus just on putting one foot in front of the other. Still, this wasn't easy. Extreme cold and sleep deprivation were her two biggest concerns going into the FKT attempt, and would prove to be constant hurdles. The first night temps dropped to low teens, often requiring her to run in multiple jackets.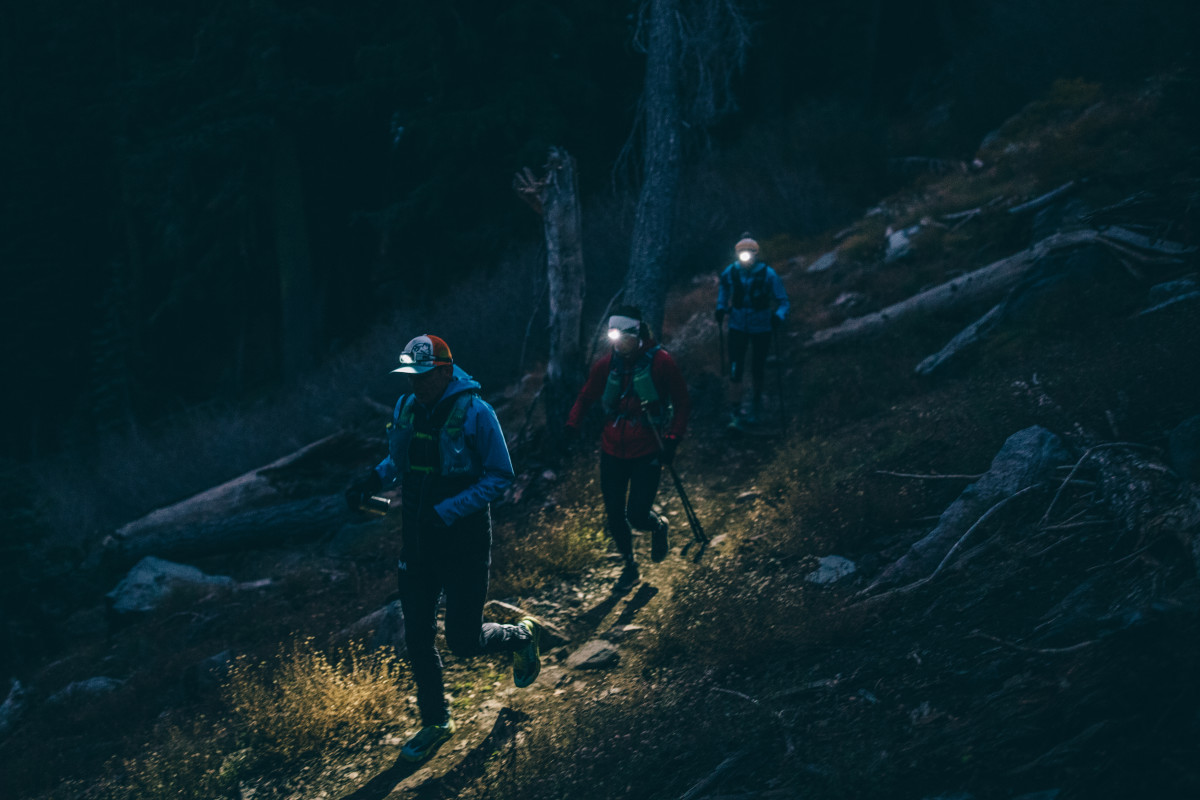 In the darkness she flew into Tahoe City, where she was cheered on by her crew, her husband Richie, and son Owen. Fatigue was starting to set in – a feeling Magda knows well. From this low point of the course (6,200 feet) she would start the stout climbs on the north side of the lake, spending the next 12 hours climbing nearly 10,000 feet including Mt. Rose, the high point of the run. With two pacers supporting her Magda often ran in the back, doing her best to conserve energy.
The sun came up as Magda and her pacers at the time were still marching up the final summit approach. Soon after the wind picked up, with gusts up to 50 mph, adding an unforeseen challenge. While the crew tried to stay positive, putting their heads down and working uphill, it was hard to not to lose momentum.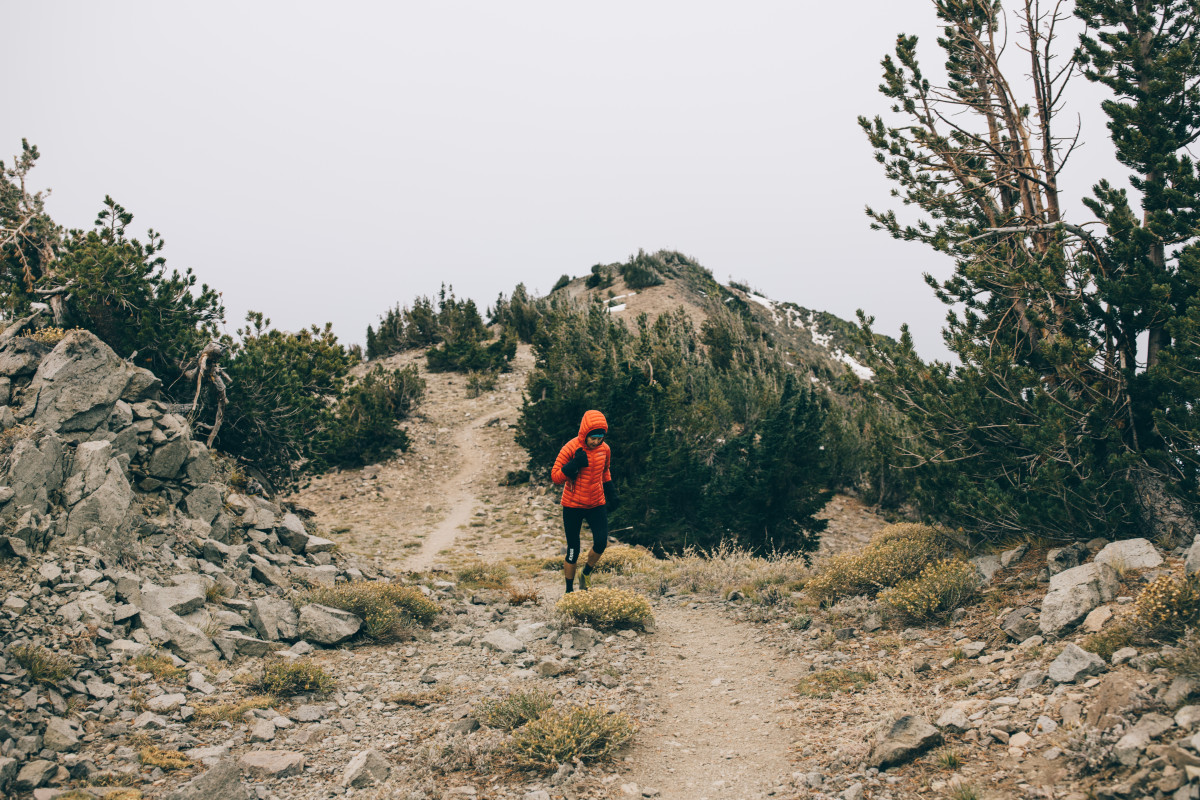 Coming into the Tahoe Meadows checkpoint a bit later than she hoped, Magda knew there was little room for error in the rest of the route. Now 110 miles in, she had three sections left. Determined, Magda barely let on she was hurting – let alone say that she was thinking about stopping. Despite having quads that burned, blisters on her feet and pain in her Achilles tendon, Magda kept going. She picked up by a new pacer Kris Brown and marched on, hoping to keep a steady pace through the rest of the day.
Unfortunately, the frigid wind never let up, punishing Magda all the way to Spooner Summit, and down to Kingsbury (the last checkpoint). With just a marathon left, Magda had one final climb – albeit 13 continuous miles of uphill – and then a rolling descent back to Big Meadows, to finish the loop. With fresh snacks and new pacers, she took no time at this checkpoint, flying through just after 10 p.m., and headed into her second night without sleep. (If this sounds crazy, it was even more so to watch.) Magda's grit was on full display; she left everything she had on this trail.
At mile 17 of the last leg – just 9 miles away from the end – Magda realized that her goal of a new Fastest Known Time was out of reach. The old record would not be broken. After almost two days of nonstop running, she took a moment to let this sink in, hugging with her pacers and walking up the last mile of final climb, musing through heavy thoughts. After months of training and preparing, she had gotten so close and still wouldn't attain her time goal.
The full crew of pacers, support, family, and co-workers met Magda a mile from the end of the loop, and walked the last stretch with her to the final. She completed the Tahoe Rim Trail in just over 50 hours – tired, sore, and very sleep deprived. As she entered the Big Meadows parking lot, she stopped to address the group, "Although we didn't achieve our FKT goal, I'm so thankful I got to spend so many hours and miles out on these trails with all of you. It's been a transformative few days, which I'll be processing for quite some time. Thank you all for being here. I couldn't have done this without all of you!"
For access to exclusive gear videos, celebrity interviews, and more, subscribe on YouTube!