He's done it again.
Over the course of his 25-year career, Mark Wahlberg has redefined "reinvention," going from musician to under-
wear model to actor to leading man to, ultimately, one of Hollywood's most versatile stars and megaproducers. Now he's kicking ass in a whole new arena: that of an entrepre- neurial powerhouse.
Wahlburgers, the hamburger chain he launched with his brothers Paul and Donnie—and turned into an A&E reality show by the same name—is blowing up, with seven locations and another 100 planned. AquaHydrate, the fitness water company he fronts with Sean Combs, is gobbling up market share. And this month Wahlberg will launch his most personal venture yet: a "clean" supplement company called Performance Inspired. (He's not the only big name involved—ultrafit golfer Rory McIlroy is attached to the company, too.)
Built on Walberg's experience beefing up his physique for films like Lone Survivor, The Fighter, and Transformers, Performance Inspired is no mere "endorse- ment" for the star. Every free moment he has, he's hustling for the brand—researching the competition, working the phones, and reaching out to distributors. Yet somehow he does all this and his day job: He recently wrapped Deepwater Horizon, about the 2010 BP oil spill, and is now filming Patriots Day, about the Boston Marathon bombing. And after that it's the next Transformers movie, with director Michael Bay.
So how does a superstar, superproducer, and nascent business mogul—not to mention father of four—even find the time to play golf, much less with a 300-yard swing? We caught up with him in the Hollywood Hills, still sporting an oil-rig worker's goatee, to talk about his drive on and off the golf course.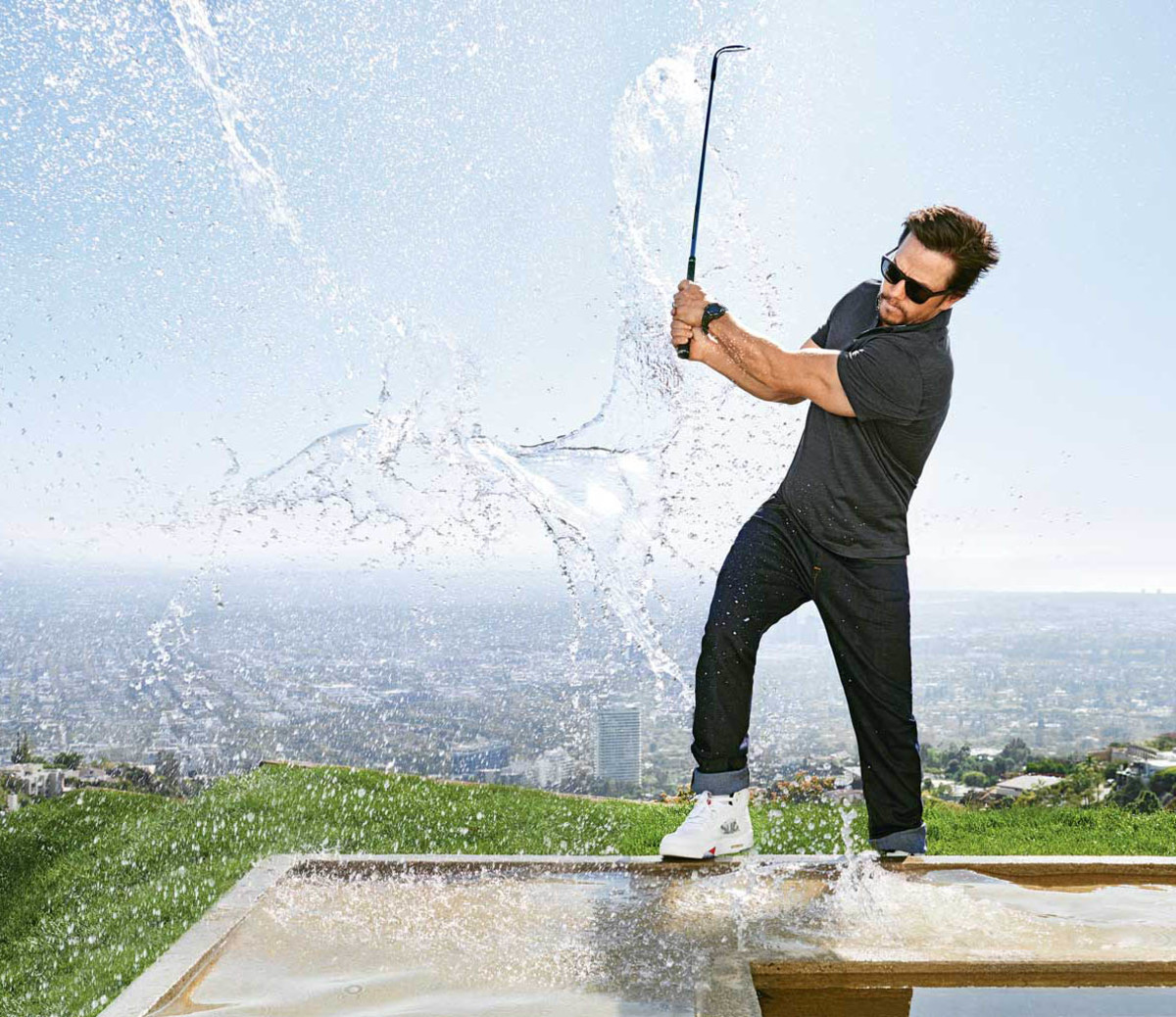 You have three brands now: the new supplement company, Performance Inspired, bottled-water company AquaHydrate, and Wahlburgers, the burger chain. I just wanted to draw attention to the fact that two 
of those are healthy, and one, not so much.
Well, it's all about my lifestyle! For me, I never wanted to lead a boot camp type of existence. I wanted to be able to work out, eat right, have fun, drink wine, and eat burgers.
With Performance Inspired, how do you win at a game in which you're a complete rookie?
The great thing about my partner Tom Dowd is that he worked for 25 years at GNC and helped build some of the greatest products out there. We see how the space is growing. Did you know sports nutrition is up 18% every year?
How do you corner some of that for your company?
By creating a product line 
that wasn't out there yet. I've always been adamant about being natural, no matter what I was doing—training, putting on weight, losing weight. So this is an all-natural product— nothing that can give you a bad reaction. Student athletes
 can take it, collegiate athletes— you never have to worry.
Would you let your own kids use it?
Absolutely. My kids love it. They've already tried all the products—and the bars just 
go flying off the shelf. The
 hard part for us was, how do we make something natural taste good? Because if you can't make it taste good, forget it, people aren't going to use it. I mean, maybe some people would hold their noses because they know it's good for them, but not college kids or high school athletes. So we spent a good 10 months just working on taste.
It sounds like you're going after non-bodybuilders.
Exactly. No disrespect toward the bodybuilding world, but this isn't geared toward that giant monster shit. We know you want to be able to build muscle and burn fat, but you don't want to be bogged down with too much size. Like, the kid who's gotta put on a little bit of weight and wants to make the football team, or has to trim down a little bit to make the baseball or the basketball team—get a little stronger, get a little faster.
You're known for morphing your own body for roles. Did that inform any of this?
Absolutely. People know the difference between my going out there endorsing a product or it really being my lifestyle. Which is why I would never be involved with a vodka brand, or a tequila, even if it were an opportunity to make a lot of money. I won't represent that, because it's not who I am.
That explains AquaHydrate.
I've certainly got a lot of sweat equity and some real money in that business. And it's really close to becoming a success. It's growing, just taking a little more time than we wanted. I actually had no interest in being in the beverage business—it just kind of happened.
How does that "just happen"?
I was training for The Fighter, and my buddy was like, "Hey, will you please meet with
 this guy—he's got this water company." OK, fine. So this 
guy comes in and starts talking about electrolytes and minerals from Utah and reverse osmosis and this whole proprietary process. And I was like, dude…
Boring!
I didn't know, or care, what he was saying. But I happened to be drinking about a gallon of water a day for training, so I said, "Leave me some cases. I'll try it." And I noticed I started getting out of bed a little easier, my recovery time was cut in half, and I went from running six miles a day to running eight miles a day. I didn't change anything but the water. So then I realized that, because of the pH levels and the alkalinity, it flushes everything out, takes the lactic acid out, and helps you recover faster and hydrate quicker.
Back to Wahlburgers: Did you worry about diluting your brand name with another "celebrity restaurant"?
Oh, yeah. My brother Paul is an amazing chef. But when 
he started getting this idea to build a Wahlburgers, I was like, "Paul, I worked way too hard to build my own brand, and 
I don't want to go putting our name on a burger place. "
I said, "Just call it Paul's, and I'll finance it and help you however you want." It just sounded bad right away. I said absolutely not.
But something changed your mind, obviously.
I thought about it. I love working with my brothers, and I love business. So I said, "If we're going to do it, we're going to really do it." It's one thing if you throw it out there and it works, and if not, no one really notices and you're on to the next thing. I don't do that. I don't just throw it out there and see if it sticks. With all the business stuff, I'm on it all day. Calling people. Taking meetings. I got so much downtime when I'm shooting, I can do that. So I said, "If we're going to put it out there, then we're going full steam ahead—we're going to build something to pass from generation to generation." I wanted to put rocket fuel on this, to put visibility
 on this restaurant that no other could have. So we decided to do a show.
You're Mark Wahlberg. You weren't nervous that doing a reality show might seem like you were slumming it?
Thing is, I'm not doing it to 
be on TV. Self-promotion is my least favorite part of the job. I accept it. But the show
 is an opportunity to build the business and promote all my other brands, too. At first the network was like, "It's a little too obvious that you're just doing this to build the business on television." And I was like, "What do you think I'm doing? Of course I am!" And then they got it, and they embraced it. And I don't think it's hurt us at all. I hope being as successful as I want to be in business will allow me to spend a lot more time focusing on other things I want to do, and enjoy doing. I mean, I love acting, but it takes me away from my family a lot.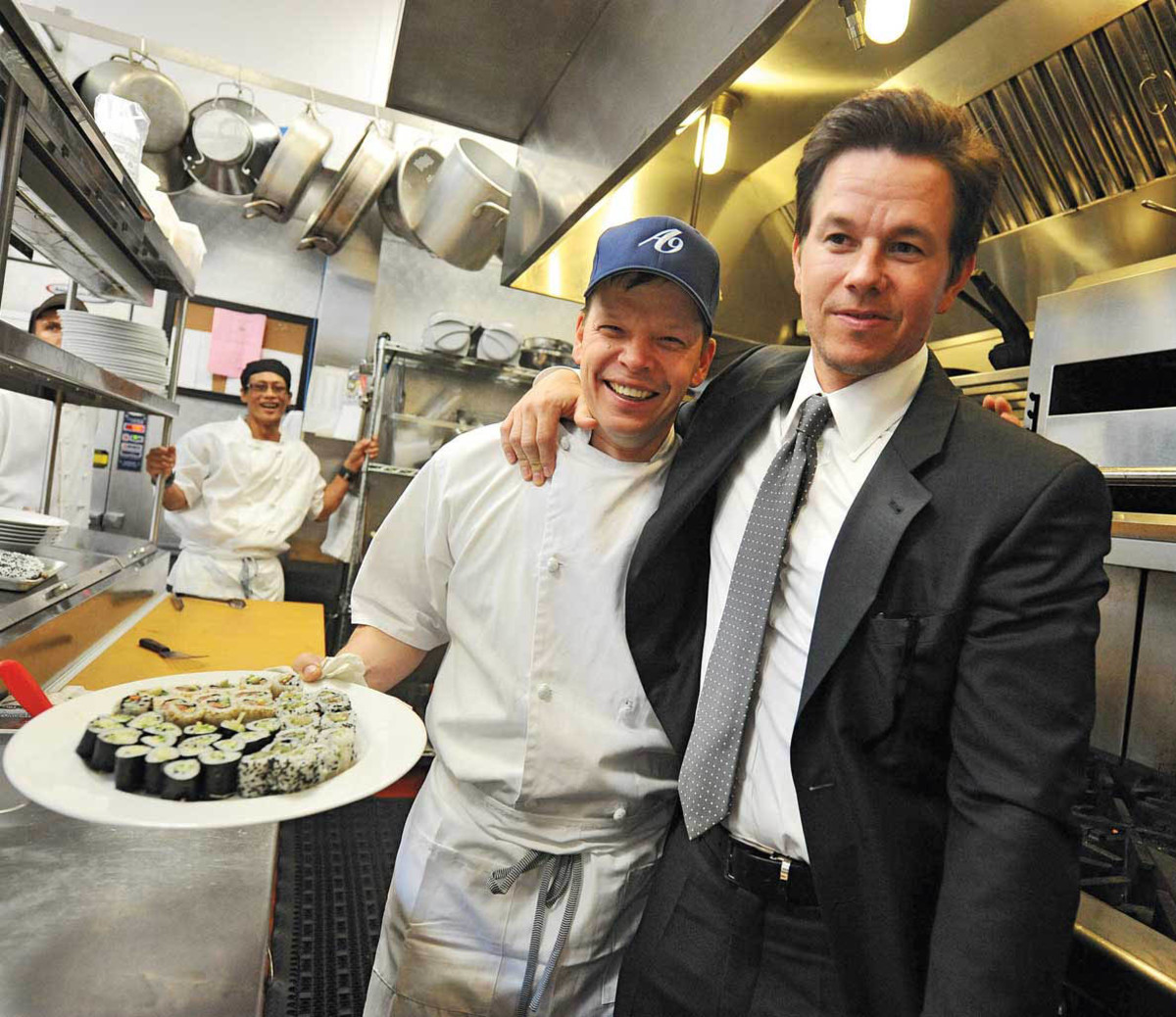 Wahlberg and his brother Paul / photo by Brian Babineau.
Are you setting yourself up for a post-acting career?
Well, you never know. I could peak five, 10 years in the future.
You once said you were going to retire from acting at 50.
Acting is a major time commitment. But I'm in such a great place right now, where I'm getting to do projects I'm really passionate about, that
 it would be hard to walk
 away. Deepwater Horizon was amazing. And now this Boston Marathon project, Patriots Day, is gonna be amazing.
You did both with director Peter Berg—who's a total Men's Fitness guy, by the way. What's the bond between you fit Hollywood dudes?
We both just get it. We're hungry, we're willing to go out there, do the work, and get dirty. And we both take a lot of pride in what we do. I just love the guy. And he's tough, no nonsense.
A physical guy like you?
Oh, absolutely. We definitely had to earn each other's respect. Ari [Emanuel] is our agent, and he was trying to put us together for a long time. But for whatever reason, we were both unsure. Now this is our third movie together, and we've just made a deal to do another. We're even talking about combining television companies: Wahl-Berg.
You learned to box for The Fighter—do you still get in the ring?
It depends on what I'm doing for work. I didn't when we were on Deepwater Horizon. [Berg] wanted me to get as heavy as possible. That was fun for a couple of weeks, and then I just felt like crap. It was over 100 degrees every day [on location] in Louisiana. And then being on an oil rig. Eating. It's fun
 for a couple of weeks, and then you just start feeling really bad. When I had to sit down to put my socks on, I was like, "OK, this is bad." We got through
 the movie, then [Berg] said,
 "I need you to get as ripped as you possibly can for the next one." So I trained for 100 days straight for that movie. It was
 a very strict diet—no wine, no bread, no pasta. If I had any carbs it was just healthy carbs like sweet potatoes, yams. I got as ripped as I possibly could— the best shape of my life. And then that movie fell apart.
Ouch. I hope you liked the process.
I get into it. And when I get into something, I get really into it. I'm up at 3 a.m. training. Eating roasted chickens at 3:30 a.m. I like it…and then I like for it to be over.
What's your current routine?
I'm about to play a cop with a bad knee [for Patriots Day]. So I can go back to a little bit of a belly. Then I'm gonna have my work cut out for me, because
 I gotta get into Transformers shape. And Michael Bay's definitely got too much time and money spent CGI-ing robots, so he's not gonna CGI muscle on me. I'll just have to start working out as we get closer
 to the end of Patriots Day. But right now I'm just eating whatever I want, getting ready for the movie, playing a lot of golf.
How's your swing these days?
I just whack it around. I'd be pretty good if I had more time. Some days you play good, some days you don't.
Do you play a lot?
Yeah. But I had no interest in playing at all.
Let me guess—it just happened?
I went out with Johnny "Drama" [Alves] and Ari, because they kind of forced me to. I was like, "OK, I'll drive around in the cart and have a beer." I never really considered it a sport. They were hitting balls and playing, so I was like, "Let me try that." I couldn't even hit the ball. So I kind of became obsessed—"I gotta figure this out." And soon I started planning all my shit around golf. Then it was like, "I gotta calm down." I realized I wasn't gonna become a professional golfer.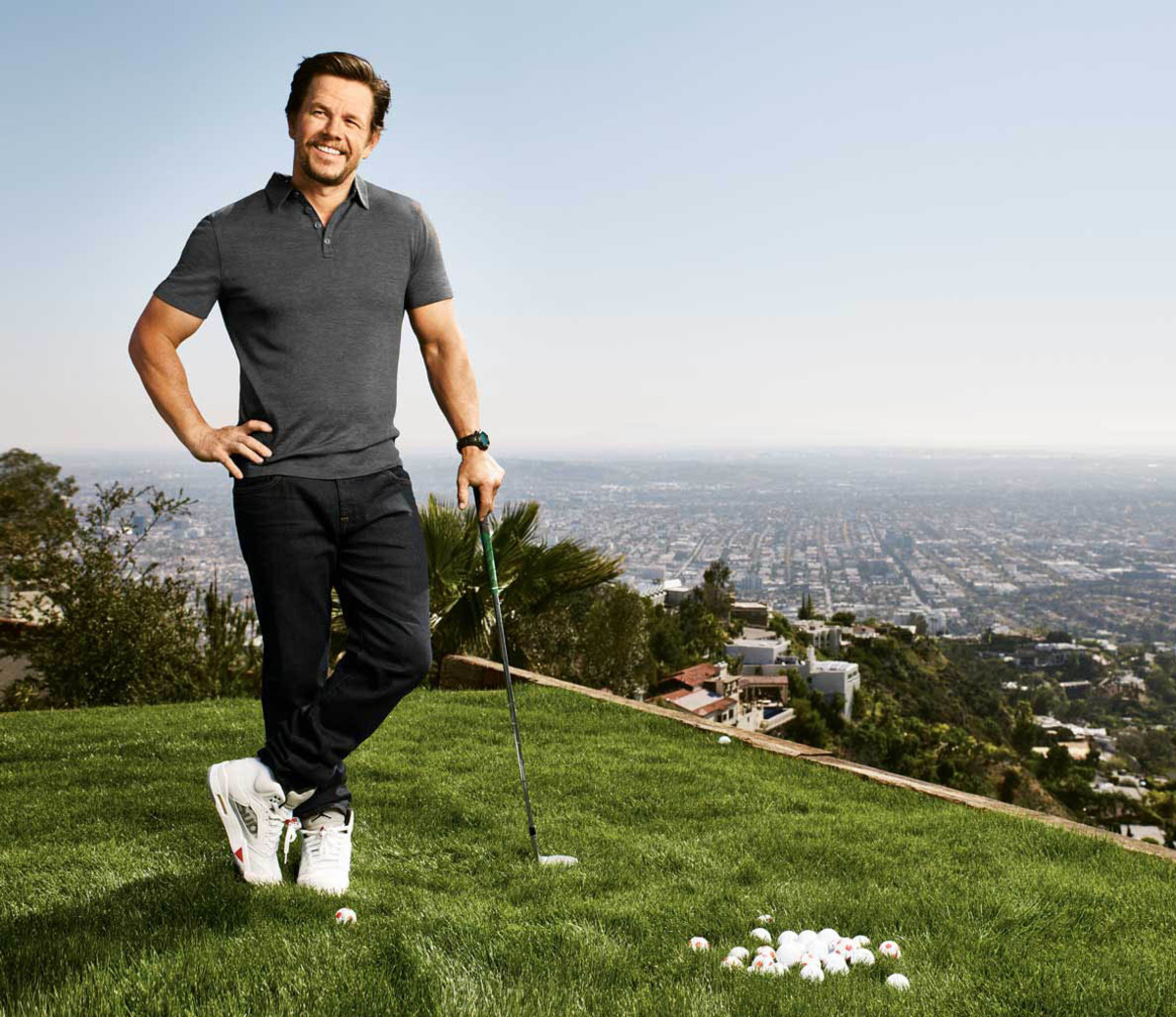 Your older kids are getting to the age where you can take them out on the course, right?
My oldest son is about to turn 10 next month. That's a big one. Double digits. I also love them getting older because we get to do so much with them, you know? Playing sports. You see your son hit a golf ball, score a touchdown, make a basket. See him get his first trophy.
You come from a modest background. Do you worry about your kids growing up with so much?
Of course. You want to give them everything you never had, but at the same time give them that work ethic—the drive, and the desire. You have to have discipline and structure and be firm. Keep them 
as busy as possible, too. None of this shit, either. [Wahlberg waves his cell phone.] You know, I don't get my kids phones. My 12-year-old daughter 
had hers taken away. [Wahlberg stops and reads an incoming text.] Oh, 
we just got J.K. Simmons for the Boston movie. He's playing the Watertown police chief.
Congrats! How did that project come about?
I was conflicted about doing it. These people, they aren't like Navy SEALs, who signed up for this. These were innocent people who went out to watch loved ones finish the race or run the race. People died, people lost limbs. Not necessarily something they want to relive. So I wasn't sure 
if we should do it. But people were gonna do it anyway, and then I was worried it wouldn't be handled right. So if we can handle it the right way—if we can show that people come together and that good will always overcome, then it can be inspirational.
I know you're a spiritual guy. Does that play a role in the films you choose?
Absolutely. And also being a dad. And a husband. What I'm willing to do and not do.
 I never want to compromise my artistic integrity. But at the same time, with [playing a porn star in] Boogie Nights, I already did that. I'd be hard-pressed to do something in that world today.
Well, Ted was pretty raunchy. How did you explain that one when you met the pope on his U.S. visit?
He had no idea who I was. I don't think he's watched television since the early '80s.
In all seriousness, what did that meeting mean to you?
It was very special. I was asked to introduce him. I hate speaking in front of people. But I realized, 
I gotta do this. He's an amazing guy and is bringing the church into the new century. I really like what he's focusing on. I know a lot of people from other faiths and other walks of life who really like what he's doing, too.
You've matured since your wilder days. Has your definition of success changed since then, too?
Sometimes you have no control. Once you've 
done everything you can to create something, it goes out there and it either works or it doesn't. At the end of the day I just know I did everything I could do to make it the best it could be. Then you gotta be able to move on. Let it go.
That's a very Zen attitude. So what keeps you up at night?
If I'm working, and we're all staying in one place and one of the guys is snoring, that might keep me up, but that's it. Otherwise, I sleep well.
I'm amazed you have time to sleep at all.
Oh, yeah. Eight hours a night.
For access to exclusive gear videos, celebrity interviews, and more, subscribe on YouTube!