Midway through a set of lateral raises, Michael B. Jordan does the one thing you never do when you're working out with a personal trainer—especially one who's happy to make you pay for it. He tells him that the weight is too light, before the guy's even given him the final rep count.
Today's back-and-shoulder session is taking place at Mansion Fitness in West Hollywood, a personal training gym that borrows its aesthetic from a trendy hotel lobby: hardwood floors, chandeliers, large gilded mirrors on the wall. Power-pop blares through the house speakers, but Jordan can't hear it over the Drake blasting through his own headphones. He's wearing basketball shorts, neon yellow Nikes, and a black hoodie, which has become his workout ensemble of choice. "I tried all sorts of different things," he says, "but I like the hoodie because when you're done and you take it off, it's sort of like an unveiling."
Behind the Scenes at Michael B. Jordan's December 2015 Cover Shoot >>>
Jordan's trainer, Corey Calliet, a former boxer with a thick Louisiana accent, smiles at his client's invitation to inflict more pain. "Come on, now, you're not just showing off for the people, are you?" he chides, referring to either the journalist observing them or the cute girl in spandex shorts who just hit the water fountain. While we can't speak for Water Fountain Chick, there's no need for Jordan to show off on our account—his deep résumé does that.
First are his early standout roles in The Wire and Friday Night Lights, followed up by Chronicle, one of the most inventive super-hero movies in years; then comes his leading-man breakout in the heart-wrenching Fruitvale Station. Finally, there's this year, which—with starring roles as Johnny Storm in the high-profile (if underwhelming) Fantastic Four and the title character in Creed, this winter's spin-off of the long-dormant Rocky franchise—has been huge. And not just professionally but physically: As the son of Apollo Creed and an aspiring light-heavyweight champion, the 28-year-old was required to undergo a serious physical transformation—hence the ass-kicking training regimen on display today.
So, yeah, call us sufficiently impressed.
Download the digital edition of Men's Fitness featuring Michael B. Jordan at MENSFITNESS.com/GetTheIssue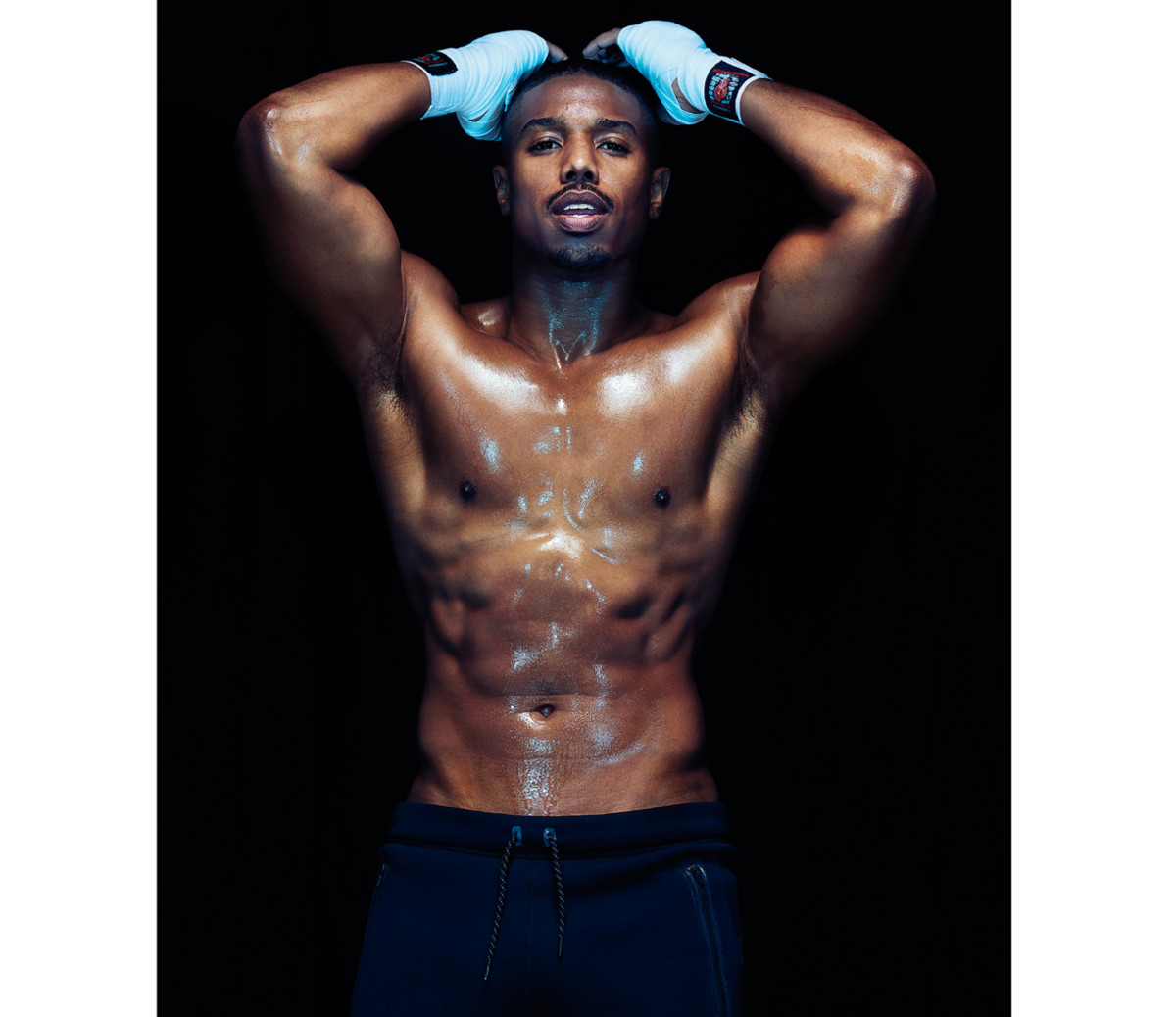 But Calliet—well, his job is not to be wowed by his client but to push him. So if Jordan is going to question the weight, Calliet is going to answer with several additional iron plates and extra security on Jordan's form. But Jordan, now clearly straining but focused and intense, powers through.
"Man, he's come a long way," Calliet tells me. "When we first started he could barely bench 20 pounds, his legs were flailing everywhere… he had nothing."
"OK, now," says Jordan, "easy with the 'nothing.'"
"He used to hate all this," says Calliet.
"Used to?" the actor jokes, then gets serious. "No, he's right, I did. I hated it. You know, at first you feel like shit, you're hurting. When things start getting a little easier, when you start lifting weight you never lifted before, when you start bench-pressing 225 pounds 10 times and it ain't nothing, and then you start giving hugs to girls and they're, like, feeling you up a little and you think, 'What's this?'—then it's, 'This is all right.' So I learned to love it when I started seeing results."
Intense Workouts of the Stars >>>
And those results are pretty incredible—24 pounds of pure muscle added over the past year. "He had to look better than Rocky's Apollo Creed, who was ripped," says Calliet, whom Jordan chose after a series of dud trainer pairings and now credits with his transformation. "Everybody's trainer has their own little key, but none of those keys worked for me until I met this guy," he explains. The two started working together in Baton Rouge, LA, where Fantastic Four was filmed. "We just clicked and got along. Just like a barber, who knows you and knows how you like your hair cut. You guys have a rapport." They hit it off so hard that Jordan asked Calliet to move to L.A. to keep training him for Creed, which turned into a full-time job. Before shooting began, it was "all day, every day for four or five months, sunup to sundown," Jordan says. "He had the key to my apartment and would be, like, 'Hey, Mike. Get up, it's time to do it.' " Now it's down to three hours, split between lifting and cardio. "Now he's family," says Jordan.
But let's be real: How many actual family members could survive that kind of quality time?
Michael B. Jordan Admits He's "Hooked" on Boxing in Tonight Show Appearance >>>
Jordan says Calliet succeeded with him by always keeping his training just bearable enough. For example, a lot of trainers don't believe in cheat days, but Calliet knew that Jordan, an avid cook and foodie, needed something to live for. So from sundown Saturday to sundown Sunday, it was "anything goes." "My cheat days were incredible," says Jordan, his voice full of pleasure as he recalls those meals. "French toast in the morning, Philly cheesesteaks in the afternoon…pizza. I did cheat days right!"
Luckily, though he'd never lifted before—not like this anyway—Jordan had the raw materials. He'd always been an athlete—"supercompetitive," he calls it. And that's on full display when, between exercises, he and Calliet throw on boxing gloves and pads and work through combinations. Fast, then slow, then fast again until Jordan's hands are a blur. He's got the speed. It's easy to see how he was a solid enough high school basketball player to get a few college looks. There was even a brief moment when he thought maybe things would break that way. "Like, maybe I could make a push and go Division I. But then reality set in, and I wasn't over six feet. And this acting thing was starting to take off."
#IFightFor: Michael B. Jordan Directs and Stars in New Creed Spot >>>
"This acting thing," as he puts it with characteristic understatement, started as a lark. He was 11 years old, tagging along with his mom to her doctor's office. The receptionist noticed young MBJ's good looks and told his mother he should get a modeling agent. This was back in Newark, NJ, where Jordan grew up. (He was born in Orange County, CA, but the family soon moved east.) "You know, Newark isn't, like, a dream to grow up in," says Jordan, which explains why his mom, a guidance counselor, and his dad, who worked in airline cargo, were always looking for ways to keep him and his younger brother and older sister busy. "It was benign, just something to do," he says. "I was still playing basketball and baseball—everything else I wanted to do as a kid. Modeling was a chance to get out of school early and go into the city."
Game Changers 2015: Michael B. Jordan >>>
Download the digital edition of Men's Fitness featuring Michael B. Jordan at MENSFITNESS.com/GetTheIssue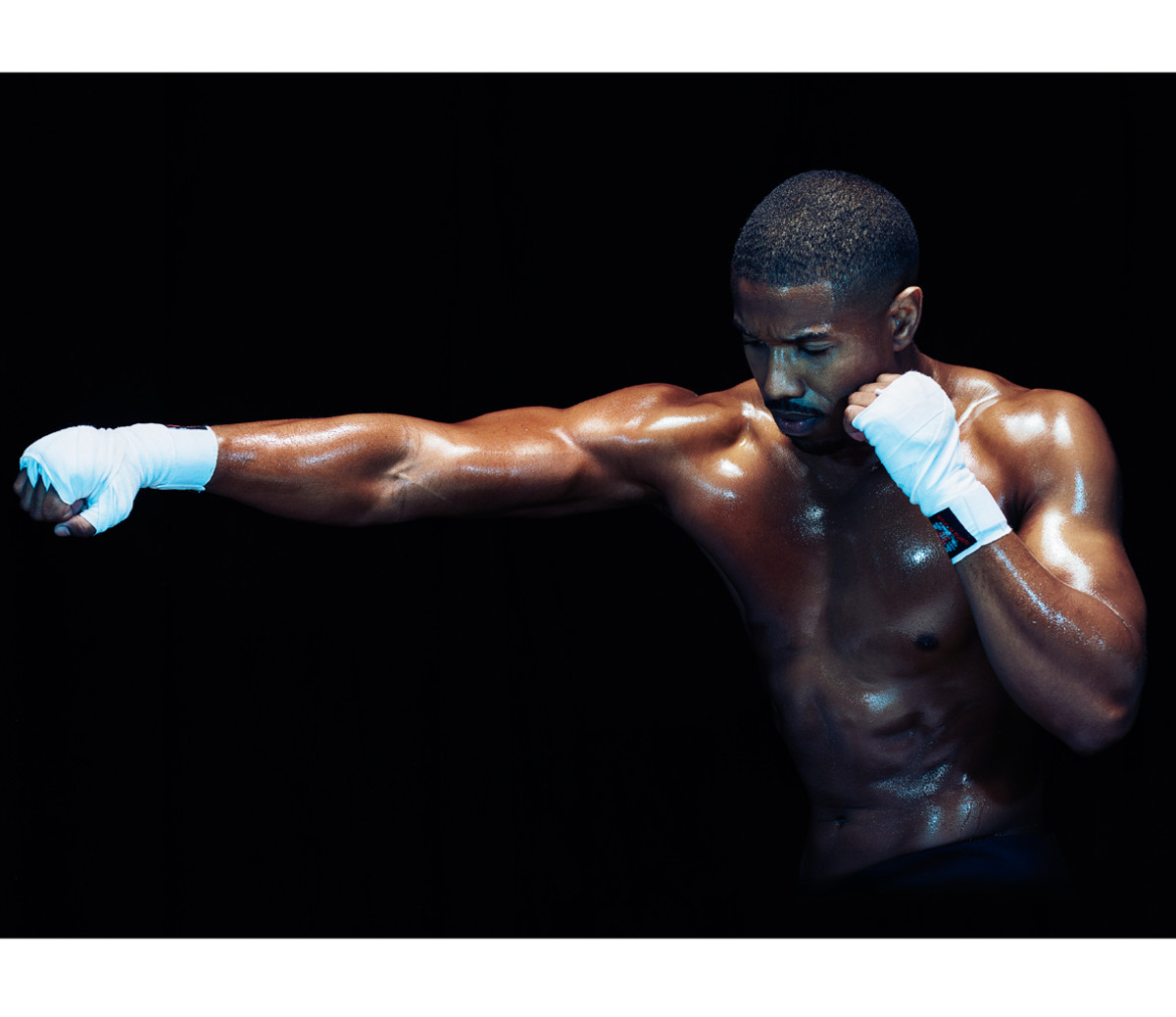 He booked print work, which led to TV commercials and indie movies and, eventually, the role of a sensitive corner hustler named Wallace in the first season of HBO's The Wire. Though that would change his life, at the time the young Jordan had no sense of its huge cultural impact—no idea that the line "Where the fuck is Wallace?" would become canonical, a sort of "I know it was you, Fredo!" for a new kind of post-Godfather gangster saga.
"Looking back at it, it's easy to try and connect the dots, like, 'Man, this kid made great choices,'" he says of his roles in The Wire and Friday Night Lights, two shows often bandied about as the greatest of all time. "But beyond a certain point, I can't take credit for that. It was just one of those things where that was the audition I went in for and booked—the right mix of circumstance and timing. Up until Fruitvale, the choice thing wasn't in my hands."
Michael B. Jordan Is in Fighting Shape in This Creed Trailer >>>
That doesn't mean he wasn't devastated when Wallace was offed at the end of Season 1. "I thought life was over, I was crying hysterically," Jordan says. "I was the youngest one on the set. Everyone was like a big brother or uncle to me."
It makes sense that working on The Wire, with its high-caliber actors, writers, and directors, would be formative for Jordan. But there's another gig he also credits for shaping his intense work ethic: Surprisingly, it's the soap opera he worked on for three-plus years, All My Children. "Honestly, soaps are great training," he says. "You're doing 90-plus pages a day. It was my acting class, where I built my foundation for showing up and being professional."
As much as anything, it's still that unwavering discipline that's enabled Jordan's success, professionally and, over the past year, physically. Dedication simply isn't "optional" when you've got a year to morph from a normal guy into a heavyweight boxer. And not just any boxer, but the son of the man who was badass enough to take down Rocky Balboa. "The moment we knew we'd succeeded with the transformation," says Calliet, "was when Sly Stallone came in and checked him out and was like, 'Wow.'"
How to Get Shredded Like Michael B. Jordan in Creed >>>
Jordan's character in Creed, Adonis Johnson, was born after his father, Apollo, had already died, "so he grew up in the shadow of one of the greatest fighters who ever lived, but didn't know him," says the actor. "So he's constantly being compared with this guy he didn't know. He's trying to figure out who he is. He's got some daddy issues and a lot of trust issues, but he's a hard worker and feels like he's got what it takes."
If that sounds a lot like the dude playing him, it could be because the role was actually written with Jordan in mind. In fact, Creed writer-director Ryan Coogler began sketching out the character right after the duo wrapped their first collaboration, Fruitvale Station, the true story of Oscar Grant (played by Jordan), a 22-year-old father shot in the back by Bay Area Rapid Transit police on New Year's Day 2009. Today the film, which recounts the final hours leading up to Grant's senseless murder, is as relevant as it was when it was released two years ago—if not more so.
"You keep hoping for a different ending," says Jordan, whose humanization of Grant, showing the way he had to jump in and out of the different worlds he inhabited, gave the film much of its power. "It's the African-American experience," he says. "You've got to wear different masks. When you're in the hood, if you stand out you get picked on for being weak. Sometimes you have to hide your intelligence. In front of your boys, you might put on a bit of bravado, be a little bit tougher. When you're in front of your mom, you might put on the good boy, the son. Around your girl, you're putting on another front."
Michael B. Jordan is Damn Cool in This New Call of Duty Trailer >>>
Download the digital edition of Men's Fitness featuring Michael B. Jordan at MENSFITNESS.com/GetTheIssue
(ABOVE: Jordan in HBO's The Wire (top), in 2002, and in this summer's Fantastic Four.)
Not only was Fruitvale a critical and commercial success, it proved Jordan could carry a movie. "Doing ensembles and shows is one thing," he says, "but being able to front a feature is totally different. You can be a great actor, and supertalented, but there's something about carrying a feature that's unique. There were a lot of questions I wanted to answer with that project."
Fruitvale also turned out to be a crash course in dealing with the media. It was criticized by some outlets for making Grant overly sympathetic and for fictionalizing some gaps in his final hours. Jordan vigorously defended the film and its subject, but, he says, he came to learn that sometimes it's better to let the project speak for itself—"hiding the medicine in the food," is how he puts it—rather than trying to confront every critic head-on.
Gonna Fly Now: All the Exercises From Every Rocky Training Montage, Ever >>>
"I'm always going to be me, never fake," he says. "But in certain situations, on certain topics, I realize I can't speak as freely as I want. There's a time and place for everything. You have to learn not to react emotionally, because how much good are you really doing? What are you really changing? I learned there's a smarter way to channel your emotions, energy, and celebrity, that there'll be some media outlets and journalists who say things just to get a reaction, and to not give them that power."
There's that discipline again, of not just putting in the work on set or in the gym but knowing when to hold back. It's a quality that sets Jordan apart from a lot of young Hollywood, including his friend and Fantastic Four co-star Miles Teller, who got more attention than he bargained for recently when he compared his penis to a highball glass in an interview. "Man, hats off to my buddy Miles," Jordan says. "I've had situations where people take what I've said out of context, where I say something as a joke and somehow it winds up in print as not a joke. You realize you can't always say the first thing that comes into your head."
Read the Men's Fitness Profile of Miles Teller >>>
That caution kicks in as we ask Jordan about the mess that was Fantastic Four. Not that he tries to dodge the question or pretend the film was anything other than what it was—a critical and box office flop—but he won't go so far as to lay blame or trash-talk (unlike the movie's unhinged director, Josh Trank, who went on Twitter and blamed the studio). Jordan addresses it so carefully he sounds like a studio president: "I think everyone wanted to make a great movie. Sometimes you just miss your mark. There's a lot of things that go into making a big, huge film like that."
The 10 Greatest Movie Training Montages Ever >>>
It's at moments like this, when Jordan's unwavering self-discipline makes him seem so mature, collected, and controlled, that you wonder: "Dude, are you having fun? Are you enjoying the ride?" So I ask him. "I'm having a blast, man," he assures me—which is, of course, the playbook answer. But then, because no one's really posed the question before, he stops and considers it, drops his guard, and opens up.
"Look, it's hard to see the forest when you're in the trees," he admits. "Everything is moving and happening so fast. Day by day I see my privacy going away. I'm constantly thinking about what's next. It's hard to really enjoy it. My family is enjoying it."
Still, doesn't he ever want to just go nuts? To be the lead story on TMZ, if only on a slow-news weekend? "I always told myself I'd sacrifice all of my 20s—every day—to my career," he says. "Once I turn 30, I'll start to live a little bit more. I can honestly say I'm not living to my full ability right now. Do I sacrifice a lot? Yeah. Do I stay in the house probably more than I would if I were a lot more comfortable financially and had my family set up? Yep. I'd probably go out a lot more. But right now, what do I gotta go out for?" Because even when he's not acting, he tells me, he's working on new ideas.
"If I'm not working," he says, taking a big gulp of water. "I feel like I should be."
Download the digital edition of Men's Fitness featuring Michael B. Jordan at MENSFITNESS.com/GetTheIssue
For access to exclusive gear videos, celebrity interviews, and more, subscribe on YouTube!