Michael B. Jordan doesn't know how to take a day off. The actor had already made international headlines for the incredible physique he displayed in the trailer for Creed, and before the movie even came out, he had already signed on to play Black Panther villain Erik "Killmonger." The goal? Get even bigger.
"I just had to dedicate everything I had to getting in shape and becoming Killmonger," said Jordan during a press event. "I was doing weapon training, gun training, and a lot of mixed martial arts." Growing up as a reader of the comics, he felt a special duty to do justice by Black Panther's arch nemesis.
In order to achieve the right physicality for the character, Jordan brought out his own secret weapon: long-time trainer Corey Calliet. Since meeting several years ago on a film set in Atlanta, the two have become legitimate training partners, doing regular sessions in Jordan's well-equipped home gym in Los Angeles.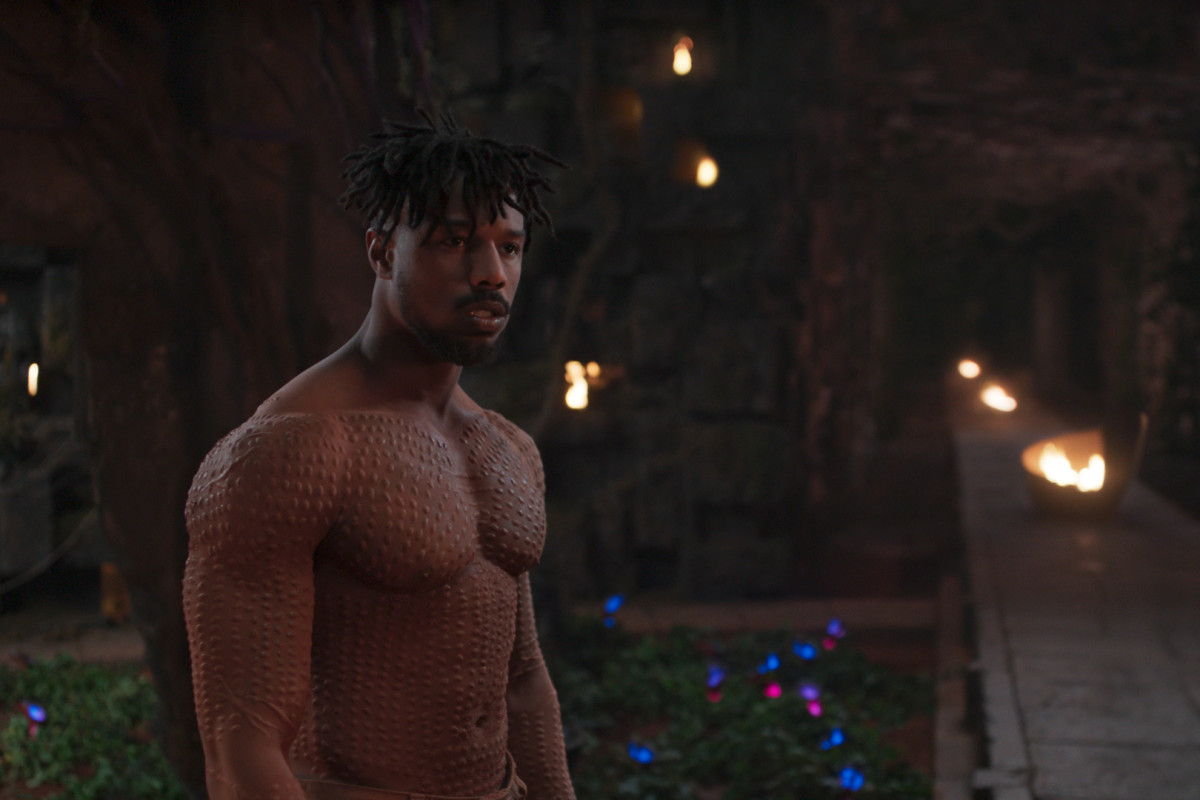 Even though Jordan was already fit, playing a Marvel villain meant taking their game to the next level. "I looked at the comics and I thought, if anyone can do this, it is Michael," says Calliet. They took the foundation they had built for Creed and added a more intense weight regime. "[The director] Ryan Coogler wanted him to be muscular and massive, so I treated it like I was training a bodybuilding Marine." 
Calliet used his own bodybuilding history to create a program that would help fill out Jordan's chest and shoulders. "I liked complex fundamental movements, like dumbbell bench presses that would help with separation," he says. Once they had the process down, it was just about dialing up the weight. "He hit the point where he was pushing 110-pound dumbbells up in the air."
The results are seen on the big screen; one of the early scenes shows Killmonger overpowering Chadwick Boseman's Avenger, and Jordan's huge frame helps the scene work flawlessly. "I put on about 15 to 20 more pounds of muscle," Jordan said in a press conference.
Even though Black Panther is just hitting theaters, Creed 2 starts filming in Philadelphia in just a few months. "Michael looks even better than he did as Adonis in the first movie, and we still have two months left to push it," Calliet says. "You just wait. You haven't seen anything yet."
A Day in the Black Panther Workout
Block 1
Machine Chest Press: 3 sets, 20 reps
Flat Flys: 4 sets, 15 reps
Incline Dumbbell Press: 3 sets, 20 reps
Push-Ups: 10 descending sets starting with 10 reps
Block 2
Front/Lateral Dumbbell Raises: 4 sets, 12 reps each side
Dumbbell Overhead Raises: 4 sets, 12 reps
Squats: 10 descending sets starting with 10 reps
Leg Lunges: 2 sets, 1 rep, hold for 30 seconds
Bonus: HIIT Session
Complete 5 rounds of this circuit; 30 seconds on and 30 seconds off:
Push-Ups
Barbell Curls
Leg Raises
Jump Squats
Nutrition
In addition to keeping the diet clean, putting on more mass meant that Jordan had to add more carbs to his meals. Calliet had him eating about five meals a day (and, at times, six).
Sample Meal 1
6-8 ounces chicken
1 cup Jasmine rice
1/2 teaspoon olive oil
Sample Meal 2
6-8 ounces lean ground chicken
1/2 avocado
2 cups spinach
Black Panther hits theaters February 16, 2018.
For access to exclusive gear videos, celebrity interviews, and more, subscribe on YouTube!