Sure, as a country, the U.S. has some pockets of health death traps—county highways with more burger and donut joints than rest stops and towns with more Popeyes, Arby's, and White Castle joints than there are gyms.
But surely there are health-conscious states who have overhauled their efforts to be healthier, fitter, and less, well, rotund, right? …Right?
Not quite, according to new data from the Centers for Disease Control and Prevention. Obesity across the U.S. in 2015 is prevalent. Here are some fast facts:
– No state has an adult obesity rate lower than 20 percent.
– On the lower end of the spectrum, six states (California, Colorado, Hawaii, Massachusetts, Montana, and Utah) and the District of Columbia, have an obesity rating that hovers between 20 and 24 percent.
– Nineteen states and Puerto Rico have an obesity prevalence between 25 and 29 percent.
– Obesity prevalence in 21 states and Guam was 30 to 34 percent.
– Four states (Alabama, Louisiana, Mississippi, and West Virginia) had an obesity prevalence of 35 percent or greater.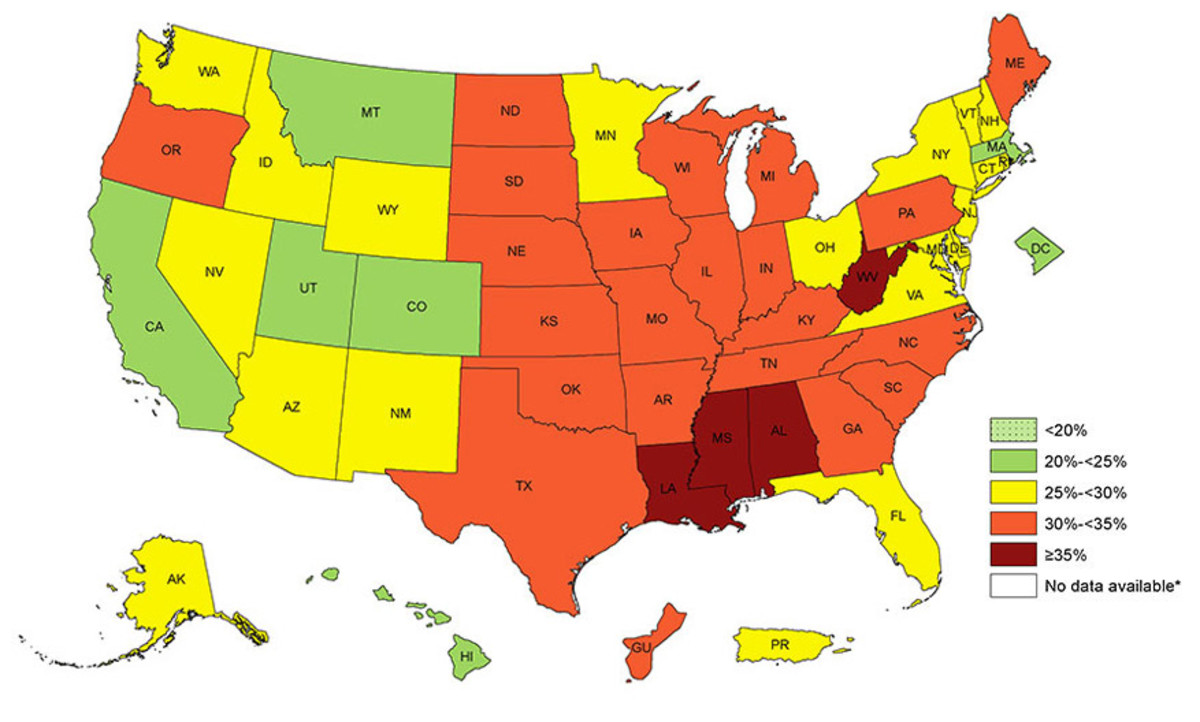 *Source: Behavioral Risk Factor Surveillance System
The south had the highest prevalence of obesity (31.2 percent), followed by the midwest (30.7 percent), then the northeast (26.4 percent), and the west (25.2 percent). 
Not to state the obvious, but now is the time for a change. If you're struggling to lose weight, check out all our training, diet, and nutrition tips.
How to Get Lean: 25 Ways to Lose Fat Faster >>> 
For access to exclusive gear videos, celebrity interviews, and more, subscribe on YouTube!