With two Super Bowl rings to his name, Eli Manning knows a thing or two about success on the football field.
Editor's Note: This article was written in 2015. Update: Eli Manning has retired from the NFL after 16 seasons with the Giants, the team announced in January 2020. "For 16 seasons, Eli Manning defined what it is to be a New York Giant both on and off the field," said John Mara, the Giants' president and chief executive officer in a released statement. "Eli is our only two-time Super Bowl MVP and one of the very best players in our franchise's history. He represented our franchise as a consummate professional with dignity and accountability. It meant something to Eli to be the Giants quarterback, and it meant even more to us. We are beyond grateful for his contributions to our organization and look forward to celebrating his induction into the Giants Ring of Honor in the near future."
But after he and the New York Giants missed out on the playoffs for the third straight year, Manning also knows he needs to prepare for his twelfth season in the NFL as if it were his first. That preparation comes down to some simple but vital tasks: staying fit and eating right.
"I think a lot of [staying in shape] is the weight training, making sure your legs are strong. I do a lot squats and kettlebell stuff," Manning said "For a quarterback, [I do] a lot of band work for the arm, rotator cuff and shoulder."
Though Manning is a marathon man by football standards—he holds the league's active streak for most consecutive games played—he's had to shoulder the load for an underachieving rushing attack. The Giants ranked near the bottom of the NFL in rushing yards over the last two seasons.
For now, Manning has been able to work with teammates such as Odell Beckham Jr. and Victor Cruz at Duke University, as well as in mini camp. But for the next six weeks, per the NFL collective bargaining agreement, he cannot have contact with his teammates or coaches in a team facility. That means focusing on his training by himself—without the benefit of coaches or teammates to keep him on track.
"A lot of it is continuing to get your strength back but also the conditioning," says Manning. "I do my own version of power cleans and get some explosive lifts in there as well."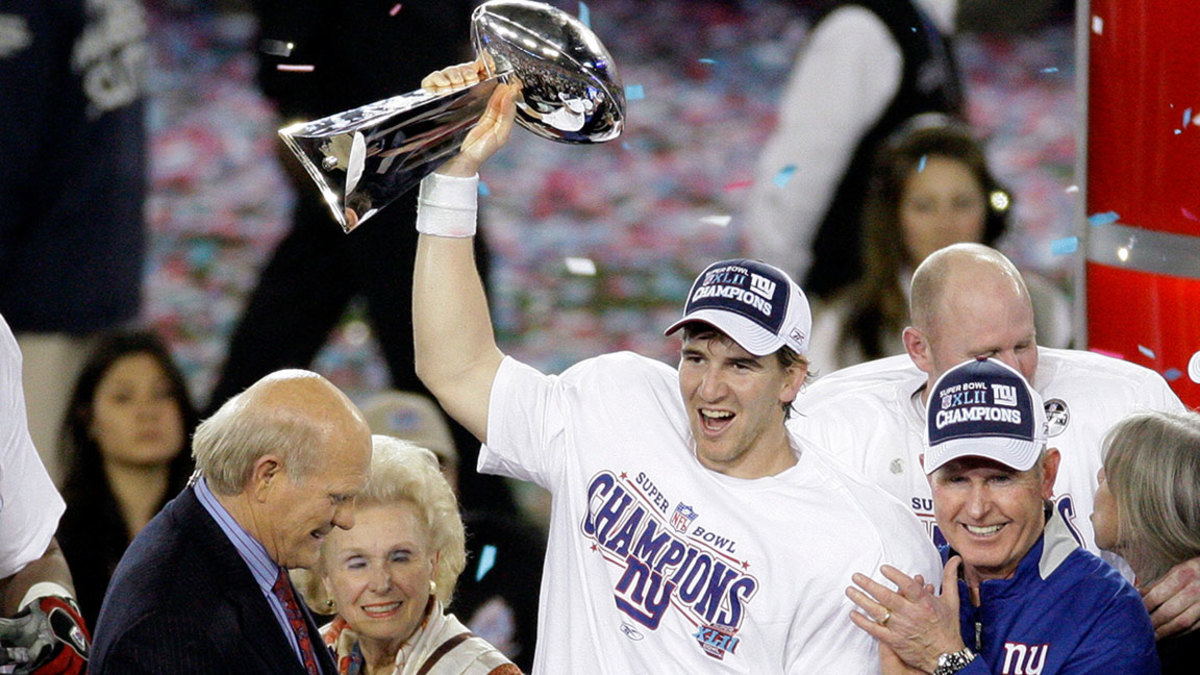 He continues focuses on the basics, especially after a back injury landed him on the Giants' injury report for the first time in three seasons.
"I still do the bench press and [my] back," he says. "A lot of core exercises."
But prepping for gridiron glory isn't just squats and deadlifts. Manning also focuses on fueling in his body the right way, so he can make his strength gains last well into the playoffs.
"My problem is I'll lose weight," Manning says. "I'm actually in the process, a lot of times, of trying to gain weight, but the right type of weight. Not just eating bad things, but dropping body fat and gaining weight, which is sometimes a hard process."
What keeps him going is his family. But between regular-season travel and offseason training, Manning might only see his family a handful of times in a given season. Manning and his wife Abby welcomed their third daughter to the world this year. Eli's brother Peyton and father Archie, who have prolific NFL careers of their own, make sure to stay in touch throughout season; the elder Manning attends at least a couple games a year.
Of course, family comes with chores of its own. With a new baby girl at home, Eli's had to handle a steady dose of dirty diapers along with a steady dose of blitzes.
Which is worse? "I guess it kind of depends on the type of blitz and what type of diaper you're dealing with," Manning says with a laugh. "They're going to happen. You'll have some good ones and bad ones."
For access to exclusive gear videos, celebrity interviews, and more, subscribe on YouTube!