It's late afternoon, and I'm at a Topgolf driving range watching Nick Jonas smash golf balls by the bucket. We're outside Portland, OR, where tonight he'll be playing before a sold-out crowd at the giant Moda Center alongside pop megastar Demi Lovato.
But for now, gripping his driver in his hands, he's all about golf and nothing else. Each time he tees up a ball, he squares up to it with steady, McIlroy-esque cool, then…ping! 250 yards. Seconds later: Ping! Another 250 yards. As time wears on, the titanium-to-Titleist collisions get louder, harder, pingier, but Jonas' focus doesn't waver.
Which is all the more impressive when you notice the people crowding near him—mostly young females who have just discovered who that guy is, over there!, wielding the sizable drive, and who are being held back by his security detail.
Of course, none of this is remotely surprising, given that Jonas, the 24-year-old actor, singer, and global celebrity phenomenon, makes noise pretty much everywhere he goes—and usually with far less effort. These days, when he's not splashed across tabloids obsessively chronicling his dating life (no, he's not seeing anyone), his abs (more on those later), and the meaning of his slightly mystifying new single, "Bacon" (it's more or less an ode to the single life), Jonas is celebrating his thriving acting career.
He wowed indie festivalgoers earlier this year with his brooding performance as a conflicted college student in the film Goat, a horrifying indictment of frat hazing. He's also great as a tortured, gay brawler on Kingdom, a binge-worthy series about a family of MMA fighters.
To top it off, he's currently in sweltering Hawaii filming some decidedly more lighthearted fare: Jumanji, alongside Dwayne Johnson and Kevin Hart, otherwise known as the biggest movie stars on earth.
Meanwhile, Jonas the pop star is keeping plenty busy. In 2014 his eponymous solo album drew comparisons with another blue-eyed falsetto, Justin Timberlake, and his single "Jealous" leaped to No. 1 on the Billboard dance chart. This year his new release, Last Year Was Complicated, won him critical raves. And he can even pack arenas: When I meet him, he's currently in the middle of a 42-date North American arena tour with his good friend Lovato.
To top it all off, when he isn't impressing critics, he's hobnobbing with all manner of royalty—music and otherwise—as when he was invited to President Obama's birthday bash at the White House last August and got to pal around with Stevie Wonder and Paul McCartney. When the night was over, he humble-bragged to his 10.9 million Twitter followers: "Tonight was a night I will never forget. #BarackObama #happybirthday."
OK, we know what you're thinking: Nick Jonas? What the hell?
After all, we're talking about a member of the Jonas Brothers, the mid-to late-aughts boy band that got their big break on the Disney Channel and eventually rode their fame to more than 20 million albums in sales. At the end of their ride, however, the group—consisting of Kevin, the business-minded eldest; Joe, the one best known for dating Taylor Swift; and Nick, the shy and broody youngest—ultimately gained as much fame for their abstinence awareness (see: ordained-minister dad) as they did for their music. South Park had a field day with them, devoting an entire episode to skewering their "purity rings."
Frankly, no one would blame you for figuring that a guy like this would be sharing the bill at Chili's Summer Concert Series with Hanson and 98 Degrees, doing occasional stunt-casting walk-ons on sitcoms, and signing autographs for $25 apiece at has-been teen-idol music conventions.
But that's not how Nick Jonas wanted it to go down.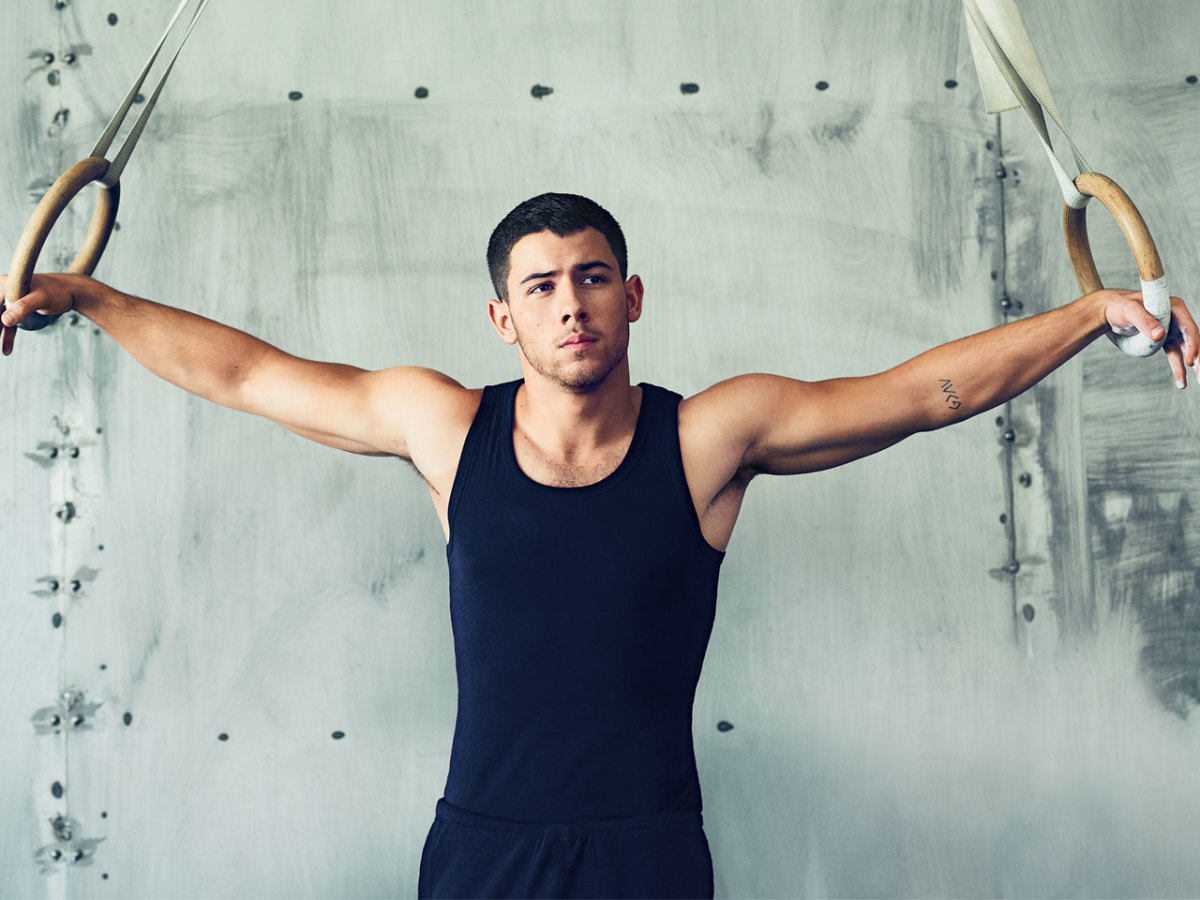 NICK JONAS WAS RAISED IN AN AFFLUENT SUBURB OF NEW JERSEY,
where his father was an ordained minister who encouraged all his boys to pick up an instrument. At age 7, Nick was discovered at a local barbershop, and soon he was performing on Broadway in Les Miserables. After he recorded a Christian pop album, featuring his brothers on background vocals, in 2004—a project that fizzled— the head of Columbia Records recast the mop-topped clan as a trio. In 2007, after a series of appearances on the Disney Channel, everything changed. Suddenly the Jonas Brothers were making a cameo on Hannah Montana, performing at awards shows, and launching sold-out world tours in which they hired decoy SUVs to evade paparazzi.
But like all things white-hot, the Jonas phenomenon was bound to cool, and the band called it quits in 2013. It was a rough period for Nick, but he retains a healthy sense of humor about it. He even references one particular scene—"one of my favorite [cracks on us]," he calls it—in the HBO comedy series Eastbound & Down, featuring Danny McBride as washed-up major leaguer Kenny Powers. In one episode a sports agent comes to recruit Powers, but he wants to see the guy's credentials. The agent responds by holding up his American Express Black Card, to which Powers responds, "What's that? Is Black better than Gold?"
"And the agent's like, 'Yeah. Gold might get you Jonas Brothers tickets. But Black? You'll have all three of them sucking your dick,'" Jonas says, laughing so hard he can barely get out the words.
Later, when we sit for an iced coffee at a cordoned-off table, I ask Jonas to reflect more deeply on that period.
"I wouldn't call it rock bottom, but there was some version of, 'Am I going to be washed up at 21?' I was living in delusion a little bit, too. Having a great amount of success at an early age—and then having a couple of years where things didn't go quite right— you get to the point where you can either say, 'It's everyone else's fault. They don't get it,' or you can go, 'I need to make an adjustment. I need to evolve.' Because it really is evolve or die. If you don't continue to push yourself, it's not going to work."
In early 2014, Jonas was busy working on a new album when he read the script for AT&T Audience Network's MMA drama Kingdom—and immediately wanted in. The only problem: No one involved would let him audition. Not the network, not the creator, not even the show's central star, Frank Grillo (Captain America: The Winter Soldier, Warrior), who shares an agent with Jonas.
Grillo, who plays a retired MMA fighter who runs a gym where his two sons train, told his rep flat-out: No way, no Jonas. "I said, 'I have a lot at stake here. Forget it,'" Grillo told talk-show host Jimmy Kimmel.
But Jonas wouldn't take no for an answer, and his agent begged the producers to let Jonas in the room for an audition. Eventually, he persuaded the producers to hire him.
The challenge then: getting himself into fighting shape before shooting began.
Jonas' security guard introduced him to Gregg Miele, the owner of a private gym in Los Angeles who has trained football players like Reggie Bush and actors like Matthew McConaughey. Miele looked at the calendar, saw that Jonas had three months till filming was set to begin, and got to work. Miele's goals for Jonas: reduce body fat, increase lean muscle mass, build power without compromising flexibility, and increase cardiovascular endurance.
Simply put, Jonas needed to be "viciously strong, viciously powerful, and shredded," Miele says.
There was one major obstacle, however: At age 13, despite being active and healthy, Jonas was diagnosed with type-1 (juvenile) diabetes. Though the disease plagued him at the start of his career—"I had wild mood swings," he recalls—he eventually learned how to manage it. He wears a Dexcom Continuous Glucose Monitor, which constantly checks his blood sugar, and is hyper-vigilant about his diet. "When I'm on the road," he says, "I always make healthy choices. I don't have a meal plan delivered to me, but I know what not to eat. I'm always cautious about the food I put in my body."
Hardcore strength training, however, can be risky for some type-1 diabetics, because it makes the body more sensitive to insulin and more susceptible to dramatic drops in blood glucose. "So we always keep glucose in the gym," Miele says. "We're always prepared for that. And as for diet, we got his blood work done and put him on a specific blood-type diet to make sure he wasn't eating any inflammatory foods that would hinder his goals or set us back."
Jonas trained harder than he ever had, and he relished the experience. He especially enjoyed the anonymity of a private gym, where, he says, he could be competitive with the only person who mattered: himself.
"It's important to stay in your lane," Jonas says of his Kingdom routine. "One philosophy Gregg teaches that I really appreciate is that everybody's got a different approach to fitness. No one way is wrong. Being competitive is good, but it can also leave you sore and struggling to recover. Your body feeds off that recovery time, so don't push yourself so hard just to do better than the guy next to you in the gym."
His workouts consisted of mostly heavy lifting, and as they got closer to filming, he started doing two-a-days, five times a week. He also upped his diet from 3,000 to 4,200 calories a day.
"I put on about 20 pounds of muscle in a month and a half," he says. "It was wild. But it was also hard to sleep. I was carrying more weight than I was used to, so I was sleeping very hard."
As the shoot date grew closer, Kingdom's official fight coordinator, retired MMA star Joe "Daddy" Stevenson, put the cast through a two-week boot camp: kickboxing, Muay Thai, grappling, jiu-jitsu. The guys lost six or seven pounds of water a day, says Stevenson, who remembers being impressed with Jonas: "The first time I met Nick, he showed me he could do a standing back-flip kick."
It's been a year and a half since then. I ask Jonas if he's been in a real fight using any of his new moves.
"I got close once," he says.
Last winter, he was with his brother Joe near their ski-in, ski-out home in central California's Mammoth Lakes. "Basically, we were all merging into one line with different lift passes, and one guy was like, 'You can wait right there, buddy, we're going ahead of you,'" Jonas says. Joe was pissed—he never fights, but you can't push him. He was like, 'No, we're already here,' and the guy said, 'Why don't you shut the fuck up?' It escalated so quickly—I was thinking, 'This isn't even my fight, and now I gotta go in.' "
Luckily they diffused the situation, and Nick now laughs at the prospect of coming to blows on a ski slope. "It would've taken a long time to get out of our gear to fight."
When Kingdom premiered in late 2014, the critics were impressed, with the Los Angeles Times calling Jonas "very good" and IndieWire comparing the show with another testosterone-laden soap opera, the megahit Friday Night Lights.
And just like FNL, Kingdom is a show in which tough men are allowed to cry. Jonas plays Nate Kulina, a gay man who inches out of the closet into a world that isn't always accepting; his performance is impressive, especially in the Season 2 finale, where in one scene he sits with his brother in the hospital and reveals the truth about his sexuality. Even the show's emotionally tough MMA fighters were impressed with his performance.
Well, most of them, anyway.
"You got two sides on Nick," Stevenson says. Basically, there are fighters who like him, "and then you've got the haters. Frankly, they're just mad that their girlfriends like him."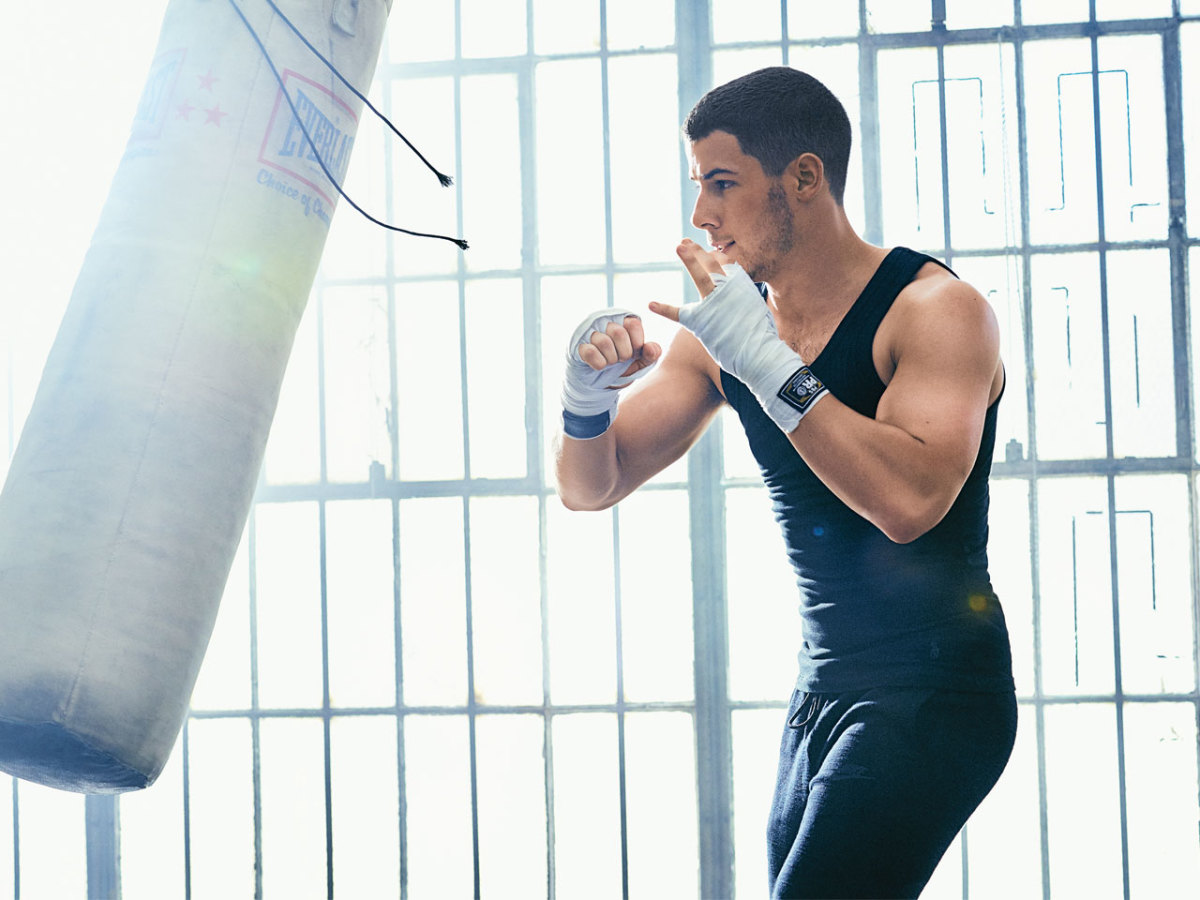 WE FINISH OUR DRINKS AT THE RANGE, AND JONAS GETS
ready to head to the arena in Portland for a sound check. But before he goes, there's something he needs to take care of: a bachelorette party a few tables over, on the other side of a security rope, that's been staring at him the whole time we've been talking. I study his face, and his smile reveals everything: He's genuinely enjoying it. And why not? Here's a guy who stared down obscurity and fought his way back to a very successful, very hard-earned second career. Why not revel in it?
Taking the bachelorettes as a cue, I have to ask him: Will he be settling down anytime soon?
"Well," he says, "I think love and romance happen for some people, and it's an amazing thing. But right now I'm really serious about my work. I've got too much on the agenda to really think about losing myself to love."
This could be partly influenced by his current road-trip partner Demi Lovato, who's not just a longtime friend but also, apparently, one hell of a wingman. Recently she told Billboard magazine, "When Nick was in a relationship, I was like, 'Get out of that. You could fuck anybody you want right now. So have fun and do that.'"
"Yeah, basically, that's Demi," he says, laughing. "She's a good friend." He pauses for a moment, then adds, "But I'm enjoying meeting and getting to know people. It's nice."
And suddenly he's smiling at the girls, before disappearing out the door.
Pick up the new December 2016 issue of Men's Fitness starring NICK JONAS—on newsstands Monday, November 21, and available for download here on Saturday, November 19.
For access to exclusive gear videos, celebrity interviews, and more, subscribe on YouTube!