Health & Fitness
World's Fastest Track Gets New Partnership: Nike Track & Field Center at The Armory
There's been a changing of the guard. The Armory just announced a partnership with Nike, espousing a new name: Nike Track & Field Center at The Armory. If you're unfamiliar, this cavernous, 60,000-square-foot arena in Washington Heights is billed as one of the world's fastest indoor tracks.
The Armory has hosted innumerable track and field meets and competitions, serving as home turf for inner city kids, an electric space for suburban high schoolers to bus in for invitationals, and a global stage for elite athletes to chase Olympic dreams. Today, roughly 150,000 athletes compete at The Armory each year, coming for historic events such as the Millrose Games and National Track & Field Hall of Fame. But The Armory we know today has seen many iterations since its construction in 1909.
An Institution, Then and Now
Like all armories, it was erected to house militia and military equipment. Then, in 1914, Jeeps and howitzers were sashayed out to make way for athletics events, which had a glorious stint—albeit with a merciless, trodden-down wooden track—before The Armory took a brief hiatus from sport once more in the 70s and 80s. This time, it served as a homeless shelter. It finally got the renaissance it deserved in 1991 when Dr. Norbert Sander, who previously competed at The Armory, turned to the city to restore it as a venue for track and field.
While the undercurrent of grit remains, the threat of splinters from trip-ups and relay collisions was eliminated with the introduction of a Mondo Super X 200-meter banked track on the third floor of the building. A deal was also struck with New Balance. This is the first time in a decade that a new brand is stepping in.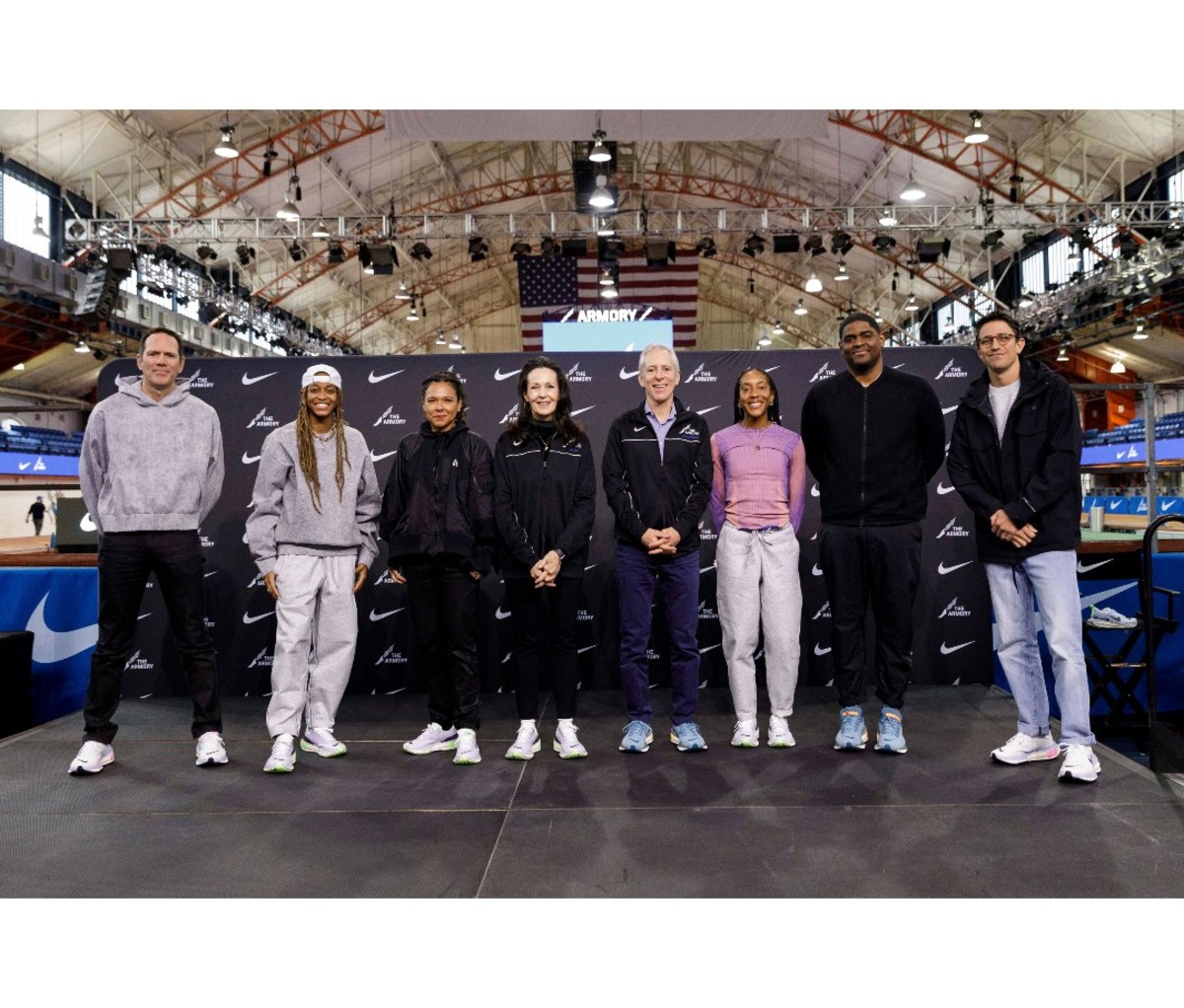 A New Era for a Running Mecca
Co-presidents of The Armory Foundation, Jonathan Schindel and Rita Finkel, made the announcement with a panel discussion comprising Nike execs, coaches, and elite athletes the likes of sprinter English Gardner and long-distance runner Marielle Hall.
Nike and The Armory's synergies make for a strong partnership rooted in expanding the running ecosystem. That starts with kids.
Hall, a 2016 Olympian in the 10,000m and four-time World Championship qualifier, recalled many days spent training and racing at The Armory in her youth, doing homework in the bleachers.
The Armory doesn't breed greatness in the way coaches and running programs do—an amalgamation of talent, consistent work, and guidance—but rather it serves as a powder keg. It elicits moments of greatness through a unique buildup of pressure.
It's a stage that demands gutsy take-offs and chase-downs. Global Nike trainer Joe Holder referenced a quote on one of the many plaques adorning The Armory's stairwells about the essence of sport—self versus self, heart versus brain.
The Armory teaches kids how to persevere and to survive those same battles off the track in real life. "Coaches are the connective tissue of it all," Holder says. They believe in you maybe even before you do, and it's institutions like The Armory that become life-long reminders. Track careers might be ephemeral, but the lessons learned therein are eternal.
Track careers might be ephemeral, but the lessons learned therein are eternal.
Access and Opportunity: The Cornerstones of Equity
"Keeping kids physically, mentally, culturally, socially, and intellectually fit during their school years, and beyond, is paramount," says Schindel. "The best way to achieve this is to develop healthy, well-rounded children who are prepared for success in and out of the classroom, instill in them a love and passion for movement, and then provide them with fun opportunities to develop this passion."
Currently, The Armory offers no-cost CityTrack, Little Feet, and Tiny Feet after-school exercise programming for elementary and middle school kids (Great Minds is a program that teaches fifth graders who participate in Little Feet how to build and code robots). There's also Armory College Prep Middle School and Armory College Prep, an after-school summer initiative for high school students, which places 100 percent of those enrolled into four-year schools.
This partnership will help underscore The Armory and Nike's ongoing commitment to uniting local and global communities and servicing underserved demographics—bringing sport to BIPOC communities and girls, in particular—all through the unifying power of movement.
Interested in getting involved? The Armory has opportunities to become a coach for CityTrack & Little Feet; you can seek volunteer opportunities at local NYC running events through New York Road Runners and Girls on the Run; and, of course, inquire in your own community about ways to make an impact.
For access to exclusive gear videos, celebrity interviews, and more, subscribe on YouTube!