All pandas must die.
Well, at least the pandas artfully created atop the foamy, overpriced caffeinated drinks served at the Soho House in West Hollywood. It's late morning in the garden at the members-only club, where the blooming olive trees, glass walls, and retracted roof are basically flaunting why the rest of the country hates Los Angeles in winter. Off in the distance, the Hollywood Hills are glowing as if John Huston personally lit them from above. And Nikolaj Coster-Waldau, the 44-year-old star of Game of Thrones—and its closest thing to a classic leading man—looks at the latte placed in front of him, admires the cinnamon craftsmanship for a few seconds, few seconds, then spoon-stabs the hell out of it.
"Up until this moment in my life I don't think I felt this special," he says, eyeing the top layer of his drink and then stirring the remnants of the panda into foam. His tone is equal parts serious, sarcastic, and how-the-fuck-did-I-get-here amazed. He looks around. "This really is how the other half lives." 
We hate to break it to him, but after years playing Game of Thrones' incestuous, king-slaying, scheming, sword-fighting Jaime Lannister, Coster-Waldau is pretty much the personification of the other half. Fans flock to conventions to catch a glimpse of him, and hairstyle blogs even track the state of his locks. But all the A-list attention seems to chafe the native Dane like too-tight armor.
"What I have now is about the show and not about me," he says, one of the many times during our chat that he echoes the same humble—if a bit delusional—sentiment. "I've been working in this business for 20 years, and I'm very grateful for what I have, but it's going to end sooner or later. Should I fall into a depression because I'm not going to have that kind of attention someday? I can't allow that because it's just stupid."
It's safe to say that Hollywood isn't ditching Coster-Waldau anytime soon. Game of Thrones began airing its fifth season on HBO in mid-April, and if the fantasy's creator, George R.R. Martin, ever finishes the books, there are at least two more seasons left to tell. Coster-Waldau has been well trained in revealing nothing about anything, which is why he'll say only the irritatingly cryptic: "Jaime has been living his life with all these secrets, and he can't do that anymore. He has to show his colors in a way and accept responsibility for what he has done."
To the few of you out there unfamiliar with the world of dragons, iron thrones, and White Walkers—Game of Thrones is HBO's most popular show of all time—here's a superbrief, spoiler-free primer: Coster-Waldau's Jaime is the first son in the House Lannister, one of the warring factions in a Middle Earth–ian land called Westeros. The family is fuck-you-money wealthy, duplicitous, and pathologically insular. They're so close, in fact, Jaime's been banging his twin sister, the ruthless and conniving Cersei (Lena Headey), for long enough to parent children, among them the young King Joffrey, who will surely go down in pop culture history as one of the more odious characters ever conceived. We'll stop there, but know that Season 5 begins with their family's long-held position in danger. And we can surmise that there will be some kind of resolution, for better or for worse, between the Lannister siblings in the new episodes. "It's such a messed-up relationship," Coster-Waldau says, laughing. "Cersei's been this addictive thing and all that he's been thinking about. She's a tricky one."
Coster-Waldau, Headey, and the entire show came under fire last year for a specific scene in which, depending on your interpretation, Jaime either raped Cersei in front of their dead son's corpse or they had consensual sex in front of their dead son's corpse. "Lena and I were caught off-guard in a weird way [by the reaction]," he says. "We knew it was a difficult scene, and clearly we should have been clearer. We thought we were having sex. But once someone [online] shouts, 'Fire!' everyone goes, 'There's a fire! There's a fire!' and you forget it's just smoke."
After hearing how angry many fans were, Coster-Waldau allowed himself to read online comments about himself and the show. "I remember one person called it rape, and the next person said it wasn't, and then the first person said, 'Then you're pro- rapist.' And then I stopped reading."
The only other time Coster-Waldau was on the receiving end of viewer criticism was when he first got cast. In the books, Jaime Lannister is tall and handsome, with a smile that "cuts like a knife" and a small button nose. Three out of four isn't so bad, right? "There was a lot of talk about my nose," he says. "It's broken and ugly, and the fans thought it was just too ugly, which I thought was funny. But it's disfigured because I got into a fight when I was young with a kid named Lars Peter—and also because I fell a lot as a kid." Then he jokes: "But mostly Lars, that bastard."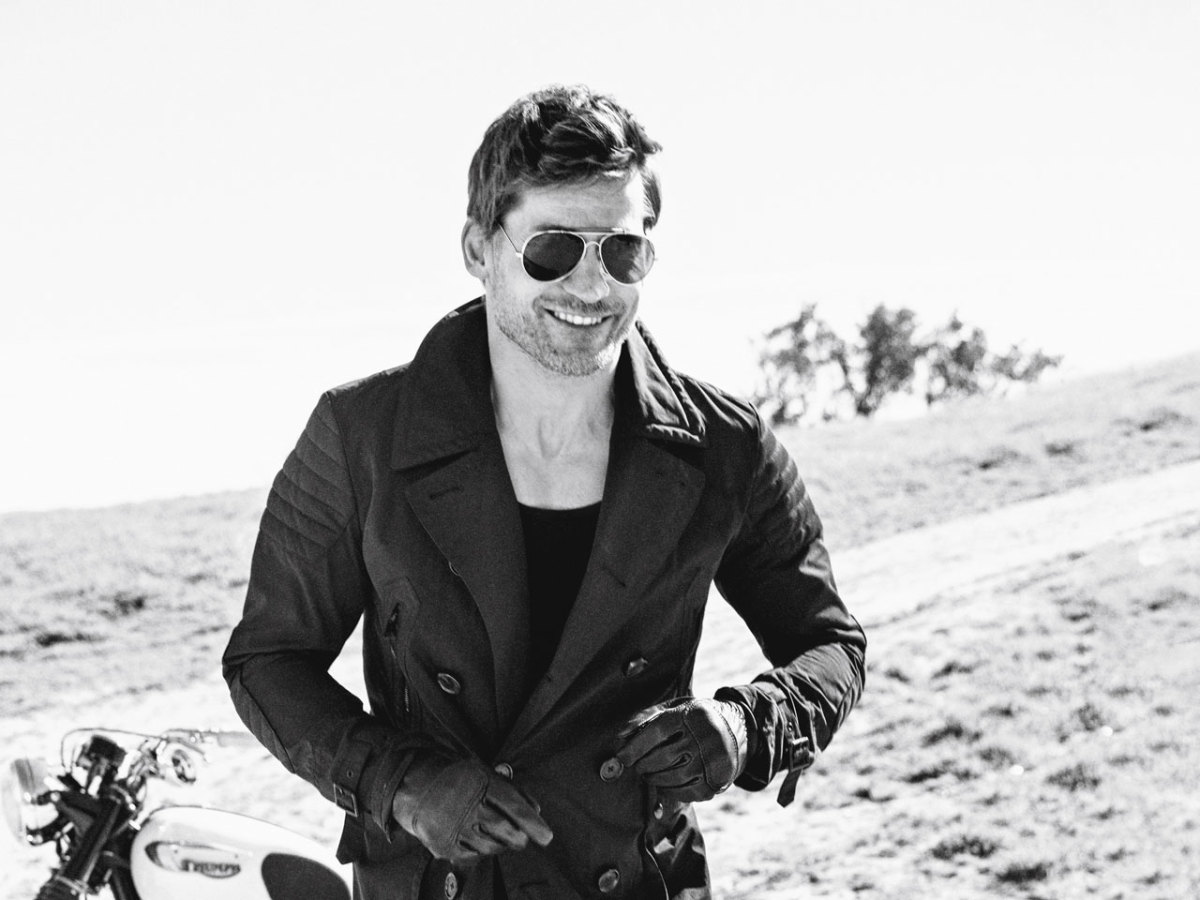 In that moment, Coster-Waldau appears to slip effortlessly into Jaime by flashing a glimpse of Lannister ruthlessness. But just as quickly as he says it, he's back to smiling and nursing his latte, politely awaiting the next question.
The youngest of three kids, Coster-Waldau grew up in Tybjerg, a small village in Denmark's countryside, where he spent his days playing soccer and volleyball, and shooting guns. His parents split up when he was young, and his mother worked long hours to support the family. Coster-Waldau was left home alone a lot, often watching whatever American TV was avail- able in Denmark. Which is to say, not much. He watched every episode of Soap and Hill Street Blues and caught whichever Western was showing on Sunday afternoons. But when he was 14, he saw Sergio Leone's 1984 classic Once Upon a Time in America and finally recognized himself on film—as a young Jewish boy in the ghetto who becomes a gangster.
"To this day, if I had to pick one movie character I identify with the most, it's Noodles. I remember thinking how strange it was that I, a Danish boy in the countryside, could identify with a Jewish boy at the turn of the century," he says. But it made enough of an impact that he scrapped plans to become a jour- nalist or a lawyer and decided he wanted to act.
Coster-Waldau's first break came when he was just 23 years old with Nightwatch, a creepy-as-hell Danish thriller about a night watchman at a medical institute. It was an instant hit in Denmark and gave Coster-Waldau his first "big" paycheck (around $10,000, which he used to pay tuition to drama school) and his first taste of fame. "I learned that I don't want to think about the fact that people recognize me, so I avoid going to certain places," he says. "There have been a couple of weird things happen, but I refuse to change my life."
Nightwatch got enough acclaim that Scandinavia and Hollywood didn't seem so far apart anymore, and Coster-Waldau quickly landed roles, some memorable (Fox's short-lived TV series New Amsterdam) and some not (remember him playing tennis with Paul Bettany in 2004's Wimbledon?). He learned some important lessons along the way, including that Harvey Weinstein and Quentin Tarantino don't necessarily pay back the favor when you do a movie they have the rights to, such as the comic adaptation of Modesty Blaise. "Was it good? No. But it was a job," he says. "My agent told me, 'You do this for them, and they'll owe you. Trust me, you'll get something big from Miramax.' I didn't get something else from Miramax." He also learned not to always take an agent's advice. "One agent said to me, 'Maybe you should lose one of your surnames. Maybe just Coster or Waldau.' I could have been Nick Coster. And I said no, and that was the end of that."
Neither his name nor being so closely associated with a single character has pigeonholed Coster-Waldau. In the past few years, he's been everything from a cheating cad in a rom-com (The Other Woman) to a grim, postapocalyptic soldier (Oblivion). Those films also exposed Coster-Waldau to the other side of fame. Watching the paparazzi hound co-stars like Cameron Diaz and Tom Cruise put his career goals in perspective. "The paparazzi drove Cameron crazy in New York. And when I worked on Oblivion, Tom Cruise was splitting up with his wife [Katie Holmes], and there was so much intensity everywhere. You go, 'Really? He's just an actor,' " he recalls. "But it's their world. I can't imagine living like that, but I'm sure they can't imagine living like I do in my world."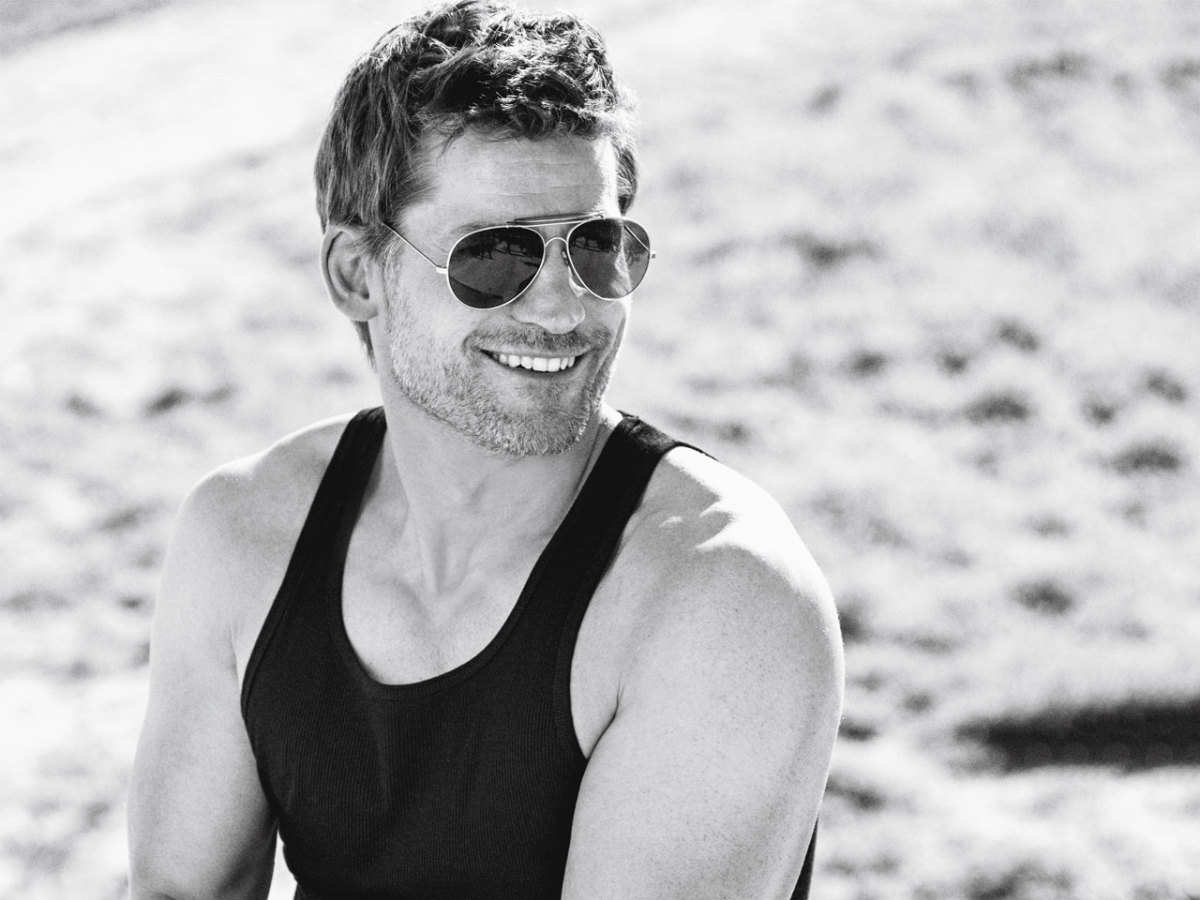 That world is in Copenhagen, where Coster-Waldau lives with his wife, actress/singer/former Miss Greenland Nukâka, and their two tween daughters. When he's not on location, the family might go on a hike in a nearby forest and grab some of Denmark's famous pancakes. He takes his girls to school and writes scripts with a friend in his spare time.
He stays in sword-fighting shape by playing soccer, riding a mountain bike around town, and hitting the gym with buddies. "I'm very social. I have a great friend who's a trainer, and we work out together," he says. "The motivation is easier when you have someone with you. When you're on your own, you come up with so many reasons why it's OK to stop." Unless he's forced to diet for a project, he's a foodie with a standing annual dinner date with Thrones producers David Benioff and Dan Weiss at Noma, Copenhagen's legendary restaurant that's been twice named the top restaurant in the world, where he's fully embraced the newest form of sustainable protein: insects. His favorite dish contains black ants sprinkled on top. "It looked disgusting, but it tasted so good," he says. For the past two years, he's picked up the tab, having lost bets that Game of Thrones would win the Emmy award for best drama.
It's rare to hear Coster-Waldau talk about living large. In fact, he meticulously points out how unextravagantly he lives. When talking about biking, he qualifies that it's a cheap bike. When mentioning his car, he points out it's a 2007 Škoda. ("I take good pride in my crap car.") His first order of business once he had enough money (he now makes a reported $300,000 an episode on Game of Thrones) was paying off his mortgage. His biggest splurge of late has been immersing himself in architecture books and designing his guest- house, which he describes as "this little cheap thing." When talking about the absurdity of how much money his colleagues have, he recalls one day on the set of The Other Woman when his co-star Don Johnson walked over to him and gave him advice: "Don't buy planes. Don't buy boats." He laughs and says, "I just think it's so funny that I would ever be in a position to do that."
Funny, but true. Next year, he'll star next to Gerard Butler in Gods of Egypt, an epic in which he'll play Horus, a sky god. For that role, he spent six months last year turning his body into something more otherworldly than a mere Lannister. "I was consuming tons of boneless chicken and protein shakes and vegetables, and that's about it," he says. He spent every other day doing 45 minutes of HIIT, with plenty of burpees and pullups, all done to exhaustion. "What's tough is, once you build up the muscle, for it to make any sense you have to get rid of the fat, and that's the nightmare," he says. "It's ridiculous and not fun. To go down to less than 7% body fat is not healthy, but that's the image people want."
Coster-Waldau is currently bulking up for Shot Caller, a film about a guy with a clean record who ends up fighting gangs in jail. "We're focusing on deadlifts and bench presses and squats. And instead of burpees, I do Navy SEAL burpees, which are really horrible," he says. (For the uninitiated, those involve bringing each knee to a shoulder between pushups.) Alas, at 44, it's not always easy to snap back between sessions. "I can't do what I used to be able to do," he admits. "I do feel like I'm getting older." To combat that, he's been studying mobility expert and CrossFit trainer Kelly Starrett's book Becoming a Supple Leopard, about loosening the body and stretching to achieve strength.
Coster-Waldau says he doesn't enjoy showing off his body, but he's had to plenty of times in Westeros. "Being butt naked is horrible because, well, you're butt naked," he says. "As a guy you have to wear things to cover your privates, and you feel like such an idiot because it looks stupid. And sex scenes when you're completely naked? Oh, my god, it's so uncomfortable. It's just so embarrassing on every level imaginable. I can't ever look at the actress in the eyes again."
Surprisingly, for all the success of Game of Thrones, Coster- Waldau doesn't seem too sad to leave Westeros behind. "It's a job, and I'll go on to something else," he says. "All good things come to an end." He pauses and thinks about the alternative. "I mean, I could travel the world all the time and keep going to conventions and make a lot of money and get my ego stroked on a daily basis. But I would also know that it's just fake, and then I'd start drinking, and I'd be a mess. And then I'd have to have a comeback story, and I'd have to tell it on a talk show."
He looks around and laughs. Yeah, he's got this Hollywood thing down just fine.
For access to exclusive gear videos, celebrity interviews, and more, subscribe on YouTube!