It's a warm fall evening in New York City's West Village, and actor Norman Reedus steps out of a vintage Mercedes convertible and onto a quiet street where an angled sun casts a pale glow across the neighborhood's famous cobblestones.
Though only a handful of pedestrians stroll and mingle about, Reedus hasn't even shut the door behind him when a crush of bodies almost magically appears. Men, women, tourists, residents, college students, and even a few AARP-eligible old-timers all stand frozen, staring at the svelte tough guy in the black leather jacket, that unmistakable jagged hair dangling down to his collar.
"My government professor always talks about The Walking Dead," says a bystander, before an overexcited fan cuts him off.
"Are you…I mean, you're…I'm John. It's my birthday. Can I take a picture with you?" he says. An onlooker from across the street takes a less subtle approach.
"DARRRYL!" he shouts at the top of his lungs.
"All day, every day," says Reedus, turning to me and flashing a smile that appears part genuine gratitude and part WTF? with a whiff of resignation.
The latter is understandable. Just days before, Reedus—the former '90s heartthrob turned B-movie actor who, as crossbow-wielding bad-guy-gone-good Daryl Dixon on AMC's The Walking Dead, would emerge as the most popular character on the most popular show on television—was pulling all-nighters on the show's sweltering Atlanta set. And when he wasn't dispatching zombies this past year, he was working elsewhere: starring opposite Diane Kruger in the drama Sky, saving humanity in the sci-fi thriller Air, and logging a hilarious cameo in the reboot of the comedy National Lampoon's Vacation. He even managed to launch his own motorcycle road-trip show on AMC called Ride with Norman Reedus. "Sometime in between all of this," he tells me later, "I'll take a nap."
But that won't be tonight. Right now, Reedus' vacation has just begun, and before he heads to New Jersey for a zombie convention (where, I learn later, one overzealous fan actually bit him), then to Hawaii to surf with his son, Mingus (with his ex, model Helena Christensen), he wants to relax and let off some steam. And that involves downing as much bread, booze, and red meat as he can.
So once the commotion dies down, we hit a nearby restaurant, where I find out how someone a famous director once called "not good-looking at all" became the buff, crossbow-wielding sex symbol men want to emulate, filmmakers want to hire, and women want to ink all over their bodies.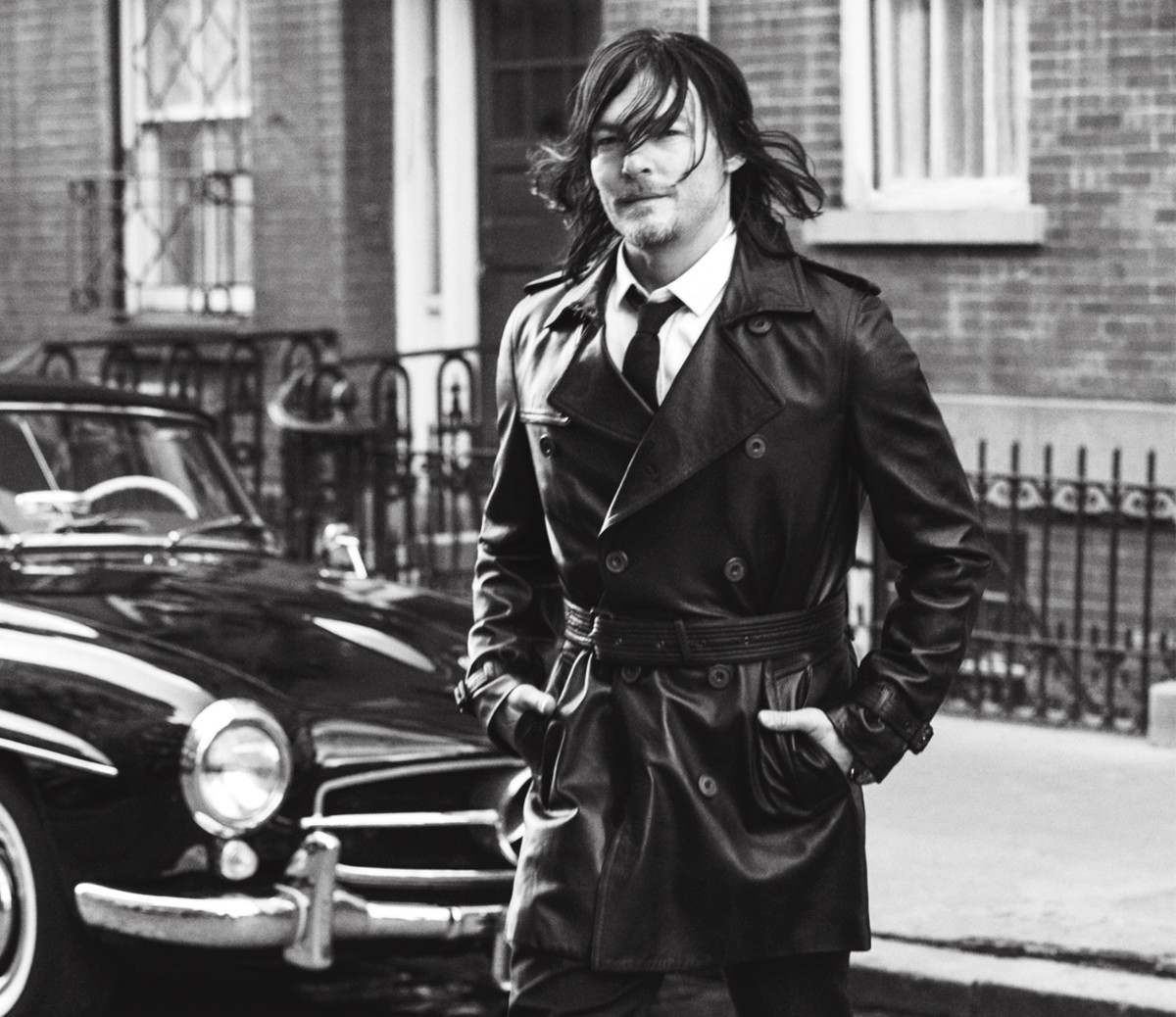 Please give us something good about what's coming up on The Walking Dead.
I can't tell you, but the second half of the season is so hardcore. It's sort of like the first half was the pulling back of an arrow with a bow, and the arrow has gained momentum. The second half is the really emotionally draining release. We've had so many scenes where our crew was crying because they were feeling so emotional and heavy.
After six seasons, are you used to those draining scenes yet?
Some days you wake up and you know what you're about to do at work, and you're like, "Fuck, I don't even want to do this today." So maybe you make your favorite breakfast and you pat yourself on the head because you know you're gearing up to have a fucked-up day. Sometimes I pet my cat a little longer in the morning.
Speaking of, what does Norman Reedus eat for breakfast?
I love huevos rancheros, but my favorite thing is probably eggs Benedict. I tried to make it once, and it was a disaster. The hollandaise sauce? You have to be a scientist to make it. Fuck that shit.
Spoken like Daryl himself! He's clearly the most interesting character on the show, and he wasn't even in the graphic novels that inspired the series. Now plenty of Walking Dead purists probably can't imagine that world without Daryl anymore.
He's such a no-bullshit kind of guy and a great judge of character. He's had a hard life and is becoming a better person before our very eyes. People like that. He's becoming a man he wouldn't have been if all this hadn't gone down. This apocalypse has benefited him. He's finding a sense of self-worth with these people he's fighting to protect.
As an actor, do you worry about your character getting killed off?
I'm not worried at all. If it happens, it happens. If it's the story they're trying to tell, great. Do I want it to happen? Not yet. There are certain things I want to do, certain things I want to see happen. I remember especially during the second season we'd all flip through the scripts and get to the end and go, "Phew!"
But there are certain things my character needs to do to be complete. I've talked to [showrunner] Scott [Gimple], and I have thoughts. I can't tell you, but I've spent a lot of time on the show introducing new characters. It's basically me listening to them so the audience can figure out who that new character is. I end up tossing that ball in an alley-oop so they can slam-dunk it.
For the past two seasons we've focused on certain characters more than others. I get that you have to do that, but I haven't spoken a lot in the past two seasons. I'd really like a season or two or three to get inside his head a little.
Do you have any desire to play a superhero in some giant-budget Marvel movie?
I'm always open to the right project at the right time. I just saw the Marlon Brando documentary, Listen to Me Marlon. It's one of the best things I've ever seen, about the choices he made [including playing Jor-El in the original Superman]. I'd like to pick things that coincidentally fall into a category where my life is at that moment. I did Floating when my dad was dying. And there was a scene in that involving a son and his father, and it felt right. It felt like one of those things you have a hard time talking about. But somehow you're working through it, and it's your job at the same time. The puzzle pieces feel put together.
Do you get offered Daryl-esque characters a lot?
I don't think it would interest me to play a Daryl type in a movie. Why would I do that? I do see a lot of casting stuff that says "a Norman Reedus type." I'm like, "What the hell does that mean? What the fuck are they talking about?"
What do you think they're talking about?
I have no fucking clue. I remember one of my earliest auditions, the casting director goes, "Can you do that a little more good-looking next time?" Here I think I'm killing it. And I'm like, "What do you mean?" And they say, "Like the blond guy on Lost." And I was like, "What the fuck is that?" Then I left the audition, looked up the guy, and knew there was no fucking way I was going to get that job. There's no way I could be that good-looking.
Is there a performance you've seen recently that's blown you away?
I thought Sicario [with Emily Blunt, Josh Brolin, and Benicio Del Toro] was a perfect movie. I'm also blown away by things I'd never do but have so much respect for people who did them. I remember going to a film festival when I first started acting. I was in Six Ways to Sunday there, and it was this cool indie thing. I was at the airport and Brendan Fraser was next to me, and he told me he was there for George of the Jungle. He was so cool that I went to see it later. He got fucking ripped to play George of the Jungle. That's super-admirable to me. Was it a cool guy movie like Six Ways? No. But that level of commitment was supercool. 
Tell us about your own exercise routine.
I have a trainer in New York I use every so often when I'm getting ready to go back on the show. Nothing too specific. I just try to shed any holiday pounds and get my mind right. When I'm down there [in Atlanta], I have a gym in my house, so I try to work out when I can, but sometimes when you work so many hours all you can do is get home and fall on your face. I'm also running through the woods in 103° heat and my crossbow weighs a ton, and I'm always riding bikes and building things, so the pounds melt off. But, you know, it would be silly if Daryl took off his shirt and had a six-pack. Plus, if I saw an actor on our show do that and I were a viewer, I'd think that was pretty vain and pretty sellout. You kind of want Daryl to be more cheetah, less gorilla.
Do you ever hit the weights? What else do you do?
I tried yoga, and I really liked it. I really want to get into transcendental meditation. People keep telling me I'd love it. I know Howard Stern does it. He says he closes his eyes in his closet for a few minutes, and it's like he's slept for three hours. That sounds amazing.
You mentioned Atlanta. It sounds to me like your life down South must be fairly idyllic.
It's pretty awesome out there. It's way, way out in the country and superprivate. It's all organic, the food is locally farmed and grown, so it's just a very healthy way to live. Even on holiday, I eat pretty minimal. I eat a lot of fruit and vegetables. Our catering department is super-high-end; they make us things like lobster for lunch. You kind of shove it in your backpack and take it home for later. I try not to eat a lot of sugar. I'm not really a dessert guy anyway. I've never been a "sit on the couch and shove food in my mouth" kind of guy. I like chocolate, but I could never gorge on it. I'm not like a pregnant woman who craves all of that.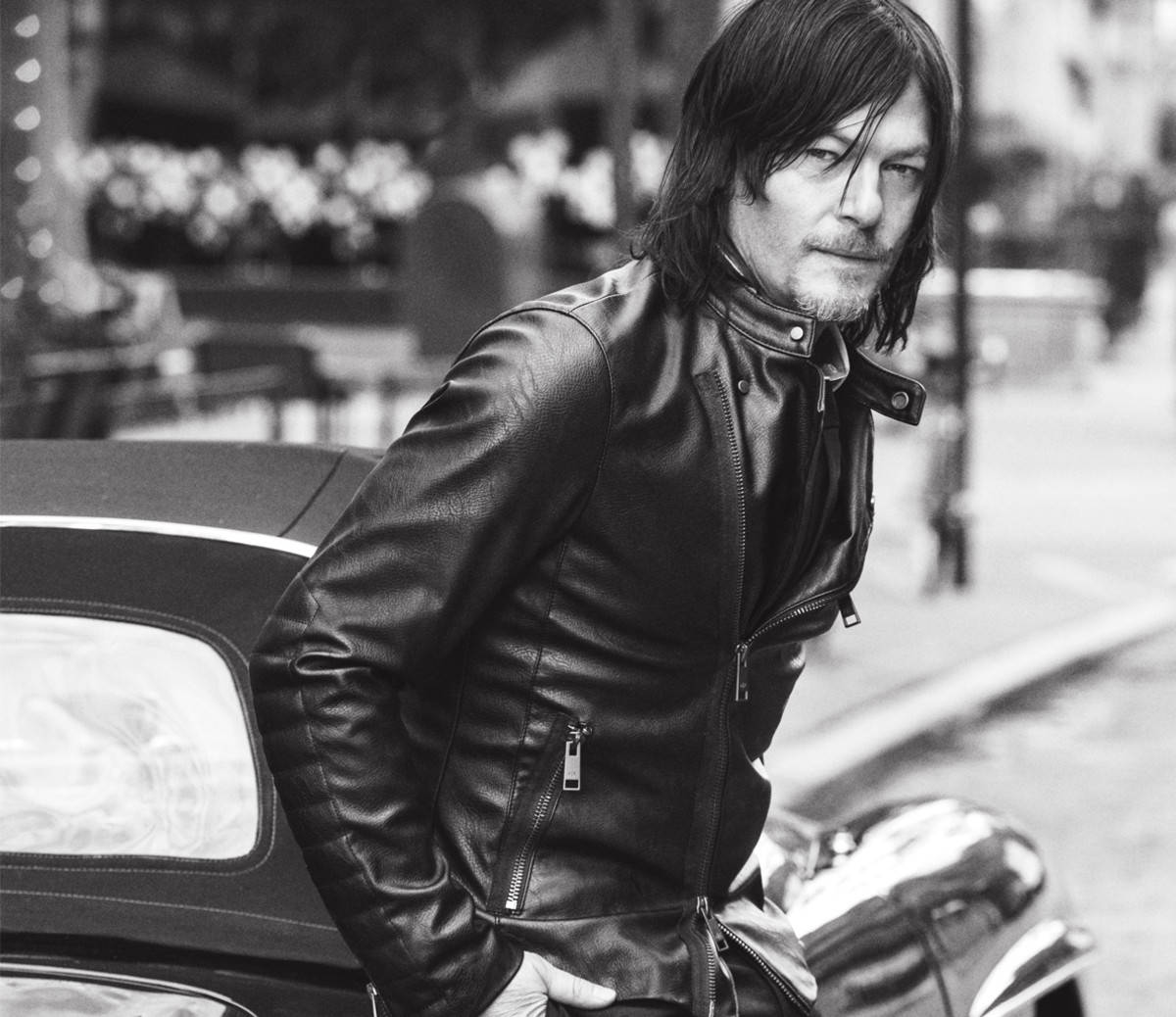 How does it feel being a sex symbol?
I don't know. The first time I ever saw my name in print was for 8MM, and it was a quote from [director] Joel Schumacher that said, "You know, Norman's not good-looking. He's really interesting looking, but he's not good-looking at all." And I was like, "Thanks, jerk." So I'm that guy. I'm not People's sexiest guy. Never, ever going to be that guy. I don't try to be like that, and I don't even want to be like that.
Come on. You can't deny that people view you that way.
I go to these things like Comic-Con, and I'm tattooed on people's arms. I've seen hundreds. Some are of Daryl and some are of me. I don't know what that's all about. I don't think about it too much. It doesn't power my next move. It feels weird even talking about it. It's such a silly thing. I never look in the mirror. Look at my sweater—it's full of holes. I have comfort clothes. I don't shop. Ever. Even at photo shoots, they don't do anything. They just move my hair out of my face.
Your hair is quite a star in its own right.
I'm on a TV show. There aren't a lot of Supercuts in the zombie apocalypse, so my hair is part of the character I'm playing on the show. So when it gets cut, it has to be for a reason. Or for a story line. When my bosses and the writers say, "We're going to cut your hair in this scene," I'll cut it. I can't just show up to work with short hair.
When you have people watching every hair on your head and tattooing you on their limbs, it must present a very specific set of challenges—especially for someone you date, who might draw the ire of your fans. How's that been?
I'm one of those people who, you look at me for 30 minutes and you're nice to me, and I'm like, "Move in!" And then three years later I'm like, "Wait. What are we doing? What's your name again?" I'm an easy dude, but, yes, it's hard. Maybe harder for them than it is for me. I'll end up with somebody who has a social media account, and they get bashed. Girls will just bash them. They're supermean, or they threaten them.
So how do you cope with being a star in Hollywood during the realm of Comic-Con?
Let me show you this. [Reedus takes out his wallet and shows me a picture of a young girl he met through the Make-A-Wish Foundation.] This is a girl I know who's sick who comes to Comic-Cons, and whenever I see her she gets dressed up like a zombie and plays with Silly String. We started this game: Whenever someone comes up to me and starts freaking out, I tell her, "Squirt them!" and she squirts them in the face with Silly String. Now, how do you not get into something like that?
For access to exclusive gear videos, celebrity interviews, and more, subscribe on YouTube!