The day started out for Kyle Pease like a dream. He was floating in an inflatable kayak on the Pacific Ocean waves as the sun started to rise in Kona, Hawaii. Soon would come the tough part—being strapped in a bicycle seat for 112 miles, over eight hours, struggling in the heat radiating from the Big Island lava beds while trying to control the spasms that wracked his 100-pound frame. Then, he'd endure nearly four and a half more hours, in a specially designed wheelchair, fighting against a body that wasn't designed for such long imprisonment. He was here with his brother, Brent, to compete in the 2018 IRONMAN World Championships—one of the most grueling triathlons in the world.
And after 14 hours and 29 minutes, the day of hell ended as it began, like a dream, as he and Brent came upon the sight that made it all worthwhile: thousands of screaming fans, a finish line, and an announcer joyously proclaiming the words that will be forever etched in Kyle's mind: "Kyle Pease—You. Are. An. Ironman!
The brothers' finish at the World Championship Ironman competition in Hawaii in October 2018 was indeed the stuff of dreams for a man with quadriplegia spastic cerebral palsy and a sibling whose athleticism is only matched by his heart and love for his brother.
The Birth of a Dream
The dream began eight years ago, after Brent finished his first Ironman. Kyle, who shared his brother's love of sports growing up, asked Brent if they could compete together. They started out with smaller running races, then marathons and triathlons, until they entered their first Ironman in Wisconsin in 2013. That was followed by another Ironman in Florida in 2015. At the Raleigh half-Ironman this June , they were greeted at the finish line with an announcement: They'd been granted a special ambassador athlete slot for the 40th anniversary of the World Championships, held in Hawaii.
"I immediately broke down [in tears] because of how many times we almost gave up," Brent recalls. "When they told us we got in, it was after five years of waiting. Those five years felt like an eternity."
Kyle agrees: "Getting that news was a dream come true. We'd been talking about it for ages. When we realized it was going to become a reality, it was very sweet."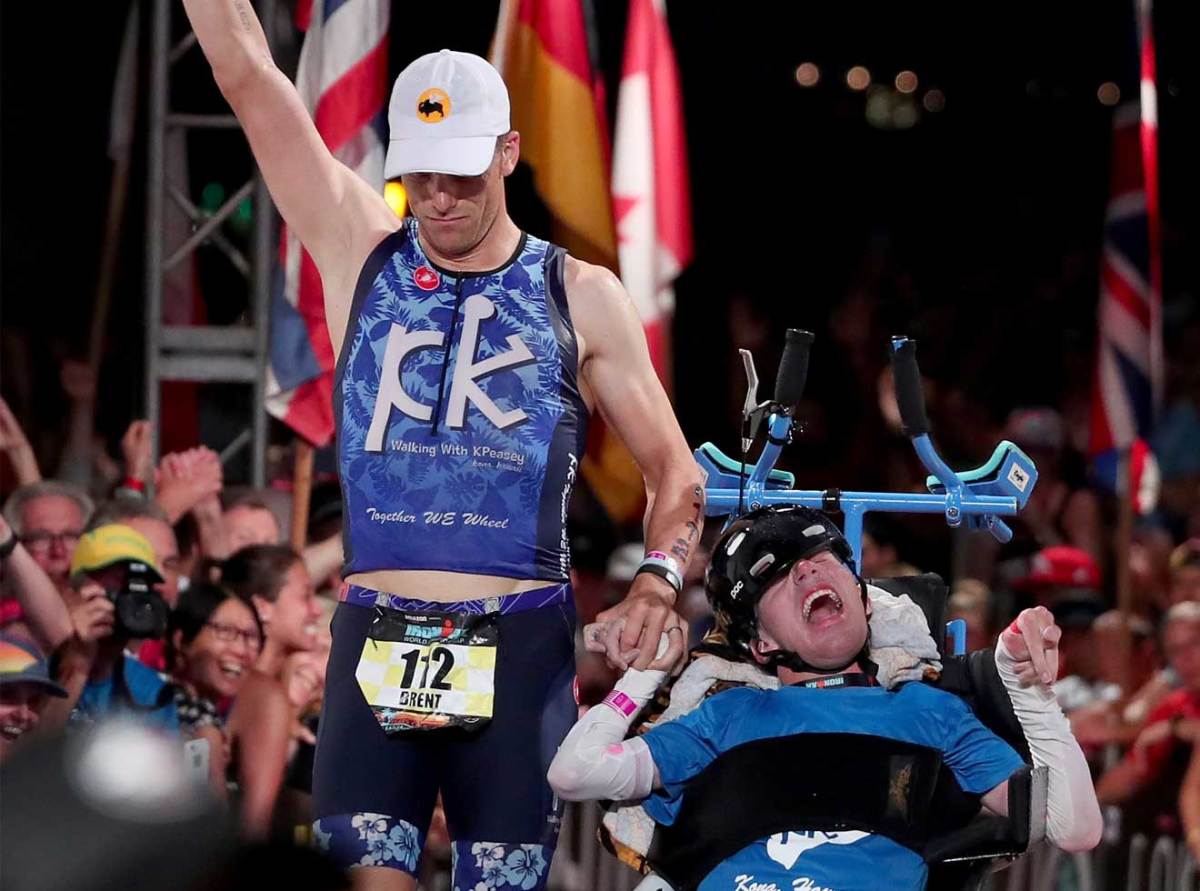 The brothers' celebration of their entry into the Super Bowl of triathlons was brief, however, as they felt the pressure to compete and finish well on the world stage and on the grueling course on the Big Island. They gave up alcohol and sweets. They competed in a preparatory Ironman in the altitude of Boulder, Colorado. And they trained hard—20-30 hours a week for Brent, including 6-10 hours of that time with Kyle, usually on the weekends. They were training and racing not only for themselves, but for the 100 or so other sets of athletes supported by the Kyle Pease Foundation.
"We were not only representing ourselves," Kyle says. "We were representing so many other families that have run with us. They're a part of our lives."
Brent said he felt the pressure of peoples' expectations, but used that to his advantage.
"We felt all their energy driving us to the finish," he says.
That motivation, coupled with hard training, resulted in a 36-minute personal best for a remarkable 14:29 finish, including a 1:07 split for the 2.4-mile swim, 8:22 for the 112-mile bike and 4:45 in the 26.2-mile marathon leg, plus transitions.
A True Team
To the first-time observer, it may seem like Brent is the one doing all the work, pulling, pedaling, and pushing his brother in a labor of love. But, Kyle is an equal team member, both in sharing the exhaustion and in supporting his brother. Because of his spastic quadriplegia cerebral palsy, he has to focus on the core of his body to limit spasms—movements that would make Brent's job much harder.
"Even though I'm not doing the physical activity of the sport, it takes its toll on me, just by being in an uncomfortable position," Kyle says. "I think it takes as much out of me as it does Brent. My role is to be a good jockey, to encourage Brent, to give him motivation."
That motivation is greatly needed, especially on the bike leg. While most athletes fret about shaving ounces off their under-20 pound bike, Brent needs to pedal a 50-pound bike and a 100-pound brother. The total number of calories Brent expended in the bike leg was about 1,550, roughly twice that of other athletes. Still, Brent feels Kyle has the tougher job.
"I think it's harder for Kyle than it is for me," Brent says. "Kyle's body wasn't designed to go through a 140.6-mile race, and the fact he can stay mentally engaged for that is not something a lot of people can do. We've seen others fail at it. I need that energy from him to do double the work. If Kyle just sat there and didn't say a word and waited for his moment of glory at the finish line, it just wouldn't work. I need Kyle. His energy is what carries me through the day. He's the reason I'm out there."
What's Next for the Pease Brothers
What do you do after reaching the pinnacle of triathlon racing? Brent jokes his fear of heights will prevent them from taking on an extreme adventure, like climbing Mt. Everest together, although Kyle said he wouldn't mind. For now, the pair are content to stick with races and definitely plan to do another 140.6-mile race at some point, even if it isn't the World Championships.
"We will certainly do an Ironman again," Brent says. "We just enjoy it too much. We're too determined to sit still."
Kyle's goal is to use the extra attention gained by competing at the World Championships to enhance the efforts of the Kyle Pease Foundation and help with disabled athletes.
"Right now the focus is on the Foundation and growing that, to show others what inclusion is all about. The Ironman was a tipping point for our Foundation," Kyle says.
After waiting five years for the invitation to the World Championships in Hawaii, the brothers would love to come back, although they understand if they don't receive another special invite to the World Championships, as it's generally a qualification-only event, with standards that would be impossible for a duo team like the Pease brothers to meet. Regardless, both brothers appreciate the Ironman's invitation this year.
"We are so grateful for this," Kyle says. "We were just so blessed to be a part of it. If the opportunity presents itself again, we'll be there."
For access to exclusive gear videos, celebrity interviews, and more, subscribe on YouTube!