When the good people at Saturday Night Live announced that Ronda Rousey would be hosting the show for her first time ever on January 23, the reaction was a bit mixed.
Some fans hailed Rousey's selection—by SNL standards, she's a departure from the usual Hollywood actor types. On the other hand, critics (of which Rousey has plenty) lambasted the pick. The shock from her loss to Holly Holm still seemed to reverberate around UFC. Aside from a few leaked photos of her Sports Illustrated bikini shots, her time on the Studio 8H stage will be her re-entry into the public eye.
But the show must go on, and leave it to Ronda Rousey to take down the challenge in front of her with a little bit of muscle and charm.
The promo is fairly straightforward stuff. Paired off with the game Beck Bennett, Rousey deals with jerks who hit on her, shuts up jerks who are weaker than her, and dishes out takedowns to dudes who want to wrestler her. All in a day's work for Rowdy.
Sure, a few of her lines land flat. But if there's one reason for optimism, it's that athletes have a pretty good track record on SNL. The Brothers Manning tossed up some pretty funny sketches in recent years, and Derek Jeter played well to the hometown crowd. Rousey isn't the first female athlete, either: Tennis star Chris Evert hosted in 1989, and figure-skating star Nancy Kerrigan hosted in '94. (Like Rousey, both were dealing with professional setbacks when they hosted.)
Plus, there's this: No less a comedy veteran than Amy Poehler confessed that athletes make the best SNL hosts, since they're accustomed to pressure situations and respond well to the director's coaching.
So far, the Ronda Rousey SNL Takedown Counter stands at 1.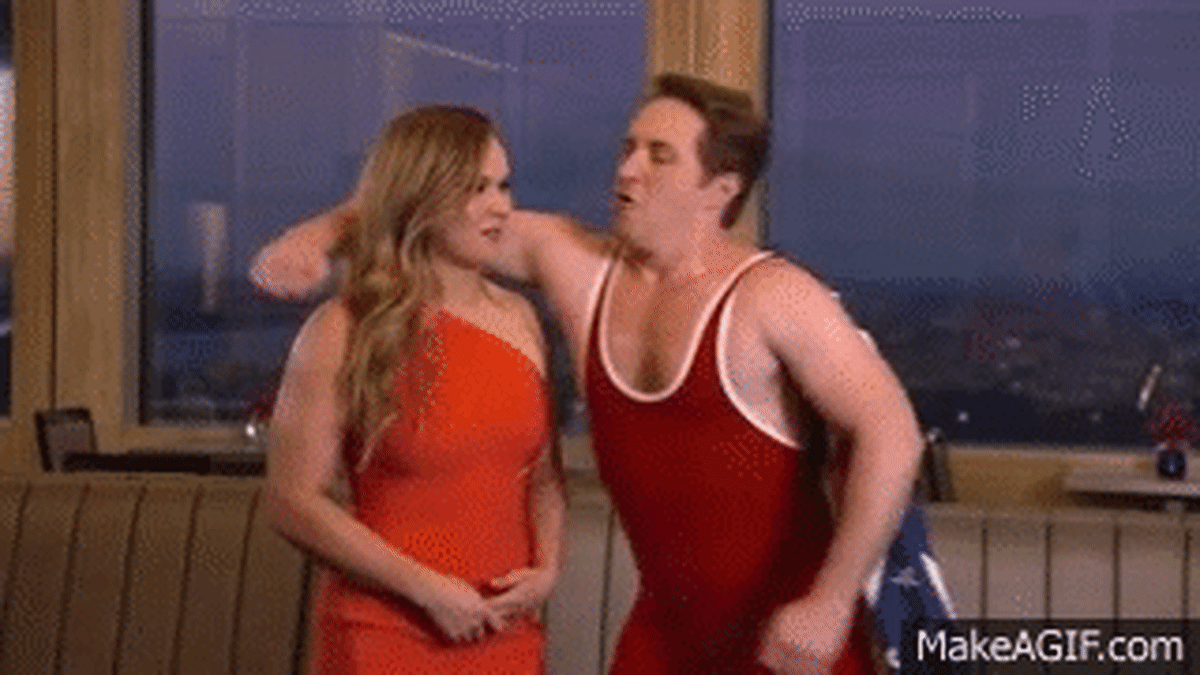 Can't wait 'til Saturday.