Knox Robinson isn't your typical endurance coach. Before he ran workouts he ran bands, managing indie artists and musicians like Theophilus London and BLK JKS (at one point he even edited a hip-hop mag, The Fader). These days he rides herd on a whole different sort of group as co-founder and captain of the Black Roses, a crew of tattooed amateur New York City runners who routinely gather to hammer out intervals (or unsanctioned half-marathons through downtown Manhattan), then go slurp ramen and drink beer.
As a competitor, Robinson is no slouch himself: He competed for Wake Forest University and has a 2:36 marathon personal record. And when he's not out running with the Black Roses (or palling around with his buddy, 2012 Olympic silver medalist Leo Manzano), he dispenses wisdom as a paid coach for the Nike+ NYC Live running initiative.
According to Robinson, whether you're a Boston qualifier or just a dude trying out his first 10K, running is first and foremost a mental sport. Here, his tips for getting your program on track by getting your head in the right place.
So what knowledge do you have that runners actually need?
I believe in running "on feel" and coach around the concept of feel as an organizing principle.
When you're on the starting line of a race—or in the middle of the woods on a trail run—you need to know what your mind and body are doing at any given point without a coach talking in your ear, your best bud pacing you, or your favorite app telling you how to go about it.
I like to think I'm helping runners understand who they are and what they're capable of.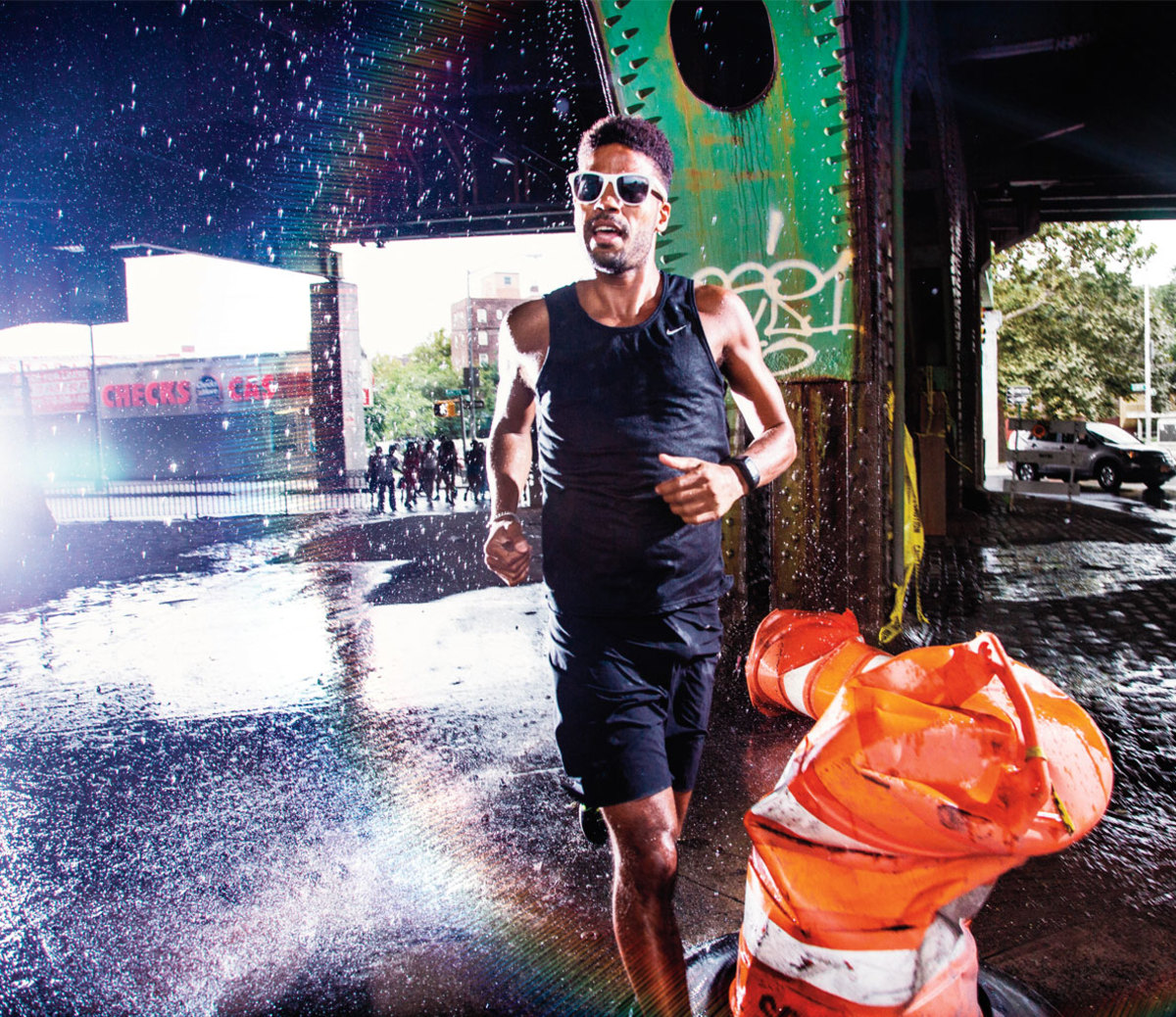 What's the best way to run in a city?
As an urban runner, you want to stay hyperaware of the sights, sounds, and smells around you, and turn up your sixth sense to get a feel for yourself as part of the urban environment. You're a part of the traffic pattern, along with SUVs, taxis, delivery trucks, and bike commuters—so lose the headphones! I also recommend getting in miles when everyone else is just getting coffee. But try heading out at night—even on a Friday or Saturday—for a different kind of runner's high.
Running the city is a chance to explore your 'hood from an entirely new point of view. And running at night is exhilarating.
What's the single most important strength exercise a runner can do?
Core is crucial—it keeps you running stronger, for longer. I like to have my runners do 10 minutes of abs—alternating crunches, Russian twists, pushups—just to get them focusing on that basic triangle.
How exactly am I supposed to run? Where should I put my arms?
The correct way to run is "relaxed." Keep your arms bent at a 90-degree angle, and imagine that your hands are coming through your pockets, right past where you'd be pulling a dollar out, on every stride.
How should runners rethink conventional training?
Think about running in terms of "minutes" versus "miles." It sounds superbasic, but it's a total shift in how you view your training.
After a certain point, a marathon—and running in general—is mostly mental. So just as we invest time in the physical aspect of running, we need to spend time getting the mind used to being "out there"—being connected with the body and what it's doing, but also relaxed and fully engaged in the run itself.
Also, on a physical level it's good to focus on what elites sometimes call "time on feet": the idea that it's the clock, not simply the distance or pace, that informs our running and the impact it has on the body and the mind.
How do you feel about treadmills?
We don't have to hate them. The key to a treadmill is adjusting the grade to 5 to 7 percent, which mimics the resistance of actually running on the street.
Should I go to my local running store and have my form analyzed on a treadmill, or is that a bullshit charade?
No, do it. It's a tool. It's definitely better than buying off the Internet. These days there are lots of options. I'm definitely a proponent of minimal shoes. But the treadmill test is good for discovering what feels good for you.
Do I need to buy a heart-rate monitor?
I don't want to get too hippie-dippy about it, but the whole thing about running is learning more about your body and about yourself as an athlete. So for me, I think a heart-rate monitor is extraneous. Sure it's going to tell you when you're training in a maximal zone, and when your heart rate is low for a recovery day. But the whole point of the running journey—where I think a lot of runners are now—is learning those things anyway, without a monitor.
How important is it to run with a group?
You'll understand your own workout that much better because you did it with others, and be able to trade those experiences both in real time and after the fact. Plus, that camaraderie gets you out of bed in the morning. It gets you to your session after work. And there are people to hang out with after. That kind of bond is really going to bolster your training.
What should I eat the night before a long run or big race?
You don't have to park up in an Italian restaurant the night before a race. You can go to a vegetarian café, for example. Or get a group of friends and find the one Ethiopian restaurant in your town; I know it sounds crazy, but Ethiopian food works great for some of the best runners. The world's top marathoners will tell you there's a superfood boost behind Ethiopian cuisine: The spongy flatbread at every meal, called injera, is made from teff, a high-powered grain rich in protein and iron.
And what's best to have after a run?
You want to make sure you're getting carbs and proteins back into your system immediately to build your body back up, whether that means packing a ham sandwich and taking it to the track or stashing a granola bar in the car so it's right there. My recovery usually involves a cold beer.
Which running trends do you endorse, and which are on the way out?
The focus on nutrition and superfoods is awesome. I'd say the trend of expert nerd runners who are out there doing it all by themselves—you know, "Me Against the World" and The Loneliness of the Long Distance Runner—is over. It's cool to run in groups!
What do you make of the obstacle-course craze?
Honestly, the Color Run, Zombie Run, Tough Mudder, Spartan Races, whatever…if they're "gateway drugs" to other kinds of running, that's awesome.
10 Moves To Upgrade Your Run >>>
8 Amazing Fat-Burning Intervals >>>
5 Easy Metabolism Boosters >>>
For access to exclusive gear videos, celebrity interviews, and more, subscribe on YouTube!