Aspiring opera singers attend Juilliard. Entrepreneurs in training go to the Wharton School. And if your kid wants to be the next sports phenom, you may need to send him or her to IMG Academy, a sports school operated by the global sports and media company IMG. I visited the campus to explore the method that's helped the school send more than 60% of its graduates to Division I colleges—2% straight to the pro leagues. Instantly I wished I were 14 again.
Situated in Bradenton, FL, the pre-K-through-grade-12 boarding school began as the Nick Bollettieri Tennis Academy. Bought by IMG in 1987, it has since expanded to provide coaching in eight different sports while educating nearly 1,000 kids. Some 98% of Academy grads go on to attend college (including high-end schools like Harvard) and 57% of them receive athletic scholarships (compared with 2% of high school students nationwide). Half the students go to class in the morning and work out in the evening; the other half follow the opposite schedule.
4 Ways to Get More Reps In Any Lift >>>
FOR THE ATHLETE
To get a sense of the training IMG offers, I join a group of slightly older athletes—NFL hopefuls—for a standard combine prep workout. All IMG athletes begin workouts with a dynamic warmup—performing movements similar to what you'd make in sports or in training to prepare the body. My group hits some jumping-jack variations, followed by footwork drills and hip and shoulder openers lasting about 15 minutes. The weight training always focuses on imbalances.
"Most athletes want to work the mirror muscles," says Scott Gadeken, head of physical conditioning, "but it's the back of the body where the power comes from. We spend a lot of time on the hamstrings, glutes, and [scapulae]." Our weight workout begins with bench presses done with bands looped around the ends of the bar to build explosive power. If you don't accelerate the bar to lockout, the bands will slingshot it down onto your chest—as if the threat of losing face in front of a group of elite football players weren't incentive enough.
We pair up the bench press with a cable row to keep balance between the chest and back and then go on to a series of grouped exercises— two or more lifts for different areas of the body, with little or no rest in between. For my group, this includes dumbbell curls to presses followed by lat pulldowns and, later, shoulder and ab moves followed by a quad stretch. The session takes just under an hour. 
"Moving quickly builds up work capacity," Gadeken explains. "When we're resting one body part, we might do some corrective work for another. If we're training legs, we might do scapular stuff while [the legs are] resting. We get more done in a shorter amount of time." Afterward, I catch up with one of my training partners, Chris Manno, 28, a wide receiver and kick returner who's done stints with the Kansas City Chiefs and Carolina Panthers. He's preparing for regional combines in hopes of making another pro team.
"From what I've heard from other people who've gone to other training camps," he says, "their day is over by 1:30. We do a lot more. [Here,]they make sure my diet is right, and my recovery." At IMG, students often have the opportunity to train alongside professional athletes like Manno and others who spend time at the Academy to prepare for the upcoming season or rehab an injury. "If I'm a 14-year-old kid and I see Cam Newton next to me on the lifting platform, I see what can be accomplished," says Gadeken.
For both students and pros, the Academy offers performance-boosting accoutrements too numerous to list, including a physical therapy center, classes on mental toughness, and even vision training.
WHAT IMG ACADEMY CAN DO FOR EVERYONE ELSE >>> [PAGE 2]
The World Cup's Fittest Soccer Players >>>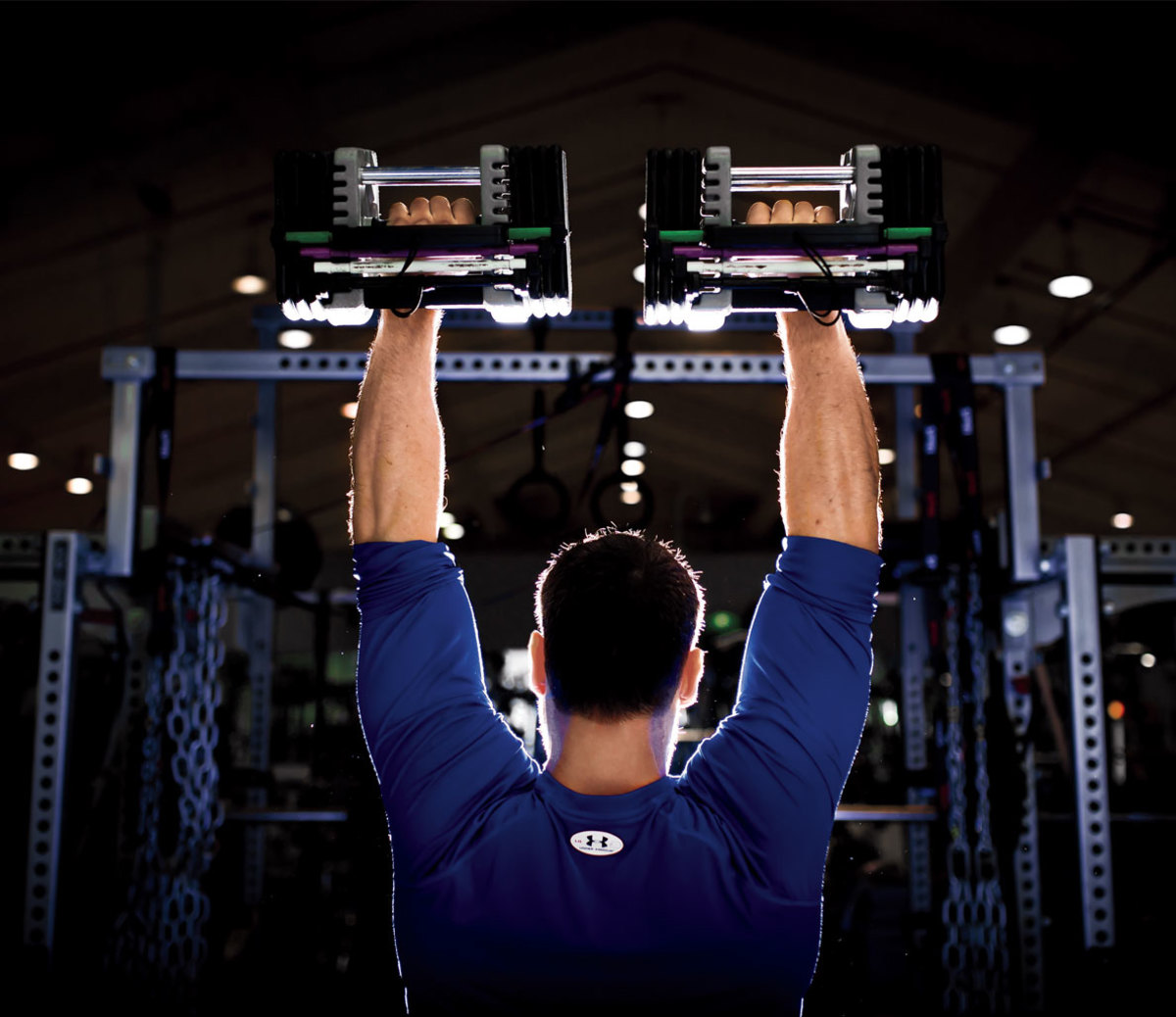 FOR EVERYONE ELSE
While the Academy offers year-round sports camps for adults that range from a half-day to five full days, Ignite 360 is IMG's main option for the ex-athlete or weekend warrior looking for a training experience that's similar to Academy's, but at a lower cost. Founded four years ago as a way for trainers to tap into IMG's methodology for training elite athletes, Ignite 360 is now a gym all its own in Sarasota (neighbor to Bradenton) that caters to clients of all kinds. 
"It's strength and conditioning for the general population," says facility manager Liz Lowe, who writes the workouts. Similar to a CrossFit box, the Ignite gym offers functional training that mixes athletic movements derived from numerous training styles to increase strength, flexibility, and endurance. Workouts are total-body and progress in six-week waves.
"A beginner might come in and do lunges as part of a workout for the first six weeks," says Lowe. "Then we might progress to lunges with an overhead press, and later to a plyo lunge while using battling ropes." The prevailing and crucial difference between Ignite 360 and CrossFit, Lowe says, is the organized system Ignite 360 employs. (CrossFit assigns its Workout of the Day mostly at random.) "We've stolen a lot of CrossFitters because they get injured," she says. "And we can modify based on injury." 
While tuition at IMG Academy for a  tennis athlete, for instance, verges on $70,000 a year, the monthly rate at Ignite 360 starts at $139.A second location is scheduled to open in Sarasota this year, and there are plans to expand nationally in the near future. Ignite 360 is also certifying trainers in its methods so they can offer its programming anywhere. (Find out more at ignite360pt.com.) 
"I actually do [the workouts] with my son," says Susan Roney Asselstine, an Ignite 360 member who's also certified as a trainer. "You get flexibility, balance—all that stuff that gets lost in a regular gym." As for those athletic ambitions you lost, well, you can find those here, too.
The Sleep Doctor to Elite Athletes, CEOS and Rock Stars >>>
For access to exclusive gear videos, celebrity interviews, and more, subscribe on YouTube!