Men's Journal aims to feature only the best products and services. We update when possible, but deals expire and prices can change. If you buy something via one of our links, we may earn a commission. Questions? Reach us at [email protected].Sponsored content
Getting fit and staying there is a matter of consistency. If you're not committed to a program, you might be doing more harm to your body than good. Binge dieting, sporadic exercise regimens—these things put stress on your muscles, joints, and your very constitution. You've got to decide on a plan of action, and then stick to it. That's why fitness trackers are so valuable, and that's why a body fat scale in your home is essential.
Right now you can take 5 percent off one of the best-selling body composition analyzers on Amazon, the FitIndex ES-26M Smart Scale ($24 with instant coupon).
Of course, working out a little bit is better than not working out ever! But the majority of gym injuries happen to people who try to do too much, without properly readying their body for the stress. And sudden changes diet can lead to intestinal problems and have a detrimental effect on your whole metabolism.
Walk Before You Run—Literally
Rather than attack a new fitness and/or diet regimen with sudden fervor, experts say you should gradually work up to a steady pace. Then, stay there for a few weeks and allow your body to acclimate to that before stepping it up a notch.
Even if you used to run or play basketball in school, if you haven't laced them up in a few years it's best to start slow. Walk a few miles a day before you start jogging; shoot some baskets, maybe play some half-court 3-on-3 games before trying to run up and down the court.
This is where a smart scale can really come in handy. Of course, if you're already a fitness enthusiast, you should already know the value of stepping on a smart scale regularly. Being able to track more than your weight but your body fat, water weight, muscle mass, body mass, metabolic rate, bone mass, protein index, skeletal muscle, and much more is key.
Information Is A Fitness Weapon
And having all that info sync directly with your smart watch or fitness tracker, so you can see the effects of your workouts in real-time? That's just an essential aspect of your fitness regimen.
But if you're just getting into fitness—or getting back into a regular exercise regimen—you need to take it slow, and pace yourself. Using your fitness tracker or smart watch, you can see how much effect your hard work is having on your body, daily. And more than just being insightful, that information is motivating. Once you see how much more fit you're becoming, you want to do it even more, and see how fit you can become.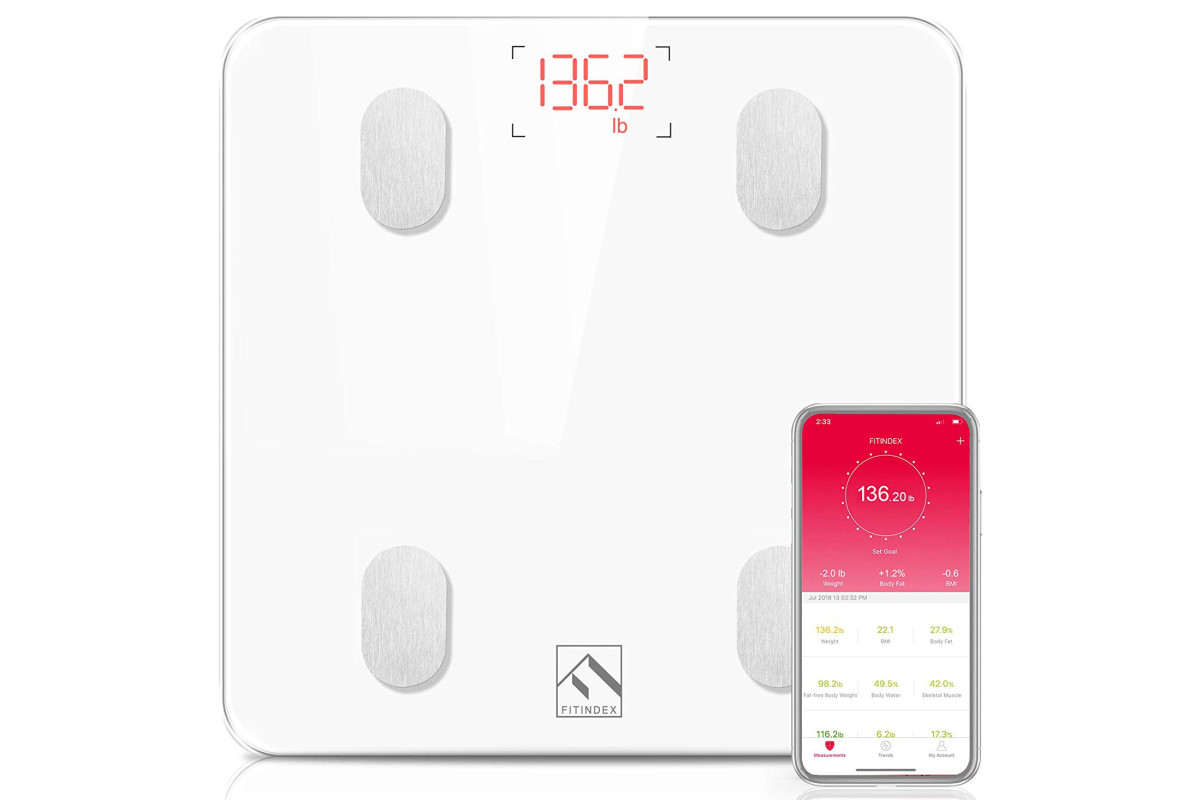 The FitIndex Smart Scale is simple to sync up. It runs on 3 AAA batteries, and connects via Bluetooth with most any smart phone. It feeds info directly to Apple Health, Google Fit, and FitBit apps, to track your progress. You and your household can all share one scale, too, via separate smart phones or by each person downloading the free FitIndex app.
So if you're ready to get serious about your health, do yourself a favor and take it slow—and do it right. Track your fitness progress using the FitIndex Smart Scale, and before you know it you'll be playing full-court with the kids again.
GET IT: Pick up the FitIndex Smart Scale ($24 with Instant Coupon) at Amazon
Check out all the great products and gear we recommend to Men's Journal readers.
For access to exclusive gear videos, celebrity interviews, and more, subscribe on YouTube!