World-champion decathlete Dan O'Brien knows what he's talking about when it comes to Olympic track and field. Back in 1992, O'Brien was one of America's most heralded athletes, with a 1991 world championship win setting him up for what looked to be a spectacular performance at the Barcelona Olympics.
But he never got there. At the 1992 U.S. Olympic Trials in New Orleans, O'Brien failed the pole vault in heartbreaking fashion, all but ending his chances to claim a gold—and setting him up for even more immense pressure to win four years later.
Using his earlier failure as motivation, O'Brien trained harder than ever for the 1996 Olympics—and it paid off. When the torch was finally lit in Atlanta, O'Brien completely dominated the decathlon, leading throughout the competition in points and entering the final day of competition with a stunning 124-point lead.
O'Brien's gold medal at the Atlanta Olympics was America's first decathlon medal since 1976, and his performance marked an American decathlon record that stood for over two decades until it was broken by Ashton Eaton, who now owns the world record in the event as well.
Following his distinguished career in athletics, O'Brien has continued to work with USA Track & Field (USATF), serving as a brand ambassador and as a broadcaster for events. O'Brien sees big things ahead for USATF at the Rio Games, especially after the group brought home 29 total medals from London in 2012.
"My feeling is the US track team is going to show up—and they're going to show up big," O'Brien says. "We're going to win medals in areas that we typically, or historically, haven't won medals in."
O'Brien has a point: The USATF team is stacked with rock stars and elite athletes like Eaton (decathlon), Aries Merritt (hurdles), Allyson Felix (sprints), Sanya Richards-Ross (sprints), Justin Gatlin (sprints), Tyson Gay (sprints), Marquis Dendy (long jump), and Matthew Centrowitz (distance).
Men's Journal caught up with O'Brien ahead of the Olympics to speak about his expectations for USATF at Rio, how he overcame his own obstacles, and how he continues to stay in shape.
(Editor's note: This interview has been edited for clarity.)
Men's Journal: What are your expectations for the U.S. Track & Field team coming into Rio?
DAN O'BRIEN: It's interesting. We had world indoor championships this past winter, and we got a chance to see an American team dominate the world—Ashton Eaton dominated—when everybody did really well. The U.S. team struggled last year at the World Championships—for whatever reason, people who should've been in the finals weren't, while people who should've won medals didn't. It was a long season. I'm not entirely sure why that happened, but it seems like there has been a shift of thinking on what can we do to remedy that and athletes are doing that. I was blown away by their performance [at indoors]. It was really impressive.
What advice do you have for athletes heading to Rio for the Olympics?
It's so much bigger than all the other competitions that you've been to. Sometimes we look at the Olympics like it's just another World Championship, it's another Olympic trials. But when you step on the stage at the Games, there's much more pressure. There are more eyes on you, and you can feel them. So if you're not prepared for that—if it catches you by surprise—it can really affect your performance.
How do athletes deal with it?
Expect the unexpected. Don't try to do something you've never done before. Do what you did to get there and by the intensity and the crowd and the magnitude of the moment, you might get a little bit more out of it. That little bit more may be enough to win the gold medal. If you go in with the attitude that 'I'm going to hit my averages, and then because of the moment, I might get a little bit more,' then that's where I think your good performances come from.
What is your role like with the USATF? What are some of your responsibilities and duties?
I work for USA Track and Field as a brand ambassador, but I'm also involved on the television side. You can see a track meet every weekend online, whether that's a cross country meet, an indoor track meet, or outdoors. I've been with USA Track and Field since we started the USATF.TV. I do broadcasting on there and I also help with the production of it. It's really fun. I do on-field announcing, I do some network television—that's what I do on a daily basis.
Is there a different feeling around USATF when you're in an Olympic year?
You see it on television begin to ramp up and it's just everywhere. I was on an American Airlines plane and they had this whole featurette on who to look for in the Olympic Games. Of the athletes they showed, two-thirds of them were track and field athletes—Michelle Carter (shot put), Dawn Harper (hurdles), and Matthew Centrowitz (running). It was really exciting. I'm envious because there are so many opportunities for young athletes in our sport nowadays, especially going into the Olympic year. There's a nice energy about it.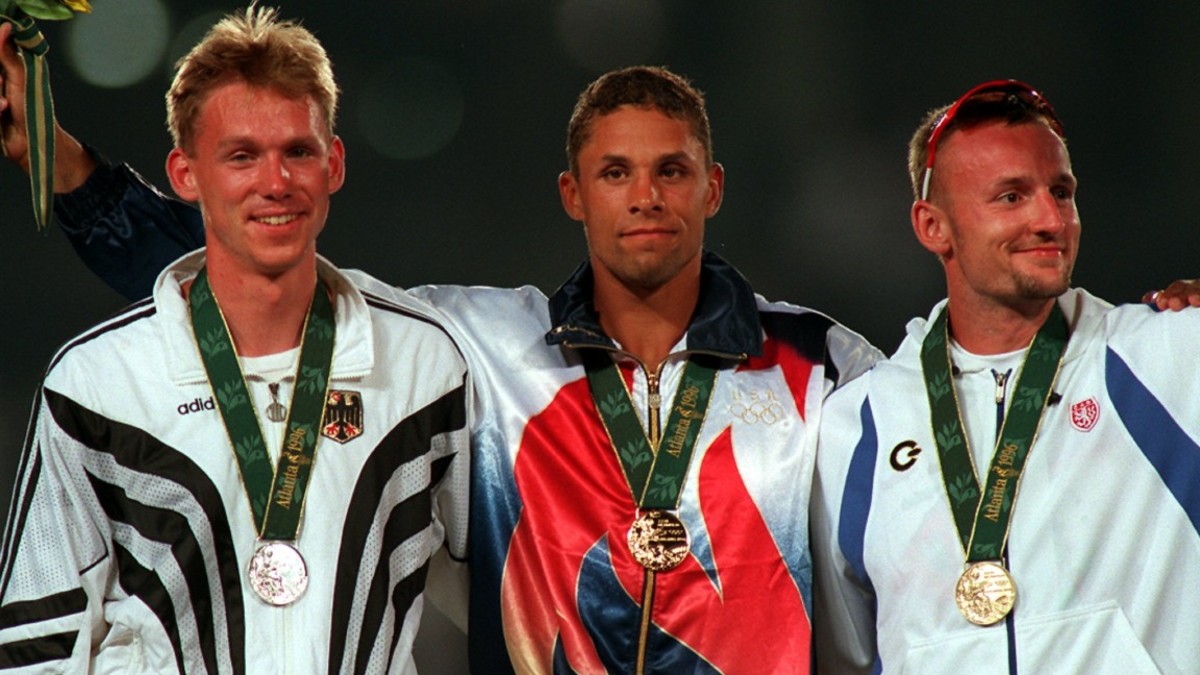 How do you think the Olympics will play out?
This could be the last time we see some of the biggest names in our sport run. Could this be the last go around for Usain Bolt? Could this be the last Olympic Games for Allyson Felix, Justin Gatlin? A lot of young athletes are coming in and we're seeing a lot of older athletes just making one last hard push for an Olympic Games. I love the Olympics because it lends itself to youth. You've got all these new kids coming in and man, they're competitive. We've got kids signing deals out of high school. We've got guys being successful immediately after college. I think we say it every time but there will be a changing of the guard.
Who are some of the athletes to keep an eye on this year?
Last year in the men's and women's long jump, just for example, we didn't bring home medals—it was very strange, it was just like a bad luck day for both events. What I've seen in those events in particular is certain individuals decided to take their game to another level. Marquis Dendy is one of these guys who could've won a medal, and didn't. He seems like he's coming back just with this new level of intensity that we haven't seen in American long jumper in a really long time. The same on the women's side. Brittney Reese, she's an Olympic champion, she's a World champion, but she struggled last year. She's jumping better than ever after the indoor season.
How do you keep yourself in shape?
I always need to have a goal—a reason to get up early, to go to bed early, to eat right, to lift weights. Obviously, for a long time it was to win the gold medal and to be the best in the world. As a retired athlete, I still need a reason, so I put a couple of competitions in throughout the season. I say to myself: "I've got to be in shape for this, I've got to run a 40, I've got to run a mile, I've got to do these fitness events." I enjoy training for that stuff, but I don't think my training would be as intense if I didn't have that on the horizon.
What's your daily workout schedule like?
I do some CrossFit work, and I do a lot of running on my own. If it's 8:30 at night and I'm bored, I'll just jump on the bike for 45 minutes. I'm just that kind of guy. I do cardio most days, lift weights 3 or 4 times a week. My wife makes fun of me because we can't vacation unless the hotel has a really good fitness room. When she told me, "We're going to Disney World," the first thing I said was, "Does it have a gym?"
What types of foods, products, supplements, or drinks do you use in your training?
No supplements—I'm kind of old school. My staples are coconut water, a lot of vanilla almond CLIF Builder's bars, Gatorade, Powerade, mixed with water, occasionally I'll have a Kill Cliff drink—things like that. Stuff has to taste good for me.
What did it mean to you to represent the United States at the Olympics? What was it like to win a gold medal for your country?
When you accomplish a goal like that, you win an Olympic gold medal, what I think about is all the days that I dreamt about it. It was years of long runs and climbing stairs and lifting weights, and while you're doing all that stuff you picture what's it going to be like when they give me the gold medal. When they give you the gold medal, it's nothing like you thought it was going to be, but it's still as glorious as ever. The best part for me was accepting the gold medal. I got done running the 1500 meters, I celebrated with my teammates and my coaches, hugged mom, hugged dad, went into the stadium, and then of course peed in a cup.
What was it like to receive your medal?
They tell you, "Hey, we're going to do your awards ceremony tonight." It's the last event, my event was the last event and I thought, "Oh, everybody's leaving. The stadium's going to be half full because people are taking off." They said, "No, usually they bring you back the next day and do it." As I went out to accept the award, nobody left. I had 100,000 people in Atlanta Stadium that all got to see my awards ceremony, so it was like I got to share that with everybody in there.
Still probably the coolest thing about competing at that level, being the best in the world, winning those world titles and Olympic Games is taking all the people in my group on that journey. It was a pretty magical night. Michael (Johnson) won the gold, broke the world record in the 200 meters and so I just was part of that whole evening. Carl Lewis won the gold medal in the long jump—it was a cool night.
Is there one area that athletes should focus on that you think they overlook when it comes to training and preparing for a competition like the Olympics?
One of the keys for me in my career was understanding meditation and mental imagery. Sports psychology, in my opinion, can take an athlete to another level. I was a good athlete, I was well-conditioned, I had great coaching, but it wasn't until that I got my mind and my body in sync that I was able to go to another level and become the best in the world. When people talk about sports psychology, that includes meditation, breathing, mental imagery, positive self-talk, figuring how to get rid of negative thoughts, things like that, and it takes place over a period of time. I did as much mental imagery as I almost did physical training.
How does mental training and putting a focus on mental preparation help athletes?
Once you develop those skills, you're able to put them into your practice routine, you're able to put them into your competition routine, especially as you get closer to the big events. Athletes deal with negative thoughts all the time. It's interesting, high-level athletes think about half as much stuff as a normal person. In our daily lives, you and me, we have about 4000 thoughts a day, an athlete has half as many because they're concentrating on one particular thing so it's easy to compartmentalize your thoughts if you know how.
If you could tell the track athletes one piece of advice heading into the Olympics, what would it be?
It's better to be 100% healthy and 95% fit than 100% fit and not completely healthy. Step to the line healthy and your chances of winning are much better than if you pushed the level of your fitness and had a little dinged up injury.
If you could go back and give your younger self advice about training and fitness, what would it be?
With a better-structured training regime I could've gone another Olympic cycle or two. I think I trained so hard in a 10 year period that I was done. I trained hard but I didn't train smart. I think I could've trained a little bit smarter and gotten more time out of my career, and nutrition was not a focus of mine as a competing athlete like it is now for a lot of athletes, and I think I could've gotten more out of myself.
How did the bombing at the Atlanta Olympics affect your experience?
I actually was in Centennial Park hours before the bomb went off. We were doing a big Chamber of Commerce event where I sat, I think, it was at the Atlanta Chamber of Commerce booth and people would come in and interview me. The music was going on, and then I got back to my room, and I wake up the next day and it says "Bombing in Centennial Park." I was like, "What time? I was there." It was like two hours after I was there.
The decathlon has so many events, did you do anything during your career fitness-wise or training-wise to help you stay consistent through each event?
I spent a lot of time off the track, taking care of my body. I learned about chiropractic. I learned about the benefits of massage therapy. I had a couple of major muscle pulls in college. But when I got regular massage therapy, I never had another major muscle pull. I had some tweaks here and there but it was just one of those things. One massage, two massages a week, and the time and the expense that goes along with that, that's where I put my focus.
I didn't have a chef. I didn't think about what I ate that much but I did see a chiropractor on a regular basis. It created such a body awareness, that when it came time for the big events, I knew exactly how I was feeling leading up to the Olympic trials and whether I—even 4 or 5 days out—I knew if I was going to get a cold and I could head it off with vitamin C and different things. The body awareness, I think, was so invaluable to me.
Along with the track events, are there any other sports that you like to watch for the Olympics or keep an eye on in general?
I'll bawl at a tennis match. It's very moving to me. I got a chance to see Michael Phelps' final swim in 2012. It turned out not to be his final swim.
I didn't love long-distance running as an athlete, but one of the most exciting moments for me in 2012 was Galen Rupp winning the silver medal behind Mo Farah in the 10,000 meters. It brought me to my feet and I tweeted out with 4 laps to go, "Can Galen Rupp win a medal? Can Mo Farah beat the Africans?" With a half a lap to go, you're just compelled to stand and cheer.
What is one storyline or event you're looking forward to in Rio?
Surely Ashton Eaton and his wife, Brianne Theisen-Eaton—she's a Canadian heptathlete, he's an American decathlete, they're the best in the world in both events and so Ashton's trying to do what only Bob Mathias and Daley Thompson did and that's win back-to-back golds. If they could win gold medals, husband, wife—that would be something. Brianne's had just a real struggle because Ashton's so good, she's been silver, she's been bronze, so she won her first gold medal at World Championships indoors. They have the same coach. It would be a fantastic story to see her win gold, as well as Ashton.
What do the Olympics mean to you? What type of impact has winning a gold medal had on your life and career?
Going to the Olympics and winning an Olympic medal can alter your life. It changed my life. Striving to win that medal changed where I thought I would ever end up. I think in the sport of track and field, you can change the way you think about life and how you attack your day, it's just if you push yourself physically and you challenge yourself mentally on a daily basis, you're going to get your absolute best.
For access to exclusive gear videos, celebrity interviews, and more, subscribe on YouTube!