Nathan Adrian is ready to dominate the pool in the Summer Olympics. Again. With two first-place finishes at the June Olympic trials—a blazing 21.60 in the 50-meter freestyle and 47.91 in the 100-meter freestyle, the second-fastest time in the world this year—Adrian has locked up his place on Team USA at the 2016 Summer Olympics.
There, he'll get the chance to defend the gold medal he won at the 2012 London Games in the 100m—and, at age 27, build on his legacy as one of the fastest swimmers in American history.
After all, he's no stranger to the Olympic stage. A Washington native and Cal product, Adrian won his first gold medal in 2008 as part of the 4×100m freestyle team in Beijing. In 2012, he brought three medals home from London: golds in the 100m freestyle and 4×100m medley and a silver in the 4×100 meter freestyle. (Spoiler alert: Adrian brought home two more gold medals in Rio for the 4×100 m freestyle and 4×100 m medley events.)
Oh, and he holds the American record in the 50m. So there's that.
That experience makes him a crowd favorite to repeat his gold medal win, but it won't come easy. Adrian won his 2012 gold by a fingertip—just a hundredth of a second—ahead of Australia's James Magnussen. The United States took gold in the event for the first time since 1988.
Plus, he's in elite company. Four years after USA Swimming powered past the competition in London—the group collectively won 31 total medals, including 16 gold, 9 silver, and 6 bronze—Adrian thinks the team has a good chance to clean up again.
"We're feeling good, we're really excited," says Adrian of the roster that includes Michael Phelps, Ryan Lochte, Katie Ledecky, Missy Franklin, and Conor Dwyer. "I think there are a lot of sleepers out there who didn't necessarily do as well as they needed to do last year in competition. They're going to be ready to perform this year and be competitive at the world stage for some medals."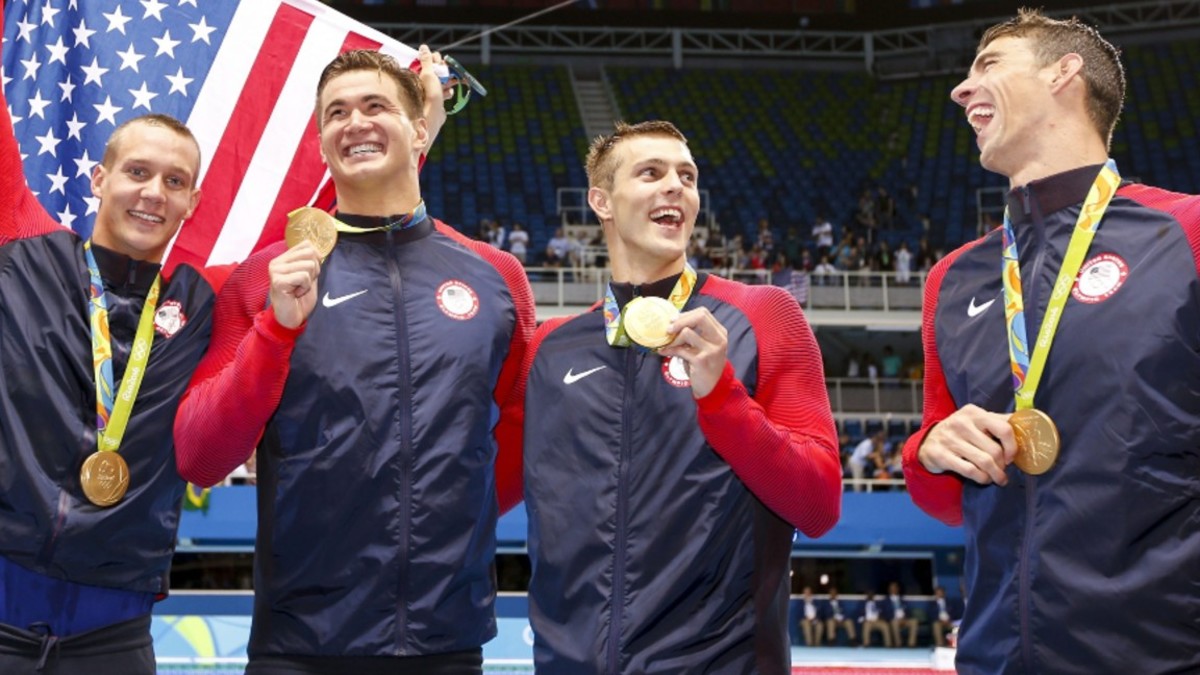 Adrian has been training intensely to prepare for Rio—weightlifting and yoga have been essential, he says—but as the Games have gotten close, he's throttled back on training and put some muscle into Citi's #StandForProgress campaign, which aims "to inspire Americans nationwide to set goals alongside America's elite athletes" heading into the Olympics.
Men's Journal caught up with Adrian ahead of the 2016 Olympics to speak about his expectations for the swim team at Rio, his training and nutritional routine, and how he keeps himself motivated in the pool.
(Editor's note: This interview has been edited for concision and clarity.)
Men's Journal: Swimmers are notorious for eating a lot. What's your nutrition routine like?
NATHAN ADRIAN: I don't necessarily go on a calorie count, but I certainly do try to hit about 225 grams of protein a day. That's coming from a nutritionist. She just says, "Hey, you're going to be able to maintain your body weight and put on some muscle during intense volumes of training with that kind of protein intake." If we go into a really heavy, glycogen-depleting workout, then that's a great time to grab some good carbs. I try to drink from a Powerade through practice. At the end of practice sometimes, those 30, 40 grams of carbs just aren't enough, so I have to get some more in me.
What are some of your favorite foods to have while training?
When it comes to vegetables, everything you can do to keep it raw is better. That's how I've been going about it. Obviously, some veggies need to be cooked, but within reason. A blender is probably an athlete's best friend—just do it in high quality and lean protein. That's just kind of some pretty simple nutritional advice that anybody can try to implement and do.
What is your daily schedule like when you're in training mode?
Usually, we'll wake up at 5, eat a bowl of oatmeal, probably put some frozen fruit in there. We practice from about 6 until around 7:45, then come back home, eat breakfast, and then try to take a nap. After that, eat another meal, go to practice around 12:30 and lift weights for an hour if it's a pretty intense lifting day. Then, we're in the water from 1:30 until 3–3:30. It depends on the day and what our coach wants us to do, but usually, after that, I get another meal in me, and I try to do whatever recovery I can through that day. Sometimes it's stretching. Sometimes you do yoga. Sometimes we do "contrast baths"—hot and cold tanks. It's whatever I feel can make me feel better heading into the next day. Then, through the rest of my day, I eat one more meal and then go to bed and get ready to practice again the next day.
What type of training do you do in the weight room?
We have a weights coach who has a really great track background, and I think that that's really, really relevant for swimming. We go through long periods of training and then we try to peak. He utilizes that knowledge to make sure we hit the right levels of intensity and reps and velocity when we're trying to do whatever it is in the weight room. For example: When we're doing hang cleans, we'll go at 70% of our max but we'll try to really, really crank it with the velocity. We'll throw a TENDO [a device that analyzes speed and power during a lift] on there just to make sure we're improving our explosiveness.
What workouts do you find the toughest?
Fast training after hypertrophy work in the weight room. That's when basically it's 'all systems go,' and all systems are just getting absolutely destroyed. We're trying to build muscle in the weight room, and then hitting our aerobic and anaerobic systems in the water. That's when you're going to get some pretty rough practices in terms of what your times are, but at the end of the day, that's going to make it better.
How has your training changed from one Olympics to the next? Have you done anything differently for Rio compared to Beijing and London?
I have, and it's actually more about learning from others' experiences about getting older. On my first go-around, I was 19, and I was probably 10 pounds lighter—maybe even more—than I am now. I certainly wasn't as strong. The last Games was kind of an in-between area where I could still maintain a lot of volume in and out of the water.
This time around, we had to manage things more. I found that gaining strength and gaining muscle mass this time around was a lot easier, but maintaining that level of intensity and the level of intensity that we need in the water was a little bit tougher. We had to take a few more recovery days in the water itself.
What is the best piece of training advice you've received in your career?
Make the best of what you've got at the time. In certain practices, the best thing you can do is just walk away and make sure that you are ready to really crush it the next day. In other practices, you might be tired, but the best thing you can do is to really crank it and to get after it that day because you have some recovery coming up in the next couple of days. It's really important to know your own body and to buy into your specific goal for that specific practice.
How do your workouts in the gym help you in the pool? Do you measure how that work in the gym translates to the pool?
I need measurable variables—making sure my velocity is staying high on hang cleans, or making sure I can do really good, high-quality pullups with 45 or 90 pounds around my waist. Once those start to go down, then we really know that our nervous system is shot and that we want to take some time to really let it recover.
In the water, I try to hit my stroke rate for 100 freestyle. I have that in my head pretty well. If we're hitting that stroke correctly and we're still putting up times that are significantly slower than where we want to be, then we know we should probably back off and let our bodies recover again.
What are your expectations for USA Swimming in Rio? What are your personal thoughts on swimming and what you can achieve at the 2016 Summer Olympics?
It's always been the same: We always want to get better. The fun thing for me about swimming is that the ceiling has absolutely not been reached yet. The super-suit era has gotten us closer and quicker than we expected to, but in terms of the progression of world records, there are world records being set basically every summer. That's exciting to me. No one knows how fast swimmers can be yet. I would love to be able to push the envelope on that one day.
What has it been like working with Citi on the "Stand for Progress" campaign? How have you been involved in the program?
The campaign seeks to inspire Americans to think about progress, about how they can achieve their goals, whatever they are—saving up enough money for a down payment on a house, eating healthier, going to the gym a couple more times per week. It's about chasing your dreams and goals. A big part of the campaign is the hashtag #StandForProgress, which will be used during the Games themselves. Whatever their goals are, hopefully, Americans will feel inspired to share what goals they have. Citi will then take some of those goals and will feature them at the Team USA House in Rio.
What are you hoping people take away from the program?
Swimming forces me to think about everything I do in terms of progress. That's my mindset. We call it "marginal gain." Hopefully, this campaign can get some other people inspired to think about a progress-oriented mindset, instead of just a results-oriented mindset. It's easy to get caught up in searching only for results. But if you focus on progress, it's easier to take bite-sized chunks of the goal you are trying to achieve. With that approach, a big goal might take two, three years, but that's how you achieve something you never thought was possible.
For access to exclusive gear videos, celebrity interviews, and more, subscribe on YouTube!