Men's Journal aims to feature only the best products and services. We update when possible, but deals expire and prices can change. If you buy something via one of our links, we may earn a commission. Questions? Reach us at shop@mensjournal.com.Sponsored content
Looking to get fit and lose weight this year? You're fooling yourself if you think you can do it alone. You need help. But before you go hiring a personal trainer or signing up for a meal plan, there's one simple place you can start. Get yourself a bathroom scale, and weigh yourself at the same time each and every day. We scoured Amazon and found the best scales and body composition analyzers you can buy.
Now, if you want to plunk down the money and get a digital body composition analyzer, you sure can. They are very helpful in tracking your progress, so you can see results. And that's a huge weight-loss motivator. Most have free apps and sync with whatever fitness-tracking program you already use.
But there's no need. If you're already semi-motivated—a regular runner, or a pretty reliable gym rat—a simple scale is all you really need. And you can get one for about twenty bucks.
The Best Scales & Body Analyzers
Just having that visual reminder of where you're at, and where you're going, is a great motivational factor. Knowing what you weigh every day, and how much you weighed yesterday, is a fantastic key to keep working at it.
To be clear, there are dozens (and dozens) of scales at Amazon. And this list could have been far longer. Many are off-brand and promise great results. But like a lot of electronic gadgetry and tech, many times you'll get what you pay for.
So feel free to try to save some money on your bathroom scale. But if you're hoping your $20 digital body composition analyzer is going to be a trusted, long-serving component of your fitness regimen, accurate for years, you may be sorely disappointed.
Our advice? Go with what you know. Get the one you trust. Get the one you like. And you're bound to find it here.
Here are the 11 best scales and body composition analyzers for men.
Renpho Bluetooth Body Fat Smart Scale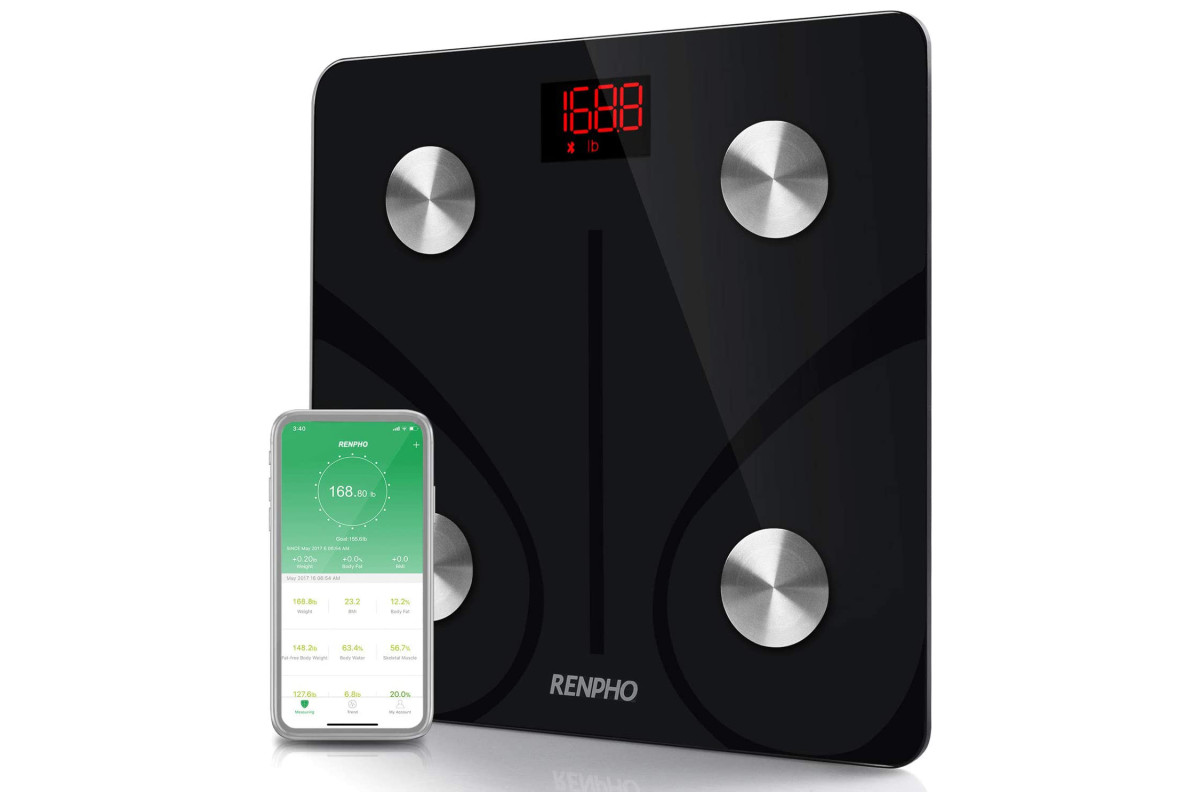 A smart scale at digital scale price, the Renpho is one of the more popular smart scales for sale at Amazon. It measures 13 distinct body composition measurements, syncs with all your favorite fitness apps, and it gets a 4.5-star rating from—get this—nearly 17,000 users. You could spend more. But why?
Get It: Pick up the Renpho Bluetooth Body Fat Smart Scale ($31) at Amazon
Tanita HD351 Digital Scale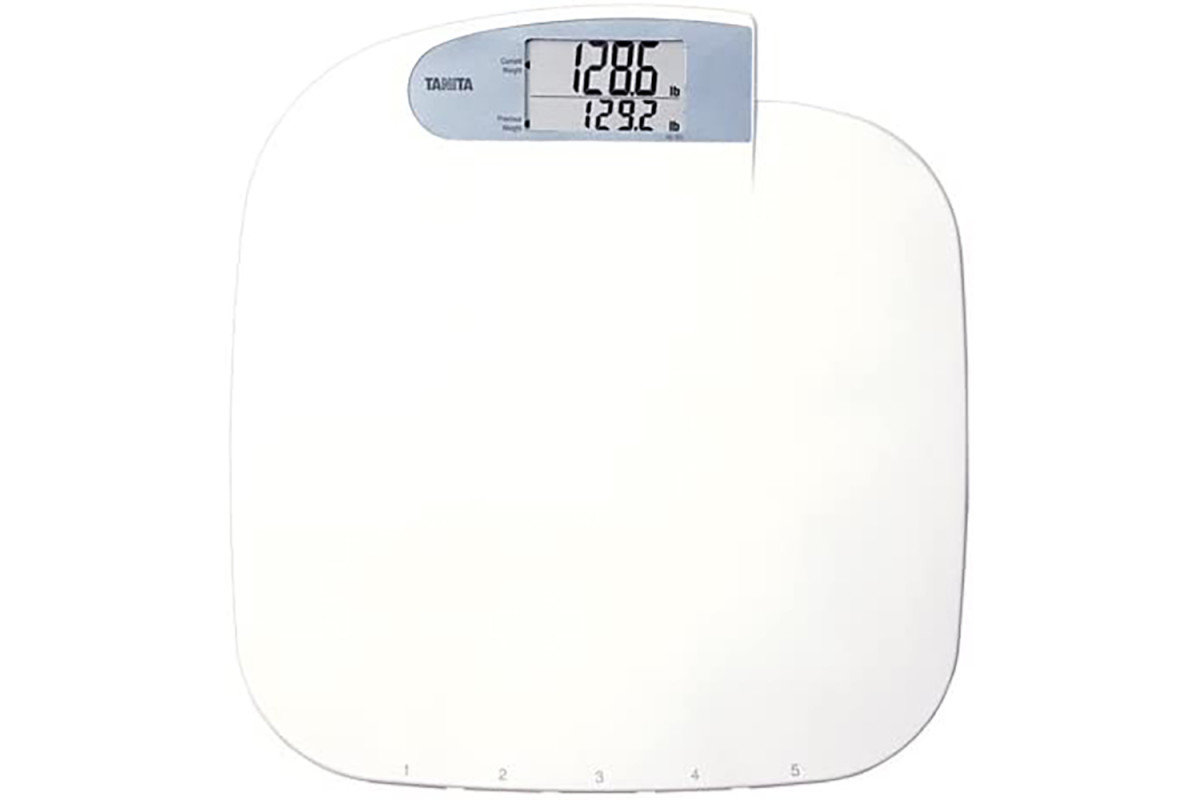 One of the premiere names in medical-grade scales, Tanita is known for accuracy, reliable performance, and unique features. Made of heavy-gauge steel, the sleek HD351 features a low profile and oversized platform. It has a high weight capacity of 440 pounds, and a 2-inch, 2-line display that shows the current and previous weight reading for up to five users.
Get It: Pick up the Tanita HD351 Digital Scale ($70) at Amazon
Withings/Nokia Body Cardio Smart Scale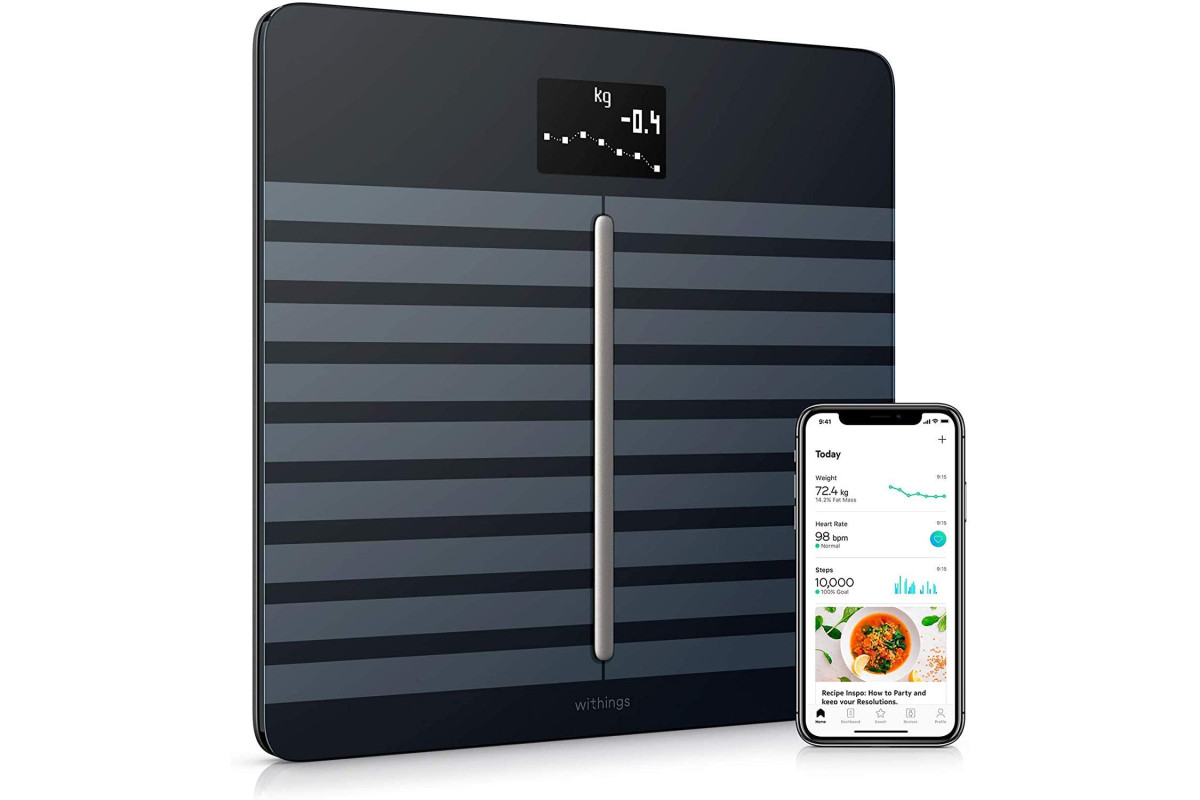 Sometimes, you get what you pay for. This Withings/Nokia body composition analyzer is pricey, but it's one of the best you can buy. It's wi-fi connected, so you can get accurate readings no matter where in the world you are standing. And unlike other digital scales, it works as well on carpet as it does on hard floors. Best of all, right now, it's an astonishing $54 off!
Get It: Pick up the Withings/Nokia Body Cardio Smart Scale ($150) at Amazon
Greater Goods Digital Scale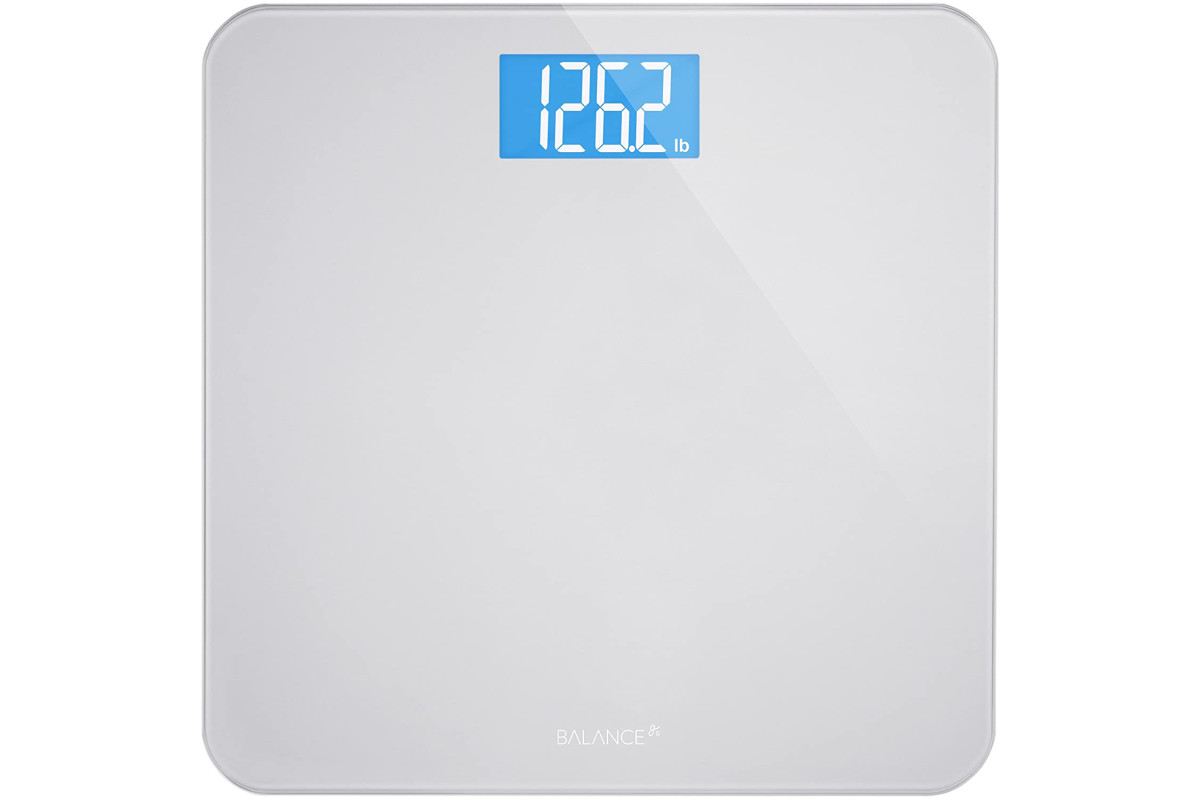 Sometimes, simple is better. And sometimes, who you buy from is as important as what you buy. With an extra-large, backlit LCD screen and aesthetically pure design, this scale from greater Goods gets the job done. Over 8K Amazon users agree. As with all Greater Goods products, a portion of proceeds goes to the non-profit Love146 to help fight child trafficking.
Get It: Pick up the Greater Goods Digital Scale ($19) at Amazon
Yunmai Smart Scale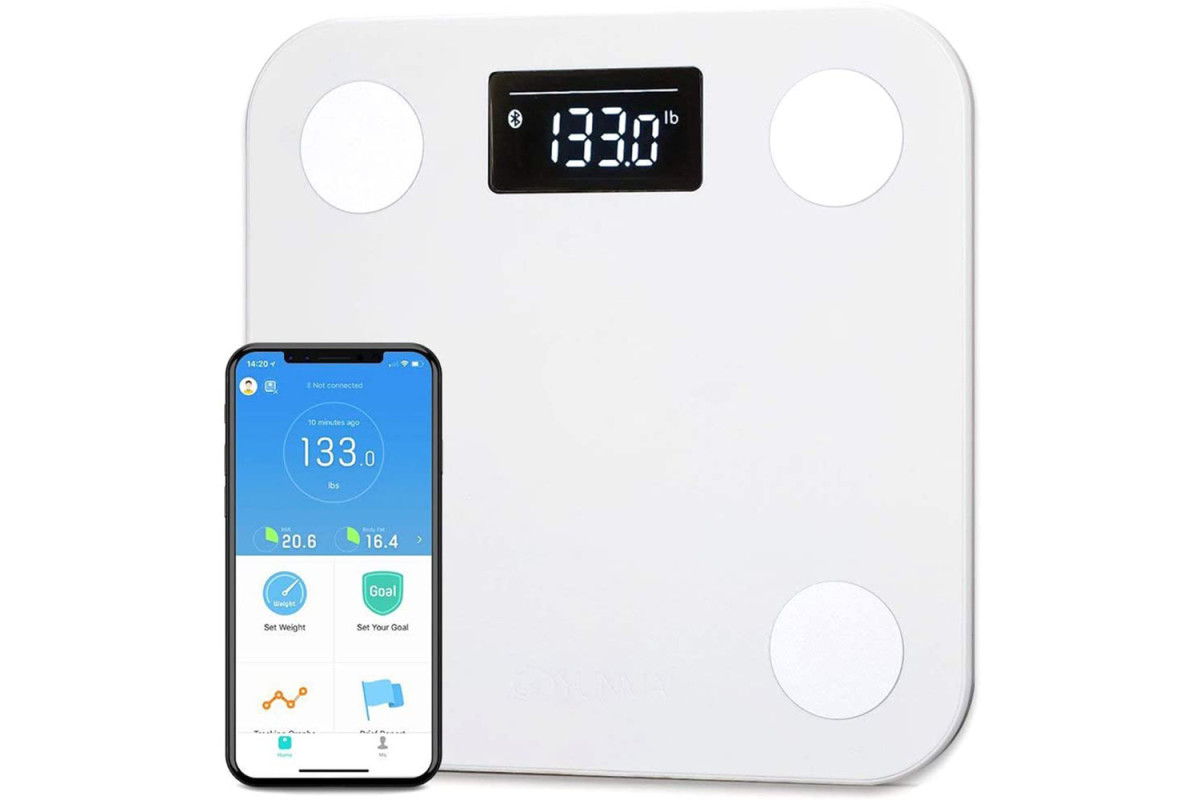 Compact and powerful with a 10-inch frame, the Yunmai is one of the more subtle body composition analyzers you can get. Within seconds, it takes ten essential health measurements and sends them instantly to your smartphone, making it easy to track weight loss and health progress. No wi-fi required.
Get It: Pick up the Yunmai Smart Scale ($50) at Amazon
Ozeri Rev Mechanical Scale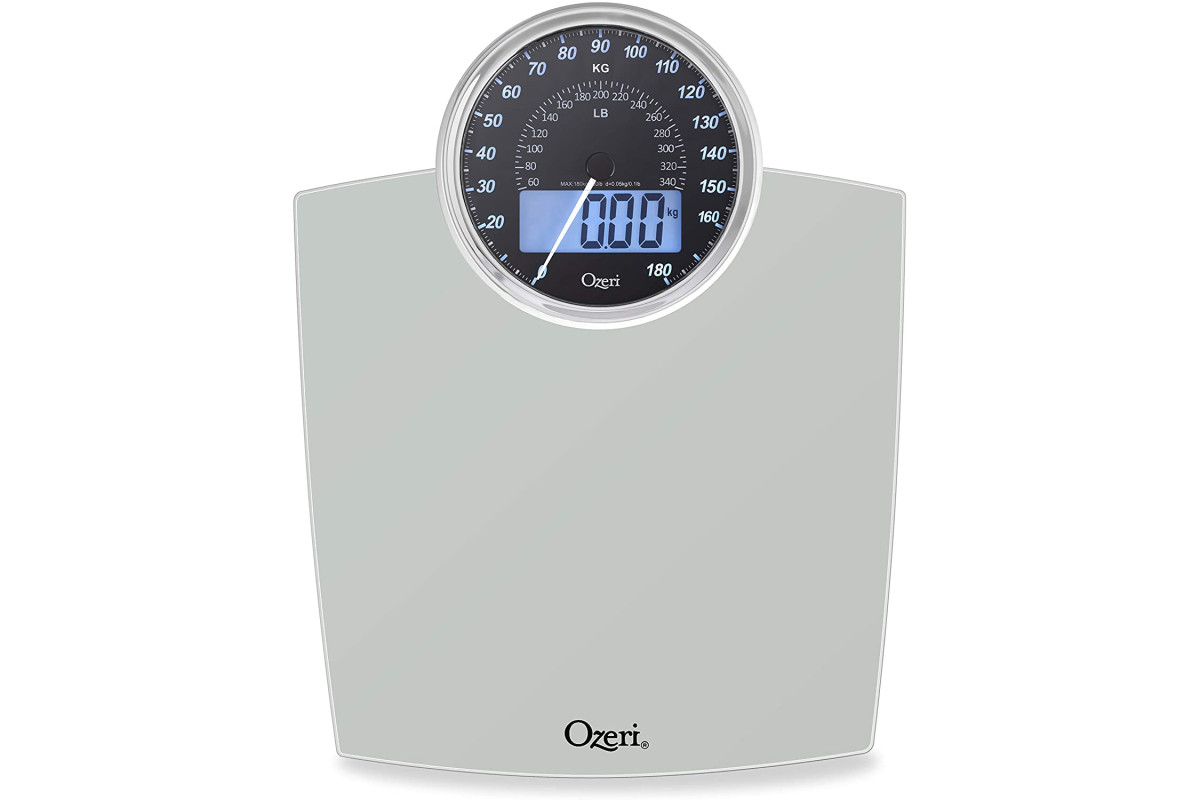 For a racy design with a retro feel, the Ozeri Rev is the right choice. We love the speedometer-inspired dial, which reads both lbs and kg. And the LCD readout makes reading it easy. Available in black, teal, or white, it makes a super-cool addition to any home gym or guy's bathroom.
Get It: Pick up the Ozeri Rev Analog Scale ($29; was $33) at Amazon
Arboleaf Smart Scale Body Analyzer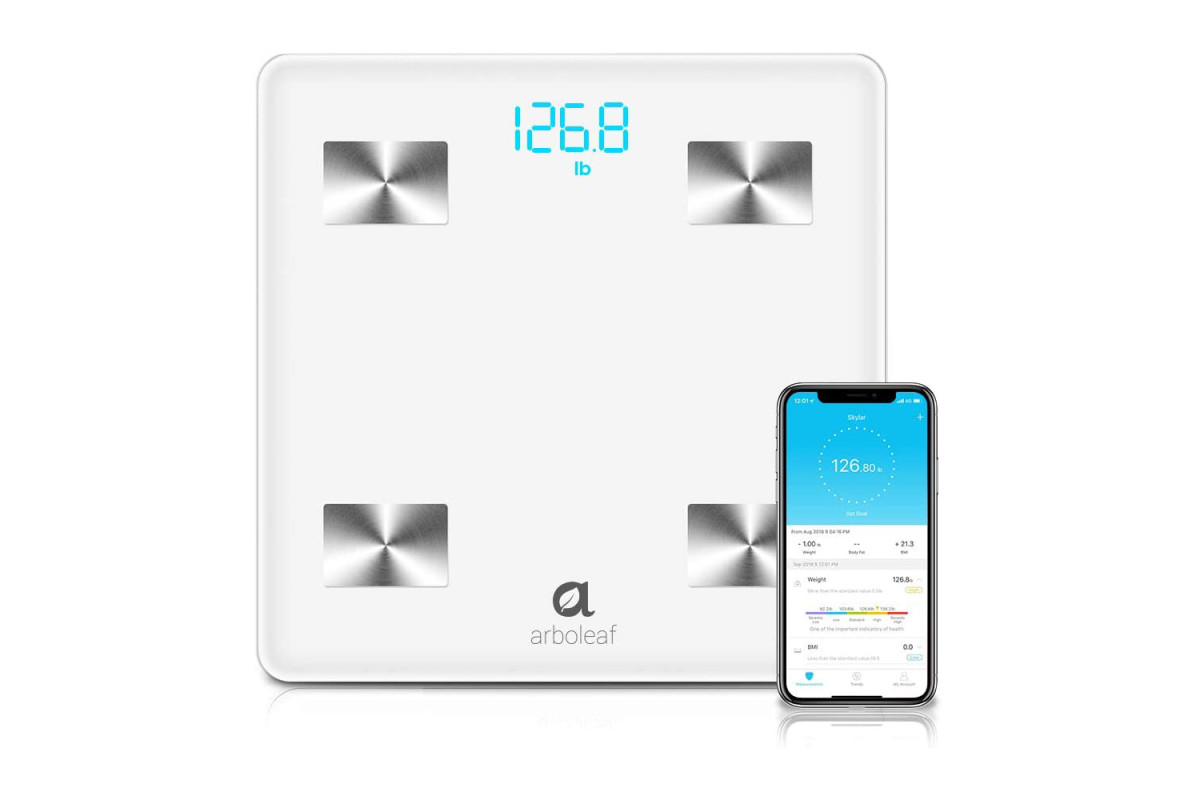 With a nearly perfect 4.8-star rating from nearly 3,000 reviewers, this is one of the top-rated body analyzing smart scales you can buy on Amazon. It measures ten health indicators. And you don't need your phone to weigh yourself; just step on it and you'll get a reading. but the free app is super-useful and it syncs with all your fitness tracking apps.
Get It: Pick up the Arboleaf Smart Scale ($38) at Amazon
iDOO Ultra-wide Heavy-duty Marbled Scale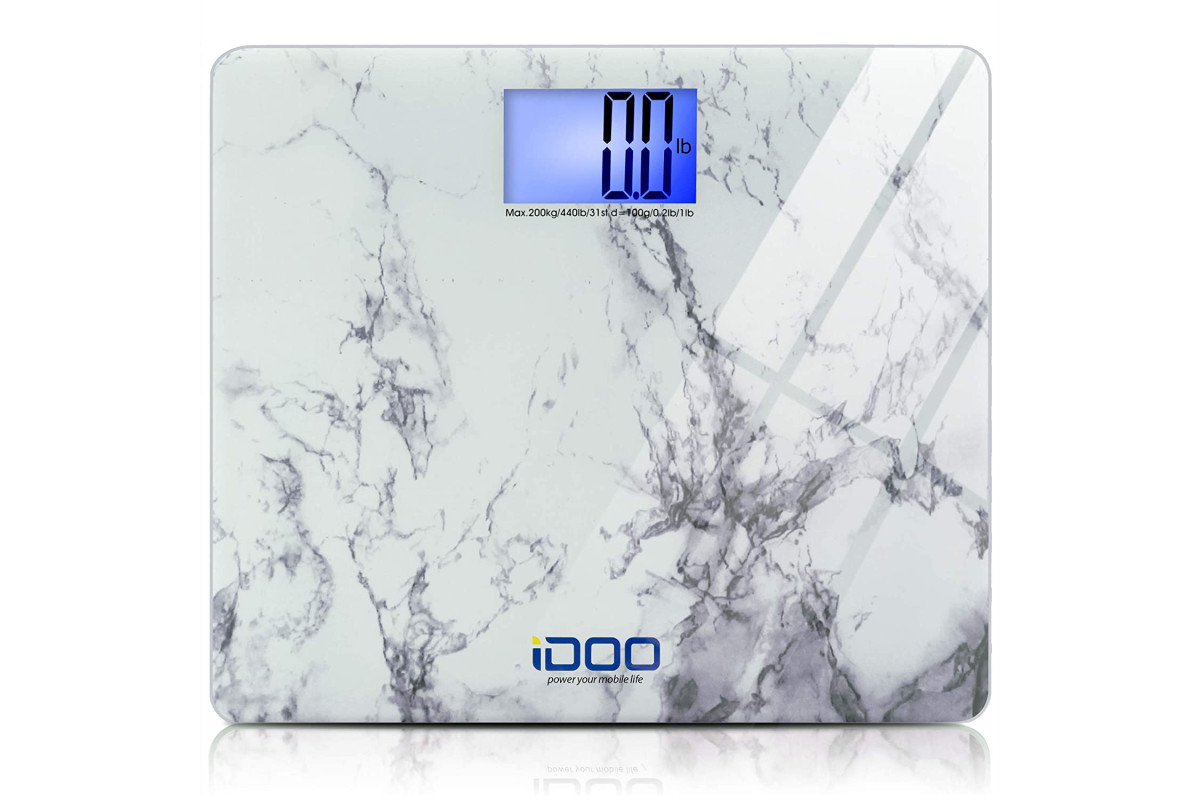 We like the iDOO because not only is the black-and-white marble finish a change of pace from the typical, it's an oversized platform (13 by 12 inches) with a higher weight capacity (440 lbs.) than most. So it's great for big & tall guys. It's still glass, though, and features rounded, smooth corners.
Get It: Pick up the iDOO Marbled Scale ($33) at Amazon
Redover Bluetooth Body Fat Scale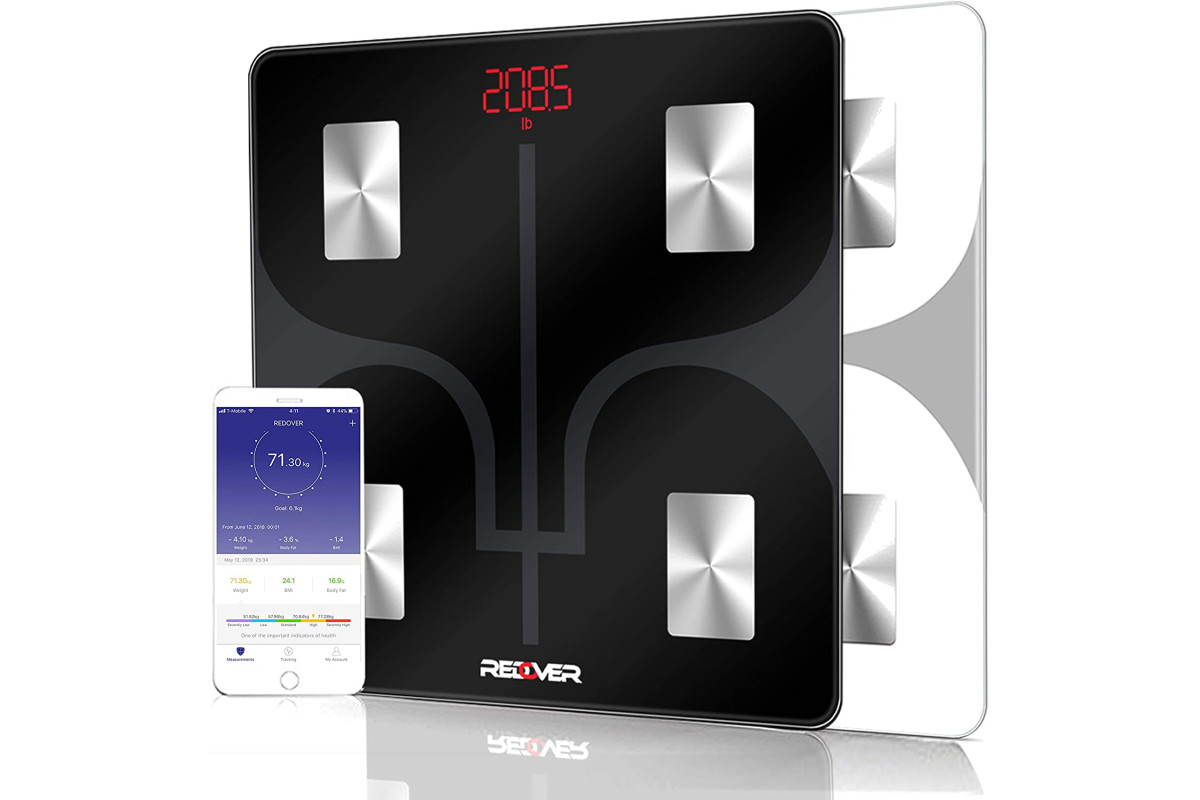 One of the more affordable digital body fat scales on our list, the Redover measures 13 essential health indicators. It can handle an unlimited amount of users, saving individual data for each and helping everyone in the household lead healthier lives. The app is free, and it receives a remarkable 4.8-star rating from Amazon users.
Get It: Pick up the Redover Body Fat Scale ($27; was $36) at Amazon
Etekcity Digital Body Weight Bathroom Scale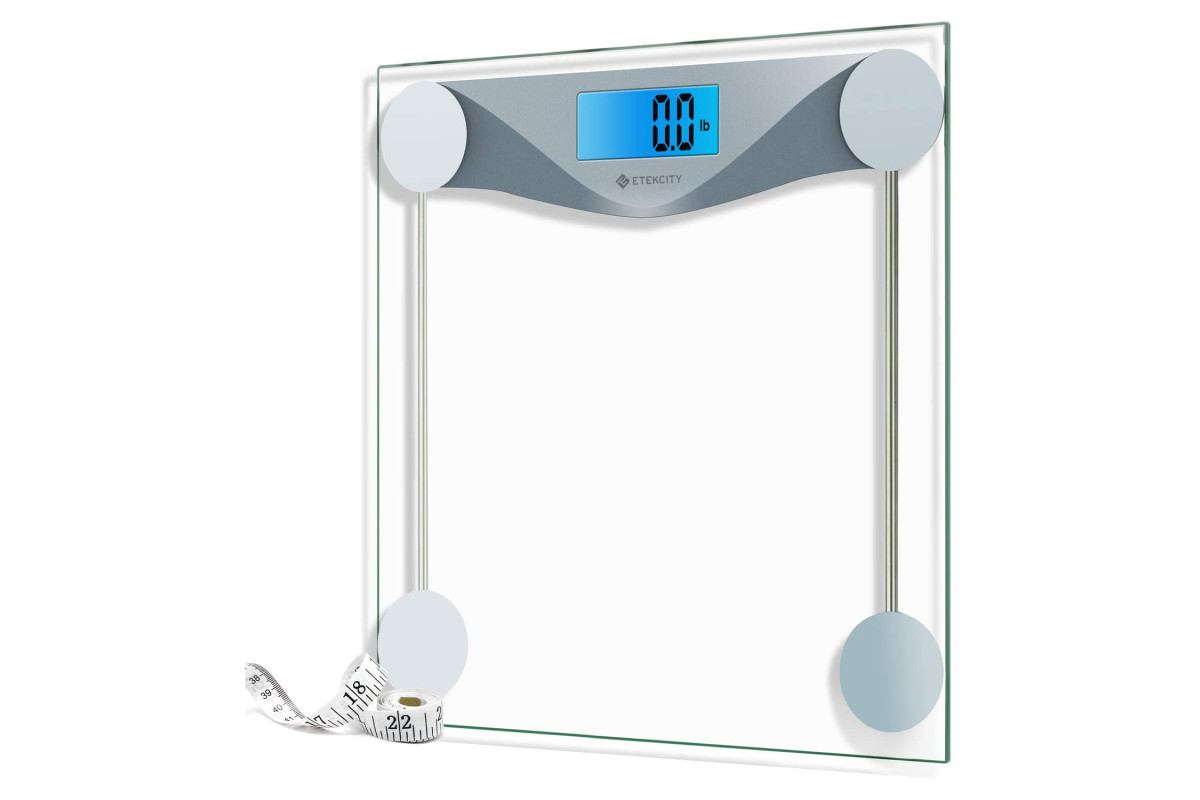 With four precision sensors, this clear scale is made with 8mm tempered glass for strength. Nearly 12k Amazon reviewers give it very high marks—4.6 stars. It's got auto on/off, easy conversion from lb. to kg, and it comes with three AAA batteries. It also includes a body tape measure—and you can take $3 off by clicking the coupon box.
Get It: Pick up the Etekcity Digital Scale ($20) at Amazon
Innotech Digital Bathroom Scale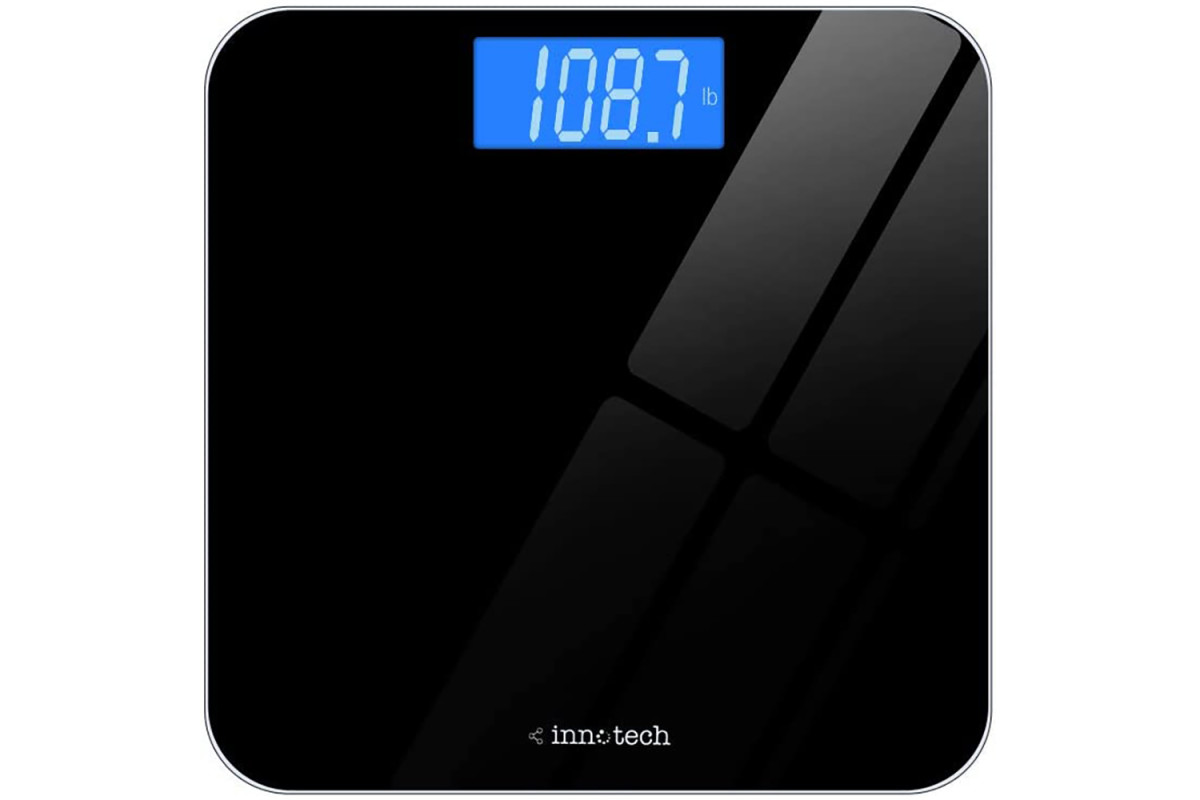 Nothing fancy or tech-y here; just a simple, sleek, perfect scale. With a large, easy to read display and automatic calibration, it's ready to go right out of the box. Constructed of 6mm black glass, the functional design will blend seamlessly into any decor. It offers precise readings within .02 pounds, with a weight capacity of 400 lbs.
Get It: Pick up the Innotech Digital Bathroom Scale ($21) at Amazon
For access to exclusive gear videos, celebrity interviews, and more, subscribe on YouTube!