Men's Journal aims to feature only the best products and services. We update when possible, but deals expire and prices can change. If you buy something via one of our links, we may earn a commission. Questions? Reach us at shop@mensjournal.com.Sponsored content
Want to get yourself a nice home gym set up? It's a great way to work out. No need to spend money on memberships at crowded gyms where you gotta wait around to use what you want. Spacing may be an issue, but there are plenty of options for you to work out effectively and don't take up a lot of space. Pieces of equipment like kettlebells.
Whether you're looking to add some mass or tone what you already got, kettlebells are hard to beat. They're a pretty useful piece of equipment that every home gym should have. For weight training purposes, you might be more inclined to pick these up instead of regular ole dumbells.
Why should you do that you may be asking? There are many reasons and benefits that make kettlebells so great. For one, it's great for total body conditioning. The grips give you more options for workouts, getting greater results. And it consolidates space in the home. Amongst many other reasons.
Kettlebell Sets vs Adjustable Kettlebells
While looking for kettlebells, you will come across two different types. Regular kettlebell sets, with each kettlebell coming in at a different weight. Or you can go with adjustable kettlebells, which give you the weight range of an entire set in one convenient package.
There are pros and cons to each one. Having a set of kettlebells can make it easier for you to ultimately switch between weights. The routine becomes second nature. They are more durable, so you can work out hard with them without having to worry about breaking them. But they tend to be more expensive and obviously they take up more space.
With adjustable kettlebells, you're obviously going to save a ton of space. And you're also going to save a ton of money since you get a whole set in one package. But that decrease in pricing is also because they aren't as strong/durable. And they don't have the same weight range as a regular set. Not to mention the need to have to switch between weights between sets can lead to you missing a shift.
What Weights To Get?
There are a whole bunch of options out there for kettlebells. It all depends on the workouts you're intending to do. If you're starting out for the first time, it's easy to get started. But you still need to figure out the proper way to use them, as is the case with any new workout equipment. For example, what weight should you be using?
With kettlebells, you need to use heavier weights than dumbells so you can get more of the body involved. For men that are just starting out, you should most likely use a 25-pound kettlebell at first. Then you can work up to 35 pounds when you're feeling more used to it, and from there you can move up as you see fit.
Each kettlebell exercise can use different weights though. So if you're doing a two-handed kettlebell swing, you might want to go for the 53-pound option. Doing windmills? Then you may want to start out at 25 pounds. Same with Turkish get-ups. Weights depend on you and also the workout you plan to do.
We're fully aware of how hard it can be to find the right kettlebells out there. Any workout equipment is hard to figure out quickly, because of the seemingly neverending options out there. We know because it's our job to know. So we're here to help you cats out. No need to spend a lot of time looking for the Best 3-Piece Kettlebell Sets. We found them for you.
It took a lot of time and energy to do this, but we got 5 of the Best 3-Piece Kettlebell Sets for you wrangled below. All 5 of which would work wonders in any of your homes. As long as they're made well, these are hard items to mess up. As long as you get highly durable ones at affordable prices, you can't go wrong. You especially can't go wrong with the Best Choice Products 3-Piece Kettlebell Set in your life.
So if you are looking to get started with a kettlebell routine for the first time, check out these sets below. They all start at low weights so you can ease yourself in without overextending yourself. Whichever one you pick, you'll be in good hands.
Best Affordable Set: Best Choice Products 3-Piece Kettlebell Set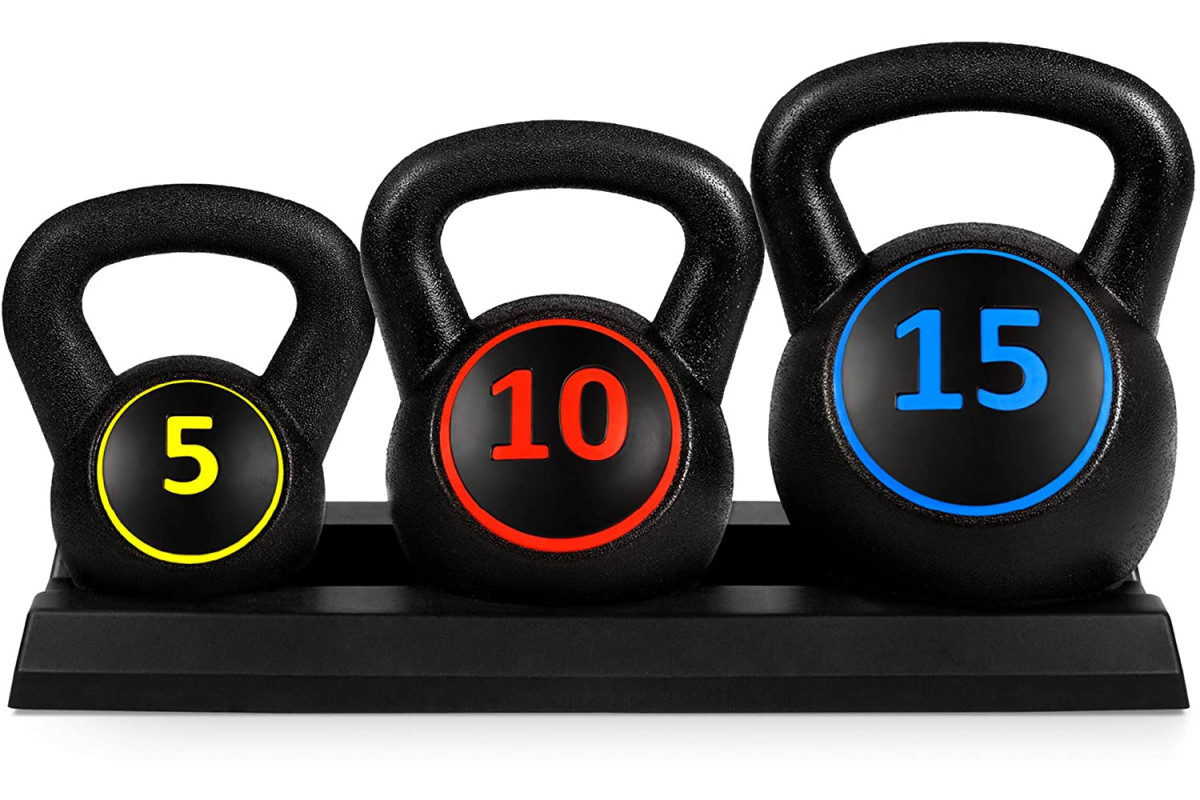 If you are looking to save some money on your new Kettlebell routine, then you need to get this set. For one, the weights aren't too heavy for you just getting started. And if you're looking to get toned, lighter weights are the best way to go. Also, these weights are made to last. Durability is high with these guys, so you can work them out until the cows come home. No need to worry about replacing them anytime soon. And all of that comes with the great low price of $50. A set doesn't tend to cost all that much, but you can't beat spending this kinda money. So if you're looking for the best at a great low price, look no further.
Get It: Pick up the Best Choice Products 3-Piece Kettlebell Set ($50) at Amazon
Get it!
Best Variable Weight Training: Amazon Basics Enamel Finish Cast Iron Kettlebell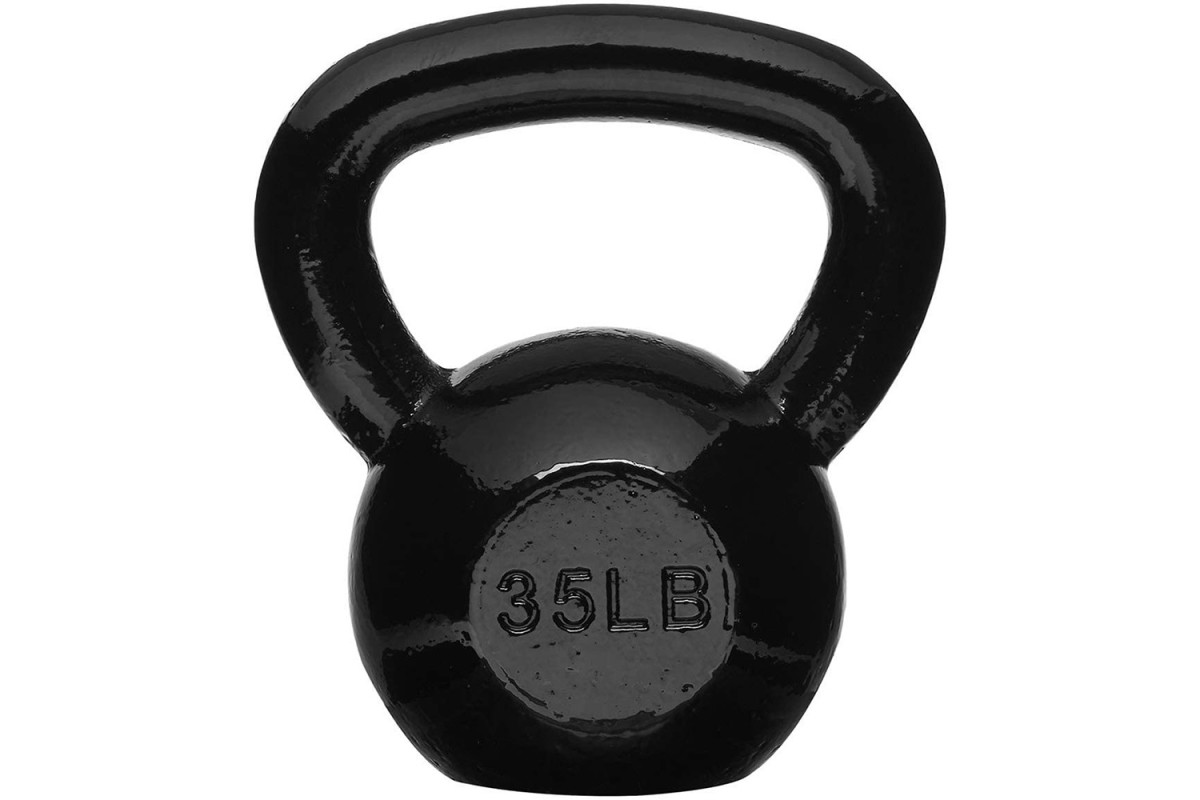 If you want to really build up your physique and your strength, then you need some heavy-duty kettlebells. That way you can get into a variable training routine. And if you want to get to that level, then you need to pick up some Amazon Basics Kettlebells. They don't come in sets, so you'll have to buy each weight you need on its own. But the strength and durability of these kettlebells are hard to beat. You'll be ripped and ready to show off that body in no time.
Get It: Pick up the Amazon Basics Enamel Finish Cast Iron Kettlebell 25 Pounds ($40), 35 pounds ($49), and 50 Pounds ($71) at Amazon
Get it!
Best Vinyl Kettlebells: bintiva Kettlebells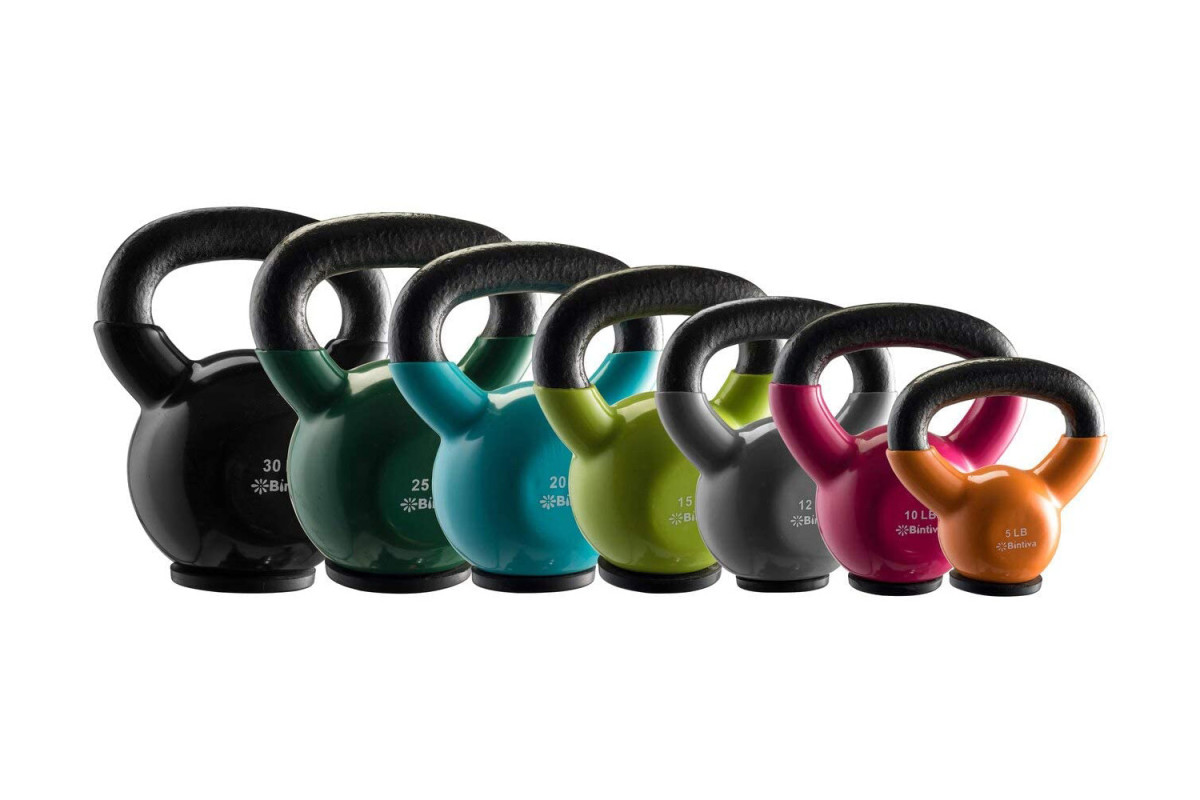 There are many different designs when it comes to kettlebells. And if you want a design that won't destroy your floors, then you want to get something like this set of Vinyl-covered kettlebells from bintiva. For one, you get an entire set that will let you go from rookie to veteran without having to buy more. They are all made from cast iron, so they are strong. But they're also covered in vinyl as a way to protect your floors from any damage. With this set, you have yourself covered for a good long while without having to buy anything heavier.
Get It: Pick up the bintiva Kettlebells ($215; was $290) at Amazon
Get it!
Best Heavyweight Kettlebell: Yes4All Vinyl Coated Kettlebells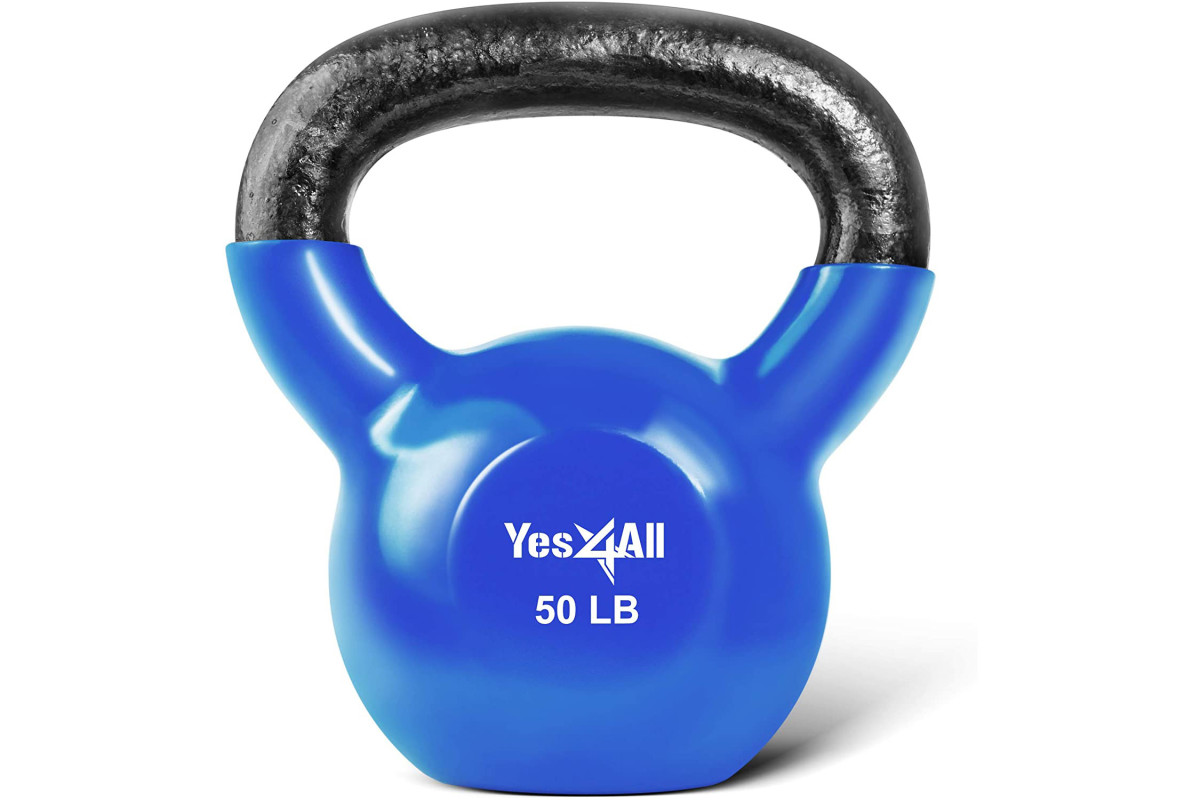 Feel like you've hit the plateau of your current weight level? Then you need to move up. And that means you need to pick up some kettlebells from Yes4All. Because these kettlebells are made to last. You can get yourself started with a 40-pound option and then easily move up to 45 and then 50 pounds. You have to buy them all on their own since they don't come packed in a set. But when you get to that certain level, you need to make the move so you can get your body stronger. And with these, your body will be stronger than you've ever thought was possible.
Get It: Pick up the Yes4All Vinyl Coated Kettlebells 40 Pounds ($55), 45 Pounds ($58), and 50 Pounds ($85) at Amazon
Get it!
Best Lightweight Set: MaxKare Kettlebell Set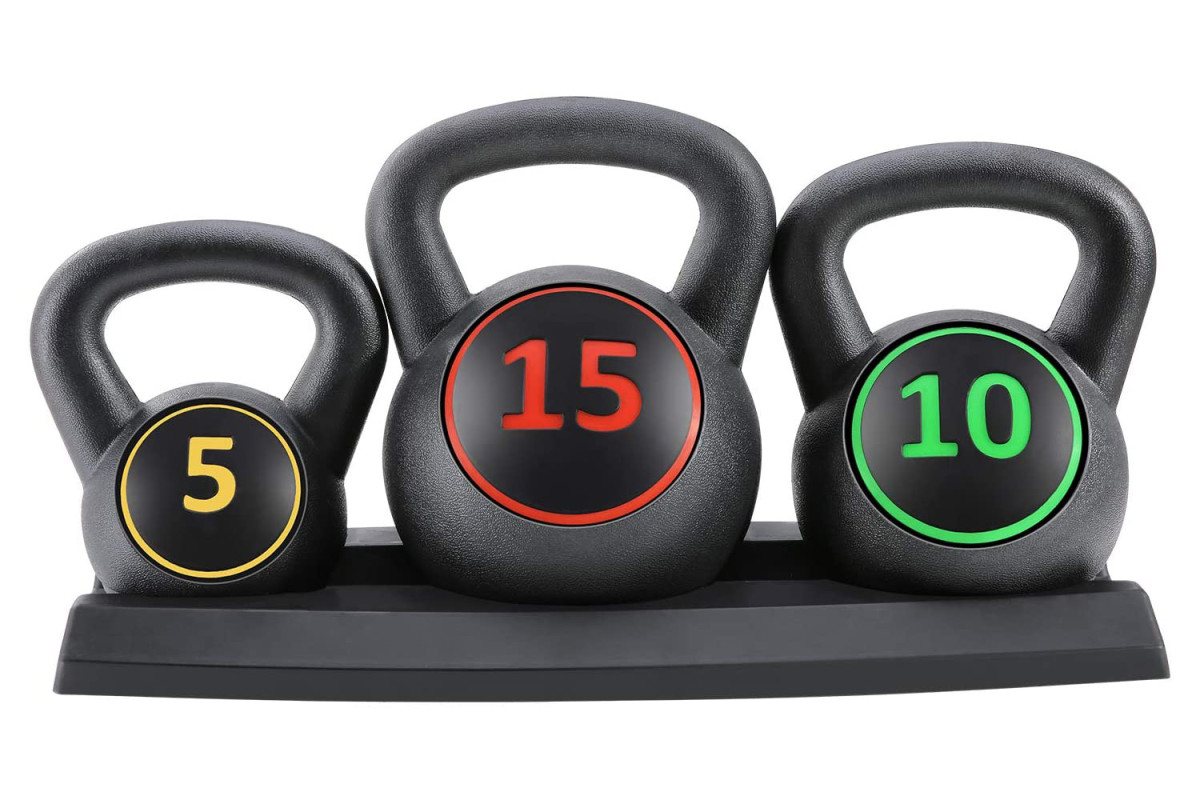 If you are just starting off with a kettlebell routine, you need to start at a lower weight. And that means you need to get yourself this srt from MaxKare. Because this set comes with 3 kettlebells, all of which are very light. It'll help you get into the routine so you can see how it works for you. So you can see where you land and how much higher you can go. Everyone has to start somewhere and this set is pretty great for getting you rolling.
Get It: Pick up the MaxKare Kettlebell Set ($63) at Amazon
Get it!
Check out the Daily Deals over at Amazon
Check out the great products and gear we recommend to Men's Journal readers
Check out The Best REM Sleep Trackers For The Troubled Sleepers
Check out The Men's Journal Father's Day Gift Guide 2021
For access to exclusive gear videos, celebrity interviews, and more, subscribe on YouTube!