I thought I was too small to be a Navy SEAL. When I started working out in high school, I was so tiny that I could barely lift a 45-pound barbell. I would drink three 4,000-calorie milkshakes a day, then wake up in the middle of the night and have a fourth and two peanut-butter sandwiches. But I still couldn't gain an ounce. I played tennis and was in drama, because I was too small for football. When I graduated from high school, 
I was 5'6″, 154 pounds. I just didn't grow right.
Despite my size, I was determined to be a SEAL. When I joined the military, at age 22, I'd hit 6'1″, but I was still light. I found out, though, that in SEAL field training, you have no choice but to get big. The only task is to make you a certain body type, and there are no outside influences to get in the way. Everything is regimented, and we never touched a weight. It was all pushups, pullups, situps, swimming, running, and climbing. On a normal day, we'd wake up at zero-four, then run a mile to breakfast and a mile back; same thing for lunch and dinner. And that's on top of six- to eight-mile conditioning runs, two-mile swims, and several-hundred pushups per day. It's no surprise all the guys who come out of field training are just twisted with muscle. I had a huge growth spurt, too; I shot up to 6'5″ and eventually hit 262 pounds. It was crazy. The strongest I've ever been was the day I finished SEAL training, and I hadn't been to a gym for almost a year. You can't replicate that experience.
Make or Break
I was first deployed to Iraq and then to Afghanistan, where, in 2005, three other SEALs and I were ambushed during Operation Red Wings. (That's the operation the film Lone Survivor is based on.) I sustained a lot of ­injuries in the SEALs, and when I first got out, in 2008, I was having so many surgeries that by the time I healed from one, I was having another. My knees, back, pelvis, shoulder, and hands had all been broken or torn up. But I thought I was too strong to be stopped, so I kept pushing myself until I'd break. Literally. I had no one telling me to slow down.
Fortunately, that year I started going to a physical therapy facility in Florida called Exos, which the military covered. The trainers helped get my body back to where it needed to be, and I've been going back once a year for at least a month ever since. When I'm there, I typically do about an hour of cardio in the morning, and in the afternoons, my workouts usually include resistance training, dumbbell bench presses, and triceps extensions, with two-minute foot drills on a Jacobs Ladder mixed in. The workouts can vary, though. My body can't carry as much weight as it used to, so these days I do lighter weight and more reps. I have to focus on my core, too, because of how much damage I have, so that means a lot of butt bridges and wall slams. While I'm in Florida, the trainers give me a meal and workout plan to follow throughout the year, based on what we did that week, which helps keep me on track back home.
Team Effort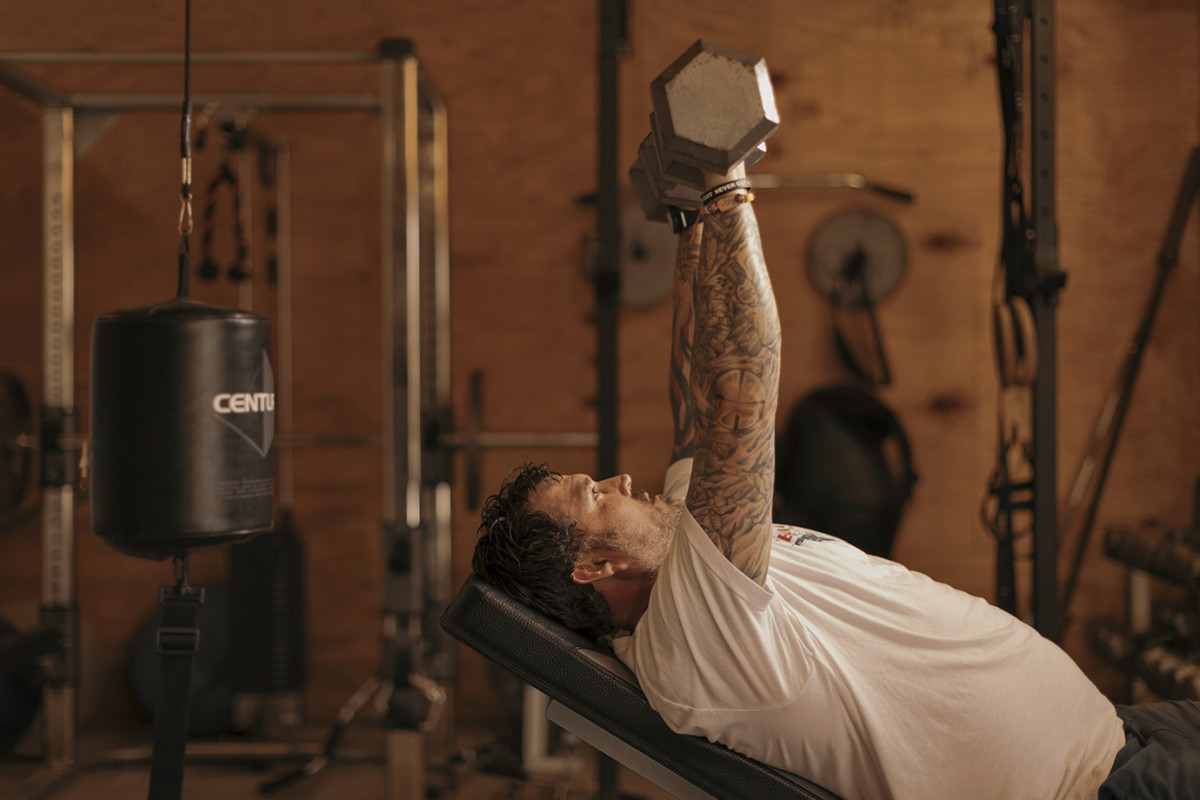 But the best thing that happened to me, and my health, was getting married, in 2010. My wife, Melanie, helped me step back and say, I'm not a SEAL anymore. I had to learn how to calm down and let myself heal. We bought a 200-acre ranch in Texas a few years ago, and nowadays chopping trees, mending fences, and walking the property is a big part of my workout. I lift weights in our barn three days a week, but that's just for maintenance. I also do pullups and pushups throughout the day, like in training. Our family eats healthy—a lot of chicken and fish. That helps me stay in shape, too, and I'm involved in this new natural-supplement company, Performance Inspired, so I also take that. My only vice is sweet tea; I drink a mess of it. My family and I are all into health and wellness, but little stuff like that is the spice of life, brother.
There were moments during my deployments when I was convinced that I was going to die, so now it's just a blessing to be able to jump out of bed in the morning. I still like to lift, but I don't try to be perfect at anything anymore, especially when it comes to my body. I've seen what that can do. You'll drive yourself crazy and miss out on a whole lot of life.
—as told to J.R. Sullivan
For access to exclusive gear videos, celebrity interviews, and more, subscribe on YouTube!