The fastest city in the world has been crowned. Runners in Paris have the fleetest feet, with athletes in the city averaging an 8:56 per-mile pace. The finding comes from the recent launch of Strava Insights. The workout-tracking app and website, Strava, combed through its 136 billion data points from users around the world to find speed, distance, and time statistics for the runners and cyclists in 12 major cities.
Insights, a new tool accessible on Strava.com, updates each week with roughly 5 million additional activities, and allows curious athletes to see all data from the previous 12 months for everywhere from San Francisco to Sydney, New York to London. The local data sets make it easy, for example, to see the most used run or bike-commuting route (see NYC's commuter map below) in each city through a heat map that lights up popular paths. Data from each of the 12 cities was, and continues to be, voluntarily crowd sourced.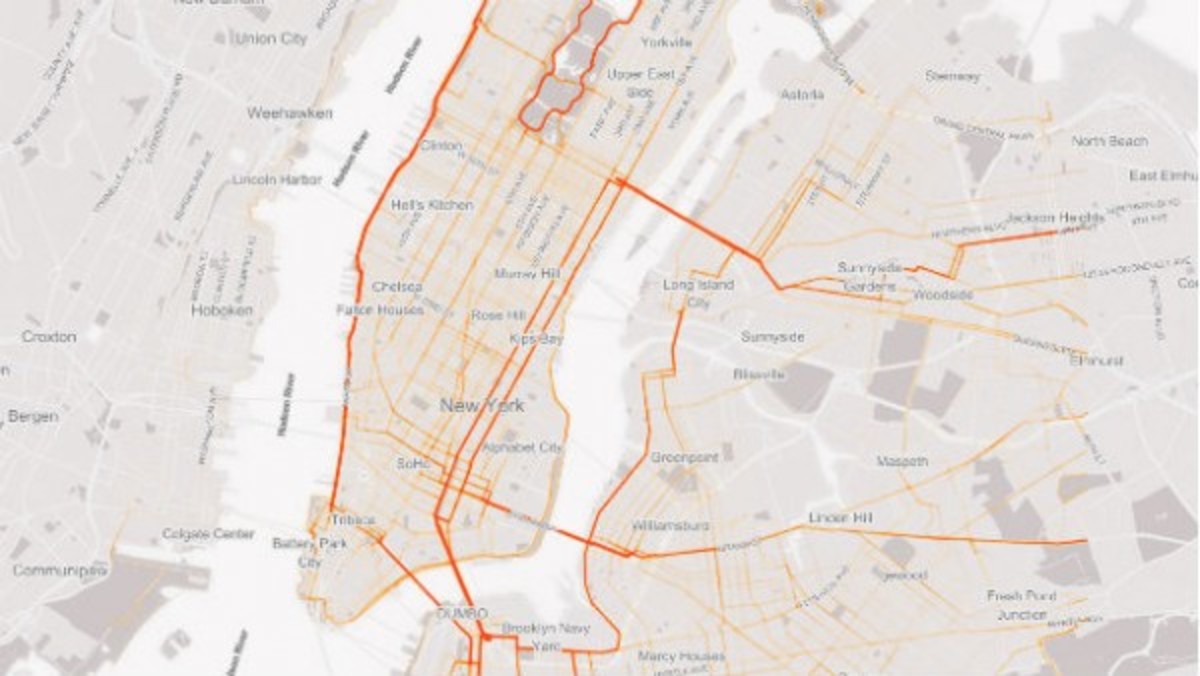 Strava Insight's heat map of the most popular New York City bike commuter routes.
"Athletes upload their activities via Strava's mobile app or a GPS–enabled device like those made by Garmin and Fitbit," says Strava spokesman Brian Holcome. "Strava anonymizes that data and compiles it into the Insights data set. Athletes select whether they are running or cycling when they upload, and can make their individual activities or accounts private if they don't wish to take part."
The large number of users makes it easy to see, for example, that 29 percent of Sydney's cyclists record their rides between 6 a.m. and 8 a.m. Or that Milan cyclists ride 33.7 miles on average, whereas Los Angeles cyclists ride 20.8. And that New Yorkers run the fastest average mile in the U.S. at 9:15, but they're still slower than Parisians by 19 seconds. 
Fastest City by Runners
Paris – 8:56/mile (avg. pace)
London – 9:00
Berlin – 9:11
Melbourne – 9:11
Milan – 9:13
New York City – 9:15
Amsterdam – 9:19
Sydney – 9:33
Barcelona – 9:41
San Francisco – 9:47
Los Angeles – 10:2
São Paulo – 10:45
Fastest City by Cyclists
Amsterdam – 15.9 mph (avg. pace)
Milan – 15.0
Melbourne – 14.8
Berlin – 14.7
Paris – 14.7
Sydney – 14.4
London – 14.0
New York City – 13.5
Los Angeles – 13.1
San Francisco – 12.9
Barcelona – 12.2
São Paulo – 11.9
For access to exclusive gear videos, celebrity interviews, and more, subscribe on YouTube!